The all-new Hyundai TUCSON features the most comprehensive safety package in its class, with advanced features that offer enhanced protection on the road
The active safety and driving assist package has been upgraded to include Highway Driving Assist (HDA) 1.5, Blind-spot View Monitor (BVM), and Blind-spot Collision-avoidance Assist (BCA), among others
The family-oriented safety package in the all-new TUCSON was developed specifically with rear-seat passengers in mind to deliver even more security to Hyundai customers
Keeping families safe is of paramount importance for any new car. This is why Hyundai Motor designed the all-new TUCSON as a no-compromise family SUV with best-in-class advanced driver-assistance systems and a wide-ranging active safety package. With built-in features that reduce the chances of collisions in order to keep everyone on the road safe, the all-new TUCSON is a top choice for families.
Today, modern cars are equipped with advanced technology that makes driving safer than ever. This is a relief to parents because special care must be taken to ensure the safety of their children. That is why Hyundai has developed advanced safety features for the all-new Hyundai TUCSON to make journeys even safer.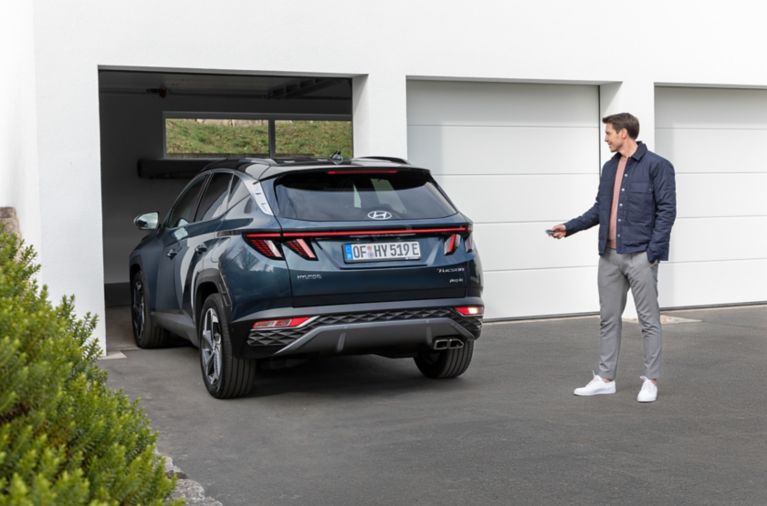 A seven-airbag system with a unique centre side airbag
The all-new TUCSON is outfitted with an enhanced seven-airbag system, which features a new first-row centre side airbag. This prevents front-row passengers from colliding with one another in the case of a collision and minimises the risk of serious injuries. When the airbags automatically deploy following a front or side impact, Multi-Collision Braking automatically applies emergency brakes to reduce the risk of secondary, or multiple, collisions.
Hyundai Smart Sense active safety features prevent collisions while protecting pedestrians and other road users
In offering Hyundai Smart Sense, a cutting-edge active driver assistance system package, the all-new TUCSON offers peace of mind for the whole family. Outfitted with sensors, cameras and radar throughout the car to detect obstacles and prevent collisions, occupants are in safe hands. Additionally, drivers have even more ways to monitor their surroundings while on the road, keeping them out of harm's way.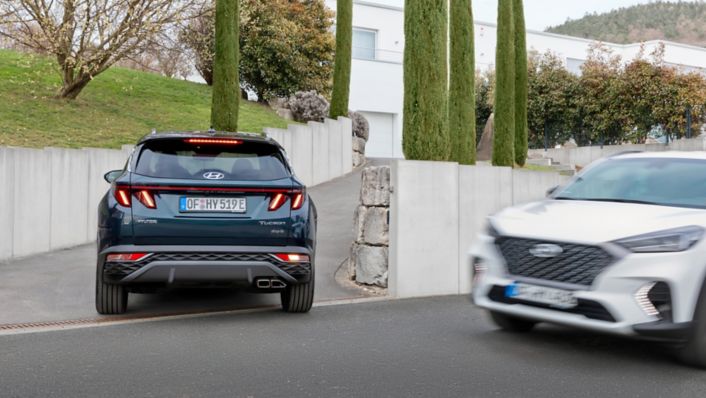 In an ideal world, drivers would devote 100 per cent of their attention to the road. However, a fussy child in the rear seat may cause this to be momentarily compromised. Once the driver's focus returns to the road ahead, he or she may realise too late that the vehicle in front of them has come to a complete stop. However, rather than having to quickly press the brakes and implement an emergency stop, the all-new TUCSON automatically decelerates and brakes for them if necessary, guaranteeing more safety for their family. The new Forward Collision-Avoidance Assist (FCA) utilises a forward-facing camera to scan the road. If the preceding vehicle decelerates abruptly, or if a forward collision risk is detected, such as a stopped vehicle, a pedestrian, or a cyclist, FCA warns the driver. If the risk of a collision increases following the initial warning, FCA automatically assists with emergency braking. FCA's range of protection has been expanded by an updated Junction Turning feature, with a radar specially calibrated to help prevent frontal collisions when turning left at intersections (in left hand drive countries).
Blind spots prevent drivers from having a full picture of the road around them. The all-new TUCSON features Blind-spot Collision-avoidance Assist (BCA) to support drivers before changing lanes or merging. Using rear corner radar, BCA displays an alert on the exterior mirrors when it detects another vehicle. That way, drivers always know when it's safe to move to the next lane. However, if the driver accidentally overlooks these visual alerts, BCA will still keep them protected. By sounding an audible and visual warning in the instrument cluster and activating differential braking in case of a collision risk, the all-new TUCSON will keep them and their families safe.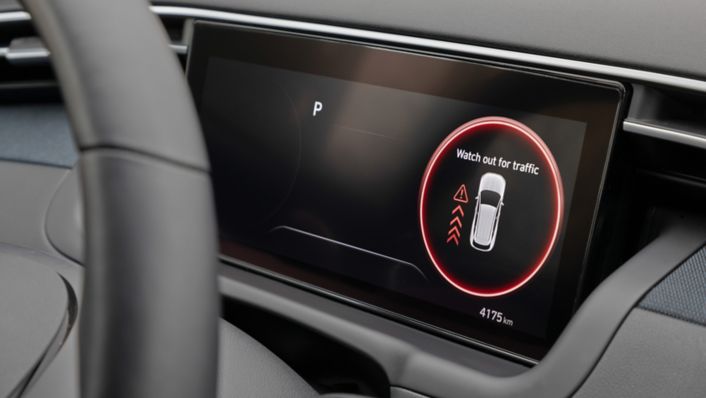 However, the all-new TUCSON's new Blind-spot View Monitor (BVM) goes a step further and provides actual footage from both sides of the vehicle. When the driver indicates that they are changing lanes, the instrument screen displays the relevant rear view down the left-hand or right-hand side. Whether navigating busy city streets or zipping around on the motorway, drivers will have a clearer picture of the road for safer driving.

Backing up can be a challenging task because drivers need to turn around and check for obstacles. With the rear-view camera, drivers may be able to see what is behind them, but they cannot anticipate crossing traffic. This is the case when backing out of a spot in a busy car park. The all-new TUCSON's Rear Cross-traffic Collision Assist (RCCA) automatically applies the brakes when it detects crossing vehicles while reversing. This reduces the risk of a rear collision and protects drivers and their passengers.
Surround View Monitor (SVM) uses cameras to provide 360-degree vision during reversing manoeuvres. Thanks to SVM, toys left on the driveway remain in one piece and house pets can sleep safe and sound.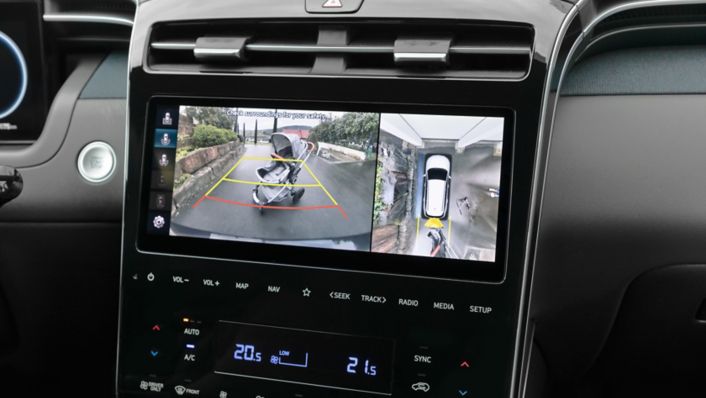 Hyundai Smart Sense safety features that assist drivers and protect occupants
The all-new TUCSON prioritises the wellbeing of its drivers and passengers thanks to its advanced driving assist features. With systems that automatically adjust speed, steering, and more, the vehicle significantly improves driving quality.
Sometimes, narrow spots make it difficult to park, get in or out of the car, or load the car. With the all-new TUCSON's Remote Smart Parking Assist (RSPA), the whole process is simplified. Drivers of TUCSON Hybrid and TUCSON Plug-in Hybrid can use their Smart Key to move the vehicle both forward and back remotely while remaining outside the car. Whether pulling into a tight spot or backing out of a small space to buckle a child into the rear seat, RSPA will make the driver's life easier.
With so much to pay attention to while on the road, it is sometimes easy to lose track of the speed limit. The all-new TUCSON's Intelligent Speed Limit Assist (ISLA) delivers visual alerts if a driver exceeds the speed limit. Additionally, ISLA can reduce the speed to a safe level to protect the driver and their passengers.
Highway Driving Assist (HDA) 1.5 is a new Hyundai Smart Sense feature designed to make cruising on the motorway safer for drivers and their passengers. This works as a combination of two other features: Navigation-based Smart Cruise Control Curve and Lane Following Assist. When the driver activates Smart Cruise Control, HDA uses the all-new TUCSON's navigation system to anticipate the upcoming road. When driving through straights and around curves, the all-new TUCSON will automatically adjust its speed for incoming bends on the highway or for speed limit recognition. If the driver is creeping up on the vehicle ahead, the system will ensure that the car maintains a minimum safe distance. Should the driver begin to swerve, HDA will automatically adjust steering to keep the car centred in its lane.
If the all-new TUCSON detects distracted or fatigued driving during long journeys, Driver Attention Warning (DAW) will turn on. This driver protection feature monitors current driving patterns by analysing various vehicle signals, such as steering angle, steering torque, the vehicles position in the lane and driving time. If the system detects inattentive driving patterns, a sound and message on the instrument display panel will alert the driver.
Distracted driving means delayed reactions. When stopped at a traffic light, the driver might focus their attention on the needs of their passengers in the rear seat. Leading Vehicle Departure Alert (LVDA) warns the driver when the vehicle ahead of them starts moving forward and they do not react quickly enough.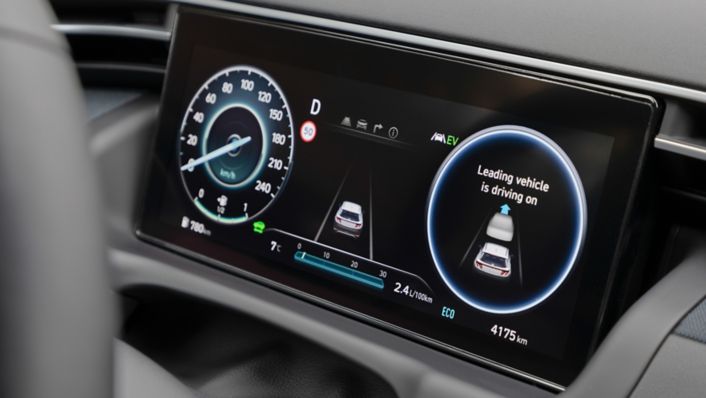 Safety features developed specifically to protect rear-seat passengers
Family-focused features like Safe Exit Warning (SEW) or Rear Occupant Alert (ROA) provide extra safety to children. The all-new TUCSON takes extra care to make sure children and other rear-seat passengers stay safe.
The all-new TUCSON's SEW feature detects vehicles, cyclists, and pedestrians passing by and issues an audio and visual warning before children or any front or rear-seat passengers exit the car. This safety feature is beneficial to children who are particularly excited to exit the vehicle after arriving at a destination because their enthusiasm does not necessarily factor in oncoming traffic from the rear.
Finally, in such a fast-paced world, it is even possible to forget the most important things when leaving one's car. The ROA feature detects a rear occupant or object when a rear door is opened and closed before starting a journey. After the driver reaches the destination, turns off the engine, and opens the door to exit the vehicle, a dashboard message notifies the driver to check the rear seats along with an audio alert. If the driver ignores these messages and locks the vehicle from the outside, ultrasonic sensors on the ceiling automatically start to look for indoor movement and issue further warnings to the driver accordingly. The sensor can detect movements of not only infants but pets as well.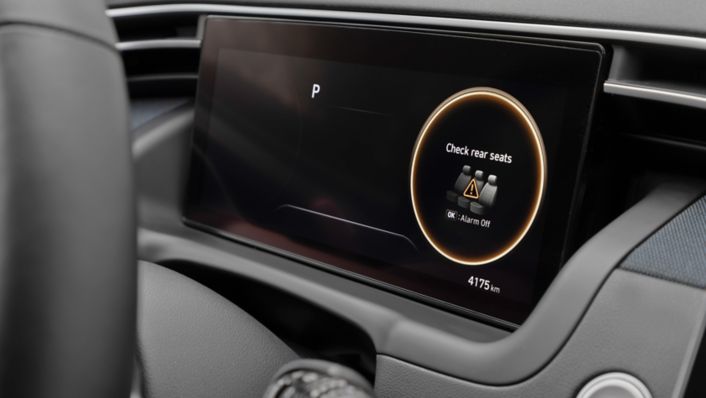 Disclaimer: CO2 and emissions data
Fuel consumption combined for the Hyundai TUCSON 1.6 T-GDI 48V (150 PS) with 6iMT 2WD in l/100 km: 6.8 - 6.5; CO2 emissions combined in g/km: 154 - 147 (WLTP)
Fuel consumption combined for the Hyundai TUCSON 1.6 T-GDI 48V (150 PS) with 7DCT 2WD in l/100 km: 6.6 - 6.3; CO2 emissions combined in g/km: 150 - 143 (WLTP)
Fuel consumption combined for the Hyundai TUCSON 1.6 T-GDI 48V (180 PS) with 6iMT 2WD in l/100 km: 6.7 - 6.4; CO2 emissions combined in g/km: 152 - 145 (WLTP)
Fuel consumption combined for the Hyundai TUCSON 1.6 T-GDI 48V (180 PS) with 7DCT 4WD in l/100 km: 7.1 - 6.9; CO2 emissions combined in g/km: 162 - 156 (WLTP)
Fuel consumption combined for the Hyundai TUCSON 1.6 CRDi 48V (136 PS) with 6iMT 2WD in l/100 km: 5.3 - 5.0 ; CO2 emissions combined in g/km: 140 - 130 (WLTP)
Fuel consumption combined for the Hyundai TUCSON 1.6 CRDi 48V (136 PS) with 7DCT 2WD in l/100 km: 5.6 - 5.2; CO2 emissions combined in g/km: 146 - 137 (WLTP)
Fuel consumption combined for the Hyundai TUCSON 1.6 CRDi 48V (136 PS) with 7DCT 4WD in l/100 km: 6.0 - 5.7; CO2 emissions combined in g/km: 158 - 149 (WLTP)
Fuel consumption combined for the Hyundai TUCSON 1.6 T-GDI (150 PS) with 6MT 2WD in l/100 km: 7.0 - 6.6; CO2 emissions combined in g/km: 159 - 150 (WLTP)
Fuel consumption combined for the Hyundai TUCSON 1.6 T-GDI (150 PS) with 6MT 4WD in l/100 km: 7.8 - 7.3; CO2 emissions combined in g/km: 178 - 165 (WLTP)
Fuel consumption combined for the Hyundai TUCSON 1.6 CRDi (115 PS) with 6MT 2WD in l/100 km: 5.6 - 5.2; CO2 emissions combined in g/km: 146 - 137 (WLTP)
Fuel consumption combined for the Hyundai TUCSON 1.6 T-GDI Hybrid with 6AT 2WD in l/100 km: 5.9 - 5.5; CO2 emissions combined in g/km: 135 - 125 (WLTP)
Fuel consumption combined for the Hyundai TUCSON 1.6 T-GDI Hybrid with 6AT 4WD in l/100 km: 6.6 - 6.2; CO2 emissions combined in g/km: 149 - 140 (WLTP)
Fuel consumption combined for the Hyundai TUCSON 1.6 T-GDI Plug-In Hybrid with 6AT 4WD in l/100 km: 1.4 ; CO2 emissions combined in g/km: 31 (WLTP)