16 Hyundai i20 R5 crews will compete at Rally di Alba as motorsport continues to gather pace after returning from the enforced stoppage due to Coronavirus
WRC drivers Dani Sordo and Craig Breen will be joined in the R5 class by a talented group of Italian and international crews, including three Customer Racing Junior Drivers
Thierry Neuville and Ott Tänak will drive current-spec WRC cars as part of the #RA Plus event reserved for current-spec WRC machinery.
16 i20 R5 crews will be among a huge provisional Hyundai entry for the Rally di Alba that also includes a pair of Hyundai Motorsport WRC cars.
A number of drivers will be taking to the stages in WRC machinery run by privateer teams.
 
The rally will host a number of strong i20 R5 crews who are expected to compete for the class victory. The group will be led by Hyundai Motorsport WRC drivers Dani Sordo and Craig Breen. Both have already enjoyed positive results with the Hyundai Motorsport Customer Racing-built car. Sordo has previously raced the i20 R5 on both gravel and tarmac, including to victory last year at the Rali Serras de Fafe in Portugal. Breen won the final round of the Irish Tarmac Rally Championship – and the championship title itself – aboard an i20 R5 in 2019. He will also arrive in Alba fresh from the Rally di Roma Capitale, taking place this weekend, were he will start his European Rally Championship campaign with a BRC-prepared i20 R5.
Likewise Rally di Alba will form the second part of a busy few weeks of action for Hyundai Motorsport Customer Racing Junior Drivers Callum Devine and Grégoire Munster. Both are also set to contest the opening round of the ERC season before heading north to join the Alba service park.
 
Hyundai Motorsport WRC 2 regular Ole-Christian Veiby will be the third Junior Driver driving an i20 R5 on the Alba stages, running competitively in the car for the first time since Rally Mexico in March. He will run with the same Hyundai Italy-backed Hyundai Rally Team Italia that will oversee Munster's entry. Rally Sweden WRC 3 winner Jari Huttunen will also line up at Alba, the Finn aiming to continue the strong form which also saw him stand on the overall podium at Rally Bohemia earlier in the month. A strong group of Irish i20 R5 drivers is completed by Josh Moffett, Philip Allen and the Motorsport Ireland supported Josh McErlean, who returns to Italy previously having raced as part of the i20 R5 Trophy event at the 2019 Monza Rally Show.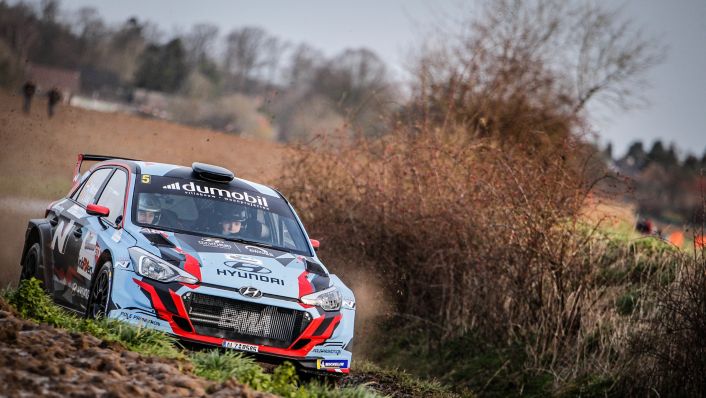 As at that weekend he, and the other international crews, will face strong local competition, including five Italian crews running in i20 R5. The group will be headed by Luca Rossetti – R5 class winner at the Monza Rally Show in 2018 – and Andrea Nucita who took top prize from the i20 R5 Trophy at the same event last year.
 
His fellow Monza competitor and Davide Riccio, together with drivers Massimiliano Santoro and Luigi Giacobone complete the i20 R5 entries, each run with customer team Bernini Rally. Stefano Giorgioni, who made his debut with the i20 R5 at Monza will also be on the stages with the car, while Bruno Godino is set to make his first competitive start in the car.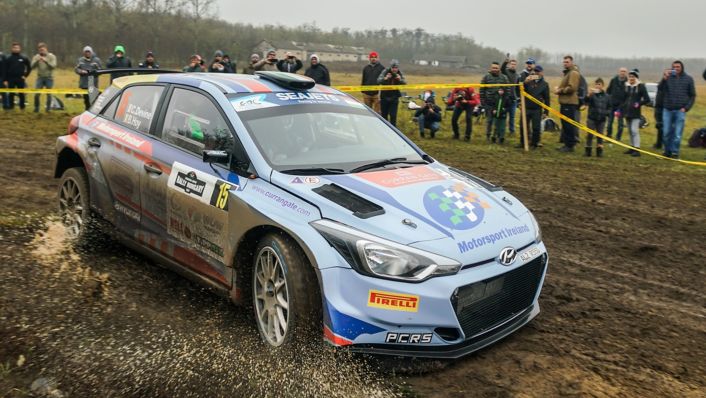 A huge weekend for Hyundai Motorsport is further added to by the presence of a group of WRC cars on the event.
 
WRC drivers Thierry Neuville and Ött Tanak will take their WRC cars onto the tarmac stages in the #RA Plus event as the team continues to prepare for the resumption of the 2020 season at Rally Estonia. French team 2C Compétition will field Italian Luca Pedersoli, and a fourth Hyundai Junior Driver at the rally in Pierre-Louis Loubet, in a pair Hyundai i20 Coupe WRC cars. Finally the Hyundai ranks at the rally are completed by the HMI and Corrado Fontana with a single 2016-spec Hyundai i20 WRC.
 
The Rally di Alba stages are packed into a single day, with just over 100km of timed running taking place on August 2.
Rally di Alba will have the largest group of Hyundai i20 R5 – and by extension – Hyundai Motorsport-built cars ever gathered for a single rally, and it couldn't come at a more important time. The motorsport world has had to wait through the period with no running due to COVID-19, and it was always a concern of how and when events would return. That we are in a position to run Rally di Alba at all is encouraging, and that so many of our customers have been so eager to get back on the stages is great. It shows both the strength of the teams who run with the i20 R5 and the excellent level of support we have been able to offer to firstly help them through the down-time and then enable them to prepare to get back to rallying.
Hyundai at 2020 Rally di Alba – Provisional Entry List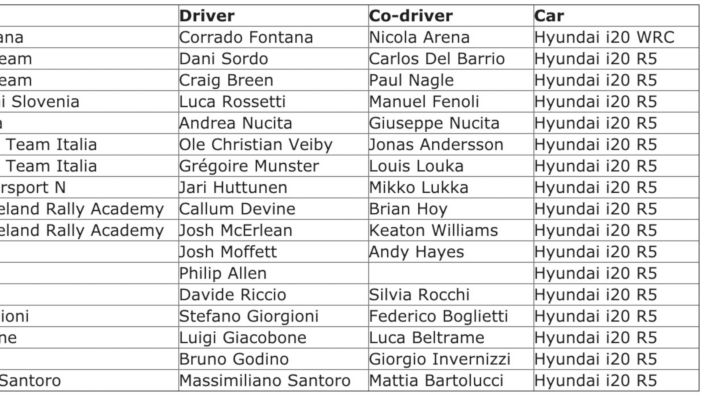 Hyundai at 2020 Rally di Alba – #RA Plus Provisional Entry List