Hyundai hands over a fleet of vehicles to the Atlético de Madrid squad
IONIQ 5 and Boston Dynamics' robot SPOT®, owned by Hyundai, were protagonists in the fleet delivery
An official sponsor of Atlético de Madrid since 2018, Hyundai Motor has celebrated the official handover of its Hyundai vehicles to the club's men's and women's first teams. The handover event took place was held at the Cívitas Metropolitano stadium.
The entire Atlético de Madrid squad received their vehicles, mostly Hyundai TUCSON, and was attended by players from the men's and women's first teams, including Koke, Oblak, Lola Gallardo, Carmen Menayo, Álvaro Morata, Maitane, Marcos Llorente, and Marta Cardona, as well as both coaches of the men's and women's teams: Diego Pablo Simeone and Óscar Fernández, respectively.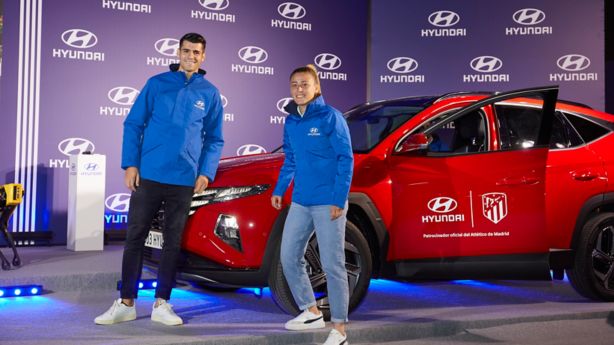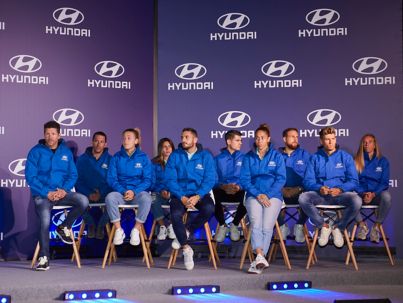 This year, the vehicles were delivered in a creative way. Some car keys were hidden in the Cívitas Metropolitano stadium. Thanks to the commitment to design and innovation in electric technologies and inclusive mobility solutions, the players had two exceptional helpers to find them: IONIQ 5 and the SPOT®, Boston Dynamics' quadruped robot.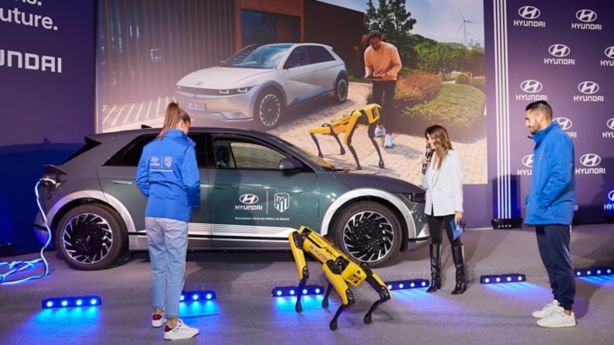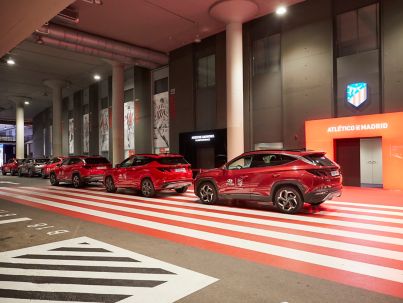 IONIQ 5 is the spearhead of the sustainable transformation, promoted by the company through its vision of 'Progress for Humanity', which contributes to a zero-emission society. This model has already won numerous awards around the world.
The other protagonist, SPOT®, is the result of a collaboration between Hyundai and Boston Dynamics. SPOT is an artificial intelligence-powered robot with autonomous navigation and remote operation technology. The robot, whose battery has been powered by the Vehicle-to-Load (V2L) capabilities of IONIQ 5, has helped the players of both Atlético de Madrid teams to find their vehicles.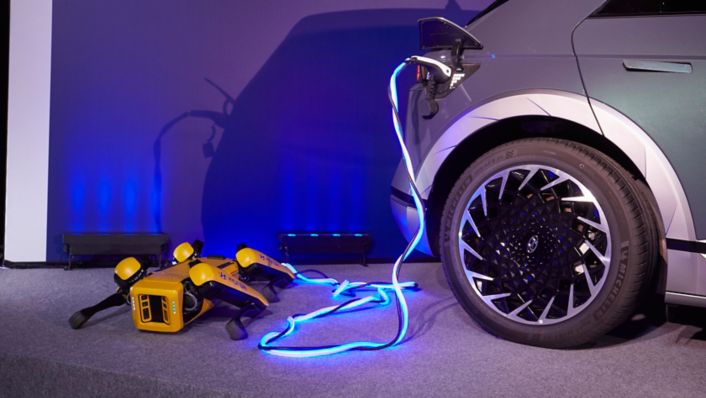 At this event, the new slogan was presented: 'For the fans. For the future.', which was born from Hyundai and Atlético de Madrid's shared goal to fight, together with the fans, for a better future. From now on, all joint actions will revolve around sustainability, electrification, and innovation – fundamental pillars shared by the club and the company. Hyundai, in its quest for improvement, supports football, which is an inclusive and mass spectacle, with a vision of progress.
Under 'Progress for Humanity', the company places people at the centre of its actions and, through this commitment to fostering societies, reinforces the values it shares with local athletes: effort, self-improvement, dedication, and passion.
The spirit of 'making it happen' is at the core of the company's legacy and history, on which it continues to build the way to the future. This message is best represented by its ambassadors, and among them, we can find great athletes, such as the players of Atlético de Madrid.
For more information, watch this video: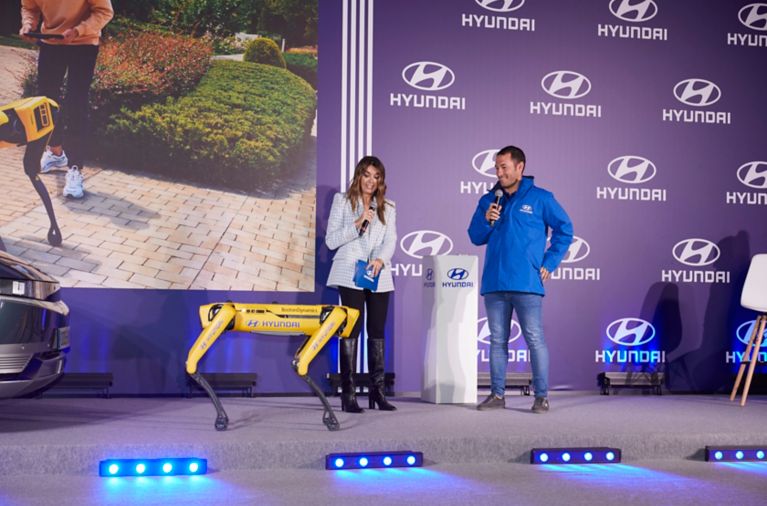 Disclaimer: CO2 and emissions data
Fuel consumption combined for the Hyundai TUCSON 1.6 T-GDI 48V (150 PS) with 6iMT 2WD in l/100 km: 6.8 - 6.5; CO2 emissions combined in g/km: 154 - 147 (WLTP)
Fuel consumption combined for the Hyundai TUCSON 1.6 T-GDI 48V (150 PS) with 7DCT 2WD in l/100 km: 6.6 - 6.3; CO2 emissions combined in g/km: 150 - 143 (WLTP)
Fuel consumption combined for the Hyundai TUCSON 1.6 T-GDI 48V (180 PS) with 6iMT 2WD in l/100 km: 6.7 - 6.4; CO2 emissions combined in g/km: 152 - 145 (WLTP)
Fuel consumption combined for the Hyundai TUCSON 1.6 T-GDI 48V (180 PS) with 7DCT 4WD in l/100 km: 7.1 - 6.9; CO2 emissions combined in g/km: 162 - 156 (WLTP)
Fuel consumption combined for the Hyundai TUCSON 1.6 CRDi 48V (136 PS) with 6iMT 2WD in l/100 km: 5.3 - 4.9; CO2 emissions combined in g/km: 139 - 127 (WLTP)
Fuel consumption combined for the Hyundai TUCSON 1.6 CRDi 48V (136 PS) with 7DCT 2WD in l/100 km: 5.3 - 5.0; CO2 emissions combined in g/km: 139 - 130 (WLTP)
Fuel consumption combined for the Hyundai TUCSON 1.6 CRDi 48V (136 PS) with 7DCT 4WD in l/100 km: 5.9 - 5.5; CO2 emissions combined in g/km: 154 - 143 (WLTP)
Fuel consumption combined for the Hyundai TUCSON 1.6 T-GDI (150 PS) with 6MT 2WD in l/100 km: 7.0 - 6.6; CO2 emissions combined in g/km: 159 - 150 (WLTP)
Fuel consumption combined for the Hyundai TUCSON 1.6 T-GDI (150 PS) with 6MT 4WD in l/100 km: 7.8 - 7.3; CO2 emissions combined in g/km: 178 - 165 (WLTP)
Fuel consumption combined for the Hyundai TUCSON 1.6 CRDi (115 PS) with 6MT 2WD in l/100 km: 5.5 - 5.1; CO2 emissions combined in g/km: 144 - 135 (WLTP)
Fuel consumption combined for the Hyundai TUCSON 1.6 T-GDI Hybrid with 6AT 2WD in l/100 km: 5.9 - 5.5; CO2 emissions combined in g/km: 135 - 125 (WLTP)
Fuel consumption combined for the Hyundai TUCSON 1.6 T-GDI Hybrid with 6AT 4WD in l/100 km: 6.6 - 6.2; CO2 emissions combined in g/km: 149 - 140 (WLTP)
Fuel consumption combined for the Hyundai TUCSON 1.6 T-GDI Plug-in Hybrid with 6AT 4WD in l/100 km: 1.4; CO2 emissions combined in g/km: 31 (WLTP)
Electricity consumption combined for the Hyundai IONIQ 5 58 kWh with 2WD in kWh/100 km: 16.7; CO2 emissions combined in g/km: 0 (WLTP)
Electricity consumption combined for the Hyundai IONIQ 5 58 kWh with 4WD in kWh/100 km: 18.1; CO2 emissions combined in g/km: 0 (WLTP)
Electricity consumption combined for the Hyundai IONIQ 5 77.4 kWh (19" alloy rims) with 2WD in kWh/100 km: 17.0; CO2 emissions combined in g/km: 0 (WLTP)
Electricity consumption combined for the Hyundai IONIQ 5 77.4 kWh (20" alloy rims) with 2WD in kWh/100 km: 18.0; CO2 emissions combined in g/km: 0 (WLTP)
Electricity consumption combined for the Hyundai IONIQ 5 77.4 kWh (19" alloy rims) with 4WD in kWh/100 km: 17.9; CO2 emissions combined in g/km: 0 (WLTP)
Electricity consumption combined for the Hyundai IONIQ 5 77.4 kWh (20" alloy rims) with 4WD in kWh/100 km: 19.1; CO2 emissions combined in g/km: 0 (WLTP)