Hyundai's latest rolling lab RN22e combines motorsport technology with E-GMP 
With an IONIQ 6-based design, RN22e exemplifies knowledge transfer
A series of innovative technologies showcase N brand's vision for electrification
Carbon neutrality is a significant challenge. The automotive industry must adapt, and this will change the very concept of what high-performance cars look like. Hyundai recently-unveiled RN22e, which showcases the company's vision of a fully-electric high-performance car according to N brand's philosophy and latest advanced technologies.
The demand for carbon neutrality for a sustainable future is growing day-by-day. New electric vehicles (EVs) are unveiled every year, and their sales are growing rapidly. In 2021, more than 16 per cent of Hyundai cars sold in Europe were zero-emission vehicles (ZEVs). Despite this, some people have concerns about ZEVs, such as motorsport enthusiasts, who doubt whether electric cars can deliver the exhilaration, emotion and driving dynamics of what high-performance internal combustion engines can offer.
In line with its brand vision, Hyundai's high-performance brand is aiming to build an everyday sports car with dynamic cornering as well as racetrack capability. Even in the electric era, Hyundai N is pursuing the exhilarating pleasures of high-performance cars and pouring its energy into developing its three product pillars: 'Corner Rascal', 'Racetrack Capability' and 'Everyday Sports Car'. The company recently announced it will launch IONIQ 5 N, its first fully-electric N model, in 2023.
RN22e: a rolling lab that combines motorsport technology with E-GMP
RN22e is part of Hyundai's next-generation 'RN' rolling lab series. This succeeded the company's 'RM' project, which began in 2012. Rolling labs test and verify high-performance technology that is inspired by motorsport, such as WRC, WTCR, and ETCR, before it is then incorporated into mass-produced N models. This has served as a stepping stone for Hyundai to mass-produce advanced high-performance technologies. Examples of innovative features perfected by the RM project and now housed in N models such as i30 N and Kona N include E-LSD (Electronic Limited Slip Differential), 8-speed N DCT.
Hyundai's RM Project first began to draw attention in 2014 with its first prototype, RM14. The RM nomenclature refers to the N prototype model's 'Racing Midship' rear-drive, midship powertrain configuration, a fundamental design differentiator that yields ideal handling balance and agility from a low polar-moment of inertia. Since the initiation of project RM, there has been a progressive evolution of the RM series, including: RM14, RM15, RM16 and RM19. The first electrified prototype, RM20e, was showcased in 2020 and continued to use the original code name.
Earlier this year, Hyundai N debuted its electrified vision along with the renewal of its rolling lab series with RN22e. The 'RM' name was changed to 'RN', as this combines the 'R' of 'rolling lab' and the 'N' of the N brand. The number indicates the year it was manufactured, while the 'e' indicates electrified technology.
Besides its naming style, RN22e is different from previous RM projects in other ways. Unlike RM20e, which featured a midship structure that housed electric technology for the first time, RN22e is based on Hyundai Motor Group's E-GMP (Electric-Global Modular Platform). E-GMP incorporates innovative technologies such as 800V ultra-fast charging and the front wheel's EV transmission disconnector technology. RN22e is also equipped with many high-performance know-hows from previous RM projects. Together, these factors enabled RN22e became the first rolling lab to feature all-wheel drive with front and rear electric motors that deliver a powerful performance.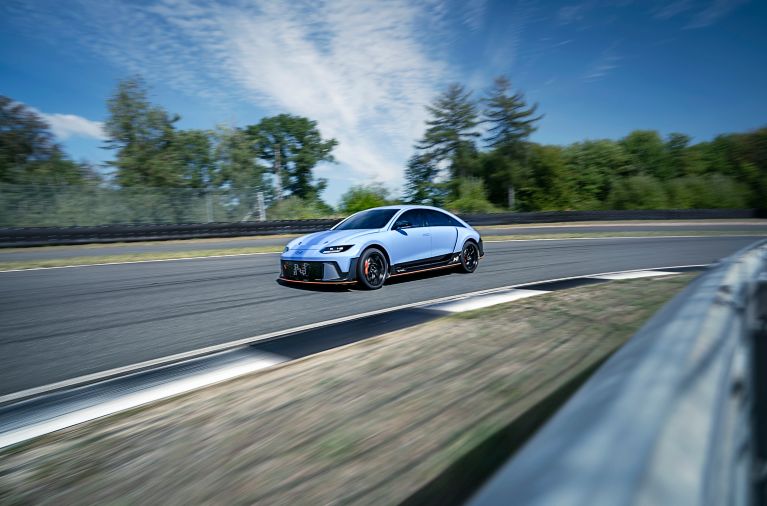 Knowledge transfer from IONIQ 6
In the past, Hyundai's N brand has transferred its knowledge from the racetrack to the road to develop better high-performance models. For example, i20 N was directly influenced by the i20 WRC car. Unlike recent RM projects, which were built on VELOSTER, the N brand sought inspiration from the latest model from the company's IONIQ line-up.
RN22e is packaged in an IONIQ 6-based streamliner design to take advantage of its optimal aerodynamics. With a single-curved profile and carefully crafted contours, IONIQ 6 offers Hyundai's lowest-ever drag coefficient of 0.21. In order to maximise RN22e's performance, Hyundai N added an array of motorsport-inspired details. Through a low ground clearance, emphasised shoulders, rear spoiler and a large rear diffuser, Hyundai's engineers achieved a sleek look with a wide and sturdy stance that measures 4,915 mm long, 2,023 mm wide and 1,479 mm tall on a 2,950 mm wheelbase.
With the design in place, they were able to concentrate on developing software that enables drivers to control the electric powertrain while driving to the limit.
From a technological standpoint, RN22e is influenced by various aspects of the N brand and RM series, as well as Hyundai Motorsport. Through its participation in ETCR, Hyundai's motorsport division collects data about EV driving under harsh conditions. Meanwhile, knowledge generated via the RM project supports the testing and development of motorsport-inspired technology. E-GMP ensures that RN22e is not only equipped with a powerful electric motor and large-capacity battery, but it was capable of being developed into a high-performance EV from the very start.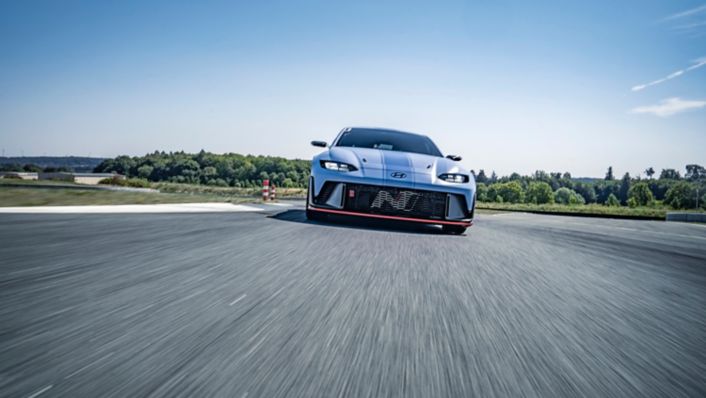 A new level of cornering performance
RN22e is equipped with the N brand's first four-wheel drive system, which provides optimised torque distribution according to different drive modes that allows drivers to choose the torque power on the front and rear wheels. The maximum output of its front electric motor is 160 kW and 270 kW at the rear, for a combined total of 430 kW, while its maximum torque is 740 Nm. As a result, the vehicle offers an exhilarating cornering experience.RN22e is also equipped with front-wheel EV transmission disconnector technology, an E-GMP-specific feature that allows power distribution at the front and rear. This was further developed based on findings from Hyundai Motorsport's involvement in the complex driving environments of WRC. As a result, this technology quickly switches between four- and rear-wheel drive by disconnecting the front-wheel motor according to the driving situation, to deliver more thrills behind the wheel.
Other examples of advanced technologies housed in RN22e include torque vectoring (e-TVTC), which distributes driving force to the rear wheels while attaching and detaching the twin clutch of the rear electric motor. The e-TVTC can send all the driving power to just one of the left and right rear wheels when cornering, providing a similar effect to that of e-LSD with Hyundai N's internal combustion engine models. With this torque vectoring technology, RN22e overcomes the physical limit of EVs, which tend to understeer out of corners due to their weight, for a more dynamic driving performance. In addition, when the twin clutch of the rear wheel is disconnected, inertia driving is possible, which increases efficiency. RN22e's e-TVTC software will continue to be developed across a range of driving environments in the future.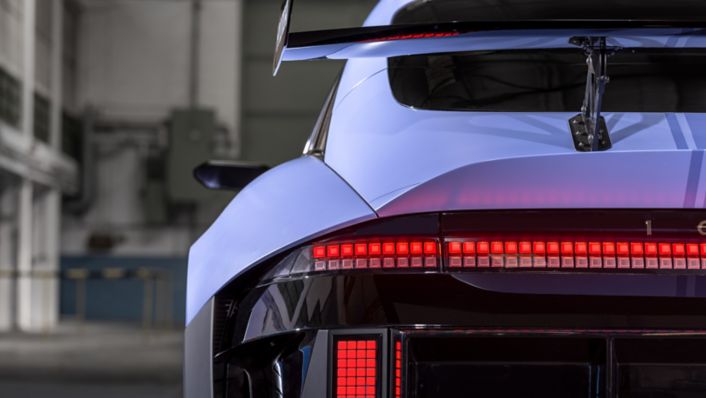 E-GMP provides a low centre of gravity by placing the heavy front and rear electric motors and batteries at the bottom of the vehicle, enabling it to ideally distribute front and rear weight. RN22e also uses WRC-inspired IDA (Integrated Drive Axle) that combines the drive shaft and the wheel bearing to reduce weight and increase lateral stiffness. Body rigidity is further enhanced thanks to a roll cage and separate rear partition panel, while 3D-printed aluminium parts help achieve a lighter weight for better corner attack.
Racetrack capability for endless driving pleasure
One of the R&D objectives of RN22e as a rolling lab is to enhance its cooling and aerodynamic performance. It is commonly known that aerodynamics greatly affects the driving stability, fuel efficiency, and noise of high-performance vehicles. As with internal combustion engine cars, heat management is important. EVs must shape the driving wind to their advantage, and use air and coolants to manage the heat of their batteries – and this is particularly paramount in high-performance models. RN22e's EV-specific cooling system was developed based on findings from motorsport with Hyundai's VELOSTER N ETCR and RM20e models, and this will continue to be fine-tuned by the company's engineers going forward.
An efficient cooling design is necessary so that RN22e can endure even longer track driving. Meanwhile, battery pre-conditioning optimises the state of the battery before and after entering the track for maximum performance. This function raises the battery temperature to the optimal level to beforehand and lowers the battery temperature afterwards to enable E-GMP's 800V ultra-fast charging. As a result, RN22e charges a 77.4 kWh battery from 10 to 80 per cent in just 18 minutes. In addition, the electric motor and battery have independent cooling systems for more efficient battery thermal management, while a wider front intake further improves cooling performance.
Another key for RN22e's consistent performance on the racetrack is its braking capabilities. In general, the heavy batteries of EVs result in a bigger inertia compared to internal combustion engine vehicles. If such a heavy vehicle suddenly brakes just before entering a corner, the load on the brake system increases due to the increased kinetic energy. Then, not only will it become difficult to mark the ideal record, but it could also cause brake fade and a sharp decrease in braking ability. To prevent this, RN22e uses high-performance friction material pads used in N models, 4-piston monobloc calipers, and 400 mm hybrid discs. Hyundai's N brand is currently developing a regen-braking technology optimised for high-performance EVs so that it can handle corners more quickly and aggressively.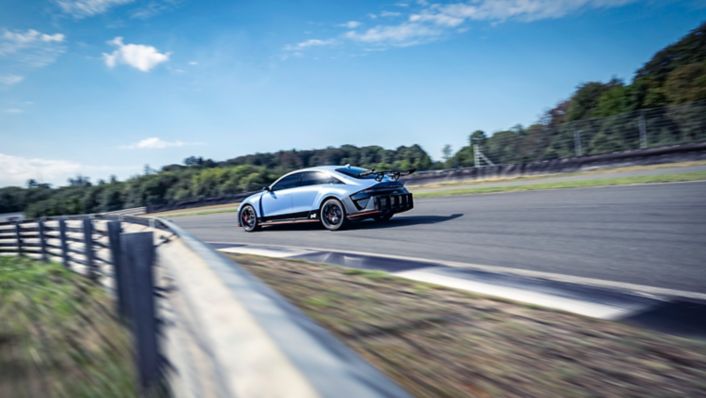 RN22e makes everyday life exhilarating
RN22e is not only packed with technology that offers dynamic performance on the racetrack, but also features that make everyday life more enjoyable – like a sound system. The sound of high-performance cars stimulate drivers' emotions, but it is difficult for EVs without engine and exhaust sounds to provide such sensibility.
RN22e provides N Sound+, which generates sound from the interior and exterior speakers, so that drivers can enjoy the driving experience according to their taste and atmosphere. This sound embodies the emotion of a high-performance internal combustion engine, while the N e-shift function integrates a high-performance vibration and shifting feel in order to prompt interaction between the driver and the car. The N Sound+ will continuously be developed to suit the tastes of various drivers, and is being planned to provide a new driving experience in a future mass-produced N model.
Another advanced technology Hyundai is developing with RN22e is a smart levelling suspension system. The goal is to enable both daily comfort and dynamic driving on the track via the use of an air suspension concept, which is used to provide a comfortable ride for luxury cars. It can lift the car body to prevent damage to the underside when passing ramps and speed bumps, and lowers the car body to improve aerodynamic performance by lowering the vehicle's centre of gravity on the track. It is being developed to provide performance suitable for various driving environments by adjusting not only the height but also the compression and rebound of the suspension.
RN22e showcases N brand's vision for electrification
Many of these technologies are expected to be utilised in future high-performance electrified N models, after undergoing rigorous testing and verification on the road and racetrack. Some of the RN22e's innovative features developed through this process relating to driving performance, durability, and safety may also be used in future mass-produced models, too.
Disclaimer: CO2 and emissions data
Electricity consumption combined for the Hyundai IONIQ 6 53 kWh with 2WD in kWh/100 km: 13.9; CO2 emissions combined in g/km: 0 (WLTP)
Electricity consumption combined for the Hyundai IONIQ 6 77.4 kWh (18" alloy rims) with 2WD in kWh/100 km: 14.3; CO2 emissions combined in g/km: 0 (WLTP)
Electricity consumption combined for the Hyundai IONIQ 6 77.4 kWh (20" alloy rims) with 2WD in kWh/100 km: 16.0; CO2 emissions combined in g/km: 0 (WLTP)
Electricity consumption combined for the Hyundai IONIQ 6 77.4 kWh (18" alloy rims) with 4WD in kWh/100 km: 15.1; CO2 emissions combined in g/km: 0 (WLTP)
Electricity consumption combined for the Hyundai IONIQ 6 77.4 kWh (20" alloy rims) with 4WD in kWh/100 km: 16.9; CO2 emissions combined in g/km: 0 (WLTP)
Fuel consumption combined for the Hyundai i30 N 2.0 T-GDI (250 PS) with 6MT in l/100 km: 7.7; CO2 emissions combined in g/km: 175 (WLTP)
Fuel consumption combined for the Hyundai i30 N 2.0 T-GDI (280 PS) with 6MT in l/100 km: 8.0; CO2 emissions combined in g/km: 182 (WLTP)
Fuel consumption combined for the Hyundai i30 N 2.0 T-GDI with N DCT in l/100 km: 8.4; CO2 emissions combined in g/km: 191 (WLTP)
Fuel consumption combined for the Hyundai i20 N 1.6 T-GDI (204 PS) with 6MT in l/100 km: 6.9; CO2 emissions combined in g/km: 158 (WLTP)
Fuel consumption combined for the Hyundai KONA N 2.0 T-GDI (280 PS) with DCT in l/100 km: 8.5; CO2 emissions combined in g/km: 194 (WLTP)