What excites you about robots?
What I find so fascinating about robotics is that this field of technology has the potential to transform society, and we envision a world where robots will one day fit seamlessly into our lives and help expand human potential.
The innovations that arise from robotics won't just benefit a privileged few; robots will enhance daily life for everyone.
Please describe the mindset needed to be a roboticist.
In order to be a roboticist, you need to have an open mindset and an insatiable sense of curiosity. You need to be able to understand the needs of people and how they accomplish tasks before you can develop robots that can meet these requirements. That's how we can maximise usefulness in the robots of tomorrow.
When you walk through our office, you will also notice that roboticists come from all walks of life and many different disciplines. So we encourage anyone who is interested in robots to apply for a job with us.  
Roboticists must also be willing to fail. Before every success in the field of robotics were countless failures during development and testing. Innovation in robotics requires equally healthy doses of both patience and passion.
How would you describe the future of mobility? What is the role of robotics in this?
The future of mobility will look very different than the mobility we know today.
The future of mobility will focus on providing passengers with a seamless, cleaner, and more efficient journey.

Robotics and mobility complement and accelerate each other, so robots will serve as a foundational element for future mobility solutions. Think electrified travel, driverless vehicles, exoskeletons, last-mile solutions and synergetic transportation models within cities.
To what extent does robotics align with Hyundai's vision of "Progress for Humanity"?
Our goal is to imagine and create exceptional robots that enrich people's lives. It's not about replacing human labour; it's about enhancing it with robotics that add value by making our daily tasks safer, easier and more productive.  This is how we will contribute to "Progress for Humanity".
Can you tell us about personal experiences that have shown you that robotics is not just factual technology, but can also be deeply human?
I joined Boston Dynamics to fulfil my lifelong ambition of commercializing robots, and possibly creating companion robots that are lovable creatures that enrich our daily lives. It will be another decade until companion robots truly become a reality, but Boston Dynamics is better positioned than any other company to execute on this mission. 
There's something fascinating about watching people interact with our Spot robot. Despite the fact that they inherently understand it is a machine, people often react to it much in the same way they would treat a real dog. Our need to emotionally connect is powerful, and that sense of connection extends across cultures and even beyond the confines of humanity. 
We are still exploring how expressive and emotive robots can be, but we believe there will be a need for the next generation of intelligent robots to be able to connect and communicate with humans on a more emotional level.
We see a future where robots one day are able to serve as trusted companions in our everyday lives, so that sense of connection and collaboration will be tremendously important.
What needs do you see among people in the field of robotics? Or are robots primarily a topic for industrial sectors?
Today our robots work mostly in industrial settings. Spot helps operations teams collect equipment data and perform inspections in industries like energy and utilities, oil & gas, manufacturing, construction, and mining, and the robot is also frequently used as a teaching tool in research and academia. Stretch, our new logistics robot, is designed to move heavy boxes in warehouses and distribution centres, helping keep employees safer by taking on some of their most challenging and repetitive tasks.
It is a fascinating time in our history for robots. While stationary robots have been in factories for decades, we are at the dawn of mobile robots walking into our daily lives: at school, at work, and eventually in our homes. 
In the future, intelligent mobile robots will expand beyond the industrial settings of today.
We see a world where robots increasingly become part of our everyday lives, and we anticipate they will one day become commonplace in our offices, schools, hospitals, and eventually even our homes. Robots will make our lives safer and easier.
How would you describe what you can see, hear, and experience at the robotics lab at Boston Dynamics? What is the atmosphere like?
The atmosphere at Boston Dynamics is fast-paced and fun! The place is full of brilliant technical minds working together to develop groundbreaking advances in mobile robotics.
It's very common to see robots and operators walking through the halls and labs all day long, and everywhere you look there are robotic parts and payloads that will be put together later. We even have a testing and reliability area where robots are running autonomous missions twenty four hours a day, long after our employees have gone home for the night.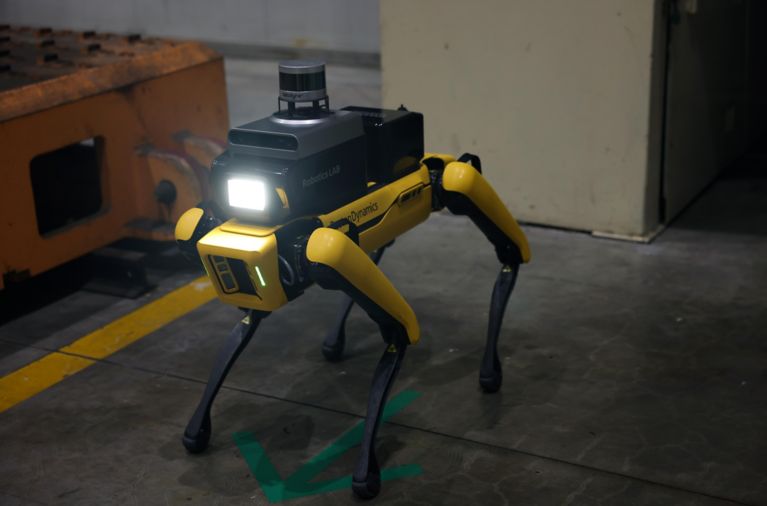 But the thing we love most about our office isn't only the robots. It's also the amazing people we have the pleasure of calling our colleagues. Boston Dynamics is home to an incredibly passionate group of roboticists who love what they do and have lots of fun doing it. 
In what areas of life is Boston Dynamics currently exploring uses for robotics?
Today, Boston Dynamics is the global leader in mobile robotics.
Our robots are equipped with advanced mobility, dexterity and intelligence, enabling automation in unstructured or hard-to-traverse spaces, from industrial plants and construction sites to distribution centres and warehouses. We have three robots in our portfolio: Spot, a quadruped which is broadly available for commercial and industrial use; Stretch, which is currently deployed with early adopter logistics customers; and Atlas, our bipedal research and development platform.
We're also working with the Hyundai Motor Group Robotics Lab, and we are beginning to explore technology related to human-robot interaction. This includes embedded AI, mobility platform technology, and wearable robots. Hyundai Robotics Lab has been developing various wearable robots, including the Vest Exoskeleton, Chairless Exoskeleton, and Medical Exoskeleton.
In which areas does Boston Robotics believe the opportunities for robotics are particularly great?
We see a huge opportunity for Spot to add value in industrial settings. Almost a thousand Spots are already out in the world today, performing valuable work like looking for thermal anomalies at utility substations, mapping radiation zones in nuclear facilities, and building digital twin models of construction sites. We continue exploring new industrial use cases for Spot with our customers all the time.
Stretch, our newest robot, was designed specifically to move boxes in warehouses and distribution centres. In the wake of global supply chain challenges brought on by the pandemic, we believe Stretch can be a key contributor that keeps the flow of goods moving while helping logistics personnel operate in a safer and more productive way. DHL, a global logistics leader, recently announced it is purchasing a fleet of Stretch robots to assist in its North American operations, and we anticipate strong market interest based on the success we're seeing with early adopter pilot customers.
Longer-term, we see great opportunities for robotics that are more service-oriented in the consumer world as well. These technologies are centered around humans and include AI, wearable robots, and mobility platform technology. These sorts of robots will allow customers to experience robot-based services in their daily lives.
What distinguishes Boston Dynamics from others in the industry? 
What differentiated Boston Dynamics from its competitors in the field was that we had already successfully integrated agile, mobile robots into business operations. Boston Dynamics is an established leader and innovator in the field of robotics, and we work with many of the world's leading industrial firms.
How will Hyundai's acquisition of Boston Dynamics change how each party develops robotics?
This collaboration is definitely greater than the sum of its parts. Luckily, Boston Dynamics and Hyundai have complementary strengths, so we're creating technological synergies. While Hyundai's Robotics Lab is focused on developing service-oriented, human-centered technologies, such as AI, articulated robots, service robots, and mobile platforms, Boston Dynamics develops agile mobile robots for the industrial and logistics sectors.
To take advantage of our mutual strengths, we will establish development and business roadmaps in consolidated robotics technology. We will work together to advance each other's robotics technologies through projects, exchanges, and business partnerships.
What projects are already in the pipeline?
We already have a few collaborative projects in the pipeline, many of which are confidential.
One public example is that we plan on implementing our robots at the Hyundai Global Innovation Center in Singapore in late 2022. We have also conducted a proof of concept at Kia's plant in Gwangmyeong, where Spot serves as a safety and maintenance solution.
We will be leading robotics technology development with Hyundai and exploring additional opportunities to work together in the near future.
What projects will be initiated in the near future?
Our leadership teams are working some pretty big projects together, and we are looking forward to sharing more details in the near future. One big idea is to create a new value chain that ranges from robot component manufacturing to robot-based, smart logistics solutions. We are still working on defining specific timelines, but we are encouraged by our early progress.
Spot's sales have steadily increased since its commercial launch in 2020, and we are seeing strong demand for Stretch from early adopter customers like DHL. With Hyundai, we will continue looking for new market opportunities and applications for Spot within the industrial and public sectors, and we hope to rely on Hyundai's deep manufacturing and supply chain expertise as we begin to ramp up sales of Stretch in the logistics sector throughout 2022.
Marc Theermann is the Chief Strategy Officer for Boston Dynamics. In this role, he is in charge of the Products, Partnerships and Marketing organisations.