Hyundai Motor released the eighth episode of its podcast, Are We There Yet?
This is the second episode to feature an external guest: Veronika Mikos, Director of Healthy Seas, a marine conservation organisation
Mikos joins Florian Büngener, Head of PR & Communications at Hyundai Motor Europe, to tell listeners about the partnership between Healthy Seas and Hyundai and how the collaboration will take shape across the beaches and waters around Europe
Listen and subscribe to the podcast here
Hyundai Motor has released the eighth episode of its bi-weekly podcast, Are We There Yet?. In "How we are cleaning the oceans for a more sustainable future", host Suzi Perry invites Veronika Mikos, Director of Healthy Seas, and Florian Büngener, Head of PR & Communications at HME, to talk about the partnership between HME and Healthy Seas and how their shared vision will ensure a cleaner, more sustainable future for local communities.
Founded in 2013, Healthy Seas' mission is to tackle the ghost fishing phenomenon, which threatens underwater ecosystems and endangers marine life. Thanks to clean-up efforts with volunteer divers and collaborations with stakeholders in the fishing sector, Healthy Seas and its partners collect and transform waste nets into a valuable resource and promote ocean litter prevention.
In the eighth episode, Mikos elaborates on how the ghost net problem has developed over the past few years as well as how the fishing industry and public awareness has changed in response. She also explains how various stakeholders can do their part to keep the oceans clean – from governments and policymakers down to the individual.
This cooperation with Hyundai opens up a new horizon for us. Hyundai is going to help us enormously to intensify our activities and our impact. With the help of Hyundai, we will be able to implement multiple clean-ups and education programmes in about six, seven countries all year round. We start in a couple of days – the 8th of June, World Oceans Day – in Greece with our first event. So, we are very excited about it.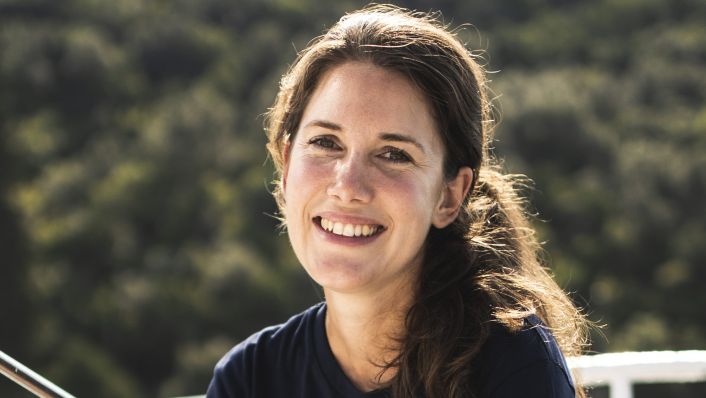 Büngener explains how this partnership with Healthy Seas fits perfectly with Hyundai Motor's mission, as a purpose-driven company, to shape a more sustainable future. He references its commitment to sustainable materials and zero emission technology and also elaborates on the importance of shifting from a linear - to a circular economy.
When Hyundai Motor Europe, decided to reconsider its pan-European CSV approach, it was clear, that the project needs to include more than simple monetary support. We want to leave an impact on society and play an active role with our almost 9.000 employees in Europe. Already with the IONIQ 5 we are presenting a car that includes recycled materials in the interior. We will see to further re- and upcycle material for our vehicles.
Subscribe to Hyundai's podcast, Are We There Yet?, and listen to the latest episode now to learn more about Healthy Seas and how Hyundai has committed to clean up the world's oceans with them.
The eighth episode of Are We There Yet? is now live and available to listeners on Spotify, Apple, Google, Podcasts, Stitcher, Acast and other podcast streaming platforms. It is produced by Fresh Air Production.
About Veronika Mikos
Veronika Mikos is the Director of Healthy Seas. She joined the initiative at its inception as a Project Coordinator, bringing more than 10 years of experience in managing international projects related to nature conservation and biodiversity.
About Florian Büngener
Florian Büngener is the Head of PR & Communications at Hyundai Motor Europe. Joining Hyundai's PR team as Corporate & Brand PR Manager in 2016, he started his public relations career in the automotive industry around 15 years ago.
About Healthy Seas
The mission of the 'Healthy Seas, a Journey from Waste to Wear' initiative is to remove waste from the seas, in particular fishing nets, for the purpose of creating healthier seas and recycling marine litter into textile products. The recovered fishing nets will be transformed and regenerated by Aquafil into ECONYL® yarn, a high-quality raw material used to create new products, such as socks, swimwear, sportswear or carpets. Since its founding in 2013, Healthy Seas has collected over 585 tons of fishing nets with the help of volunteer divers and fishermen.
Disclaimer: CO2 and emissions data for IONIQ 5
Electricity consumption combined for the Hyundai IONIQ 5 58 kWh (19" alloy rims) with 2WD in kWh/100 km: 16.7; CO2 emissions combined in g/km: 0 (WLTP)
Electricity consumption combined for the Hyundai IONIQ 5 58 kWh (19" alloy rims) with 4WD in kWh/100 km: 18.1; CO2 emissions combined in g/km: 0 (WLTP)
Electricity consumption combined for the Hyundai IONIQ 5 72.6 kWh (19" alloy rims) with 2WD in kWh/100 km: 16.8; CO2 emissions combined in g/km: 0 (WLTP)
Electricity consumption combined for the Hyundai IONIQ 5 72.6 kWh (20" alloy rims) with 2WD in kWh/100 km: 17.9; CO2 emissions combined in g/km: 0 (WLTP)
Electricity consumption combined for the Hyundai IONIQ 5 72.6 kWh (19" alloy rims) with 4WD in kWh/100 km: 17.7; CO2 emissions combined in g/km: 0 (WLTP)
Electricity consumption combined for the Hyundai IONIQ 5 72.6 kWh (20" alloy rims) with 4WD in kWh/100 km: 19.0; CO2 emissions combined in g/km: 0 (WLTP)