Hyundai Motorsport has taken a podium finish at the opening round of the 2021 FIA World Rally Championship (WRC), Rallye Monte-Carlo
Thierry Neuville and new co-driver Martijn Wydaeghe claimed third place with a spirited performance on the final day, including a stage win
Dani Sordo and Carlos del Barrio, in their final event together, finished fifth with both crews picking up extra drivers' and manufacturers' points in the Power Stage.
Hyundai Motorsport has opened its podium account for the 2021 FIA World Rally Championship (WRC) with a third-place finish for Thierry Neuville and Martin Wydaeghe at Rallye Monte-Carlo.
In their first WRC event as a crew, the Belgians picked up the pace when it was needed to advance into the podium positions on the final day. A strong second fastest time in Sunday's opening stage (SS12 Puget-Théniers - La Penne) was followed by their second stage win of the weekend (SS13 Briançonnet - Entrevaux) cementing their third spot.
 
Dani Sordo and Carlos del Barrio brought their rally-winning partnership to a conclusion with another trouble-free performance. The pair took the second fastest time at the start of the repeated loop and confirmed their fifth-place finish in the Power Stage.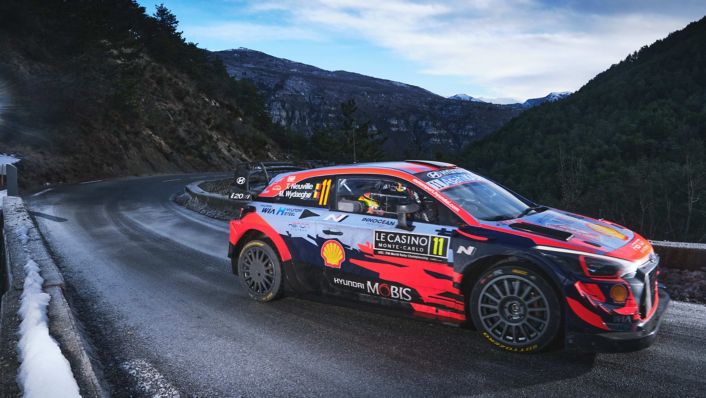 Following the forced retirement of Ott Tänak and Martin Järveoja on Saturday, Hyundai Motorsport had just two crews remaining on the final day. It meant that both Neuville and Sordo were eligible for extra points in the Power Stage with rules now extending the bonus opportunity to the manufacturers' championship. Finishing fourth and fifth in the final stage means that Hyundai Motorsport has taken 30 points away from the opening round of the season.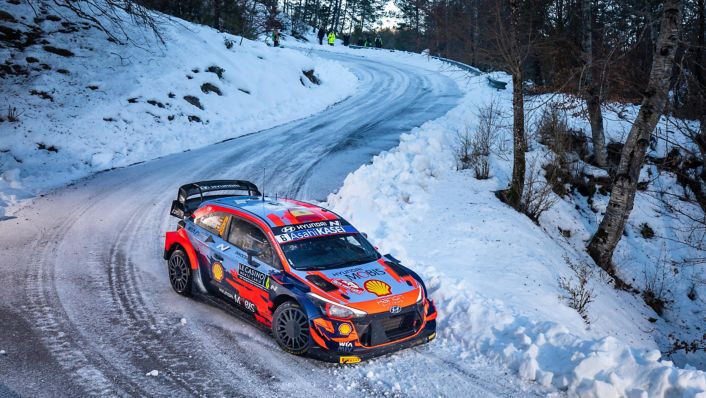 Crew Notes: Thierry Neuville/Martijn Wydaeghe (#11 Hyundai i20 Coupe WRC)
Neuville claims third consecutive Monte-Carlo podium with third place
First WRC podium for co-driver Wydaeghe
A challenging start to the new season for us, especially after a late co-driver change. We were able to find a solution to be competitive and, step by step, Martijn and me were able to find more confidence in the car to improve our collaboration and to improve our speed day by day. To finish on the podium is a satisfying result considering the situation we have faced. The job in the car has been really impressive considering the difficulties of Monte.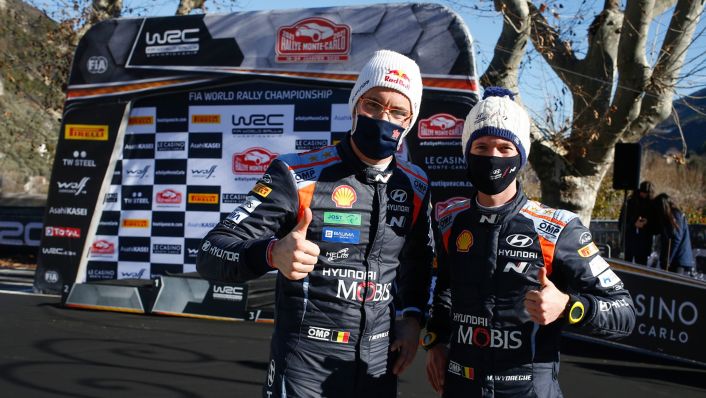 Crew Notes: Dani Sordo/Carlos del Barrio (#6 Hyundai i20 Coupe WRC)
Trouble-free finish to Rallye Monte-Carlo confirmed fifth place
One extra driver point and two for manufacturers in the Power Stage
We haven't had a very good rally, so to take some manufacturers' points away is some consolation. From the beginning, we have not really been on the pace and I am not particularly happy with myself, to be honest. We have faced some incredibly tricky stages and there have been some parts where I have just lacked confidence. The only thing we've been able to do is survive: to bring the car home and to score points for the team. At the end of the year, they could be very important. We need to reset and go to the next one with full power. It is sad to finish my partnership with Carlos; we've had some good results over the years, and it's been great to work with him.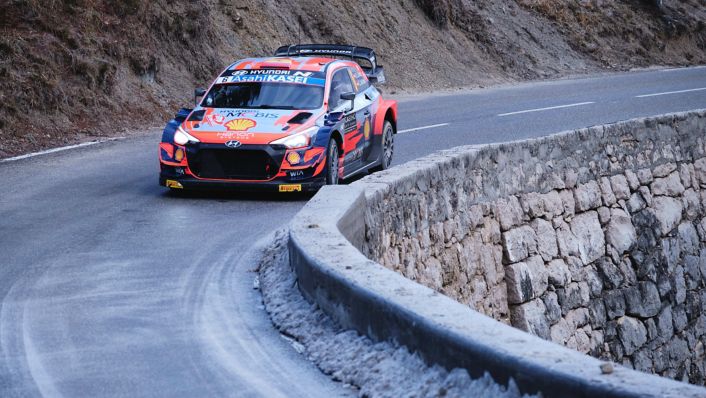 This rally has finished in the same way it has gone all weekend. Clearly, it has been totally wrong. I don't know if it is the approach of the people, or whatever, but today we have again shown our limits. For sure, it was not the case to push because we were just licking our wounds and trying to get ahead. I personally have to have a deep rethink on many things because what I have seen this weekend is far from something to make me proud and happy. Something in the approach has to be changed. I would like to add a final word for Carlos to mark his final event with our team; to extend my thanks to him for his efforts over the past three seasons, including two memorable victories alongside Dani in Sardinia. We wish him well in the next chapter of his career.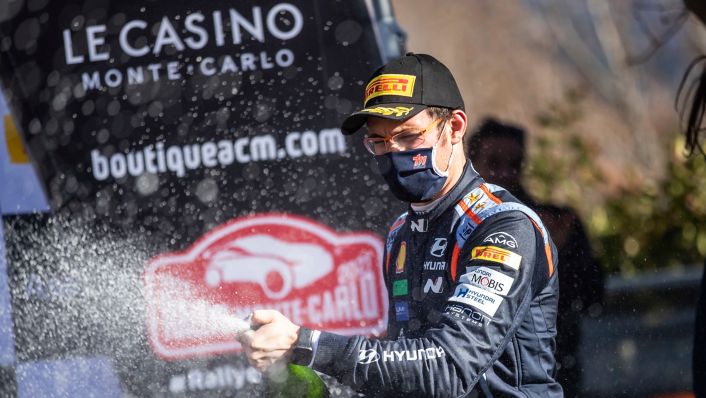 Next Rally
The FIA World Rally Championship (WRC) will head to the Arctic Circle for the second round of the season, Arctic Rally Finland
The new WRC round takes place from February 26-28, based in Rovaniemi, where snow and ice conditions will offer crews an exciting challenge.
Final Overall Classification – Rallye Monte-Carlo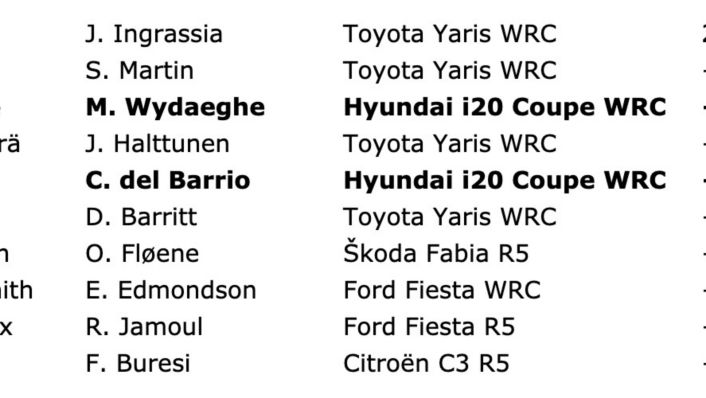 2021 FIA World Rally Championship for Manufacturers' Standings
After round 1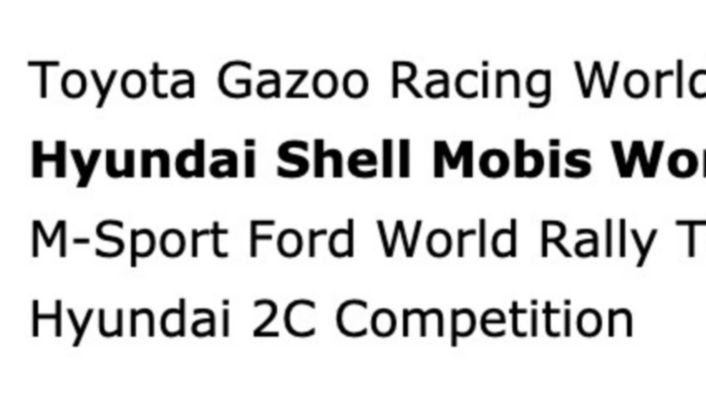 2021 FIA World Rally Championship for Drivers' Standings
After round 1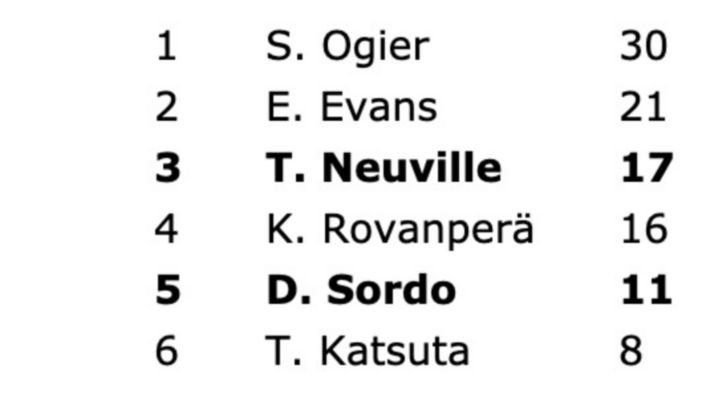 All results remain subject to official FIA confirmation.