STARIA wins auto motor und sport's readers' award for the second time in a row
STARIA leads among 15 competitors in the "vans – import" category
The multi-purpose vehicle's (MPV) strengths are spaciousness, flexibility, and safety equipment
Like in 2022, the Hyundai STARIA has won the 'Best Cars' award of the German trade journal auto motor und sport. The models took first place in the "van – import" category. A total of 101,550 readers participated in the poll, voting for more than 422 cars across 13 categories. STARIA went up against 15 competitors, making the win even more significant.
Receiving the award immediately after STARIA's sales launch last year was a pleasant surprise. It had turned into an incentive for the entire team to repeat this great success. The fact that STARIA was able to outperform these important competitors says a lot about our brand and the quality of our products. We are proud to have received this award for the second year in a row. It confirms that our MPV offering remains unparalleled in the German market.
Futuristic design combined with exclusive equipment and front-wheel or all-wheel drive
With its futuristic and clean design, it stands out just as much as with its exceptionally spacious interior. Whether in its comfort-oriented seven-seater configuration (2+2+3 seats) with multi-functional Premium Relaxation Seats in the second row or in its new nine-seater variant (3+3+3 seats), the 5.25-metre STARIA is unparalleled when it comes to roominess.
In addition to its attractive design, STARIA also impresses with family-friendly features. A wide-angle camera allows the driver and front passenger to view the rear passengers. With the help of the infotainment system, all occupants can communicate over a hands-free system, while a Bose sound system with twelve speakers provides an all-around high-quality audio experience.
As with every Hyundai, STARIA places significant importance on occupant safety. The luxury coach's Rear Occupant Alert (ROA) alerts the drivers visually and audibly if they have exited the car and locked it while occupants are still in the rear seat. An ultrasonic motion sensor monitors the interior to prevent children or animals from being accidentally left behind.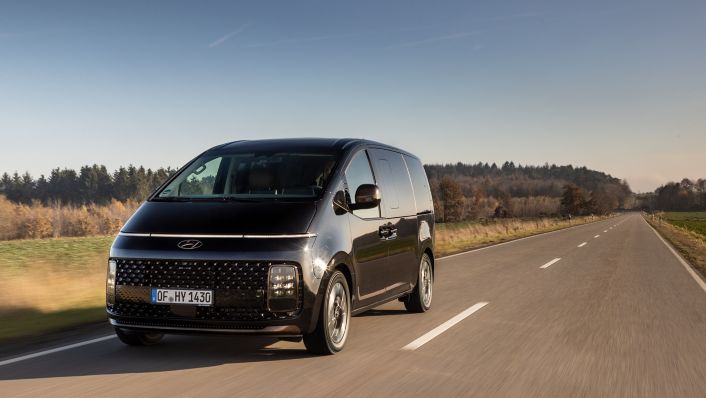 Flexible seating rows, top equipment
With the nine-seater available, Hyundai accommodates customers who prioritise seating over luxury. Nevertheless, Hyundai's multi-purpose vehicle (MPV) customers do not have to opt out of any major extras, even with the Prime equipment. For example, both variants are powered by the same, efficient 2.2-litre VGT diesel engine, producing 177 PS and a maximum torque of 431 Nm. In addition to the eight-speed automatic transmission, automatic climate control, AVN, Apple CarPlay and Android Auto, wireless charging for cell phones, and USB charging ports in all rows, STARIA Prime comes standard with LED headlights and taillights. The seats are upholstered in a combination of leather and imitation leather, and the second and third rows can be moved forward and back by up to 400 millimetres.
Customers will also find a comprehensive range of Hyundai Smart Sense safety systems in their new STARIA nine-seater, including Forward Collision-Avoidance Assist (FCA) including pedestrian and cyclist detection, Highway Driving Assist (HDA), High Beam Assist (HBA), and Safety Exit Warning (SEW).
Standard two-year extended warranty
A comprehensive warranty package is also available for all versions of STARIA. It consists of the previous three-year manufacturer's warranty without a mileage limit, which Hyundai will extend with a two-year new car follow-up warranty from the specialist Real Garant. This follow-up warranty is free of charge for the customer and applies to all STARIA units from the model year 2023 purchased from an authorized Hyundai dealer in Germany.
Disclaimer: CO2 and emissions data
Fuel consumption combined for the Hyundai STARIA van with 6MT 2WD in l/100 km: 8 - 7.8; CO2 emissions combined in g/km: 210 - 205 (WLTP)
Fuel consumption combined for the Hyundai STARIA wagon/premium with 6MT 2WD in l/100 km: 8 - 7.8; CO2 emissions combined in g/km: 210 - 205 (WLTP)
Fuel consumption combined for the Hyundai STARIA van with 8AT 2WD in l/100 km: 8.2 - 8; CO2 emissions combined in g/km: 215 - 209 (WLTP)
Fuel consumption combined for the Hyundai STARIA wagon/premium with 8AT 2WD in l/100 km: 8.5 - 8.1; CO2 emissions combined in g/km: 222 - 212 (WLTP)
Fuel consumption combined for the Hyundai STARIA wagon/premium with 8AT 4WD in l/100 km: 8.9 - 8.5; CO2 emissions combined in g/km: 234 - 222 (WLTP)