Hyundai Motor released episode four of the second season of its podcast, Are We There Yet?
Simon Loasby, Vice President, Head of Hyundai Styling, talks with host Suzi Perry about his role in further developing Hyundai's design philosophy and the revolutionary SEVEN concept car unveiled at this year's AutoMobility LA
Listen and subscribe to the podcast here
Hyundai Motor has released the fourth episode of season two of its bi-weekly podcast, Are We There Yet?. Simon Loasby, Vice President, Head of Hyundai Styling at Hyundai Motor Company, joins host Suzi Perry in "SEVEN Concept: the SUEV you can actually live in" to talk about his career in automotive design and contribution to the development of Hyundai's current design philosophy, as well as the company's SEVEN concept and the way it was designed.
In season two, episode four, Loasby reflects on his career, explaining what sparked his interest in automotive design and the reason he switched from a European carmaker to working for a Korean automotive brand in China and Korea. During his time at Hyundai, Loasby has played a major role in bringing Sensuous Sportiness into the IONIQ line-up brand dedicated to BEVs. Each model of IONIQ is like a chess set; they all belong together even though they look and perform differently.
However, Loasby highlights that working in design is not just about promoting what already exists; design requires a level of risk-taking as well.
Design is about not worrying about getting it wrong. Ninety-nine point nine per cent of what a designer does goes in the bin. Every now and again, it doesn't, and that's exceeding expectations. We have to be comfortable with getting things wrong, and we have to encourage our teams that it's ok to get it wrong. Try, because if you don't try going down there, you never know what's at the end of the path you're creating.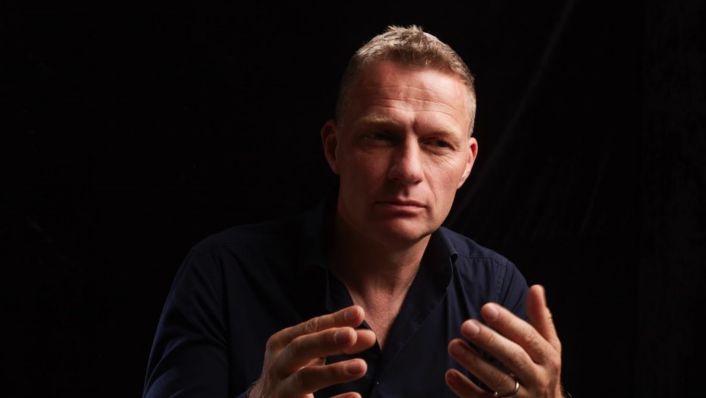 Loasby also talks about the SEVEN concept and his recent trip to Los Angeles, where the concept car celebrated its world premiere at AutoMobility LA. He explains that the Sport Utility Electric Vehicle (SUEV) is based on three building blocks: wellness and hygiene, SUEV typography, and Level 4 autonomy. The SUEV breaks away from conventional thinking, offering a range of features that support human health as well as self-driving technology, so passengers can spend their time more flexibly in the lounge-like atmosphere of the interior.
We can give people time back rather than sitting driving. [The autonomous driving technology] gives us that opportunity to play with the space. You no longer need to sit in front of a fixed steering wheel and pedals. [In the future,] you rotate the driver's seat to be in a lounge environment and have that conversation or sit on the L-shaped chaise lounge in the back, or the kids can sit on the floor and play. That was our thinking behind really connecting to home interior design and furniture design.
When talking about the futuristic SEVEN concept, Loasby mentions that the concept car was completely designed remotely using industry-leading virtual reality technology. The VR application not only improved workflows and efficiency across international teams but also demonstrated Hyundai's commitment to sustainability by producing significantly less material waste and carbon emissions.
We already had a very well-oiled machine in terms of remote virtual connection, where we could all connect into a virtual space where we can see each other and work and walk around the cars. We're in three different continents, in five different locations, and we're walking around discussing design. We were fortunate that we'd already set that up. SEVEN really benefited from this virtual process.
Subscribe to Hyundai's podcast, Are We There Yet?, and listen to the latest episode now to learn more about how Hyundai's current design philosophy and state-of-the-art VR technology helped shape the idea behind the SEVEN concept.
Season two, episode four of Are We There Yet? is now live and available to listeners on Spotify, Apple, Google, Podcasts, Stitcher, Acast and other podcast streaming platforms. It is produced by Fresh Air Production.

* Note: SEVEN is a concept vehicle, and its specifications should not be considered as those of an upcoming production model.
About Simon Loasby
Simon Loasby has been the Head of Hyundai Styling since 2019. A renowned automotive designer, he oversees design strategy and direction for Hyundai models worldwide. Loasby originally joined Hyundai in 2017 as Director of Hyundai Design in China. There, he played an integral role in defining Hyundai's design identity in the country. Before Hyundai, Loasby gathered 25 years' worth of experience in leadership roles at other major automotive brands.