Hyundai Motorsport has taken a hard fought podium finish in Wales Rally GB, the team's first top-three result since Rally Poland back in July
Thierry Neuville ended second overall, claiming his seventh podium result of the season, to confirm the team's runner-up spot in the Manufacturers' Championship
Andreas Mikkelsen scored two stage wins on Sunday morning to finish his second WRC event for Hyundai Motorsport in fourth place, four seconds from the podium.
Hyundai Motorsport has achieved a strong podium finish in Wales Rally GB, securing the team second place in the FIA WRC Manufacturers' title in the penultimate round of the season.
Thierry Neuville completed the 21-stage event in second position overall, behind Welshman Elfyn Evans, who claimed a popular victory on home soil. The result was not enough to stop Sébastien Ogier from clinching a fifth Drivers' Championship, but the Belgian crew gave it absolutely everything. Alongside co-driver Nicolas Gilsoul, Neuville took five stage wins over the weekend, including a dominant Power Stage victory – and five extra points.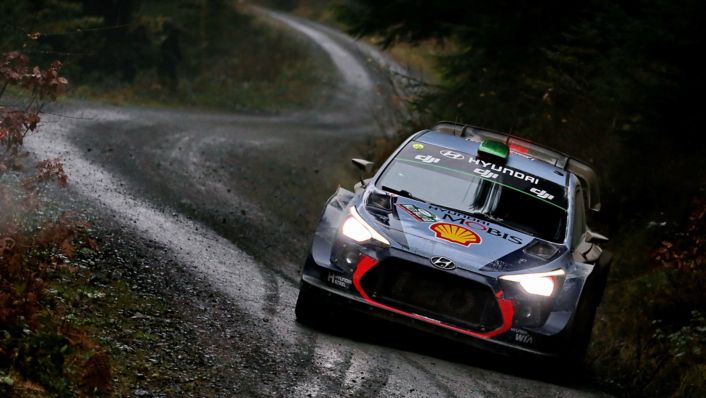 Sunday's schedule covered five stages with the 10.41km Alwen and 6.43km Brenig tests run twice, split by the 7.49km Gwydir run. The slippery gravel stages made for an entertaining final day of action with 12 seconds separating second to sixth positions at the start of the morning. The close battle kept crews fighting until the very end, and ensured a thrilling finale.
Demonstrating the strength of the Hyundai Motorsport package in Wales, Andreas Mikkelsen took fourth place overall in just his second event with the team. Scoring two stage wins on Sunday morning (SS18 Brenig and SS20 Alwen 2), he fended off Jari-Matti Latvala and Ott Tanak for fourth, and ended the rally only four seconds from the podium. He also picked up an extra point for fifth place in the Power Stage.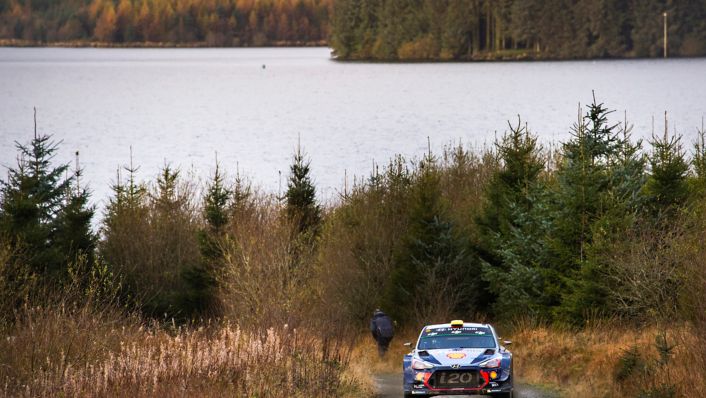 The team's two other drivers Hayden Paddon and Dani Sordo endured a more complicated weekend en route to eighth and tenth positions overall.
Despite conceding the Manufacturers' title to M-Sport, Hyundai Motorsport is able to reflect on its most competitive season to date in a season that is rightly lauded as one of the most fiercely contested in WRC history. Over the 12 rounds of 2017 to date, the team has amassed three victories, 77 stage wins, 14 stage 1-2s and ten podiums, with Rally Australia still to come.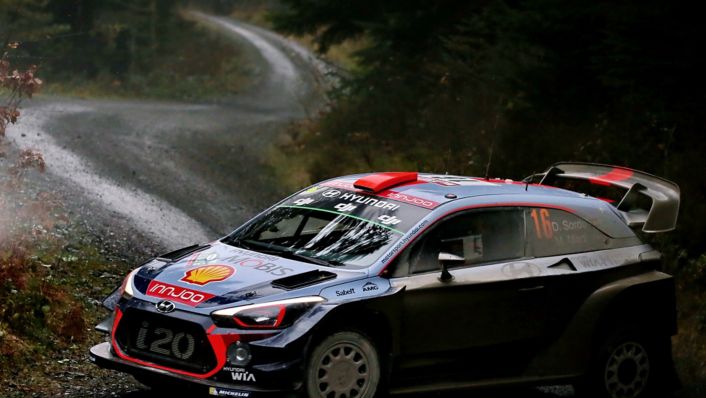 Acknowledgements and accolades

Today's result is the second consecutive Wales Rally GB podium for Hyundai Motorsport, and represents an improvement on its third place in 2016. The team extends its congratulations to M-Sport and Sébastien Ogier for winning the Manufacturers' and Drivers' Championships respectively.
First of all, our congratulations go to M-Sport and Sébastien Ogier for taking the titles this weekend. They have had the strongest overall package this season and that's the way to win the Championship. From our point of view, we did all we could this weekend in Wales, and saw much improved performance from our crews and cars. We established ourselves as 'best of the rest' after an imperious Elfyn Evans, who fully deserved his home win. We are pleased to be back on the podium after a tough run of results, and to have secured our best ever Wales Rally GB result. Thierry and Andreas have demonstrated an extremely competitive pace with several stage wins. We will now aim for a competitive conclusion to the season in Australia, now we are guaranteed the runners-up position in the Manufacturers' table.
Next rally

The final round of the 2017 FIA World Rally Championship (WRC), Rally Australia, will take place from 16-19 November.