Hyundai Motorsport has dominated Acropolis Rally, the tenth round of the 2022 FIA World Rally Championship (WRC), completing a tough event with its first-ever 1-2-3 finish
Thierry Neuville secured the victory – his first of the season – ahead of Ott Tänak and Dani Sordo, making it three wins in a row for the team after Finland and Ypres
The performance and reliability of the Hyundai i20 N Rally1 played a key role in this momentous result with all three crews claiming stage wins over the weekend.
Hyundai Motorsport has claimed its first-ever FIA World Rally Championship (WRC) podium clean sweep after an emphatic performance in the Acropolis Rally in Greece.
 
Thierry Neuville and Martijn Wydaeghe led a 1-2-3 finish on the final day of action, with Ott Tänak/Martin Järveoja and Dani Sordo/Cándido Carrera taking second and third respectively to secure an historic result for the team.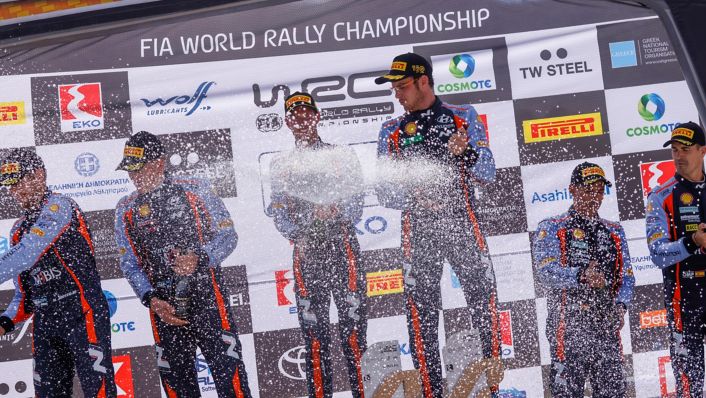 Following a dominant performance on Saturday, in which all three Hyundai Motorsport crews scored stage wins, the team added three more fastest times on the final morning. Tänak took the honours in the opening run through Eleftherohori (SS14/SS16, 16.90km) before Neuville reasserted his advantage on the following Elatia-Rengini test (SS15, 11.26km). The Estonian then topped the timesheets in the Power Stage for five extra points.
 
Steady runs for Neuville and Sordo in the Power Stage allowed the team to lock out the podium for the first time in its 107 WRC appearances to date. The Belgian finished in front by a margin of 15.0 seconds to take his first victory of 2022 and his 17th in total for the team. The result also represents the first time that Hyundai Motorsport has taken three consecutive victories in WRC.
 
Tänak confirmed his sixth podium of the season with a fine run to second, following his back-to-back wins in Finland and Belgium. Sordo, meanwhile, took a measured approach to the final stages to cement his podium finish – his third top-three result in a row this season after Portugal and Sardinia – to make it an all-Hyundai top three. The Spaniard has now finished on the podium in his last five WRC outings.
The performance and reliability of the Hyundai i20 N Rally1 has played an integral part in this weekend's result, with others punished by Greece's tough gravel roads. Having shown its competitiveness on gravel in Finland, and tarmac in Belgium, the car has now survived – and excelled – on unforgiving terrain in the Acropolis Rally, adding Hyundai Motorsport's name to one of the championship's most celebrated events.
 
After ten rounds, the team has equalled its record for most wins in a single season, four (also registered in 2017 and 2019), adding a strong haul of points to its manufacturers' championship total of 341.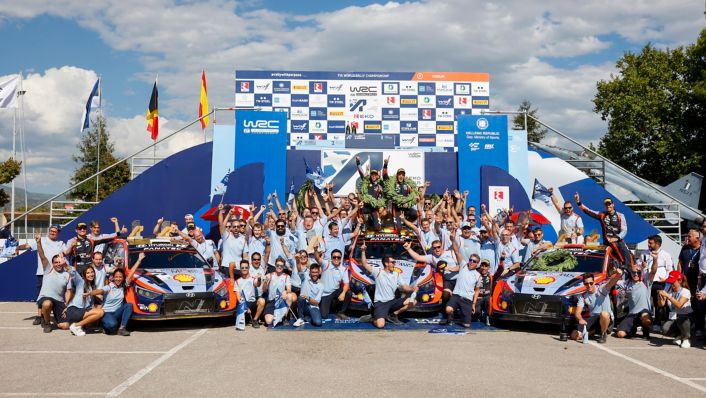 Crew Notes: Thierry Neuville/Martijn Wydaeghe (#11 Hyundai i20 N Rally1)
First victory of the 2022 season for the Belgian crew, Neuville's 17th with the team
Five stage wins over the weekend, finishing with a 15.0 second margin
This is a special victory and an historic result. It's been a tough season for us so to get the win, especially after a difficult weekend in our home event in Belgium, is a great release. I think the most important aspect is the 1-2-3 for the team, a result we entirely deserve after all the efforts from everyone. We can take immense pride in this achievement. I have been in the team since the beginning, I know how hard everyone has worked, especially through the difficult times, but we've always fought back, and this is a perfect demonstration of that. We knew on Friday, starting fourth on the road, that we had the capacity to go faster. The target on day two was to push harder and to make up the gap. We were able to move into the lead and increase the advantage to be a bit more comfortable today. I am happy with the victory - we knew it would come. We still have work left to do but it's clear we're heading in the right direction.
Crew Notes: Ott Tänak/Martin Järveoja (#8 Hyundai i20 N Rally1)
Sixth podium of the season for the Estonian crew – and fourth in a row
Finished Acropolis Rally with four stage wins including the Power Stage
A quite incredible result. It has been a very demanding rally, especially on the technical side, so the team has done a good job to keep all the cars running. From our side, it's a shame we lost some time with a hybrid issue on Friday; that didn't put us in an optimal road position for Saturday. We then had some issues yesterday which kept us from fighting closer to the front. We knew it would be tricky to catch Thierry today without him making a mistake. The car is definitely working better. There are still some things where I can see some performance is coming. For now, we need to enjoy this 1-2-3 result.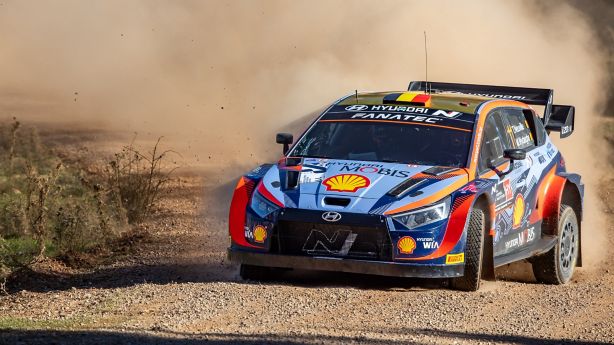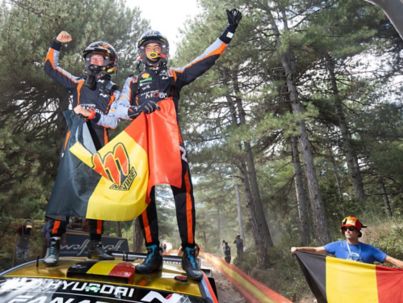 Crew Notes: Dani Sordo/Cándido Carrera (#6 Hyundai i20 N Rally1)
Third podium in three rallies this season for the Spanish crew
Sordo's run of third places is now at five events, dating back to Spain 2021
I am really happy with my podium and for our 1-2-3 result. Everyone in this team deserves it, they have worked so hard these days. We had a difficult start to the season with some bad moments, so this is an achievement the people in the factory truly deserves. Our target today was the fight for third place, which became easier after Elfyn Evans had his issue. For sure it becomes more relaxing when you know that someone who is close behind has a problem, but I was disappointed for him. Many drivers had some issues this weekend but, in the end, we were there with all three cars and came away with a really fantastic team result. This is something to celebrate.
What an historical moment for our team and Hyundai, the first time ever that we have scored a triple podium. Few would have bet on us at the start of the season but here we are, back. Still, we need to push and to use the positive momentum we've built up as extra motivation. Thank you to all the people supporting us, and above all to those in our factory. Reliability has proven again to be one of the keys; our car has improved a lot on this side since Monte-Carlo. It's been another great job by all our drivers this weekend. Thierry had a trouble-free rally and a more careful approach today to secure the win, his first in almost a year. Ott had a very strong rally despite a few technical issues, and again put in a strong performance to end up in a solid second position. Winning the Power Stage for extra points proved one more time, if it were needed, just what a competitor he is. Dani's target was to secure third position, which was made easier by Evans's retirement. Once again, he has done exactly what we were expecting from him: reliable and the perfect team player. That's five podiums in a row for him. We will definitely enjoy this one.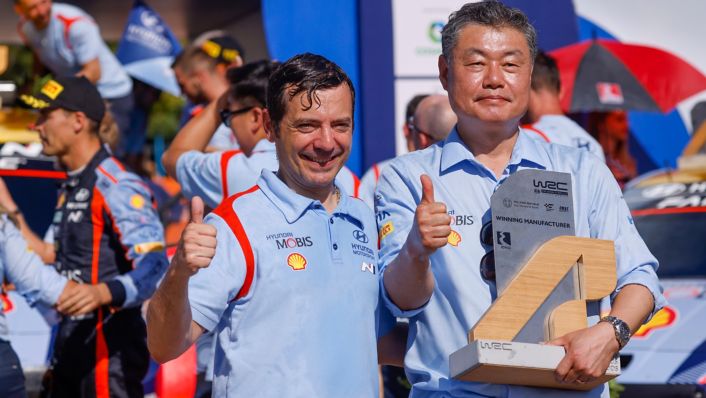 This is a very special day for everyone at Hyundai Motorsport, and indeed the global Hyundai family, as we celebrate our first-ever 1-2-3 result in a WRC event. A fantastic team effort, realised by our three incredible crews. Since our first season in the FIA World Rally Championship back in 2014, we have been committed to preparing the most competitive, reliable, and technologically advanced machinery to compete with the best. We have taken two manufacturer titles, but this new hybrid season has offered brand new challenges which we have relished. To see our Hyundai i20 N Rally1 take three wins in a row – in very different rallies – is reward for tremendous hard work by our team on-site and at the factory. We share this result together as a team.
Next rally
The 2022 FIA World Rally Championship travels across the world for round 11, Rally New Zealand, which will take place from September 29-October 2.
Final Overall Classification – Acropolis Rally

| | | | | |
| --- | --- | --- | --- | --- |
| 1 | T. Neuville | M. Wydaeghe | Hyundai i20 N Rally1 | 3:34:52.0 |
| 2 | O. Tänak | M. Järveoja | Hyundai i20 N Rally1 | +15.0 |
| 3 | D. Sordo | C. Carrera | Hyundai i20 N Rally1 | +1:49.7 |
| 4 | P. L. Loubet | V. Landais | Ford Puma Rally1 | +3:42.2 |
| 5 | C. Breen | P. Nagle | Ford Puma Rally1 | +4:09.0 |
| 6 | T. Katsuta | A. Johnston | Toyota GR Yaris Rally1 | +6:21.1 |
| 7 | E. Lindholm | R. Hämäläinen | Škoda Fabia Evo | +7:46.6 |
| 8 | N. Gryazin | K. Aleksandrov | Škoda Fabia Evo | +8:22.7 |
| 9 | A. Tsouloftas | R. Whittock | Volkswagen Polo GTI | +10:53.8 |
| 10 | E. Brynildsen | R. Eilersten | Škoda Fabia Evo | +10:56.7 |
 
2022 FIA World Rally Championship for Manufacturers' Standings
After round 10
 
| | | |
| --- | --- | --- |
| 1 | Toyota Gazoo Racing World Rally Team | 404 |
| 2 | Hyundai Shell Mobis World Rally Team | 341 |
| 3 | M-Sport Ford World Rally Team | 214 |
| 4 | Toyota Gazoo Racing World Rally Team NG | 112  |
2022 FIA World Rally Championship for Drivers' Standings
After round 10

| | | |
| --- | --- | --- |
| 1 | K. Rovanperä | 207 |
| 2 | O. Tänak | 154 |
| 3 | T. Neuville | 131 |
| 4 | E. Evans | 116 |
| 5 | T. Katsuta | 100 |
| 6 | C. Breen | 77 |
| 7 | E. Lappi | 58 |
| 8 | D. Sordo | 49 |
| 9 | G. Greensmith | 36 |
| 10 | S. Loeb | 35 |
| 11 | S. Ogier | 34 |
| 12 | P. Loubet | 30 |
| 13 | A. Mikkelsen | 25 |
| 14 | O. Solberg | 21 |
|   |   |   |
All results remain subject to official FIA confirmation.