Hyundai Motorsport has announced the appointment of Frenchman Cyril Abiteboul in the role of Team Principal to strengthen its Alzenau-based operations
Formerly of Caterham and Renault, Abiteboul will manage the current company's FIA World Rally Championship (WRC) and Customer Racing activities
Hyundai Motorsport secured its greatest number of victories in a single WRC season in 2022 with the Hyundai i20 N Rally1 Hybrid.
Hyundai Motorsport has strengthened its operations with the appointment of Cyril Abiteboul in the role of Team Principal, which will see the Frenchman assume responsibility for the company's FIA World Rally Championship (WRC) and Customer Racing programs.
The 45-year-old will join the Alzenau-based squad on a full-time basis as the company seeks to continue its impressive momentum from recent months.
Hyundai Motorsport secured its highest number of wins in a single WRC season under the tenure of Deputy Team Director Julien Moncet, who will take on a new role from 2023, related to Hyundai Motorsport's future technology.

Abiteboul's arrival at Hyundai Motorsport will allow the team to explore new areas for improvement in its tenth season in WRC, in which it hopes to mount a more sustained fight for the championship titles. He brings to the company 15 years of motorsport experience from Team Principal and executive management roles at Renault and Caterham.
I am pleased to welcome Cyril Abiteboul into the Hyundai family. Cyril's experience in Formula One will help us to explore new opportunities for growth and improvements as we look to mount a more intensive fight for titles in WRC and to support our Customer Racing teams. We will deliberately give him time to settle in, discover the environment and, in time, to make the Team Principal role his own. I would like to extend my thanks to Julien Moncet, who took on the deputy role last season with determination. Under his guidance, we secured five victories and built strong momentum in the second part of the year. I have no doubt that Hyundai Motorsport's technical personnel, along with Cyril, will demonstrate stronger and clearer leadership in the future by co-operating closely with the Global R&D of Hyundai Motor Company.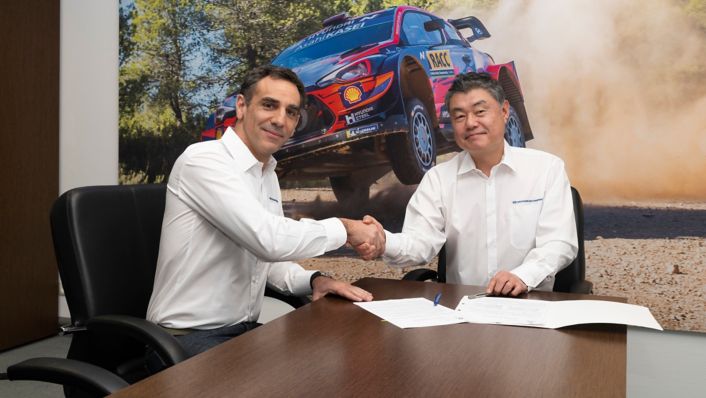 Our ambition has always been for motorsport to act as a halo for the entire Hyundai brand. To deliver against our winning objectives, we need to be constantly on top of our game, bringing together the right blend of people and experience. We are delighted to have someone of Cyril Abiteboul's calibre joining Hyundai Motorsport. He will bring a fresh perspective to the business from his time in Formula One, which we are sure will add value in all areas. We already have a talented team of individuals at Alzenau, and we are sure this appointment will only amplify the excellent work that is taking place.
I am relishing the opportunity to join Hyundai Motorsport as Team Principal from 2023. In motorsport, like in the rest of their activities, the Hyundai brand is cautiously building its leadership. I am excited at the prospect of being part of it, managing the WRC and Customer Racing programs, where the team has already proven to be strong competitors. I am looking forward to immersing myself into the rallying community and discovering more about this spectacular sport. Hyundai has given me its full support to make the transition into this role a smooth one. I can't wait to get started.