Hyundai Motorsport will compete with four crews in Rally de España, round 11 of the 13-event 2016 FIA World Rally Championship (WRC)
The team's objective for the mixed surface rally will be to extend its recent run of podium finishes and to consolidate second in the Manufacturers' Championship
Thierry Neuville and home star Dani Sordo will represent the Hyundai Shell World Rally Team, with Kevin Abbring joining Hayden Paddon for the Hyundai Mobis World Rally Team.
Fresh from its second-placed finish at Tour de Corse, Hyundai Motorsport has been busy preparing for the unique mixed surface challenge of Rally de España, round 11 of the 2016 FIA WRC.
The team will tackle the popular gravel-tarmac event with a four-crew line-up. Thierry Neuville will return to the #3 New Generation i20 WRC after his Corsican podium. Dani Sordo will be back in the #4 car for his home rally as he aims to repeat his podium from last season.
Hayden Paddon will contest the Spanish event in the #20 car for the Hyundai Mobis World Rally Team, and will be joined by Kevin Abbring. The Dutchman and co-driver Seb Marshall will drive the #10 2015-specification Hyundai i20 WRC. It will be their fourth WRC participation this season after competing in Portugal and Sardinia, and as a replacement for Sordo in Finland.
The town of Salou will again play host to Rally de España, the only event on the calendar where crews will have to tackle a variety of surface types. The first full day of action will take place primarily on gravel, although the 38.95km Terra Alta test includes asphalt sections, which will put great emphasis on driver concentration and tyre management. Adding to the complexity of Friday's itinerary, there will be no lunchtime service, with only a tyre fitting zone splitting the morning and afternoon loops.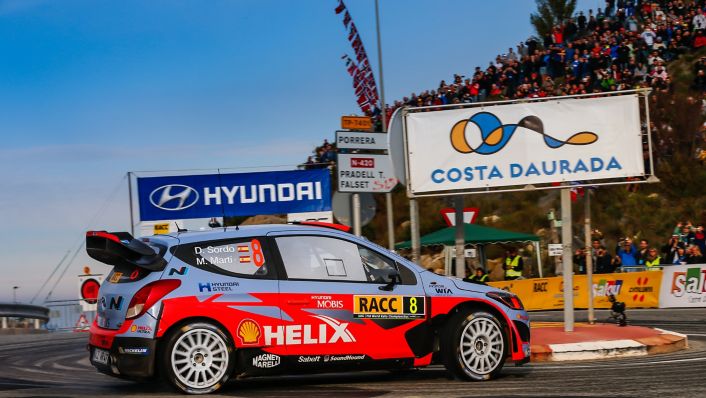 On Saturday and Sunday the rally moves to full asphalt, requiring the team's mechanics to change the car specification during an extended 75-minute Friday evening service. Saturday's schedule includes some sections that have not been used since 2013 - and which will be totally new to Hyundai Motorsport - and some parts that are run in the reverse direction to twelve months ago.
Hyundai Motorsport carried out a pre-event test on tarmac in Spain at the end of August as well as giving all crews an additional opportunity on gravel this week. The team aims to bring 2016 to a competitive finish, having already taken two wins, three second-places and three third-place results this season.