Hyundai Motorsport will be targeting its fourth consecutive trip to the Rally Italia Sardegna podium next week as the FIA World Rally Championship (WRC) continues onto round seven
The team will be fielding three Hyundai i20 Coupe WRC cars in the event with Andreas Mikkelsen, Thierry Neuville and Hayden Paddon
Following its victory in Portugal, Hyundai Motorsport leads the WRC manufacturers' championship by 13 points, with Neuville atop the drivers' table with a 19-point advantage.
Hyundai Motorsport heads to Rally Italia Sardegna, round 7 of the 2018 FIA World Rally Championship (WRC).
Hyundai Motorsport heads to Rally Italia Sardegna, round 7 of the 2018 FIA World Rally Championship (WRC), at the head of the drivers' and manufacturers' classification following a hard-fought victory last time out in Portugal.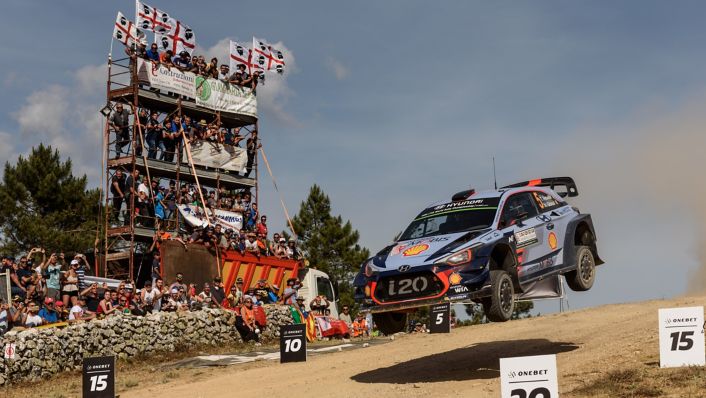 The WRC's run of four consecutive gravel events continues on the Mediterranean island of Sardinia, where Hyundai Motorsport has enjoyed plenty of success in previous seasons: a double podium in 2015, victory in 2016 and third place in 2017.
The 20-stage rally offers one of the shortest competitive distances of the season at just 313km. However, the Alghero based event includes plenty of spectacular gravel courses against a backdrop of stunning seaside vistas with high temperatures putting additional stress on crews and cars.
Hyundai Motorsport will field three cars for the Sardinia round with Andreas Mikkelsen/Anders Jæger, Thierry Neuville/Nicolas Gilsoul and Hayden Paddon/Seb Marshall competing in cars #4, #5 and #6 respectively.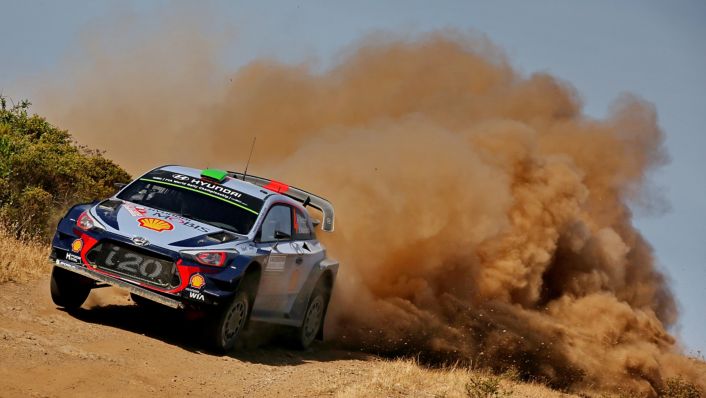 As championship leader, Neuville will have the honour and challenge of being first on the road on the opening days. Mikkelsen and Paddon, meanwhile, will be looking to bounce back from a tricky Portugal where misfortune hampered their weekend performances.
The team carried out testing of its Hyundai i20 Coupe WRC in Sardinia after Rally Argentina in early May in preparation of next weekend's event.
We were able to compete at a very high level in Portugal with all of our crews demonstrating the pace of our Hyundai i20 Coupe WRC, and stage winning abilities. Like all teams, it was a character-building weekend but we came away with a win and leading both championships. Our target for Sardinia is to build on that, although we know it will be another tough weekend. Thierry will be first on the road, which will immediately put him at a disadvantage, but we hope he can make the best of the situation. For Andreas and Hayden, after a frustrating weekend for them both in Portugal, we hope they will be able to get back onto the pace straightaway and fight at the front. Our car has shown itself to be strong on gravel and we have had a lot of success in Sardinia previously, so we aim to keep our hold on the championship lead heading into the long break.
Bite-size Sardinia  
20 special stages over a competitive distance over 313.46km
Action gets started with the Ittiri Arena Show on Thursday evening before a repeated loop of four stages (Tula, Castelsardo, Tergu-Osilo, Monte Baranta) on Friday
Longest individual day of the weekend takes place on Saturday. Three stages (Coiluna-Loelle, Monti di Ala, Monte Lerno) held in morning and afternoon, separated by the short 1.4km Citta di Ittiri stage
Monte Lerno contains the iconic Micky's Jump, one of the highlights of the rally
Rally concludes on Sunday with two runs of the Cala Flumini and Sassari-Argentiera coastal stages, the latter of which is run as the Power Stage