Hyundai Motorsport has claimed its 50th podium finish in a round of the FIA World Rally Championship (WRC), taking second place in Rally de Portugal
On an incident-filled final morning, Thierry Neuville finished 15.9 seconds from victory, taking his fifth podium of the 2019 season
Dani Sordo and Sébastien Loeb endured a tough rally but Hyundai Motorsport has retained its lead in the manufacturers' championship by 20 points.
Hyundai Motorsport has secured a podium finish in Rally de Portugal as Thierry Neuville and co-driver Nicolas Gilsoul took second place.
The result marks Hyundai Motorsport's 50th WRC podium in total.
 
Crews negotiated five stages on the final morning including two runs through Montim (SS16/SS19), a single attempt at Luilhas (SS18) and twice through Fafe (SS17/20). Fans flocked to the famous jump to see the WRC cars fly through in spectacular fashion, bringing the rally to a fitting finale as the Power Stage.
 
Starting the day with a nine-second deficit to rally leader Ott Tänak, Neuville gave it his maximum to claim his fifth podium of the season to date with a fine run to second, as well as taking four Power Stage points. Consequently, he retains his third place in the drivers' standings on 132, eight points behind Tänak and ten adrift of Sébastien Ogier.
 
A frustrating rally for Dani Sordo and Sébastien Loeb saw them support the team to the fullest as they persevered to the very end with the Spaniard picking up a consolatory Power Stage point. The team has kept hold of its lead in the manufacturers' championship, although the gap has been reduced to 20.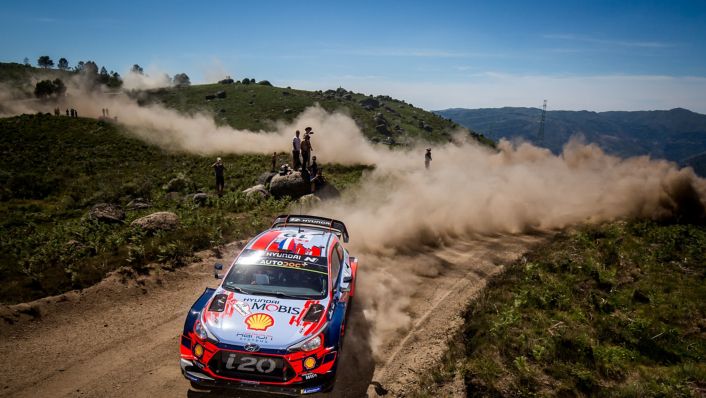 Crew Notes: Thierry Neuville/Nicolas Gilsoul (#11 Hyundai i20 Coupe WRC)
Fifth podium of 2019 after Monte-Carlo, Sweden, Corsica and Argentina
Five stage wins and four Power Stage points showed Belgians' pace
After the big crash we had in Chile, it was important to come back fighting. It's not been an entirely smooth weekend but we have shown some strong pace including several stage wins. Overall, I think we can be pleased with second place. The time we lost on Friday's opening stages is more or less the time we were missing at the end. We were lacking a bit of precision today to give it more of a push, but on the whole it's a good result. The championship is nicely poised as we reach the halfway point. We know there is no room for error when things are this close, so we have to keep pushing together.
Crew Notes: Dani Sordo/Carlos del Barrio (#6 Hyundai i20 Coupe WRC)
Competitive performance hampered by Friday's issues
Two stage wins and impressive run through Fafe to take Power Stage point
We have tried to put the disappointment and frustration from Friday behind us, and to enjoy these great Portuguese stages. It's a special feeling when you are pushing hard and flying through Fafe with all the spectators. We have put in a full team effort this weekend so I think we all share in the podium result, even if it would have been nicer to be standing on the podium ourselves. We'll have to try and rectify that in Sardinia!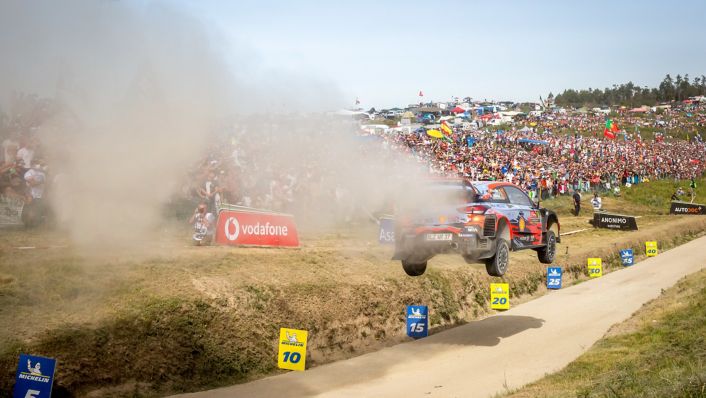 Crew Notes: Sébastien Loeb/Daniel Elena (#19 Hyundai i20 Coupe WRC)
Friday's technical issues prevented crew from a repeat of Chile podium
Selflessly supported the team's manufacturers' championship efforts all weekend
I enjoyed driving this morning's stages with some new discoveries for me. It wasn't without incident but overall it was nice to get the experience. The routes were fast and narrow, and the feeling with the car was pretty good. It was particularly nice to get the buzz from all the fans. We were able to set some competitive times, which shows what might have been possible this weekend. I am happy for the team to get a podium finish after what has been a tough event.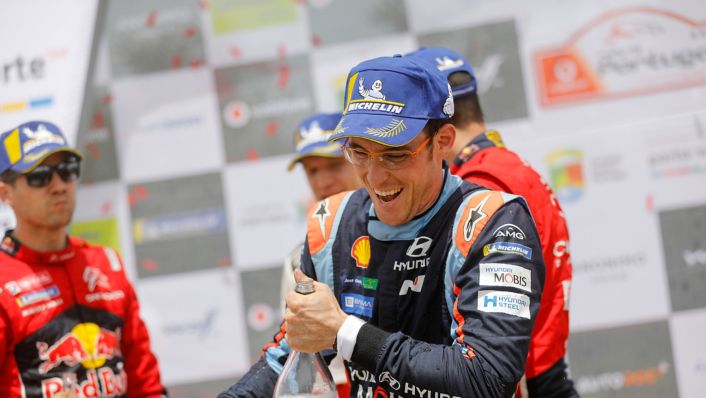 I have three main feelings at the end of this rally: the first is massive respect to our crews. Thierry and Nicolas are having a great season with the tools we are giving them and they thoroughly deserve this second place. They continue to score results that flatter our performance level. Secondly, I remain upset that our issues on Friday prevented our two other crews Dani/Carlos and Sébastien/Daniel from competing for the podium; another missed opportunity. It is also clear, overall, that we are missing some pace compared to our immediate rivals. We are here to fight for victories and this is the most important thing on which we must focus as a team.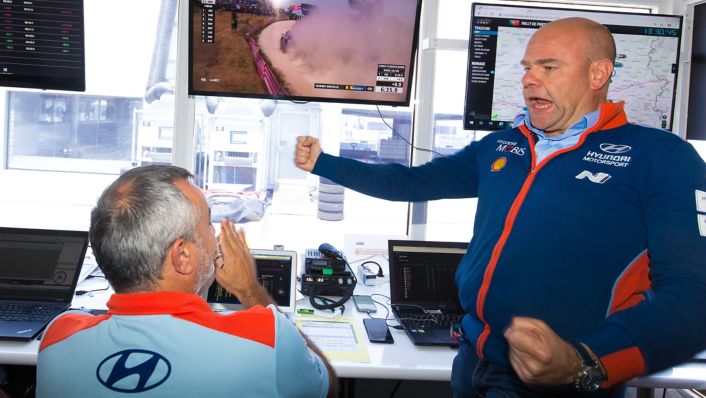 Next rally
The WRC's run of gravel events continues onto Sardinia in two weeks' time
Rally Italia Sardegna takes place June 13-16 with Neuville/Gilsoul, Mikkelsen/Jæger-Amland and Sordo/Del Barrio on driving duties in the Hyundai i20 Coupe WRC
 Final Overall Classification – Rally de Portugal 
 
1    O. Tänak    M. Järveoja    Toyota Yaris WRC    3:20:22.8
2    T. Neuville    N. Gilsoul    Hyundai i20 Coupe WRC    +15.9
3    S. Ogier    J. Ingrassia    Citroën C3 WRC    +57.1
4    T. Suninen    M. Salminen    Ford Fiesta WRC    +2:41.5
5    E. Evans    S. Martin    Ford Fiesta WRC    +7:08.3
6    K. Rovanperä    J. Halttunen    Škoda Fabia R5    +10:34.2
7    J.M Latvala    M. Anttila    Toyota Yaris WRC    +11:28.2
8    J. Kopecky    P. Dresler    Škoda Fabia R5    +11:41.9
9    P. Loubet    V. Landais    Škoda Fabia R5    +12:46.3
10    E. Bergkvist    P. Barth    Ford Fiesta R5    +14:28.4
 
2019 FIA World Rally Championship for Drivers' Standings 
After round 7
 
1    S. Ogier    142
2    O. Tanak    140
3    T. Neuville    132
4    E. Evans    65
5    K. Meeke    56
6    T. Suninen    44
7    S. Loeb    39
8    J.M. Latvala    38
9    A. Mikkelsen    36
10    E. Lappi    34
11    D. Sordo    27
 
2019 FIA World Rally Championship for Manufacturers' Standings
After round 7
 
1    Hyundai Shell Mobis World Rally Team    202
2    Toyota Gazoo Racing World Rally Team    182
3    Citroën Total World Rally Team    158
4    M-Sport Ford World Rally Team    122
 
 
All results remain subject to official FIA confirmation.