Italian racing driver Gabriele Tarquini has today announced he will retire from WTCR – FIA World Touring Car Cup, following the 2021 season finale Race of Russia
Hyundai Motorsport wishes to recognise the incredible contribution of Tarquini to its Customer Racing department from the moment he joined the team in 2017
The lead test driver for the Hyundai i30 N TCR, Tarquini secured the car's first pole position and win in its competitive debut in 2017 before winning the inaugural WTCR drivers' title in 2018.
Hyundai Motorsport wishes to express its gratitude to Gabriele Tarquini, who has today announced that the 2021 season of the WTCR – FIA World Touring Car Cup will be his last.
The Italian racing driver has revealed his decision at Adria International Raceway ahead of what is set to be an emotional weekend as he competes at his home event, the Race of Italy (November 6-7), for one final time. Tarquini will bow out from full-time competition following the season finale Race of Russia, due to be held at Sochi Autodrom on 26-28 November.
Tarquini has been integral to the success of the Hyundai Motorsport Customer Racing department, which he first joined in 2017 as the lead test and development driver in the first stages of the Hyundai i30 N TCR project. Boasting over two decades of touring car experience, Tarquini was the natural candidate to guide the team as it built its debut circuit racing car. His determination, team spirit, and unrelenting drive for performance has enabled the team to develop three challengers capable of winning championships around the world.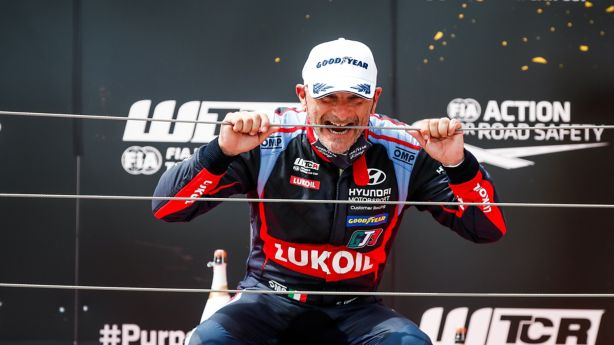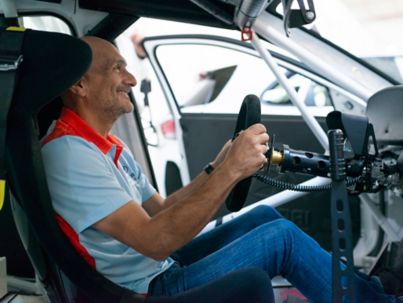 Starting with a blank sheet of paper, Tarquini and the team of Hyundai Motorsport engineers began work on the Hyundai i30 N TCR in early 2017. By October, the Hyundai i30 N TCR was ready to make its first competitive outing and was entered into the final two rounds of the TCR International Series. At the Zhejiang Circuit Tarquini stole the show as he stormed up the order from 14th on the grid to claim a sensational first victory with the Hyundai i30 N TCR at its debut race.
As it had been designed to TCR regulations, the Hyundai i30 N TCR was eligible to compete in the inaugural WTCR – FIA World Touring Car Cup season in 2018.  BRC Racing Team, one of the first privateer customers to take delivery of the car, joined forces with Tarquini to contest the first of four seasons together at the pinnacle of touring car racing. A dream debut in the first season started with two victories in Race of Morocco, followed by wins in Hungary, Slovakia and Japan. The title fight went down to the wire in Race of Macau, where Tarquini claimed Hyundai Motorsport's first-ever world title by triumphing in the drivers' standings.
The Italian driver's never-ending mission to fight for the perfect lap was also integral in the development of the Hyundai Veloster N TCR, launched in 2019 to meet demand in the US market, and the Hyundai Elantra N TCR.  The Hyundai Veloster N TCR shares the same championship-winning DNA as the company's first circuit-racing challenger that was honed and perfected by Tarquini and the Customer Racing team. 
The Hyundai Elantra N TCR, which made its debut in the 2021 WTCR season, has claimed four wins so far this year, with Tarquini returning to the top step after an emphatic victory in Race of Spain in July.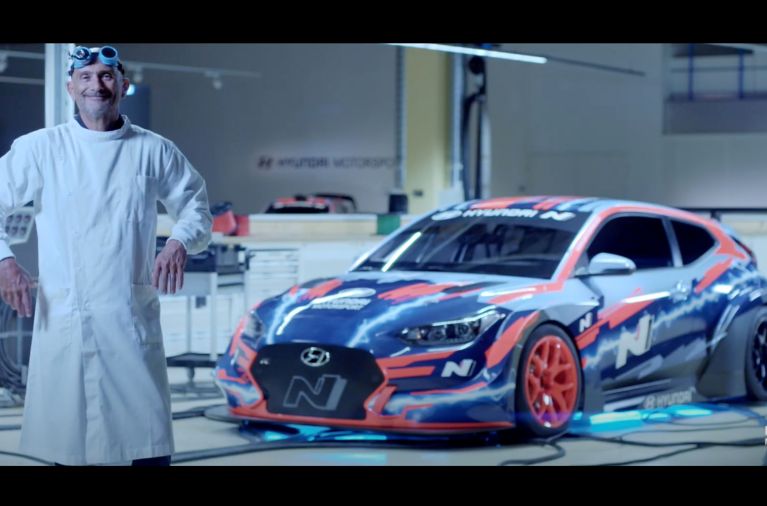 Tarquini's contribution to Hyundai Motorsport is not limited to on-track success. His extensive career has helped to build a culture within the Customer Racing department that will never stop searching for extra performance within the car. His larger-than-life personality was key to his successful acting appearances as a crazy scientist in the Hyundai Veloster N ETCR launch video, a knight on a quest for glory in the 2020 WTCR season, and an uncanny imitation of Team Principal Andrea Adamo.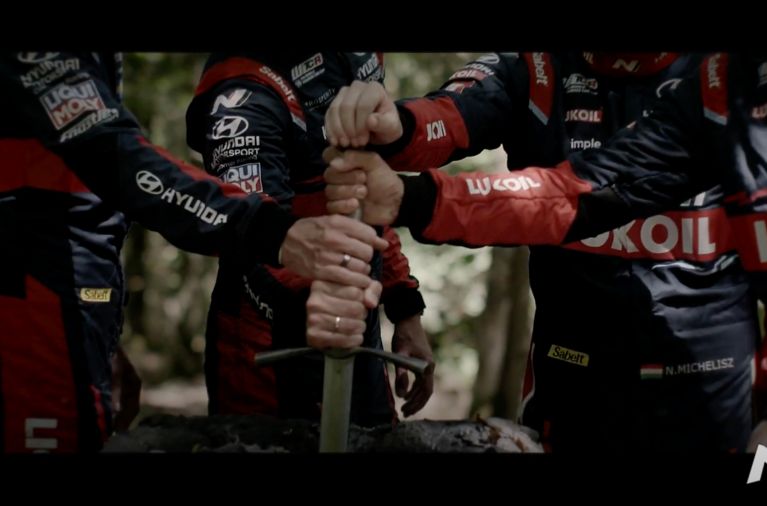 It is impossible to put into words how much of an impact Gabriele Tarquini has had on Hyundai Motorsport Customer Racing. From the second day of our Hyundai i30 N TCR project, he was there to help us develop our debut circuit racing challenger. With Gabriele, it was born, learned to walk and then ran. He won the first-ever race for a Hyundai Motorsport car in the TCR International series, and he was the first world champion for our company in WTCR 2018. For me personally, it is difficult to split my passion and my job, and it will be strange not to see him at a racing circuit. I started working with Gabriele in 1994 when I was 24 years old, and he is one of the few people I have shared most of my time and life with. It is hard to come to terms with Gabriele putting down his helmet, and he will be sorely missed. While he may not be racing anymore, we are in discussions about how our relationship might work, but today we celebrate his incredible career and look forward to seeing his next adventures outside of the cockpit unfold.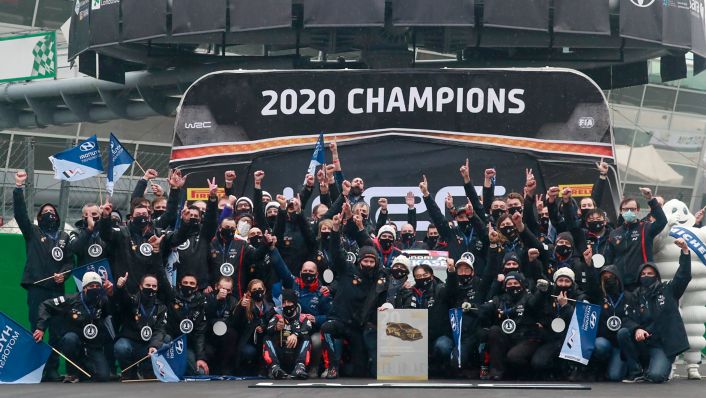 I feel very sad – after a long career that felt like it would never end, you think this moment will never come. In life, everything has a start and a finish and I am old enough to understand this. WTCR has been a strong series in the last few years, however I've struggled a bit in qualifying. Although my race pace was still there, I decided in the break between the Race of Spain and Hungary that it was time to say 'stop'. It was important to me to announce my decision at my home race in Italy - this is the right moment. I don't want to thank all the people who have helped me in my long career, because I would definitely forget someone! The list is very long, starting with my family and finishing with Hyundai Motorsport. I want this to be my final manufacturer because we have done a great job together. We started with a white sheet of paper and created the Hyundai i30 N TCR, and I won the first race and title for the team. Our relationship is very strong. I don't want to stop driving completely, as racing is like a drug for me, so I will need to be slowly weaned off as I can't go from 100% to nothing. I'm also speaking with Hyundai Motorsport to see if we can have a different relationship in the future. We have had so many highs together, such as the WTCR drivers' title in 2018, but for me the highlight was the Hyundai i30 N TCR's first race in China. The team made a big effort to be there, and we had to win because we wanted to show we had a winning car to the brand, the fans, and the customers, and I wanted to prove to myself that the car I had tested and developed was the right car for them. For this reason, this moment is unforgettable for me.
Gabriele Tarquini highlights with Hyundai Motorsport
2021: 
Victory in Race of Spain in July at MotorLand Aragón with the Hyundai Elantra N TCR
Podium in the sixth round of the season, Race of France (3rd), in October
Currently sits 11th in drivers' points standings with two rounds remaining this month (Race of Italy and Race of Russia)
2020: 
Podium finishes in Race 1 of Slovakia (2nd) and Race 3 of Spain (3rd)
Finished 14th overall after a difficult season dominated by Balance of Performance regulations
Development work on the new Hyundai Motorsport Customer Racing TCR challenger, the Hyundai Elantra N TCR, continued
2019: 
Wins in WTCR Race of Morocco and Race of Hungary
Podiums in Race 2 of China (2nd) Race 3 of China (3rd), Race 2 of Japan (3rd), and Race 1 of Malaysia (3rd)
Helped BRC Hyundai N Squadra Corse secure second overall in the team's standings
2018: 
Contested the inaugural WTCR – FIA World Touring Car Cup season with Hyundai i30 N TCR, making history with first-ever WTCR pole position and race win in opening round
Victories at Race of Morocco (x2), Race of Hungary, Race of Slovakia, Race of Japan
Secured 2018 drivers' crown - Hyundai Motorsport's first world title win
2017: 

Joined Hyundai Motorsport as lead test driver of the company's first Customer Racing circuit challenger, the Hyundai i30 N TCR
First win for the Hyundai i30 N TCR in its competitive debut in the TCR International Series
First pole position for the car in TCR Europe appearance at Adria International Raceway