Hyundai Motor's "On to Better" campaign wins bronze at ADC Awards
Campaign promotes Hyundai's range of eSUVs by emphasising its commitment to Progress for Humanity
Hyundai's current SUV line-up covers all types of electrified powertrains
Hyundai Motor has been recognised three times for its "On to Better" advertising campaign by Art Directors Club for Germany (ADC) during the annual ADC Awards. The campaign, which focuses on Hyundai's eSUV line-up, made it to the final round of the "Film: Craft" category. "On to Better" won a bronze award for set and production design and was shortlisted for cinematography as well as postproduction, CGI, and visual effects.
The 2021 ADC Awards featured 29 judges, all creatives and members of ADC Germany, evaluating around 8,900 pieces of creative work from advertising text to design and brand building to video advertisements. For the second consecutive year, the ADC Award Show was held virtually due to the COVID-19 pandemic.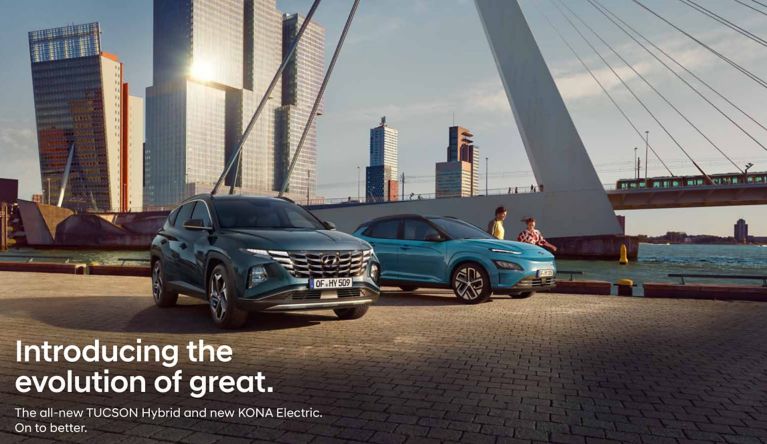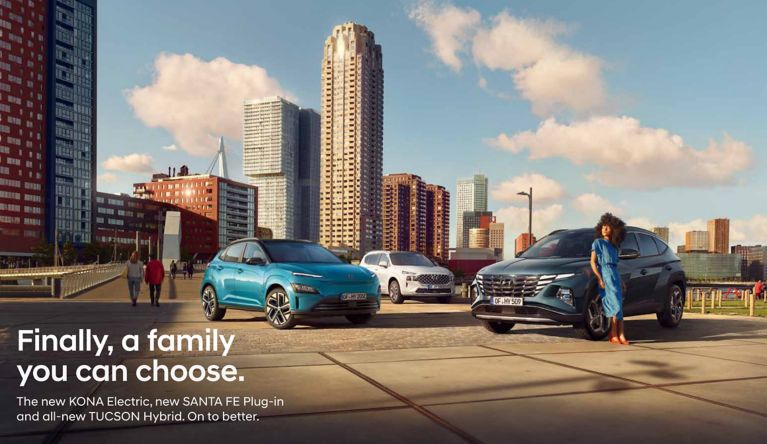 Hydrogen consumption combined for the Hyundai NEXO in kg H2/100 km: 0.95; CO2 emissions combined in g/km: 0 (WLTP)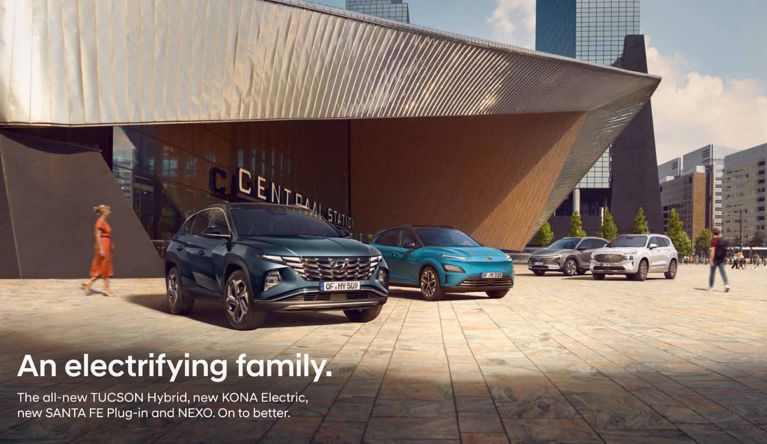 "On to Better" – Hyundai's award-winning campaign
Hyundai collaborated with the marketing communications company INNOCEAN Worldwide Europe to develop "On to Better". The campaign reflects Hyundai's commitment to manufacturing electrified SUVs, showing off the SUV body type that is popular among Hyundai customers and drawing more attention to the new era of electrification.
The "On to Better" campaign tells the story of a Hyundai designer who challenges himself to deliver revolutionary products for the advancement of humankind. This storyline reflects Hyundai's core beliefs as a company: putting in the hard work, striving for innovation, and committing to Progress for Humanity.
The campaign aims to show how Hyundai is pushing the boundaries to deliver the newest and broadest line-up of electrified cars. Hyundai's range of SUVs already covers every type of electrified powertrain – from mild hybrid to battery-electric and fuel cell.
Multifaceted advertising formats
The campaign consists of four main films, which feature the entire line-up of Hyundai's eSUV models. The launch film put a spotlight on the all-new electrified SANTA FE, KONA, TUCSON, and NEXO.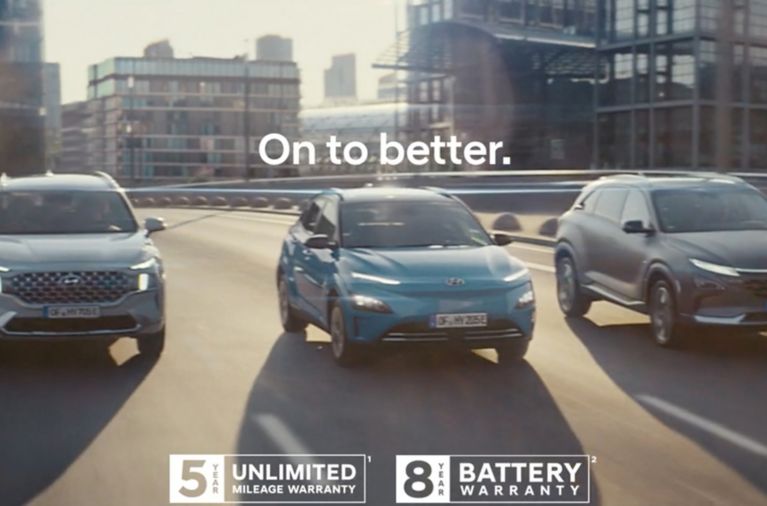 Hydrogen consumption combined for the Hyundai NEXO in kg H2/100 km: 0.95; CO2 emissions combined in g/km: 0 (WLTP)
The all-new electrified TUCSON, Hyundai's pioneering model of 2021, was the star of an additional film. A third film showed every electrified powertrain in KONA, and a fourth was dedicated to the all-new KONA Electric.
In addition to the four films, Hyundai and INNOCEAN Worldwide Europe prepared a comprehensive package of communication materials for the campaign, spanning across digital and print media, as well as point of sales assets.
About INNOCEAN Worldwide Europe
INNOCEAN Worldwide Europe is a 360-degree, full-service marketing communications company. Established in 2006 and part of Hyundai Motor Group, INNOCEAN is now the world's fastest-growing creative agency network in the world. Their unique service fuses the marketing communications know-how of the West with a unique business perspective and approach born of the East. Built on a legacy of rapid innovation and integration across the value chain, their "one-stop-shop" services are truly integrated – from the way they think to the way they execute.
About Art Directors Club for Germany
Art Directors Club for Germany (ADC) brings together more than 750 leading minds in creative communication. Club members include renowned designers, journalists, architects, scenographers, photographers, illustrators, directors, composers, producers, digital media specialists, and advertisers. ADC sees itself as a benchmark of creative excellence and honours outstanding communication. To this end, it organises competitions, congresses, seminars, lectures, events, and B2B events as well as issues various publications.
Disclaimer: CO2 and emissions data
Fuel consumption combined for the Hyundai SANTA FE 1.6 T-GDI Hybrid with 6AT 2WD in l/100 km: 6.9 - 6.4; CO2 emissions combined in g/km: 157 - 146 (WLTP)
Fuel consumption combined for the Hyundai SANTA FE 1.6 T-GDI Hybrid with 6AT 4WD in l/100 km: 7.6 - 6.9; CO2 emissions combined in g/km: 172 - 157 (WLTP)
Fuel consumption combined for the Hyundai SANTA FE 1.6 T-GDI Plug-in Hybrid in l/100 km: 1.6; electricity consumption combined in kWh/100 km: 18.1; CO2 emissions combined in g/km: 37 (WLTP)
Fuel consumption combined for the Hyundai KONA 1.6 GDI Hybrid in l/100 km: 5.4 - 5.0; CO2 emissions combined in g/km: 122 - 114 (WLTP)
Electricity consumption combined for the Hyundai KONA Electric 39.2 kWh in kWh/100 km: 14.3; CO2 emissions combined in g/km: 0 (WLTP)
Electricity consumption combined for the Hyundai KONA Electric 64 kWh in kWh/100 km: 14.7; CO2 emissions combined in g/km: 0 (WLTP)
Fuel consumption combined for the Hyundai TUCSON 1.6 T-GDI Hybrid with 6AT 2WD in l/100 km: 5.9 - 5.5; CO2 emissions combined in g/km: 135 - 125 (WLTP)
Fuel consumption combined for the Hyundai TUCSON 1.6 T-GDI Hybrid with 6AT 4WD in l/100 km: 6.6 - 6.2; CO2 emissions combined in g/km: 149 - 140 (WLTP)
Fuel consumption combined for the Hyundai TUCSON 1.6 T-GDI Plug-in Hybrid with 6AT 4WD in l/100 km: 1.4; CO2 emissions combined in g/km: 31 (WLTP)
Hydrogen consumption combined for the Hyundai NEXO in kg H2/100 km: 0.95; CO2 emissions combined in g/km: 0 (WLTP)