Hyundai Motor achieved a record-breaking 4.7 per cent market share across Europe, up one percentage point compared to last year
The company also sold 263,005 units in the EU, EFTA and UK in the first half of 2022, an 8.2 per cent increase over the same period in 2021
Hyundai also has one of strongest zero-emission vehicle line-ups, with EVs making up 16 per cent of sales
Despite a decrease in industry demand, Hyundai Motor Europe celebrated very strong sales results in Europe in the first half of 2022, according to the latest data from the European Automobile Manufacturers Association (ACEA). During this period, the company's market share grew to a record-breaking 4.7 per cent, up one percentage point compared to last year.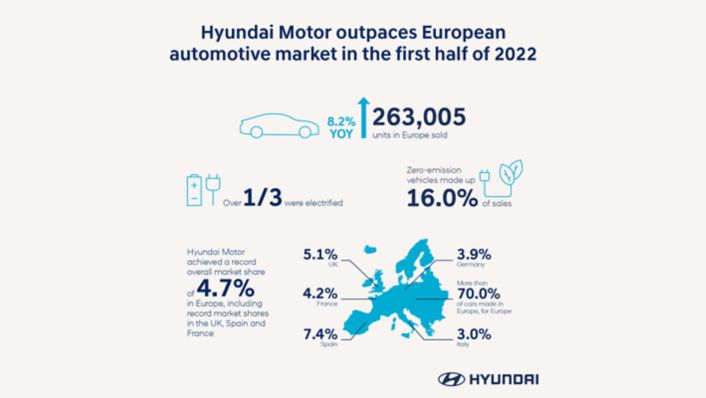 Overall, Hyundai sold 263,005 units in the EU, EFTA and the UK from January to June 2022, an 8.2 per cent increase compared to the same time-frame in 2021.
With the widest range of zero-emission vehicles on the market, Hyundai is a leader in electrification. At 16 per cent, electrified models make up a bigger proportion of its sales in Europe than ever before, and the company's EV models have made a significant contribution to its overall sales success. One of the main drivers for this is the KONA Electric, which began production at Hyundai's HMMC production plant in Europe in 2020.
Beyond this, Hyundai is confident its share of electrified models sales will continue to grow in the months ahead. Since launching last year, IONIQ 5 has won a number of prestigious awards including 2022 World Car of the Year, while the company's IONIQ 6 Electrified Streamliner will soon arrive on the market, having recently received its digital world premiere.
In addition, Hyundai will continue to make investments to drive innovation in the field of electrified mobility. The company's high-performance N sub-brand recently unveiled RN22e and N Vision 74, two 'rolling lab' concepts that will serve as a basis for the continued development of future-focused zero-emissions technologies.
These outstanding results underline the strength of Hyundai's product line-up in Europe, particularly in light of a challenging overall market situation. Just this week we launched IONIQ 6, which will extend our leadership in electrification. This model will further increase the quality and diversity of our sales mix. I believe it will widen our appeal even further and enable us to maintain our edge in a crowded field. While Hyundai is not immune to overall automotive trends, we do expect our market share to continue to rise in the months ahead thanks to our customer-focused offerings.
Record market shares across European markets
In addition to a record 4.7 per cent market share in Europe, Hyundai also achieved record market shares in the UK, Spain and France in the first six months of 2022.
In the UK, Hyundai models made up 5.1 per cent of all cars sold, an improvement of 1.7 per cent compared to last year. This represented 40,908 new vehicle registrations in the country, up 30.5 per cent compared to the first half of 2021.
In Spain, meanwhile, Hyundai reached a market share of 7.4 per cent, up 1.8 percentage points compared to 2021. This amounted to 30,222 registered vehicles, 18.8 per cent higher compared to the equivalent January-June period last year.
The French market also saw significant success for Hyundai, as the company's market share rose to 3.1 per cent – an increase of 0.6 percentage points on last year. A total of 23,998 models were sold in the first half of the year, 4.2 per cent higher compared to the first six months of 2021.
Local customer-focused production and development provides foundation for success
With multiple new product launches in recent years, Hyundai now boasts one of the youngest line-ups in the industry. The company can credit its success in on the continent to its customer-focused production and development. Over 70 per cent of Hyundai cars are made in Europe, for Europe at the company's HAOS and HMMC production plants in Turkey and the Czech Republic, respectively.
HMMC produces 350,000 vehicles per year, and has recently undergone a range of enhancements to make it one of the most modern automotive factories in Europe. Earlier this year, it became Hyundai's first factory worldwide to completely convert its electricity use to renewable energy. Today, HMMC produces almost every type of powertrain variant, including low-to-zero emissions models such as KONA Electric.
Hyundai's main sales drivers included the traditional best-seller and Czech-built TUCSON, followed by KONA. Other popular models include BEVs such as KONA Electric and IONIQ 5, which is now enjoying its first full year of sales, as well as the company's i-range.
About ACEA
The European Automobile Manufacturers' Association (ACEA) represents the 16 major Europe-based car, van, truck and bus makers. ACEA works with a variety of institutional, non-governmental, research and civil society partners, as well as a number of industry associations with related interests.
Disclaimer: CO2 and emissions data
Electricity consumption combined for the Hyundai IONIQ 5 58 kWh with 2WD in kWh/100 km: 16.7; CO2 emissions combined in g/km: 0 (WLTP)
Electricity consumption combined for the Hyundai IONIQ 5 58 kWh with 4WD in kWh/100 km: 18.1; CO2 emissions combined in g/km: 0 (WLTP)
Electricity consumption combined for the Hyundai IONIQ 5 72.6 kWh (19" alloy rims) with 2WD in kWh/100 km: 16.8; CO2 emissions combined in g/km: 0 (WLTP)
Electricity consumption combined for the Hyundai IONIQ 5 72.6 kWh (20" alloy rims) with 2WD in kWh/100 km: 17.9; CO2 emissions combined in g/km: 0 (WLTP)
Electricity consumption combined for the Hyundai IONIQ 5 72.6 kWh (19" alloy rims) with 4WD in kWh/100 km: 17.7; CO2 emissions combined in g/km: 0 (WLTP)
Electricity consumption combined for the Hyundai IONIQ 5 72.6 kWh (20" alloy rims) with 4WD in kWh/100 km: 19.0; CO2 emissions combined in g/km: 0 (WLTP)
Electricity consumption combined for the Hyundai IONIQ 5 77.4 kWh (19" alloy rims) with 2WD in kWh/100 km: 16.8; CO2 emissions combined in g/km: 0 (WLTP target)
Electricity consumption combined for the Hyundai IONIQ 5 77.4 kWh (20" alloy rims) with 2WD in kWh/100 km: 17.9; CO2 emissions combined in g/km: 0 (WLTP target)
Electricity consumption combined for the Hyundai IONIQ 5 77.4 kWh (19" alloy rims) with 4WD in kWh/100 km: 17.7; CO2 emissions combined in g/km: 0 (WLTP target)
Electricity consumption combined for the Hyundai IONIQ 5 77.4 kWh (20" alloy rims) with 4WD in kWh/100 km: 19.0; CO2 emissions combined in g/km: 0 (WLTP target)
Fuel consumption combined for the Hyundai TUCSON 1.6 T-GDI 48V (150 PS) with 6iMT 2WD in l/100 km: 6.8 - 6.5; CO2 emissions combined in g/km: 154 - 147 (WLTP)
Fuel consumption combined for the Hyundai TUCSON 1.6 T-GDI 48V (150 PS) with 7DCT 2WD in l/100 km: 6.6 - 6.3; CO2 emissions combined in g/km: 150 - 143 (WLTP)
Fuel consumption combined for the Hyundai TUCSON 1.6 T-GDI 48V (180 PS) with 6iMT 2WD in l/100 km: 6.7 - 6.4; CO2 emissions combined in g/km: 152 - 145 (WLTP)
Fuel consumption combined for the Hyundai TUCSON 1.6 T-GDI 48V (180 PS) with 7DCT 4WD in l/100 km: 7.1 - 6.9; CO2 emissions combined in g/km: 162 - 156 (WLTP)
Fuel consumption combined for the Hyundai TUCSON 1.6 CRDi 48V (136 PS) with 6iMT 2WD in l/100 km: 5.3 - 5.0; CO2 emissions combined in g/km: 140 - 130 (WLTP)
Fuel consumption combined for the Hyundai TUCSON 1.6 CRDi 48V (136 PS) with 7DCT 2WD in l/100 km: 5.6 - 5.2; CO2 emissions combined in g/km: 146 - 137 (WLTP)
Fuel consumption combined for the Hyundai TUCSON 1.6 CRDi 48V (136 PS) with 7DCT 4WD in l/100 km: 6.0 - 5.7; CO2 emissions combined in g/km: 158 - 149 (WLTP)
Fuel consumption combined for the Hyundai TUCSON 1.6 T-GDI (150 PS) with 6MT 2WD in l/100 km: 7.0 - 6.6; CO2 emissions combined in g/km: 159 - 150 (WLTP)
Fuel consumption combined for the Hyundai TUCSON 1.6 T-GDI (150 PS) with 6MT 4WD in l/100 km: 7.8 - 7.3; CO2 emissions combined in g/km: 178 - 165 (WLTP)
Fuel consumption combined for the Hyundai TUCSON 1.6 CRDi (115 PS) with 6MT 2WD in l/100 km: 5.6 - 5.2; CO2 emissions combined in g/km: 146 - 137 (WLTP)
Fuel consumption combined for the Hyundai TUCSON 1.6 T-GDI Hybrid with 6AT 2WD in l/100 km: 5.9 - 5.5; CO2 emissions combined in g/km: 135 - 125 (WLTP)
Fuel consumption combined for the Hyundai TUCSON 1.6 T-GDI Hybrid with 6AT 4WD in l/100 km: 6.6 - 6.2; CO2 emissions combined in g/km: 149 - 140 (WLTP)
Fuel consumption combined for the Hyundai TUCSON 1.6 T-GDI Plug-in Hybrid with 6AT 4WD in l/100 km: 1.4; CO2 emissions combined in g/km: 31 (WLTP)
Fuel consumption combined for the Hyundai KONA 1.0 T-GDI with 6MT 2WD in l/100 km: 6.1 - 5.7; CO2 emissions combined in g/km: 137 - 128 (WLTP)
Fuel consumption combined for the Hyundai KONA 1.0 T-GDI with 7DCT 4WD in l/100 km: 6.0 - 5.8; CO2 emissions combined in g/km: 137 - 132 (WLTP)
Fuel consumption combined for the Hyundai KONA 1.0 T-GDI 48V with 6iMT 2WD in l/100 km: 6.1 - 5.5; CO2 emissions combined in g/km: 139 - 124 (WLTP)
Fuel consumption combined for the Hyundai KONA 1.6 T-GDI with 7DCT 2WD in l/100 km: 6.7 - 6.2; CO2 emissions combined in g/km: 152 - 142 (WLTP)
Fuel consumption combined for the Hyundai KONA 1.6 T-GDI with 7DCT 4WD in l/100 km: 7.4 - 7.0; CO2 emissions combined in g/km: 167 - 160 (WLTP)
Fuel consumption combined for the Hyundai KONA 1.6 CRDi with 6iMT 2WD in l/100 km: 5.2 - 4.7; CO2 emissions combined in g/km: 136 - 124 (WLTP)
Fuel consumption combined for the Hyundai KONA 1.6 CRDi with 7DCT 2WD in l/100 km: 5.2 - 4.7; CO2 emissions combined in g/km: 136 - 124 (WLTP)
Fuel consumption combined for the Hyundai KONA 1.6 CRDi with 7DCT 4WD in l/100 km: 5.6 - 5.2; CO2 emissions combined in g/km: 147 - 137 (WLTP)
Fuel consumption combined for the Hyundai KONA Hybrid 1.6 GDI Hybrid in l/100 km: 5.4 - 5.0; CO2 emissions combined in g/km: 122 - 114 (WLTP)
Electricity consumption combined for the Hyundai KONA Electric 39.2 kWh in kWh/100 km: 14.3; CO2 emissions combined in g/km: 0 (WLTP)
Electricity consumption combined for the Hyundai KONA Electric 64 kWh in kWh/100 km: 14.7; CO2 emissions combined in g/km: 0 (WLTP)