Hyundai sweeps host of awards throughout Europe across categories of product, design, technology, customer centricity, and sustainability
As a leader in electrification, models of IONIQ line-up brand and electrified, high-performance N Vision 74 received special recognition
Hyundai to build on success in 2023 with launch of second-generation KONA range and IONIQ 5 N
Sweeping a multitude of awards across Europe in the fields of product, design, and sustainability, Hyundai Motor celebrated one of its most awarded years. Notable honours included IONIQ 5 being crowned '2022 World Car of the Year', and the company's N Vision 74 'rolling lab' being named an 'Instant Icon' at the recent Top Gear Awards 2022.
In 2022, Hyundai Motor Group was also named 'Car Manufacturer of the Year' by Automobilwoche. The renowned German publication praised the Group for its "high-quality" models. In addition to receiving accolades, Hyundai also had cause for celebration in Spain. There, its global bestseller, TUCSON, became the overall top-selling model of any manufacturer in the country for the first time.
Some of the biggest names in the automotive industry have been recognising Hyundai for our achievements, especially in electrification, technology, and sustainability. This great success will act as a springboard for us in 2023. Next year will see many exciting launches, including the second-generation KONA range and our first-ever high-performance EV, IONIQ 5 N.
Looking back at 2022
Although Hyundai launched fewer models in 2022 compared to previous years, the company continued to generate significant interest with the projects it did unveil. With the launch of the second model of its IONIQ line-up brand, IONIQ 6, Hyundai expanded its product portfolio. The company's RN22e and N Vision 74 'rolling labs' also made waves, merging electrification with high-performance driving and innovative technologies.
Award-winning EVs and performance models
Hyundai's product line received a significant amount of recognition this year, especially the EVs of its IONIQ brand and its high-performance models.
IONIQ 5
After winning 25 awards last year, IONIQ 5 continued its winning streak in 2022. At the NYIAS World Car Awards 2022, the model was awarded the 'World Car of the Year', 'World Electric Vehicle of the Year', and 'World Car Design of the Year' titles. Lifestyle magazine Esquire named IONIQ 5 'Car of the Year' for breaking the mould with its "clean design and simplicity over opulence". The fully-electric midsize CUV also won 'Best Electric Car' at the Move Electric Awards 2022 and 'UK Car of the Year' at the UK Car of the Year Awards 2022. Additionally, judged on safety, efficiency, value, advancement in design, engineering excellence, and performance, automobile magazine MotorTrend called it the '2023 SUV of the Year'.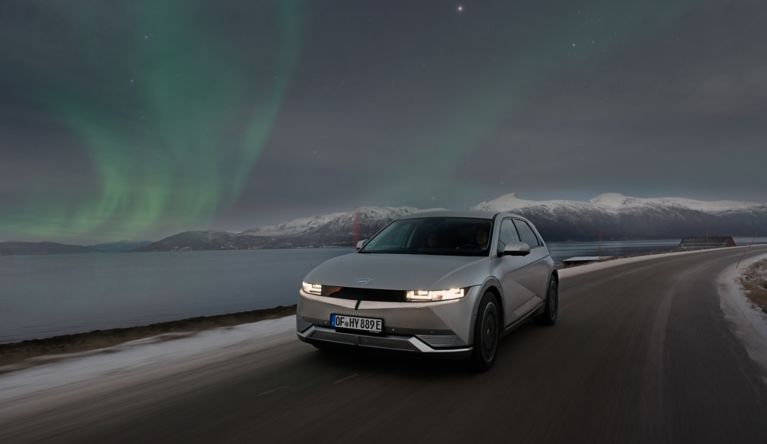 IONIQ 6
Prior to its arrival at European dealerships, IONIQ 6 also received a lot of recognition. Honouring the top EVs to hit the market in the coming year, Autobest awarded the Electrified Streamliner 'ECOBEST Best EV of 2023'. The title was voted on by an independent jury of 31 leading motoring writers and experts. IONIQ 6 also received the 'EV Innovation Award' in the Auto/EV category at the WhichEV awards as the model "shows that Hyundai has come of age as a designer leading the market rather than following".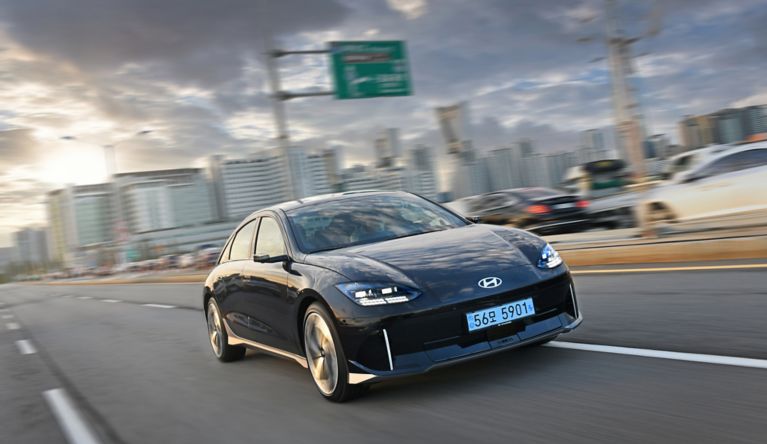 In terms of market successes, IONIQ 6 won a series of awards. These included the 'Car and Driver Automotive Design Award 2022' in Spain and the 'Full Electric Paris Match Prize' at the Automobile Awards in France. In Germany, Auto Bild and Computer Bild honoured IONIQ 6 with the 'Connect Car Award', saying that the EV delivers the "connectivity expected from a modern car – with innovative functions and intuitive operation". Across the Atlantic Ocean, the model won its first Canadian award: 'New Car of the Year' from Le Guide de l'auto. The chief editor of the publication mentioned that even in the EV segment, IONIQ 6 stands out thanks to its "design, driving dynamics, and electric range of almost 500 kilometres".
N Vision 74
Hyundai's eye-catching fuel cell-hybrid N Vision 74, which combines electrification and high performance, was also the recipient of some notable awards. The rolling lab was named an 'Instant Icon' at the Top Gear Awards 2022 and 'Concept Car of the Year' at the CDN People Awards.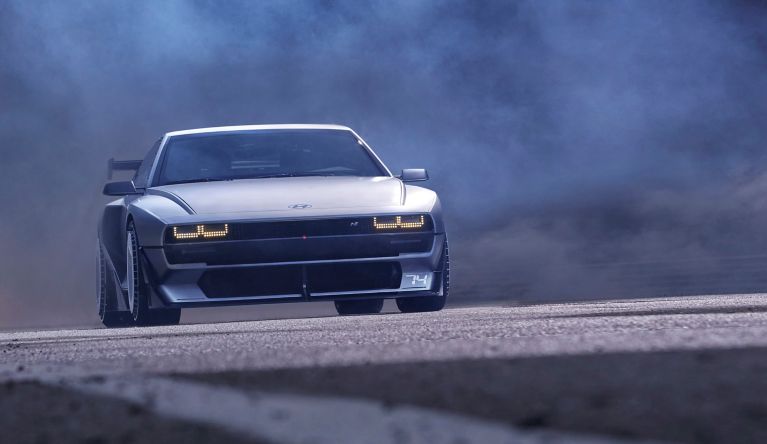 KONA N
Launched last year, Hyundai's first-ever high-performance SUV, KONA N, saw success in Italy. Selected as 'Car of the Year' in the Compact SUV category by Top Gear Italia, the model was praised as a "combative and flashy crossover that gives emotion and great driving performance and, also, remarkable agility and precision on the road".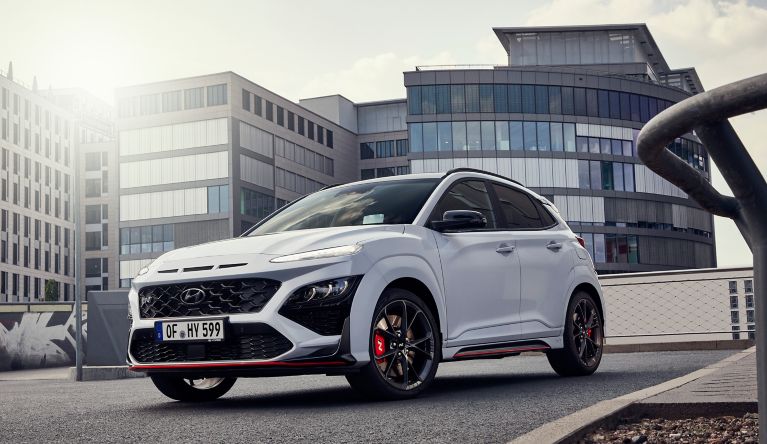 i20 N
Last year's winner of 'Car of the Year' at Top Gear's annual awards, i20 N was named 'Best Hot Hatch' by Auto Express in the UK in 2022. It was lauded for "its ability to grip through hard cornering".
Praise-worthy design
This year, Hyundai was recognised not only for its products but also for its design. IONIQ 5 was awarded 'Car Design of the Year' at the NYIAS World Car Awards, while STARIA, the SEVEN Concept, and IONIQ 5 Robotaxi brought in various iF Design Awards. STARIA, the SEVEN Concept, as well as Hyundai's Trailer Drone and Plug & Drive concepts also won Red Dot Awards.
Additionally, SangYup Lee, EVP and Head of Hyundai Global Design Center, was named 'Design Hero of the Year' at the Autocar Awards due to the impact he has had on the world of automotive design throughout his career. Lee's recent work, including on IONIQ 5, has garnered universal praise.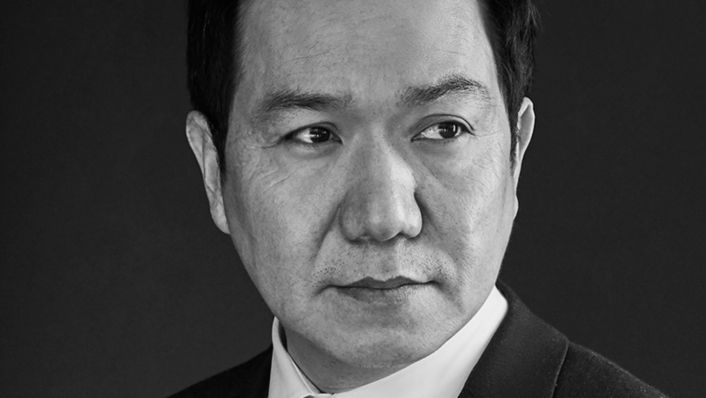 High honours for high-tech
As a leader in technology, Hyundai was honoured by the renowned publication Newsweek in 2022 for its work in developing a range of innovations. The publication named Euisun Chung, Executive Chair at Hyundai Motor Group, 'Auto Disruptors Visionary of the Year' and gave Hyundai Motor Group's Engineering Team the 'Research and Development Team of the Year' award for its industry-leading, BEV-dedicated Electric-Global Modular Platform (E-GMP).
Newsweek also awarded Hyundai with 'Powertrain of the Year' and 'Powertrain Evolution of the Year' for offering consumers "a choice of a 400V or 800V electrical system that enables long ranges and fast-charging capabilities" at prices much lower than its competitors.
Awards for customer-centricity
Customer-centricity is at the heart of all Hyundai products. In 2022, Hyundai's models won awards across a range of categories suited to its customers. Additionally, TUCSON became the overall best-selling model of any automaker in Spain, thanks to its state-of-the-art features, cutting-edge design, and range of powertrains to suit every driver.
A couple of Hyundai models were recognised for their towing capabilities. What Car? Tow Car of the Year Awards 2022 named TUCSON PHEV 'Plug-in Hybrid Tow Car of the Year'. In the Netherlands, ANWN / KCK Kampioen gave the 'Towing Car of the Year 2022' title to IONIQ 5 – the first EV to win the award – for illustrating how technical innovation can be put into practical use.
In 2022, a handful of Hyundai models were praised for offering value for money. For its high-performance models, i20 N won 'Britain's Most Affordable Driver's Car' at the Autocar Awards, and it was named 'Best Hot Hatch' by Auto Express. Meanwhile, i30 N was named 'Price-Performance Winner' from the 'Eifel-Meister' test by Germany's Auto Zeitung, outperforming seven competitors.
At the Fleet News Awards in the UK, KONA Electric was named 'Best Zero Emission Car Under £40,000' and praised for its "real-world range, huge boot, and stylish interior". Additionally, Newsweek announced Hyundai as its 'Best Brand for Your Buck 2022', citing that the company's models "offer tremendous value, delivering high-quality appointments and easy-to-use technology to customers at prices that are affordable".
Recognition for sustainability
On its journey to becoming a pure zero-emission vehicle provider in Europe by 2035, sustainability is key for Hyundai. Since the start of the year, the company's European production plant Hyundai Motor Manufacturing Czech (HMMC) has been operating solely on energy from renewable sources. Hyundai also supports a circular economy by integrating recycled materials into its products, such as ECONYL® floor mats in IONIQ 5 and IONIQ 6, among other environmentally-friendly interior touchpoints.
Hyundai also received several sustainability accolades. Autobest named IONIQ 6 'ECOBEST Best EV of 2023', and IONIQ 5 won the title 'World Electric Vehicle of the Year' at the NYIAS World Car Awards. Additionally, at the CDN People Awards, Hyundai's designers were awarded 'Most Sustainable Design Team'.
Hyundai won a World Media Award in the 'Social Good' category for its documentary film The Journey to Ithaca. Produced by BBC Storyworks in collaboration with Havas Media Germany and Innocean Worldwide, the film detailed marine conservation organisation – as well as Hyundai's CSV partner – Healthy Seas' largest ocean clean-up around an abandoned fish farm in Greece. Over eight days, a team of 45 removed 76 tonnes of debris from the sea, coastline, and beaches. Supporting a circular economy, various types of waste will be recycled into new materials.
In its assessment of the project, the World Media Group (WMG) said that the campaign "generated a genuinely positive and demonstratable impact for Hyundai and Ithaca".
Looking ahead to 2023
Next year, Hyundai has planned several important product launches, including a second-generation KONA. This model will not only address various customer needs but, like the first-generation, it is expected to be the next big seller in Europe.
Hyundai will also bring its first high-performance EV production model to the market with IONIQ 5 N, which will underscore its leadership in electrification.
Disclaimer: CO2 and emissions data
Electricity consumption combined for the Hyundai IONIQ 5 58 kWh with 2WD in kWh/100 km: 16.7; CO2 emissions combined in g/km: 0 (WLTP)
Electricity consumption combined for the Hyundai IONIQ 5 58 kWh with 4WD in kWh/100 km: 18.1; CO2 emissions combined in g/km: 0 (WLTP)
Electricity consumption combined for the Hyundai IONIQ 5 77.4 kWh (19" alloy rims) with 2WD in kWh/100 km: 17.0; CO2 emissions combined in g/km: 0 (WLTP)
Electricity consumption combined for the Hyundai IONIQ 5 77.4 kWh (20" alloy rims) with 2WD in kWh/100 km: 18.0; CO2 emissions combined in g/km: 0 (WLTP)
Electricity consumption combined for the Hyundai IONIQ 5 77.4 kWh (19" alloy rims) with 4WD in kWh/100 km: 17.9; CO2 emissions combined in g/km: 0 (WLTP)
Electricity consumption combined for the Hyundai IONIQ 5 77.4 kWh (20" alloy rims) with 4WD in kWh/100 km: 19.1; CO2 emissions combined in g/km: 0 (WLTP)
Electricity consumption combined for the Hyundai IONIQ 6 53 kWh with 2WD in kWh/100 km: 13.9; CO2 emissions combined in g/km: 0 (WLTP)
Electricity consumption combined for the Hyundai IONIQ 6 77.4 kWh (18" alloy rims) with 2WD in kWh/100 km: 14.3; CO2 emissions combined in g/km: 0 (WLTP)
Electricity consumption combined for the Hyundai IONIQ 6 77.4 kWh (20" alloy rims) with 2WD in kWh/100 km: 16.0; CO2 emissions combined in g/km: 0 (WLTP)
Electricity consumption combined for the Hyundai IONIQ 6 77.4 kWh (18" alloy rims) with 4WD in kWh/100 km: 15.1; CO2 emissions combined in g/km: 0 (WLTP)
Electricity consumption combined for the Hyundai IONIQ 6 77.4 kWh (20" alloy rims) with 4WD in kWh/100 km: 16.9; CO2 emissions combined in g/km: 0 (WLTP)
Fuel consumption combined for the Hyundai KONA N 2.0 T-GDI (280 PS) with DCT in l/100 km: 8.5; CO2 emissions combined in g/km: 194 (WLTP)
Fuel consumption combined for the Hyundai i20 N 1.6 T-GDI (204 PS) with 6MT in l/100 km: 6.9; CO2 emissions combined in g/km: 158 (WLTP)
Fuel consumption combined for the Hyundai i30 N 2.0 T-GDi (250 PS) with 6MT in l/100 km: 7.7; CO2 emissions combined in g/km: 175 (WLTP)
Fuel consumption combined for the Hyundai i30 N 2.0 T-GDi (280 PS) with 6MT in l/100 km: 8.0; CO2 emissions combined in g/km: 182 (WLTP)
Fuel consumption combined for the Hyundai i30 N 2.0 T-GDi with N DCT in l/100 km: 8.4; CO2 emissions combined in g/km: 191 (WLTP)
Electricity consumption combined for the Hyundai KONA Electric 39.2 kWh in kWh/100 km: 14.3; CO2 emissions combined in g/km: 0 (WLTP)
Electricity consumption combined for the Hyundai KONA Electric 64 kWh in kWh/100 km: 14.7; CO2 emissions combined in g/km: 0 (WLTP)
Fuel consumption combined for the Hyundai TUCSON 1.6 T-GDI 48V (150 PS) with 6iMT 2WD in l/100 km: 6.8 - 6.5; CO2 emissions combined in g/km: 154 - 147 (WLTP)
Fuel consumption combined for the Hyundai TUCSON 1.6 T-GDI 48V (150 PS) with 7DCT 2WD in l/100 km: 6.6 - 6.3; CO2 emissions combined in g/km: 150 - 143 (WLTP)
Fuel consumption combined for the Hyundai TUCSON 1.6 T-GDI 48V (180 PS) with 6iMT 2WD in l/100 km: 6.7 - 6.4; CO2 emissions combined in g/km: 152 - 145 (WLTP)
Fuel consumption combined for the Hyundai TUCSON 1.6 T-GDI 48V (180 PS) with 7DCT 4WD in l/100 km: 7.1 - 6.9; CO2 emissions combined in g/km: 162 - 156 (WLTP)
Fuel consumption combined for the Hyundai TUCSON 1.6 CRDi 48V (136 PS) with 6iMT 2WD in l/100 km: 5.3 - 4.9; CO2 emissions combined in g/km: 139 - 127 (WLTP)
Fuel consumption combined for the Hyundai TUCSON 1.6 CRDi 48V (136 PS) with 7DCT 2WD in l/100 km: 5.3 - 5.0; CO2 emissions combined in g/km: 139 - 130 (WLTP)
Fuel consumption combined for the Hyundai TUCSON 1.6 CRDi 48V (136 PS) with 7DCT 4WD in l/100 km: 5.9 - 5.5; CO2 emissions combined in g/km: 154 - 143 (WLTP)
Fuel consumption combined for the Hyundai TUCSON 1.6 T-GDI (150 PS) with 6MT 2WD in l/100 km: 7.0 - 6.6; CO2 emissions combined in g/km: 159 - 150 (WLTP)
Fuel consumption combined for the Hyundai TUCSON 1.6 T-GDI (150 PS) with 6MT 4WD in l/100 km: 7.8 - 7.3; CO2 emissions combined in g/km: 178 - 165 (WLTP)
Fuel consumption combined for the Hyundai TUCSON 1.6 CRDi (115 PS) with 6MT 2WD in l/100 km: 5.5 - 5.1; CO2 emissions combined in g/km: 144 - 135 (WLTP)
Fuel consumption combined for the Hyundai TUCSON 1.6 T-GDI Hybrid with 6AT 2WD in l/100 km: 5.9 - 5.5; CO2 emissions combined in g/km: 135 - 125 (WLTP)
Fuel consumption combined for the Hyundai TUCSON 1.6 T-GDI Hybrid with 6AT 4WD in l/100 km: 6.6 - 6.2; CO2 emissions combined in g/km: 149 - 140 (WLTP)
Fuel consumption combined for the Hyundai TUCSON 1.6 T-GDI Plug-in Hybrid with 6AT 4WD in l/100 km: 1.4; CO2 emissions combined in g/km: 31 (WLTP)
Fuel consumption combined for the Hyundai STARIA van with 6MT 2WD in l/100 km: 8 - 7.8; CO2 emissions combined in g/km: 210 - 205 (WLTP)
Fuel consumption combined for the Hyundai STARIA wagon/premium with 6MT 2WD in l/100 km: 8 - 7.8; CO2 emissions combined in g/km: 210 - 205 (WLTP)
Fuel consumption combined for the Hyundai STARIA van with 8AT 2WD in l/100 km: 8.2 - 8; CO2 emissions combined in g/km: 215 - 209 (WLTP)
Fuel consumption combined for the Hyundai STARIA wagon/premium with 8AT 2WD in l/100 km: 8.5 - 8.1; CO2 emissions combined in g/km: 222 - 212 (WLTP)
Fuel consumption combined for the Hyundai STARIA wagon/premium with 8AT 4WD in l/100 km: 8.9 - 8.5; CO2 emissions combined in g/km: 234 - 222 (WLTP)