Hyundai Motor joins H2 MOBILITY as the first shareholder apart from its founding members
H2 MOBILITY has been advancing the hydrogen infrastructure in Germany since 2015
As a shareholder, Hyundai will push for a hydrogen society beyond the sheer means of mobility
Hyundai Motor has become a shareholder in the hydrogen infrastructure company H2 MOBILITY. This makes Hyundai the first shareholder outside of the circle of founding members: TotalEnergies, Shell, OMV, Linde, Air Liquide, and Daimler. Hyundai Motor Company is represented by Hyundai Motor Deutschland.
Since H2 MOBILITY was founded in 2015, Hyundai has been serving as an affiliated partner in the development of hydrogen infrastructure in Germany. This move reinforces the company's commitment to hydrogen fuel cell technology by supporting the expansion of the infrastructure necessary to power its fuel cell electric vehicles (FCEVs).
Hyundai emphasised the significant role that both hydrogen and the German market play for the company. Germany has one of the most developed hydrogen infrastructures in Europe, and H2 MOBILITY will push to make hydrogen mobility a top priority.
We are very pleased about our new shareholder. By joining, Hyundai is underlining the increasing importance of hydrogen as it guarantees unlimited, unrestricted mobility.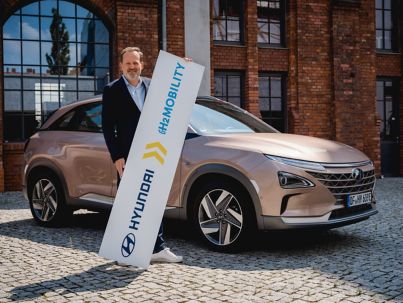 Right: Hydrogen consumption combined for the Hyundai NEXO in kg H2/100 km: 0.95; CO2 emissions combined in g/km: 0 (WLTP)
Left: Hydrogen consumption combined for the Hyundai NEXO in kg H2/100 km: 0.95; CO2 emissions combined in g/km: 0 (WLTP)
Hyundai Motor underlines its strong commitment to fuel cell technology by actively supporting the development of a hydrogen infrastructure. Combining our experience in hydrogen fuel cell systems and H2 MOBILITY's years of hydrogen infrastructure development, this partnership will empower us to make significant headway toward creating a clean hydrogen ecosystem.
Partnership with H2 MOBILITY
Following years of strong partnership, Hyundai finally joins forces with H2 MOBILITY because the company already has a wealth of experience in creating hydrogen infrastructure. Since 2015, H2 MOBILITY has been building and operating the hydrogen refuelling infrastructure in Germany. As the world's largest operator of hydrogen refuelling stations, the company has hydrogen stations throughout the metropolitan areas of Hamburg, Berlin, Rhine-Ruhr, Frankfurt, Nuremberg, Stuttgart, and Munich as well as on connecting motorways.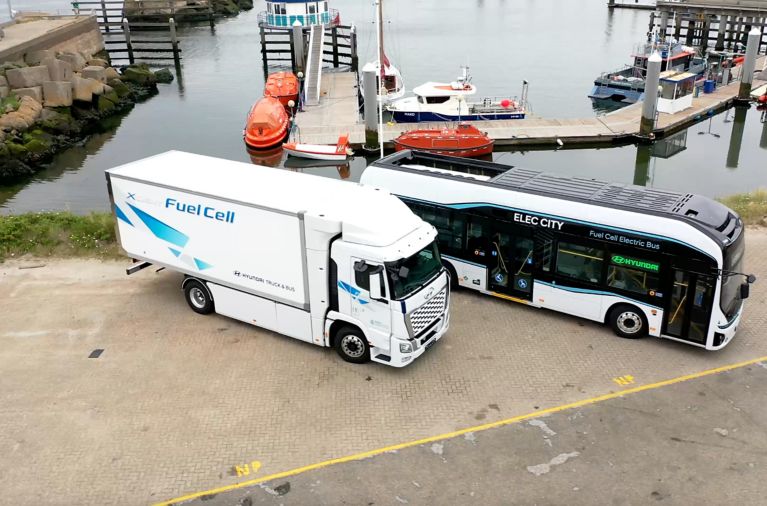 All of H2 MOBILITY's stations can service fuel cell electric vehicles, including passenger cars and light commercial vehicles, at 700 bar. Due to an increasing number of passenger cars, buses, rubbish collection vehicles, road sweepers, and trucks running on clean fuel, an increasing number of stations are dedicated to servicing larger commercial vehicles by offering hydrogen refuelling at 350 bar.
Building a hydrogen society
With a history of working with hydrogen, energy, and logistics companies around the world to expand its business in hydrogen fuel cell systems and foster a hydrogen economy, Hyundai will work with H2 MOBILITY to develop a hydrogen ecosystem that meets the needs of society even beyond mobility.
Hyundai is already the global leader in the development, mass production, and export of hydrogen fuel cell systems, including FCEVs. Its latest models, the XCIENT Fuel Cell heavy duty truck and Elec City Bus, have recently been shown to Dutch and German media at a special event in IJmuiden on July 22nd to 23rd.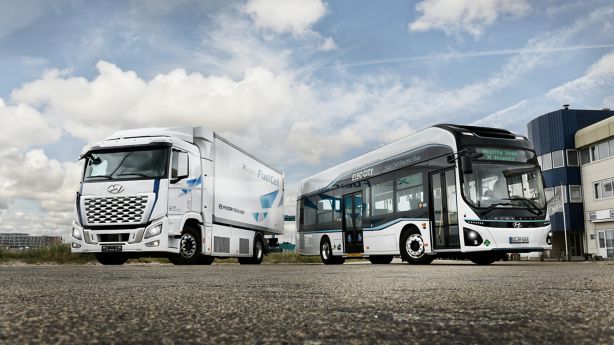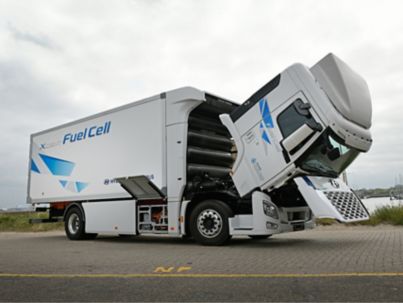 To support its transition to becoming a Smart Mobility Solution Provider, the company is focusing not just on building zero-emission vehicles but the infrastructure to support them as well. This partnership is just another step in taking a more active role in hydrogen advocacy, developing upon decades of fuel cell experience to strive for cleaner mobility and a cleaner future.
Hydrogen in Germany
Hydrogen is becoming a major topic in German economic, energy, and transportation policy. Hydrogen providers promise the transportation industry clean electromobility with short refuelling time and long driving ranges.
Ideally, hydrogen stations would be incorporated into existing petrol stations. Intuitive refuelling mirrors that of petrol vehicles. The compact design mostly relies on standardised parts for the dispensing, storage, and compression of the liquid fuel.
About H2 MOBILITY
H2 MOBILITY Deutschland GmbH & Co. KG is responsible for the nationwide development of a hydrogen infrastructure in Germany, primarily to supply passenger cars with fuel cell drive systems (700 bar technology). The initial goal is to operate 100 stations in seven German metropolitan regions (Hamburg, Berlin, Rhine-Ruhr, Frankfurt, Nuremberg, Stuttgart and Munich) as well as along truck roads and motorways. H2 MOBILITY will take on all tasks – planning, construction, operation, and marketing – that are necessary for successful network expansion and operation of a hydrogen refuelling network.
The stakeholders of H2 MOBILITY are Air Liquide, Daimler, Linde, OMV, Shell, andTotalEnergies. BMW, Honda, Hyundai, Toyota and Volkswagen as well as NOW GmbH National Organisation Hydrogen and Fuel Cell Technology advise H2 MOBILITY as associated partners.