Swiss visionary and initiator of Solar Impulse Bertrand Piccard will be starting a pan-European partnership with Hyundai Motor
Piccard shares Hyundai's values in finding innovative solutions to protect the environment
A brand ambassador for Hyundai Motor France since 2017, he will now start working with Hyundai on a pan-European level
Piccard recently broke the world distance record for a fuel cell vehicle with a Hyundai NEXO
Hyundai Motor has announced the start of a new pan-European partnership with Bertrand Piccard.
Piccard is a Swiss explorer most famous for being the first person to take a non-stop balloon flight around the globe, and for travelling around the world in a solar airplane. He shares Hyundai's commitment to innovation and environmental protection: his organisation, the Solar Impulse Foundation, is committed to finding one thousand solutions which "address environmental challenges while enabling economic growth".
Following the successful partnership in which Piccard served as a brand ambassador for Hyundai in France, the company decided to expand this partnership to a pan-European level.
Bertrand Piccard is a forerunner in clean mobility with a holistic approach and he shares the same progressive spirit as Hyundai. The rich exchange with him as an independent partner will help us to further develop our activities in clean and emission-free mobility solutions as we further establish our position among the leaders in this field.
Bertrand Piccard: scientist, innovator, explorer
Bertrand Piccard is a renowned pioneer who stands for innovative mobility solutions. A scientist, psychiatrist, inventor, and explorer, he was the first person to travel around the world in a balloon. In 2016, he circumnavigated the globe again, this time with a revolutionary solar-powered airplane called Solar Impulse. A dedicated proponent of eco-mobility, he started a foundation of the same name to promote innovative, environmentally-friendly solutions to various challenges of our time.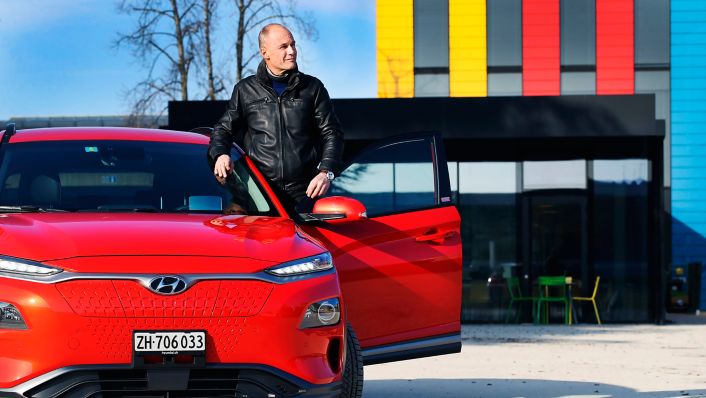 After flying around the world in an electric airplane powered by solar energy only, how could I drive anything else than a low or even zero emission car. This is exactly what Hyundai is offering. Becoming an ambassador of this brand is therefore a choice that is for me logical as much as ecological.
A shared vision for the future
Hyundai and Piccard share the same forward-moving, innovative spirit. An explorer of new ways of thinking and doing, Piccard was one of the first to envision protection of the environment through the lens of profitability, reconciling ecology and economy and promoting clean technologies since 2000 through his inventions and accomplishments. Hyundai is also dedicated to innovation, developing mass-produced eco-mobility solutions to make emissions-free mobility achievable for more people. With their shared values of finding new mobility solutions and protecting the environment, this partnership represents a perfect match to promote e-mobility.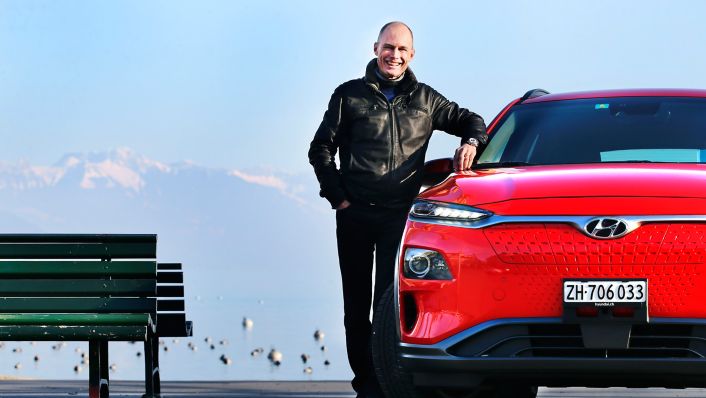 Previous collaborations between Hyundai and Piccard
Piccard has been a Brand Ambassador for Hyundai in France since 2017.
In 2018, Piccard chaired the Hydrogen Today conference, an opportunity organised by Hyundai for various stakeholders in the hydrogen industry to assess the state of the industry in France. Hydrogen mobility plays an essential role in decarbonising transportation.
In 2019, Piccard broke the world record for the longest distance travelled in a fuel cell vehicle, with only 6 kg of hydrogen. Piccard drove 778 km across France in a Hyundai NEXO, meeting with several prominent figures in politics and in the hydrogen industry along the way.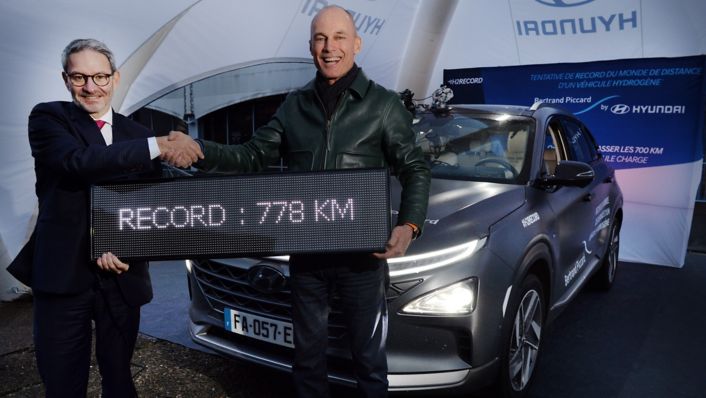 Earlier that year, Piccard switched from driving a Hyundai IONIQ to the company's new Kona Electric. With its long range, excellent comfort and high-end technology, the all-electric SUV was an attractive choice for the Swiss scientist. The 64 kWh Kona Electric can drive up to 484 km on a single charge.
Now, Piccard is beginning a pan-European partnership with Hyundai, opening up more opportunities for collaboration and to promote eco-mobility.
Hyundai shares Bertrand Piccard's vision – of a future running on clean energy and efficient systems. With this in mind, we are excited to announce the expansion of our partnership, and we look forward to cooperating on future projects.