Together with We Drive Solar, Hyundai will deploy a fleet of 25 IONIQ 5 units for a new mobility service powered by Vehicle-to-Grid (V2G) in Utrecht
This is an important step towards Utrecht's goal to becoming the world's first bi-directional city and region
The district of Cartesius in Utrecht will be the first new bi-directional neighborhood in the Netherlands
Hyundai Motor has launched an innovative new mobility project in the Dutch city of Utrecht, alongside local mobility provider We Drive Solar. As part of the scheme, Hyundai will deploy 25 IONIQ 5 units equipped with Vehicle-to-Grid (V2G) technology. Utrecht is the first city in the world to deploy V2G technology on such a large scale, taking steps in its ambition to become the world's first bi-directional region.
The kick-off for the new program was held at the CAB building in the new development district of Cartesius in the Netherlands. The ambitious project seeks to integrate sustainability and public health with innovation and mobility.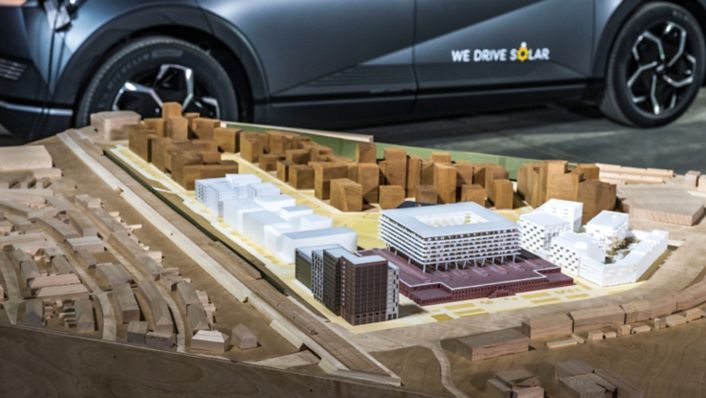 With unique Vehicle-to-Grid technology, We Drive Solar can use vehicles to store sustainable energy on a large scale, moving in the course of this year from 25 to 150 IONIQ 5 units. Together with Hyundai, we will make Utrecht the first city and region in the world with a bi-directional energy ecosystem.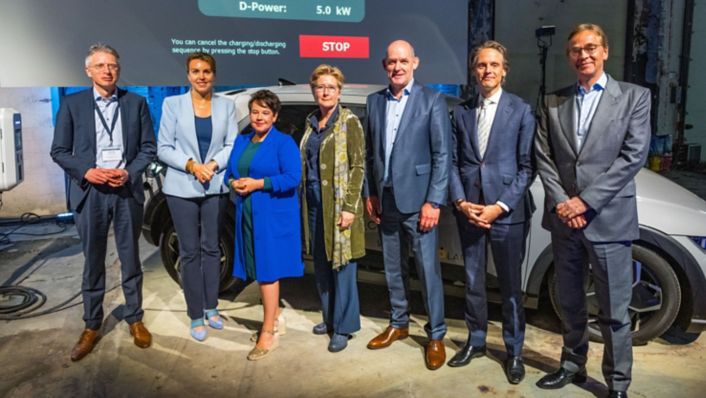 We are very proud to launch this project with We Drive Solar. At Hyundai, we believe that bi-directional charging in combination with V2G technology can turn battery electric vehicles into flexible resources. IONIQ 5 and V2G technology not only offer an alternative solution for customers looking to move away from traditional combustion engines, but also helps to increase the viability of renewable energy generation within the grid.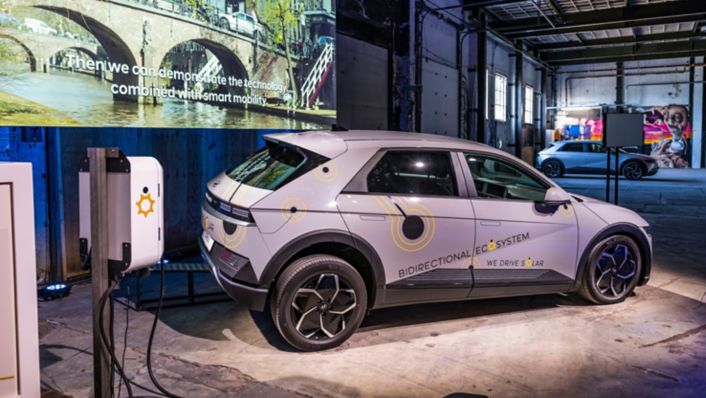 The world's first bi-directional charging system
Cartesius Utrecht, home to the partnership, is a new-build project where area developers MRP and Ballast Nedam Development plan to build 2,530 homes. In the neighbourhood next to Utrecht Zuilen train station, the focus is on healthy and sustainable mobility. The public space is designed and connected to surrounding walking and cycling routes in such a way that it invites (active) exercise and the use of bicycles. In addition, with the help of a smart mobility offer, residents receive attractive alternatives to cars via a handy app. The mobility service includes electric shared cars such as the IONIQ 5 from We Drive Solar.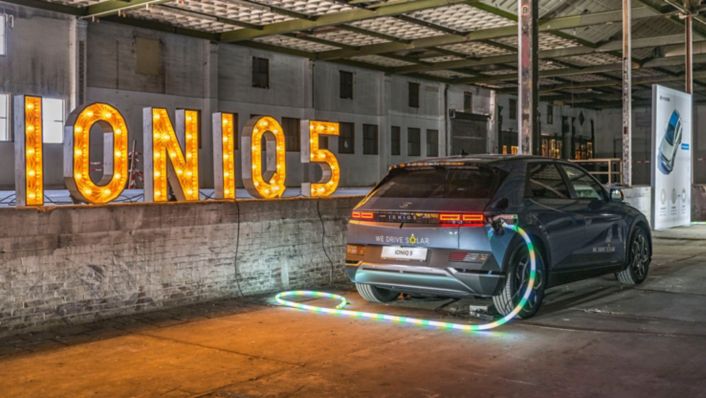 As a provider of electric shared cars, We Drive Solar is involved in a large number of new-build developments in the Netherlands. By allowing solar panels, charging stations, and shared cars to work together optimally, We Drive Solar is building the energy system of the future in Utrecht and beyond. We Drive Solar's mobility offer ensures a car-free, liveable living environment and accelerates the transition to sustainable mobility, aligning with Hyundai's long held values.
IONIQ 5 is Hyundai's first model to utilise Hyundai Motor Group's Electric-Global Modular Platform (E-GMP). This new platform was specially developed for battery-electric vehicles (BEVs) and offers major advantages in terms of performance, safety and space. Thanks to its 800V system, IONIQ 5 offers ultra-fast charging. With a 350 kW charger, it can be charged from 10 to 80 per cent of battery capacity in just 18 minutes, making it the perfect vehicle for such a project.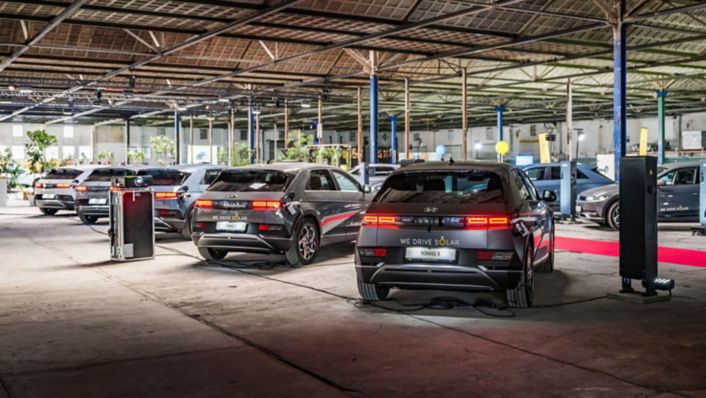 Vehicle-to-Grid technology
In addition to transporting residents of Cartesius, IONIQ 5 will also serve as a bi-directional production car. This means that the models' batteries will be used on a large scale as storage of sustainable energy, also known as Vehicle-to-Grid (V2G). V2G offers many benefits for the electricity grid and the environment. During peak times when large amounts of energy are consumed, electric cars can also supply energy back to the electricity grid.
Furthermore, the electric cars can supply houses and buildings with electricity. Vehicle-to-Everything (V2X) is the umbrella term used to describe the added value of electric cars when they are not used for what they are primarily intended for: driving. In addition to Vehicle-to-Grid (V2G), there are also Vehicle-to-Home (V2H) and Vehicle-to-Building (V2B) technologies.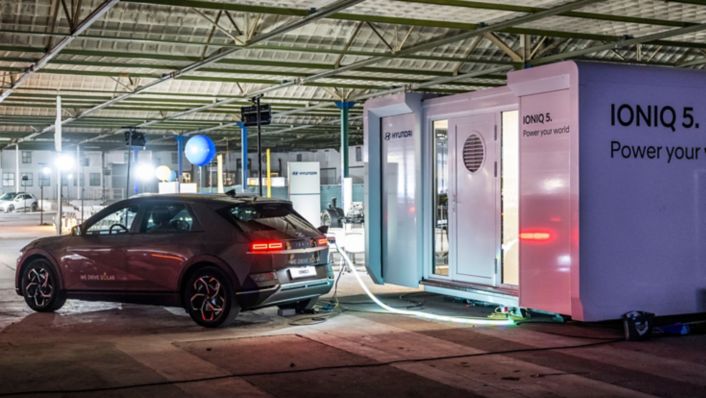 The more use is made of energy generated from renewable energy sources, the more V2G technology helps reduce the impact of climate change. By relying on the energy – generated from solar or wind – that is stored in the battery packs of electric cars, dependence on fossil-fuel powered plants, which cause more pollution and higher energy prices during peak hours, is reduced.
The aim of the collaboration is to make Utrecht the first region in the world with a bi-directional energy ecosystem; a milestone in the city's 900th year. A bi-directional ecosystem makes it possible to use car batteries as a buffer in a sustainable grid system where solar and wind power are the main energy sources. Only with such large-scale storage is it possible to completely shed fossil fuel dependence.
Utrecht has already made concrete strides towards its goal. In the past three years, more than 1,000 bi-directional charging points have been constructed throughout the region. These charging stations can not only be used to charge vehicles, but also to discharge power back into the grid when needed. Hyundai's deployment of IONIQ 5 units equipped with solar technology will be utilitsed in a new car-sharing service for the Cartesius district. Eventually, 150 vehicles will serve not only as a buffer for renewable energy on the grid, but also help provide cleaner air, reduce traffic on the streets, and provide residents with zero-emissions mobility options.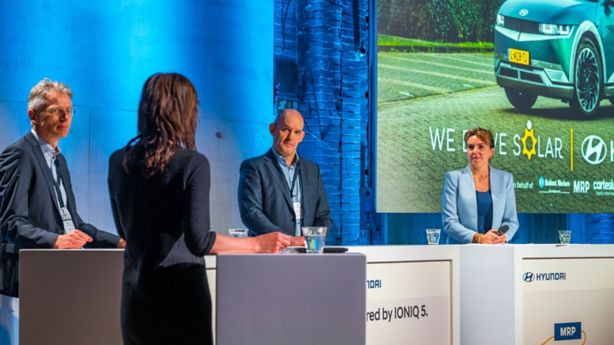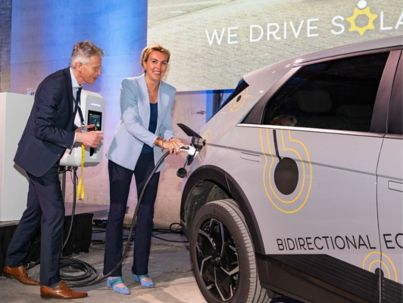 Future vision: Progress for Humanity
In addition to playing a leading role in electric driving, Hyundai wants to unburden its customers with the help of innovative services that are in line with the brand's vision of the future: Progress for Humanity. The partnership with We Drive Solar complements Hyundai's ambitions to become a global market leader in mobility solutions that fit the lifestyles of its customers.
This vision – making the world a better place for future generations – also fits the partnership with Healthy Seas. The marine conservation organisation, also present at the ceremony in Utrecht, is committed to cleaning and keeping the seas and oceans clean, protecting maritime ecosystems and creating a circular economy.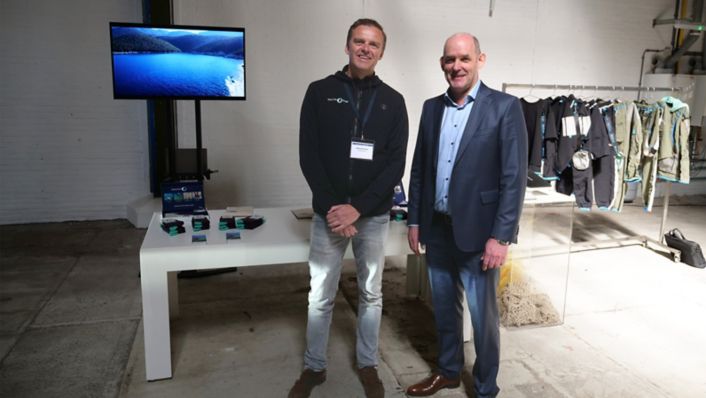 Healthy Seas' founding partner Aquafil regenerates the nylon parts of recovered fishing nets, along with other nylon waste, into ECONYL® yarn. This is a high-quality raw material that can be used to make new, ecological products such as swimwear, underwear, and even car floor mats, such as those in the IONIQ 5 units in Utrecht.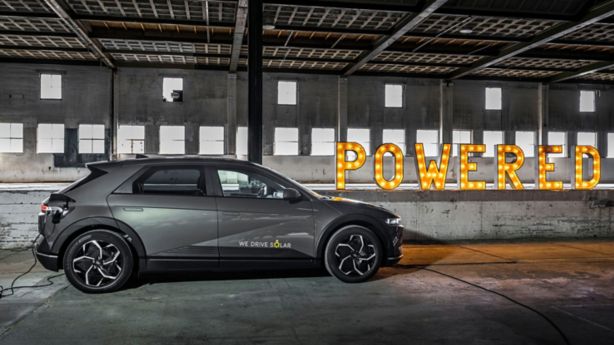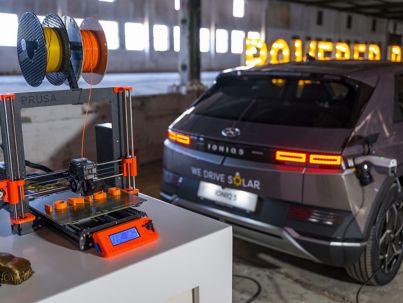 Hyundai also ensures that recycled material is used in other ways. For several years, Hyundai has been working with designers to transform used and residual materials from car production into new fashion items. For the most recent collection, Re:Style 2021, the designers used airbags and seat belts as part of their designs. Hyundai aims to make young consumers around the world aware of the impact of the production of leftover materials on our society and how we can reuse them creatively and practically.
About We Drive Solar
Based in the Netherlands, We Drive Solar is a local leading mobility operator that integrates solutions for mobility and energy systems for the future. The company is currently building a new energy system with thousands of solar panels, as well as hundreds of electric cars and smart charging stations. All We Drive Solar cars run on locally generated solar energy from 25 school roofs. Its goal is to bring electric cars, energy generation, and liveable cities together for a sustainable future.
Disclaimer: CO2 and emissions data
Electricity consumption combined for the Hyundai IONIQ 5 58 kWh with 2WD in kWh/100 km: 16.7; CO2 emissions combined in g/km: 0 (WLTP)
Electricity consumption combined for the Hyundai IONIQ 5 58 kWh with 4WD in kWh/100 km: 18.1; CO2 emissions combined in g/km: 0 (WLTP)
Electricity consumption combined for the Hyundai IONIQ 5 72.6 kWh (19" alloy rims) with 2WD in kWh/100 km: 16.8; CO2 emissions combined in g/km: 0 (WLTP)
Electricity consumption combined for the Hyundai IONIQ 5 72.6 kWh (20" alloy rims) with 2WD in kWh/100 km: 17.9; CO2 emissions combined in g/km: 0 (WLTP)
Electricity consumption combined for the Hyundai IONIQ 5 72.6 kWh (19" alloy rims) with 4WD in kWh/100 km: 17.7; CO2 emissions combined in g/km: 0 (WLTP)
Electricity consumption combined for the Hyundai IONIQ 5 72.6 kWh (20" alloy rims) with 4WD in kWh/100 km: 19.0; CO2 emissions combined in g/km: 0 (WLTP)
Electricity consumption combined for the Hyundai IONIQ 5 77.4 kWh (19" alloy rims) with 2WD in kWh/100 km: 16.8; CO2 emissions combined in g/km: 0 (WLTP target)
Electricity consumption combined for the Hyundai IONIQ 5 77.4 kWh (20" alloy rims) with 2WD in kWh/100 km: 17.9; CO2 emissions combined in g/km: 0 (WLTP target)
Electricity consumption combined for the Hyundai IONIQ 5 77.4 kWh (19" alloy rims) with 4WD in kWh/100 km: 17.7; CO2 emissions combined in g/km: 0 (WLTP target)
Electricity consumption combined for the Hyundai IONIQ 5 77.4 kWh (20" alloy rims) with 4WD in kWh/100 km: 19.0; CO2 emissions combined in g/km: 0 (WLTP target)