Lighting technology enables active mood changes to improve mental and physical health
IONIQ 6 features a fully customisable interior lighting system with 64 colour options
Speed Sync Lighting mode visually conveys a sense of speed, while Dual Colour Ambient Lighting helps occupants to stay relaxed and calm
Interactive LED on IONIQ 6 steering wheel connects the vehicle and the driver
Hyundai Motor recently launched IONIQ 6, the second model in its IONIQ line-up brand dedicated to battery-electric vehicles (BEVs). The Electrified Streamliner is aerodynamically-sculpted and makes innovative use of sustainable materials to reflect EV customers' values. IONIQ 6 is also equipped with an array of advanced technologies, personalised space and features, while offering an extended range, to redefine the boundaries of electric mobility.
The innovative interior space of IONIQ 6 has several practical features that facilitate a mindful mobility experience and lifestyle. One of these is its fully customisable Dual Colour Ambient Lighting which creates a beautiful, soothing interior illumination.
From the beginning of its development, the interior was created under the concept of being a 'Living Space'. Breaking away from the stereotype of a car's interior as simply a means of transportation, the interior serves as both a comfortable, cocoon-like hideaway, and a personal space where customers can relax, spend quality time and even work.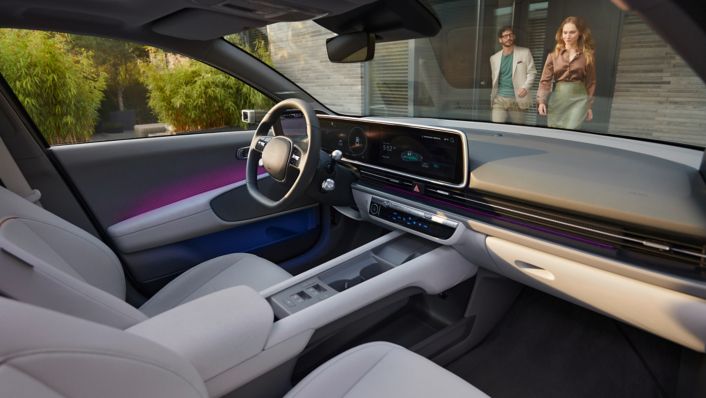 Hyundai's design teams were inspired by the characteristics of an actual living space where the atmosphere of day and night can change dramatically. To translate this into IONIQ 6, they focused on creating an emotional interior atmosphere by directing various types of light, which researchers have shown can be used to improve mental and physical health.
Welcome lighting on the steering wheel greets as soon as the driver gets into the vehicle; a Dual Colour Ambient Lighting further soothes occupants for both first and second-row with emotional lighting technology. The cabin is housed with various details to maximise the effect of the vehicle's ambience light ‒ such as the door trim with a wave pattern that naturally spreads light, or the translucent material that allows light to pass through smoothly.
Centre console mood light
Lighting that communicates with the driver through various functions is one of the signature illumination technologies in IONIQ 6. First of all, the centre console indicator mood light uses 32 smart LEDs to implement various lighting movements. Each LED is designed to create fast and flexible light movement according to various pre-set scenarios.
These include: 
Welcome: It turns the centre console mood light's LED lights on in sequence to greet drivers when entering the vehicle (as if IONIQ 6 has just woken up from sleep); 
Voice Recognition: It changes the length of the centre console mood lights according to the volume of the driver's voice, to clearly convey that the vehicle recognises it; 
EV Ready: It intuitively informs the driving status by turning the LEDs on sequentially from the centre to the left and right; 
Goodbye: It operates the interactive LED lights in the opposite direction, a feature that can also support users who are hearing impaired.
From zero to 30 km/h, Speed Sync Lighting emits 10 per cent brightness, gradually brightens between 30 km/h to 100 km/h, and features full brightness at speeds above 100 km/h. As information regarding speed is primarily relevant for drivers, this function does not apply to rear‒seat passengers.
Dual Colour Ambient Lighting
Dual Colour Ambient Lighting allows the driver to customise the look and feel of the interior cabin by setting the lighting colour for the top and bottom of the door trim separately. There are 64 colour options for both areas, and a total of 4,096 combinations of top and bottom lighting.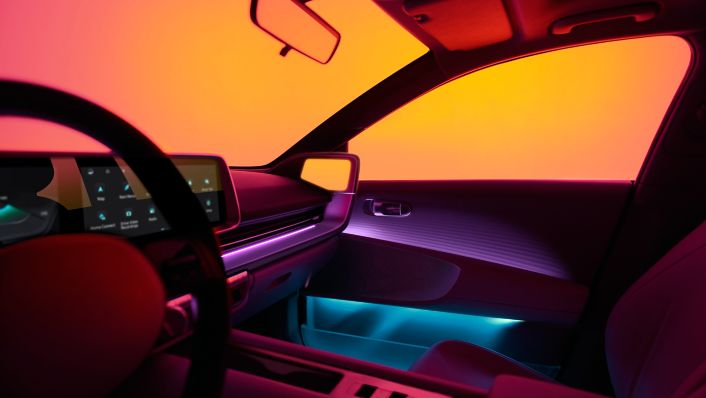 Hyundai's designers developed six pre-selected atmospheric dual-colour emotional lighting themes in collaboration with colour experts. These experts have taken into consideration colour therapy, which is used to treat certain mental and physical health conditions through the colour of lighting, as well as interior trends that determine lighting colours according to the use of space.
The six themes were developed through research on changes in bio signals from brain waves and electrocardiograms for colour combination lighting stimulation. They provide the emotional mobility experience of a dedicated EV, and help drivers and passengers feel relaxed and calm.
For example, a combination of red and gold lighting has been shown to increase activation of the sympathetic nervous system – most commonly known as the controller of a person's fight-or-flight response – and to increase cognitive and emotional vitality as determined by heightened beta and gamma wave activity throughout the brain.
Combining turquoise and green, on the other hand, was found to boost gamma waves in the frontal and parietal lobes of the brain, producing heightened awareness and creativity through activation of the parasympathetic nervous system, a network of nerves that controls bodily functions when a person is at rest.
The themes are: 
Concentration, which combines blue and green to improve concentration; 
Healing Forest, a combination of yellow and green that provides a sense of stability for relaxation; 
Wonderful Day, in red and gold to help boost vitality; 
Mind Care, combining pink and violet to relieve anxiety and reduce stress; 
Meditation, a mixture of royal blue and blue colours that provide a meditative atmosphere through high awareness and clarity; 
Creative Moment, a turquoise and green combination that elevates users' inspiration
Interactive LED steering wheel
Instead of the typical Hyundai 'H' emblem, IONIQ 6 houses the new Parametric Pixel Light at the centre of its steering wheel. Composed of four dot-type LEDs that represent the letter 'H' in Morse code, it also enables easy communication between the driver and vehicle.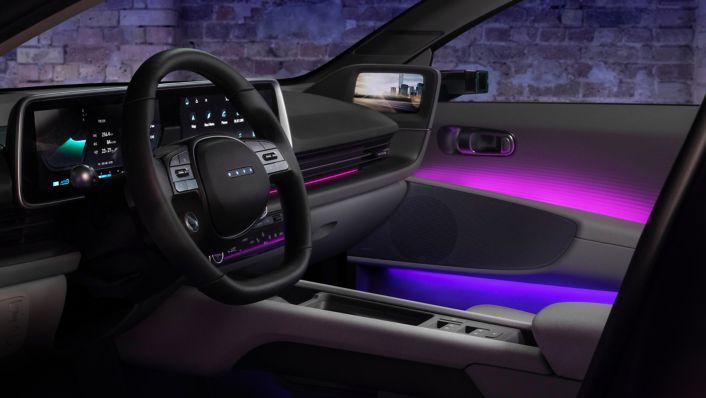 There are six vehicle-to-driver interactions allowing for a hands-free check on the vehicle's status, signified by four different light colour combinations with different lighting sequences:
Welcome/Goodbye (cool white, progressive activation/deactivation): Greets you welcome in sync with your entry into the car
Voice Recognition (multi-colour sequence): Indicates activation of voice recognition mode
EV Ready (cool white, toward centre): Shows the vehicle is ready to drive when ignition is turned on
Shift into reverse (pink, toward centre): Alerts reverse gear status
Drive Mode (colour differs by mode, from left): Shifts colour according to Normal, Eco, Sport and Custom mode
Battery Status (green, number of lights indicate state of charging): Allows to check the battery's charging status easily by the number of green Pixel Lights
As such, the interactive LED Pixel Light can provide various functions that the current brand emblem could not, and has evolved into another communication method that connects the vehicle and its driver.
The lighting technology inside IONIQ 6 is another example of Hyundai's customer-centric approach to design, in line with its brand vision of Progress for Humanity. By utilising lighting as a feature that communicates and interacts with drivers and occupants, the Electrified Streamliner represents a step forward for electric vehicles, offering an emotional EV driving experience and a mindful personal space on wheels.
Disclaimer: CO2 and emissions data
Electricity consumption combined for the Hyundai IONIQ 6 53 kWh with 2WD in kWh/100 km: 13.9; CO2 emissions combined in g/km: 0 (WLTP)
Electricity consumption combined for the Hyundai IONIQ 6 77.4 kWh (18" alloy rims) with 2WD in kWh/100 km: 14.3; CO2 emissions combined in g/km: 0 (WLTP)
Electricity consumption combined for the Hyundai IONIQ 6 77.4 kWh (20" alloy rims) with 2WD in kWh/100 km: 16.0; CO2 emissions combined in g/km: 0 (WLTP)
Electricity consumption combined for the Hyundai IONIQ 6 77.4 kWh (18" alloy rims) with 4WD in kWh/100 km: 15.1; CO2 emissions combined in g/km: 0 (WLTP)
Electricity consumption combined for the Hyundai IONIQ 6 77.4 kWh (20" alloy rims) with 4WD in kWh/100 km: 16.9; CO2 emissions combined in g/km: 0 (WLTP)