Hyundai Motorsport will be aiming for victory as the FIA World Rally Championship (WRC) heads back onto tarmac for round ten of the 13-event season, Rallye Deutschland
Thierry Neuville leads the Drivers' Championship after nine rounds, equal on 160 points with Sébastien Ogier, ahead of the rally where he won his first WRC round in 2014
Based in Bostalsee, around two hours from the team's Alzenau base, Rallye Deutschland is a home event for Hyundai Motorsport.
Hyundai Motorsport has its sights set on victory at Rallye Deutschland, as the WRC returns to tarmac for the first time since Tour de Corse, where the team registered the first win of the 2017 season.
Hyundai Motorsport has its sights firmly set on victory at Rallye Deutschland, as the WRC returns to tarmac for the first time since April's Tour de Corse, where the team registered the first of its three wins of the 2017 season to date.
The German round of the FIA World Rally Championship (WRC) is the tenth event of the season, and a home rally for Hyundai Motorsport, whose factory in Alzenau is situated just over two hours away from the service park.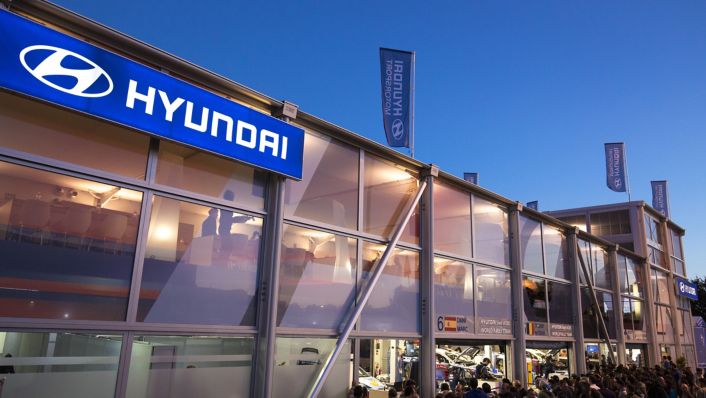 Leading the way

The scene of its first WRC victory in 2014, the team has always performed strongly at Rallye Deutschland. Thierry Neuville and Dani Sordo have registered two podiums apiece at the event; a 1-2 in 2014, led by Neuville, was followed up last season with a 2-3, headed by Sordo.
The 2017 edition will have extra poignancy for Hyundai Motorsport with Neuville leading the Drivers' Championship on 160 points, equal with reigning Champion Sébastien Ogier.
All three crews, Neuville and Nicolas Gilsoul, Sordo and Marc Martí, as well as Hayden Paddon and Seb Marshall, will be looking to bounce back from a difficult Rally Finland and reassert the team's championship credentials.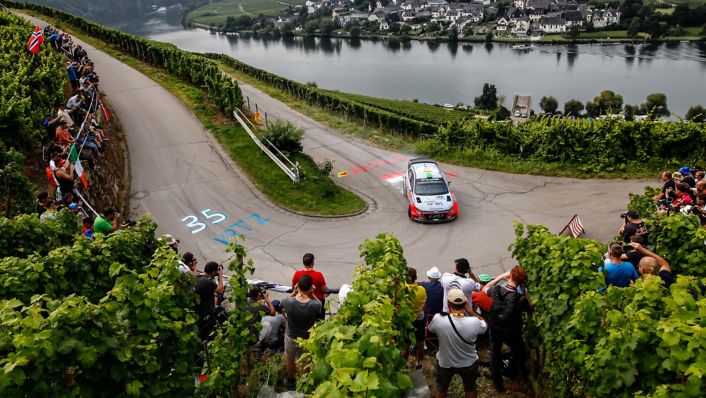 Return of tarmac

Rallye Deutschland joined the WRC in 2002 after being part of the European Championship since 1982. Although there are many new elements to this year's event, it retains its unique combination of tarmac stages: from twisty vineyards to the multi-surface Baumholder military roads, including the dreaded Hinkelstein rocks, to country roads.
The service park has moved from its Trier location to Bostalsee, with Thursday's ceremonial start and opening Super Special Stage being held in Saarbrücken. At 309.17km of special stages, Rallye Deutschland is one of the shortest rallies on the calendar, but run over 21 stages there are plenty of challenges and demands for crews to negotiate.
To prepare for the rally, all crews have tested the Hyundai i20 Coupe WRC on tarmac with car settings varying significantly from the recent run of gravel rallies. Two days of running at Baumholder in July were followed by four days in the vineyards at the start of August.
Rallye Deutschland is one of the highlights of the season for Hyundai Motorsport. It is our home event, and an opportunity for us to bring the WRC action closer to everyone who works so hard in the Alzenau factory. We are moving back to tarmac after a long, and generally positive, run of gravel rallies. We had a tough weekend in Finland, but we are determined to return to form in Germany, where we scored our first victory in 2014 and a double podium last year. We don't automatically assume we will be able to repeat that sort of performance – especially with the competition in this year's Championship – but that's certainly our aim. With Thierry leading the Drivers' Championship, we are all motivated to secure a strong combined team result.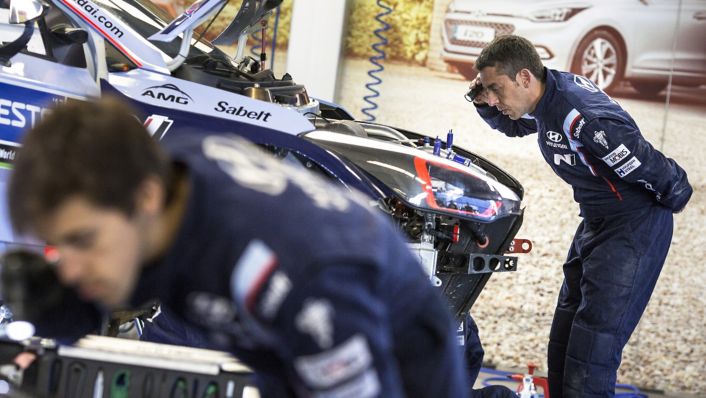 Crew Notes: Paddon/Marshall (#4 Hyundai i20 Coupe WRC)

Rallye Deutschland will be the first tarmac event of the season for Paddon and Marshall as a crew. The duo showed their potential on gravel with a Polish podium, so will be looking to adapt quickly to the German tarmac terrain next weekend.
Rallye Deutschland is a unique rally, almost three events rolled into one. We have vineyards, public road and the classic Baumholder military sections, which combine to make it an interesting challenge. We will be using the rally as a way to develop ourselves further and to build up confidence and performance on tarmac. Being so close to the team's home base in Alzenau gives us extra incentive.
Crew Notes: Neuville/Gilsoul (#5 Hyundai i20 Coupe WRC)

Championship leader Neuville has scored more WRC victories than any other driver this season, with wins on Corsican tarmac, and the gravel roads in Argentina and Poland. Alongside co-driver Gilsoul, he will be looking to extend his advantage in Germany, where he has taken a win and a third place in the past three seasons.
Germany is usually a really good event for us, as a crew and as a team. We have great experience and memories from there, particularly from our first WRC win in 2014 with Hyundai Motorsport. Heading into this year's edition leading the Championship is something new, but I am really looking forward to opening the road. Hopefully, we can enjoy another strong performance, and try to increase our lead in the classification. It won't be easy, but we know we can be fighting at the front.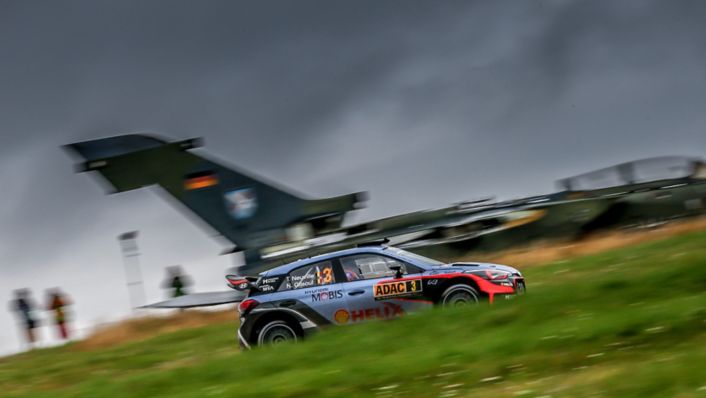 Crew Notes: Sordo/Martí (#6 Hyundai i20 Coupe WRC)

Sordo and co-driver Martí are relishing a return to tarmac for the first time since scoring an impressive third place in Corsica. The Spanish crew has two second-place results to their name in Rallye Deutschland as a Hyundai Motorsport crew, in 2014 and 2016. The target is to register their third top-three of the season, and third German podium in four years.
It will be enjoyable to get our Hyundai i20 Coupe WRC back on tarmac after a long run of gravel rallies. We've had some highs and lows in recent events, so I am aiming to build up some consistent and competitive results in the coming rounds. Germany is a nice event with some tricky roads. The wider 2017-specification WRC cars will be a challenge on some of the narrower vineyard roads, and we will also have an eye on the weather. I am in a positive frame of mind and ready to hunt down another German podium.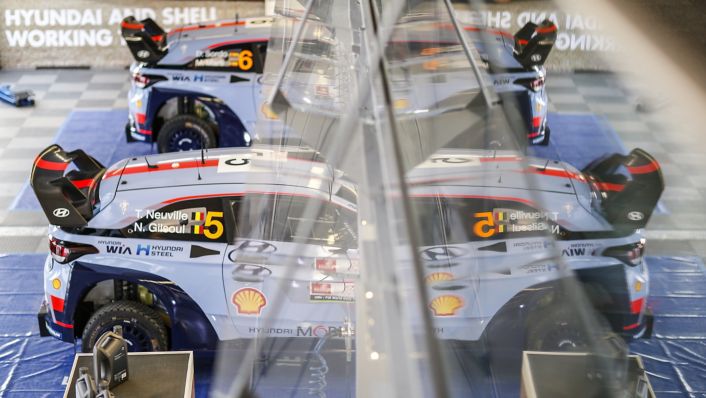 Rallye Deutschland at a glance

The second tarmac rally of the season is run over 21 stages and a total competitive distance of 309.17km.
The first complete day takes in narrow, hairpin bend filled vineyard roads overlooking the Mosel. For 2017, three runs of a new super special will be held at Wadern-Weiskirchen.
Saturday moves onto the military Baumholder roads for the Panzerplatte tests, with mixed tarmac surface and the traditional, unforgiving Hinkelstein rocks lining the stages.
Sunday is a new-look itinerary with stages held on country roads near to the France and Luxembourg border, as well as stages close to the Bostalsee service park, including the new St Wendeler Land Power Stage.