Hyundai displayed a range of innovative developments in Seoul, including its FE Fuel Cell Concept, which is designed to run for more than 800 km between refuelling and features advanced driver assistance technology. The brand also revealed the newly-developed Connected Car Service Platform, which will allow customers to connect seamlessly to a variety of other Internet of Things (IoT) services provided by telecommunications providers and global appliance services.
Hyundai Motor recently showcased its latest vision for green mobility and connected cars at the 2017 Seoul Motor Show. The South Korean capital is taking an innovative approach to tackling pollution.
Green mobility

Seoul was an ideal choice of city to showcase Hyundai's vision for green mobility. With an inner-city population of 10.4 million inhabitants, and wider metropolitan area of 26 million people, the city is one of the biggest in the world and approximately three million car owners are registered there. Transportation contributes to around 42% of the city's CO2 emissions, as well as instigating congestion, smog and noise pollution.
From 2003-2006, Seoul's government collaborated with various NGOs and private enterprises to establish the weekly No-Driving Day programme in order to improve the flow of traffic in the city and cut pollution. This voluntary scheme uses incentives to enrol commuters to leave their cars at home for a day and travel to work via public transport, cycling or walking. Car owners register their vehicles to stay at home one day per week between Monday to Friday, from 7am to 10pm. An electronic sticker is issued to that car which can then be monitored by radio frequency identification systems located around the city. Owners will receive incentives and rewards if the car is not identified as travelling on its allocated no drive day throughout the year.
The No-Driving Day programme has been a success, and Seoul has reduced its annual vehicle emission rates by 10% since it launched. Now, Hyundai hopes to bring this down even lower, thanks to its fuel cell technology, with the ultimate ambition of creating a zero-emission Hydrogen Energy Society.
First unveiled at the 2017 Geneva Motor Show, the FE Fuel Cell Concept boasts a host of clever technologies to enhance customer comfort, convenience and safety. It builds on the fuel cell technology featured in the Hyundai ix35 Fuel Cell, the world's first mass-produced fuel cell vehicle, and forms the basis for Hyundai's next generation production FCEV due for launch in February 2018.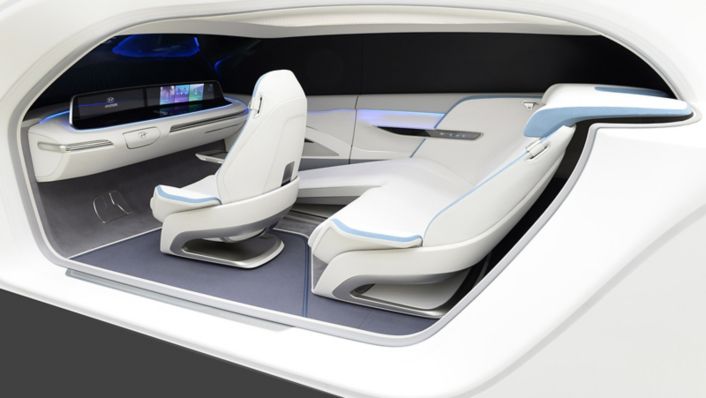 Connected cars
In the coming years, the IoT will ensure that cars increasingly become the centre of our lifestyles. At the 2017 Seoul Motor Show, Hyundai unveiled its four main objectives for this IoT-led future mobility. Hyundai's Connected Car Roadmap builds on the brand's philosophy of caring for customers by providing greater convenience and efficiencies for drivers.
Proactive caring to regularly monitor a car's diagnostic information.
Smart convenience to deliver regular updates to vehicle software and features.
Cost efficiency – Hyundai aims to save its customers money by analysing their driving patterns and fuel economy history.
Connected efficiency – Hyundai will use smart application management so that software will automatically update while the car is charging, rather than while driving, as well as monitoring factors that may impact on the driver each day by providing up-to-date warnings and information.
The Connected Car Roadmap will pave the way for new innovations in vehicle connectivity through in-vehicle networks, the cloud, big data and connected car security innovation. This will provide users with a hub of infinite knowledge, from real-time traffic alerts and weather updates to autonomous driving and smart remote maintenance services.