Mikel Azcona's WTCR – FIA World Touring Car Cup crown completed a strong 2022 season for Hyundai Motorsport's Elantra N TCR customers
The drivers' and teams' titles in the international series are the fifth and sixth claimed by the Elantra N TCR this year
The company's Customer Racing activities continue to play a key role in shaping Hyundai's road-going high performance N range and production models.
A third drivers' and second teams' title* for Hyundai Motorsport customers in the five-season history of WTCR – FIA World Touring Car Cup completed an outstanding season for Hyundai Elantra N TCR runners.
 
In 2022, WTCR saw only two Hyundai Elantra N TCR cars entered, rather than four in the previous season. It was a real David vs Goliath fight, with BRC Hyundai N Squadra Corse and its drivers up against other teams with four or five drivers. Yet, with a consistent performance, an incredibly competitive car and clever strategy and tyre management, they were able to see off their rivals successfully, from lights out in Pau-Ville to the chequered flag in Saudi Arabia, finishing on the podium at every round of the 2022 season.
 
Throughout the season, both Mikel Azcona and Norbert Michelisz were able to show the pace of the Hyundai Elantra N TCR, regularly competing at the front of the field for victories and podium positions, even at tracks that were unfamiliar. Their consistent points scoring, including a best result at Race of Bahrain, enabled BRC Hyundai N Squadra Corse to solidify its position at the top of the standings and clinch the title during qualifying at Race of Saudi Arabia. 
 
Lifting the WTCR title underscores the team effort and strong relationship between Hyundai Motorsport Customer Racing and BRC Racing Team. As partners on the TCR project since the very start of testing with the Hyundai i30 N TCR in 2017, the two entities have an excellent working partnership that has yielded great success in the series in the past, including the drivers' titles in 2018 and 2019.
 
WTCR is not the only series where the Elantra N TCR has been driven to success. WTCR divers' title winner Mikel Azcona took the class win and an incredible 18th place overall alongside Marc Basseng and Manuel Lauck in the Elantra N TCR at the Nürburgring 24 Hours in May, while Niels Langeveld and Target Competition won the TCR Italy title, making it the first national title won with the Elantra N TCR.
In the USA, the Hyundai America-backed Bryan Herta Autosport team triumphed to defend their IMSA Michelin Pilot Challenge title with a clean sweep of the drivers', teams', and manufacturers' championships. It also marked the Elantra N TCR's first championship win in the country.
 
As well as proving Hyundai Motorsport's Customer Racing offering to be amongst the most competitive in the category, the success of the Elantra N TCR on circuits around the world have also worked to promote and develop Hyundai's high-performance N range. Hyundai Motorsport is a key component in Hyundai's global R&D network with the experience gained from competition, both on race circuits and in the FIA World Rally Championship, influencing the engineering inspiration building future generations of N brand models.
I want to congratulate Mikel Azcona and BRC Hyundai N Squadra Corse on the FIA WTCR drivers' and teams' titles. Through our motorsport projects Hyundai has always aimed to show the excellence of our high-performance N brand cars in competitive series around the world. We can do this thanks to our expertise in designing and building cars like the Elantra N TCR. However, to complete the work and win FIA world titles we need a great team, superb drivers and the incredible support from our Customer Racing department in Alzenau to match. This season every part of this complicated puzzle has come together perfectly, and our success in FIA WTCR is the proof. For Mikel this has been an especially busy, and successful, year with the WTCR title, his King of the Weekend in FIA ETCR in Italy and the class victory in the Nürburgring 24 Hours in May – all in his first season as part of our team.
2022 has been a great year for our Elantra N TCR customers around the world. Winning the final WTCR – FIA World Touring Car Cup drivers' and teams' title is special, especially after the Hyundai-powered Gabriele Tarquini won the inaugural title in 2018, so it feels like we have come in a full circle. It is also testament of Hyundai Motorsport Customer Racing built cars, as success has spanned the globe this year. Not only is this fantastic for our customers, but also for Hyundai as a manufacturer.
It has been an incredible 2022 season, my first with Hyundai Motorsport and BRC Hyundai N Squadra Corse. I'm very proud that we achieved both titles, we did a fantastic job as a team this year. There was a lot of hard work, and it has been full of emotion, but since the very first moment I felt comfortable with the team and in the Elantra N TCR. It was the same car that helped power us to the class win at the Nürburgring 24 Hours as well, so I have had full confidence in it this year. A massive thank you to everyone at Hyundai Motorsport Customer Racing and BRC Racing Team, this would not have been possible without every single person involved.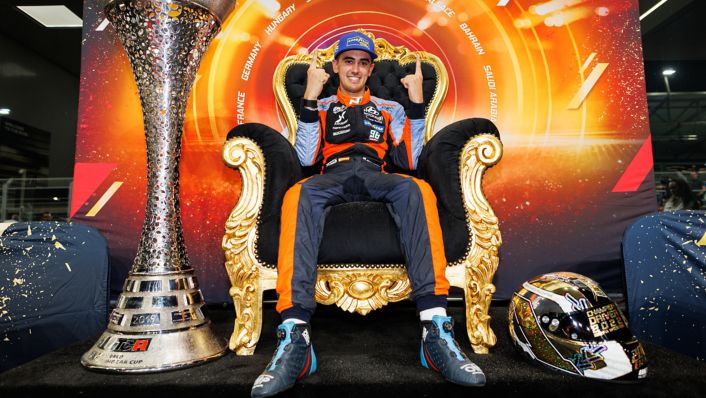 It's been a good, but very intense season. It didn't start so well for me; I was left behind after the first couple of rounds. Mikel and the team did a fantastic job, so in the end I'm very happy to be part of this motorsport family. I really think we deserved to win the teams' title because everyone worked so hard, both in BRC and Hyundai Motorsport Customer Racing. The Elantra N TCR has felt amazing all season long.
* Subject to the official publication of the results by the FIA