Hyundai Motor Europe launches new Ioniq 6 campaign across Europe
In the TV spot, an astronaut is on a journey to discover a whole new world of technological features and design elements in Ioniq 6
Campaign underlines Ioniq 6's product excellence and confidence to claim that it will 'awaken your world' by showcasing the model's technological highlights
Hyundai Motor Europe has released a brand-new, Europe-wide campaign to celebrate the launch of the new Ioniq 6. The launch campaign demonstrates how Ioniq 6 signifies a new era of electric mobility, delivering on the company's brand vision of 'Progress for Humanity'.
A television spot "The Awakening" heads the campaign, which shines a spotlight on Ioniq 6's wealth of technological features and outstanding design elements. First, viewers are kept in suspense, not sure of what they are seeing. In the opening visuals, an astronaut comes into view, admiring Ioniq 6's interior, which alludes to a spaceship. Outer space serves as a poetic metaphor considering the models' living space concept. As the spot goes on, more of Ioniq 6's interior is revealed and finally, the exterior is shown with the claim: 'Awaken your world'.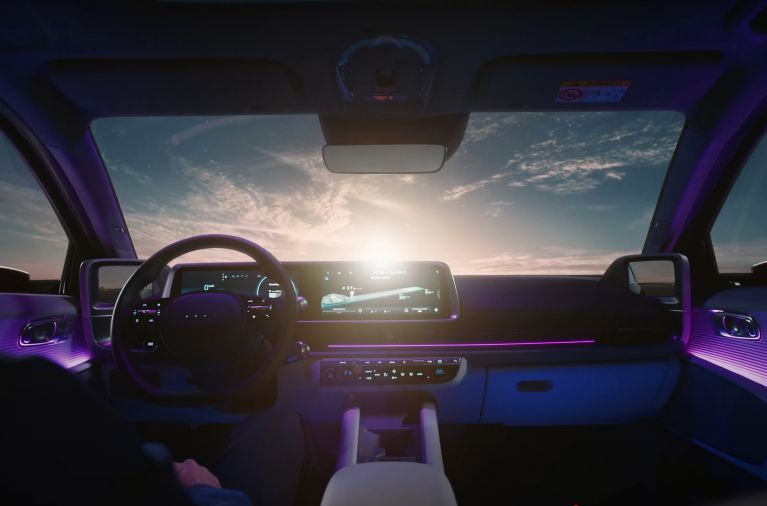 With the campaign, Hyundai sets the focus on how Ioniq 6 offers a space in which customers can discover a new world of electrified mobility through its technological highlights, including its sound features, customisable lighting, and cocoon-like interior.
With Ioniq 6's pan-European launch campaign, we want to do two things. First of all, we wish to emphasise Hyundai's leadership in electrification with Ioniq 6 and, as an extension, the entire Ioniq line-up brand. Secondly, we also want to show our customers – both reoccurring and new – the state-of-the-art technologies and experiences that this new model can deliver to awaken their worlds.
Multiple talents came together to bring this visual concept to life. Together with INNOCEAN's European Creative Hub in Berlin and the director Mackenzie Sheppard (Production Company: Bonaparte Films, Berlin), Ioniq 6 is presented to the audience as a car waiting to be explored.
With stunning visual effects by bEpic, the television spot takes us through a journey of discovery, revealing a new chapter in Hyundai's range of innovative vehicles. The moving images complement the work done by the photography duo BAM, well known for its dynamic lifestyle photography style.
The campaign's new approach to media behaviour currently includes extensive, globally activated pre-communications. Using immersive videos, 3D digital out-of-home advertising, and connected TV, Hyundai aims to arouse awareness and interest in its Ioniq and EV models.
Throughout the campaign, Hyundai plans to create brand desire across new, affluent audiences. The company is confident that Ioniq 6 will appeal to these audiences once they experience the model's highlights:
For more customer convenience, the model offers four type-C and one type-A USB port. Additionally, Ioniq 6 is available with a range of drive motors and battery packs to fit every customer's needs. And, like Ioniq 5 before, it also has the innovative Vehicle-to-Load (V2L) function, so customers can charge and power external electronic devices.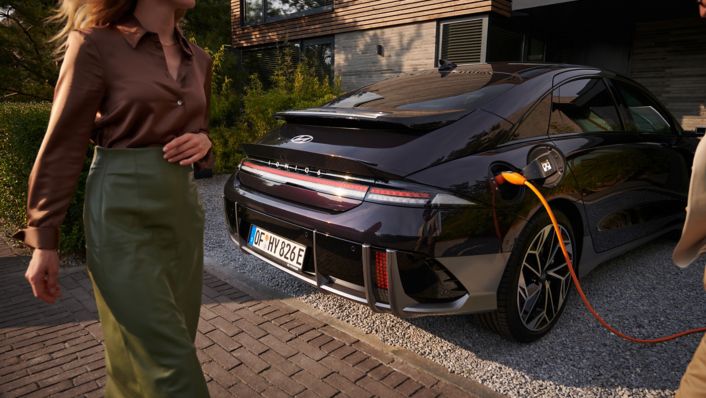 Ioniq 6 also offers a personal space that ensures a safe, fun, and stress-free driving experience. Drivers can use the Dual Color Ambient Lighting to customise the look and feel of the cabin. With a spectrum of 64 colours and six pre-selected themes, drivers will always be able to find the right mood lighting. Additionally, the Speed Sync Lighting mode makes the driving experience more emotional. This feature automatically adjusts the brightness of the interior lighting in the first row based on the speed of the vehicle.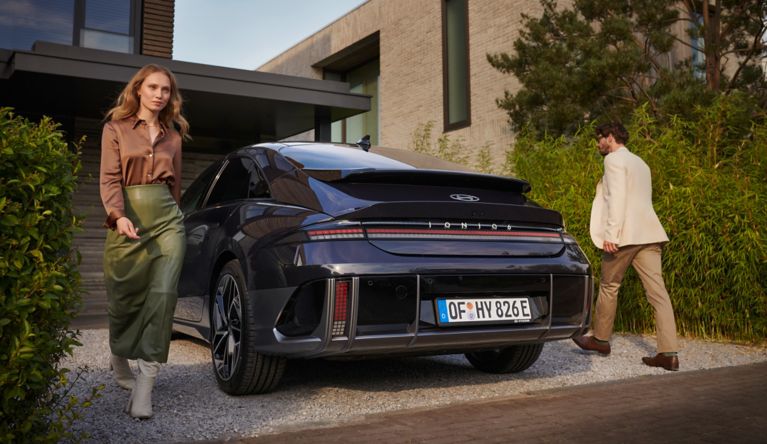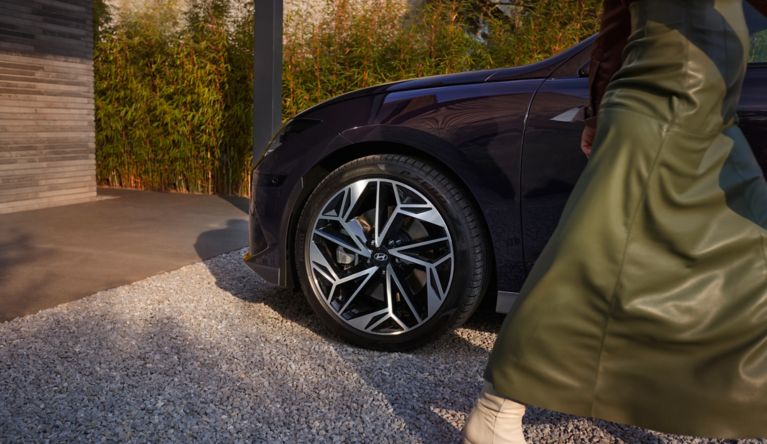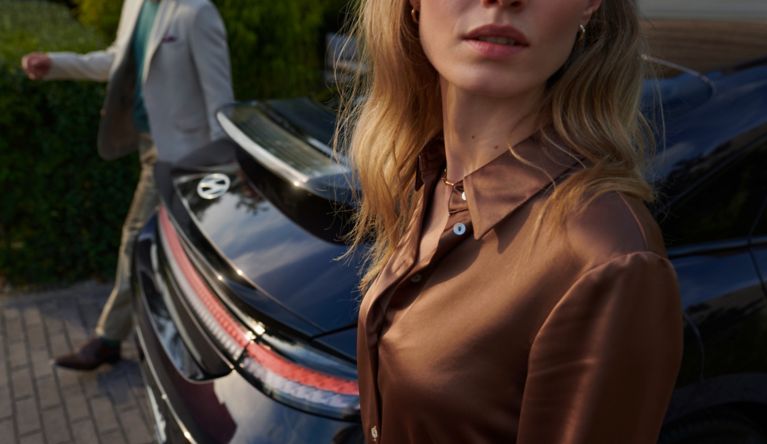 Dynamic driving experience
On top of this, the new electrified model comes with a more dynamic driving experience, ensured by its Electric Active Sound Design (e-ASD). A virtual, spaceship-like sound was added to the cabin. Depending on the driving status of the vehicle, the sound texture changes, making driving EVs more exciting.
Revolutionary BEV platform
Built on Hyundai Motor Group's Electric-Global Modular Platform (E-GMP), the Electrified Streamliner delivers an extended range of up to 614 kilometres on a single charge (WLTP-combined), while the E-GMP's 800V ultra-fast charging technology provides up to 351 of those kilometres in just 15 minutes.
Disclaimer: CO2 and emissions data
Electricity consumption combined for the Hyundai Ioniq 6 53 kWh with 2WD in kWh/100 km: 13.9; CO2 emissions combined in g/km: 0 (WLTP)
Electricity consumption combined for the Hyundai Ioniq 6 77.4 kWh (18" alloy rims) with 2WD in kWh/100 km: 14.3; CO2 emissions combined in g/km: 0 (WLTP)
Electricity consumption combined for the Hyundai Ioniq 6 77.4 kWh (20" alloy rims) with 2WD in kWh/100 km: 16.0; CO2 emissions combined in g/km: 0 (WLTP)
Electricity consumption combined for the Hyundai Ioniq 6 77.4 kWh (18" alloy rims) with 4WD in kWh/100 km: 15.1; CO2 emissions combined in g/km: 0 (WLTP)
Electricity consumption combined for the Hyundai Ioniq 6 77.4 kWh (20" alloy rims) with 4WD in kWh/100 km: 16.9; CO2 emissions combined in g/km: 0 (WLTP)