Hyundai Motor recently joined forces with Bisimoto Engineering to create the innovative HyperEconiq Ioniq, which integrates the best hypermiling, economy and friction technologies.
First introduced at the 2017 SEMA Show in Las Vegas, the Hyundai HyperEconiq Ioniq is a unique hypermiling-efficiency-oriented concept car.

What is the Hyundai HyperEconiq Ioniq?

The HyperEconiq Ioniq achieves outstanding efficiency gains and excellent driving performance by integrating the best hypermiling, economy and friction technologies without sacrificing drivability.
Hypermiling maximises the fuel efficiency of a vehicle, and the HyperEconiq Ioniq achieves this by means of a pulse-chamber intake and exhaust system for enhanced volumetric efficiency and low-rolling resistance tyres.
Hyundai Motor developed the vehicle alongside Bisimoto Engineering, having worked with the engineering agency for the previous six years. Bisimoto specialises in the design and development of high-performance products.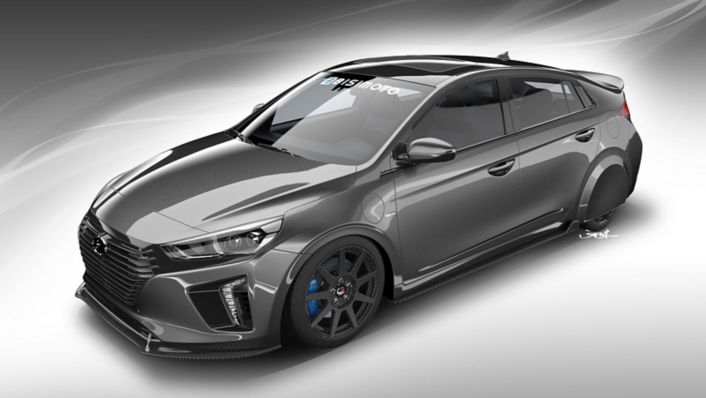 Based on the Hyundai IONIQ

The HyperEconiq Ioniq is based on the Hyundai Ioniq, the world's first car to offer three electrified powertrains: hybrid, plug-in hybrid and electric. The HyperEconiq Ioniq has received a series of modifications, including low-rolling resistance tyres with ARP wheel studs and a full body kit with a front splitter, side skirts and a spoiler, as well as covers over the rear wheels to reduce drag.
The Ioniq's suspension has also been lowered to minimise ground clearance, and this helps to make the HyperEconiq Ioniq even more aerodynamic. Add-ons like the wheels are made out of carbon fibre, and the brake calipers of aluminium, to reduce the vehicle's weight, which aids fuel efficiency. Meanwhile, the powertrain uses enhanced e-generators, which provides a combined fuel economy of well over 80 mpg.