Everyday stresses and the hustle and bustle of traffic can sometimes make driving a chore. In today's connected world, there are a range of apps out there to help us both inside and outside the car.
For car lovers, there's nothing quite like hitting the open road. The rumble on asphalt and the hum of the engine are like music to the ears of petrol heads. However, there are other times when driving is not such a pleasurable experience.
Traffic jams, noise, road rage, and agitated passengers can all add to stress levels when we're sitting behind the wheel. Driving is a complex task which requires total concentration. Remaining calm and fully focused on what you are doing is key to staying safe on the road.
Stress and anger can affect how we behave and respond to dangers while driving. According to research, in the UK for example, inconsiderate behaviour by others is the biggest reason for stress which causes drivers to lose concentration on the road. However, the next biggest reasons are personal issues and work-related stress.
Digital solution at our fingertips

So, it's not just aggressive behaviour, traffic jams, and tailgating which raise our ire in our cars but our overall stress levels. Thankfully, in today's digital world, a solution is at our fingertips.
Thanks to modern technology that lets us sync our smart phones to our cars' onboard consoles, there's a whole digital network available to us even when travelling. Android Auto and Apple CarPlay allow us to connect our phones to our cars and control features through the navigation screen.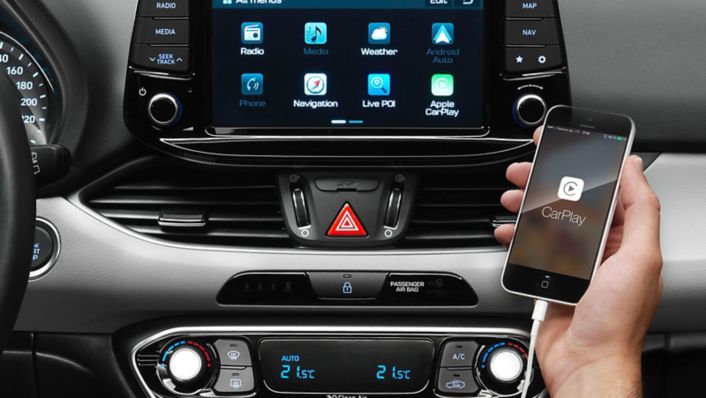 Obviously, some of these apps should only be used before setting off on your journey or while at a stop in traffic but these could help take the stress out of driving:
OFFTIME
While Android Auto and Apple CarPlay allow us to stay connected when travelling, driving is also a time to consider unplugging ourselves from the digital sphere. An app like 
checkyapp.com
 allows you to see just how many times you check your digital devices throughout the day. With 
OFFTIME
, you can go further and control your connectivity so you can devote time to work, family, or just some 'me time'. You can block calls, texts and notifications, set hurdles, reminders or restrict access to apps that might otherwise be distracting for certain amounts of time.
Breathe2Relax
When you find your stress levels rising while stuck in a seemingly endless tailback, taking a deep breath could be the answer. Calling itself a portable stress management tool, Breathe2Relax will show you hands-on diaphragmatic breathing exercises designed to decrease stress, improve mood, and control anger and anxiety.
Google Maps
One sure way to get stressed is not knowing where you're going. Hyundai Motor's cars are equipped with a navigation system, however, owners of the KONA with Display Audio can use Apple Carplay or Android Auto without purchasing a navigation system. 
Google Maps
 allows drivers to plan their route with real-time traffic updates, explore points of interest, and even use maps offline on their smart device.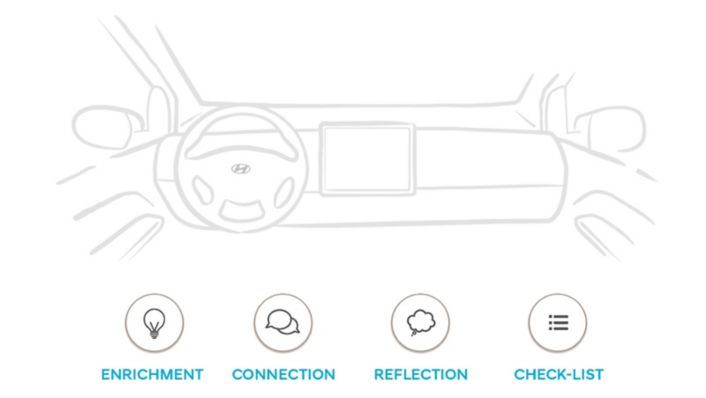 JustPark
No one wants to waste time looking for somewhere to park, especially if we are in a hurry. There are plenty of apps for your region which locate convenient car parks and give pricing. Apps like 
JustPark
 even allow you to book a space and pay online in advance allowing you to arrive at your destination without the stress of searching for a space.
Find My Car
And when you're coming back? We've all done it, returned to a car park and forgotten what spot we were in. There's a wide choice of these apps which use GPS in your phone to pinpoint the location of your car and direct you back, saving you time, and embarrassment.
WhatGas Petrol Prices
Who doesn't like to save money? Find the nearest petrol station and the best prices using information added by other road users themselves. The makers of 
WhatGas
 claim they have data for over 50,000 filling stations around the world including extensively in Europe. However, be aware that the accuracy of pricing can depend on updating by the users, though it's still a handy tool to locate a nearby fuelling spot.
Radio and Podcasts
Playing your favourite music while driving can improve your mood. However, research suggests the beat of the music can also affect your driving behaviour. A low beat and soothing effect can prevent drivers feeling rushed or irritable. There are many apps that allow you to create your own playlists such as 
Spotify
 or 
Apple Music
. You can also listen to podcasts via apps such as 
Stitcher
, which allows you to utilise your driving time productively by listening to news, comedy, sports and interesting speeches.
Hyundai Fuel Cell App
The Hyundai Fuel Cell App for iOS and Android shows drivers of the ix35 Fuel Cell and any other fuel cell electric vehicle (FCEV) the way to all hydrogen refuelling stations across Europe, including live information on the availability of the stations. It also includes all European Hyundai-certified fuel cell car dealerships and navigation via Google Maps. The app's Remote Diagnostics function records distance, speed and used hydrogen fuel, which provides drivers with real-time notifications.