Hyundai Motor held panel discussion on IONIQ 6 and design at a London-based photo studio
Photographer Esther Haase and Head of Design Eduardo Ramírez examined their favourite features of IONIQ 6's customer-centric design
Haase gave insights into exterior and interior elements of Hyundai's Electrified Streamliner that most fascinated her as an artist
Award-winning photographer Esther Haase comes together with Eduardo Ramírez, Head of Exterior Design, at a photo studio in London to discuss, among other topics, IONIQ 6's design features, sources of inspiration, and the parallels between automotive design and photography. Haase goes on to explain what fascinated her about the car: sustainability, feeling at home in the interior, progressive technology, and the possibility of keeping a house plant inside.
Inspired by Hyundai's Prophecy EV Concept, IONIQ 6 is characterised by clean, simple lines and a pure aerodynamic form that its designers describe as Emotional Efficiency. IONIQ 6's Electrified Streamliner typology and mindful cocoon-like interior embody a silhouette for the new era of electric mobility while the overall design theme of Ethical Uniqueness reflects Hyundai's customer-centric commitment to energy efficiency and environmental responsibility.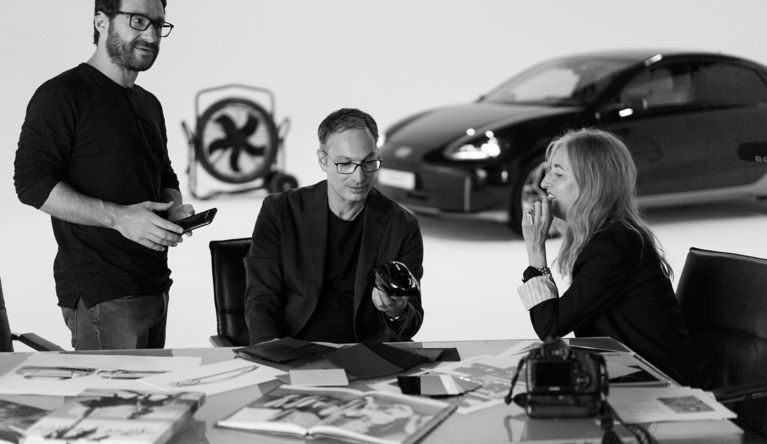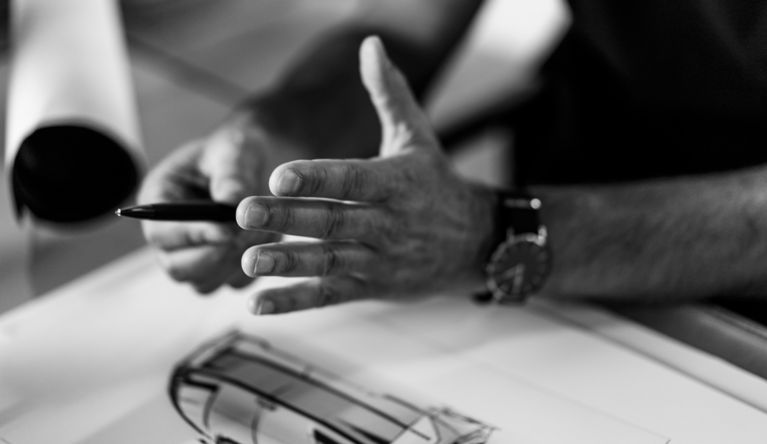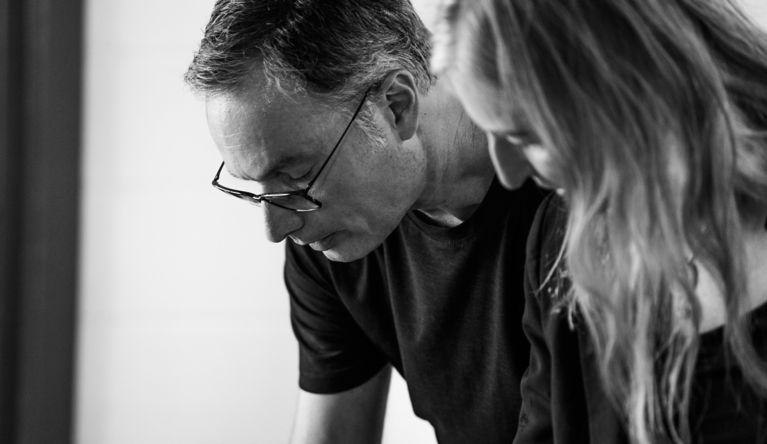 Ms. Haase, what was your first thought when you saw IONIQ 6?
Esther Haase: My first thought was that IONIQ 6 is really fast and it's got real power. And if a woman drove it, it would have to be Catwoman.
What do you think about electric cars in general?
Esther Haase: Even as a child, I always wondered why we have these noisy, dirty machines everywhere. I was a big fan of The Jetsons, and all the vehicles in the show were wonderfully quiet and electric. They could fly, while everything was so clean and tidy.
And what was it like when you stepped inside an IONIQ 6 for the first time?
Esther Haase: What I find so fascinating about this car is the contrast between the exterior and the interior. From the outside, as I said, it looks incredibly fast, you expect a real sports car. But once you're sitting inside, you have this incredible amount of space, it's really comfortable, a place to simply enjoy yourself – or work, if you have to.
Eduardo Ramírez: That's the special thing about electric cars – they're not just quiet while offering incredibly dynamic acceleration, they also make new concepts possible. No engine is in the front and no big tunnel runs down the middle. Instead, you have this flat-floor platform.
We want to exploit these advantages as much as possible in order to maximise the experience for Hyundai customers. That's why we designed the interior and exterior of the car in parallel from the beginning. Defining the proportions with a very long wheelbase gave us a large interior in which we created a living room atmosphere. We call it a mindful cocoon. At the same time, we defined this curved silhouette for an exterior that spans the entire space. And thanks to the streamlined form with shorter overhangs and the front and rear sections, you don't even notice that the vehicle is actually quite tall, coming in at 1.50 metres in height.
Can you explain how you define a 'mindful cocoon'?
Eduardo Ramírez: Let me give you an example: A car with an internal combustion engine is actually quite inflexible when it comes to interior design. I like to compare this with my grandparents' living room. Their furniture is heavy. Everything reaches all the way to the floor. Sure, the furniture is decorative, but everything is fixed in one place. The interior of IONIQ 6, on the other hand, is a modern living room. It's minimalist, light, and flexible.
Esther Haase: The sofa is there. All that's missing now are some plants.
Eduardo Ramírez: That's not a problem. The larger wheelbase allows for more legroom, but it also gives us space to be creative. There are surfaces where you can put things down, just like at home, where your keys, your smartphone or your handbag all have their own place. And you could certainly keep a plant there, if you like. The glove compartment, for example, doesn't pop open downwards the conventional way; it opens like a drawer, and the occupants can use the surface in whatever way suits them best.
Esther Haase: That's one of the first things I discovered. Fabulous! There are a lot of really great innovations in this car. But you also have to give people an idea of what they can do with it. Allow me to make a comparison with photography. We used to have these big cameras, and when we shot a car, it was all about producing these huge posters. Today, everything is mobile and small, and we produce content for Instagram. It's a completely different visual language. An electric car, which no longer has all these constraints due to the combustion engine, frees up space to use. And suddenly you have all these different possibilities about what to do with it. Why not invite over a few friends and have a little party in the car?
Eduardo Ramírez: That's certainly a possibility…
Esther Haase: I could bring my tea kettle…
Eduardo Ramírez: You could. Or an espresso machine. There is a power outlet, after all.
Esther Haase: That would be great! When you drive a lot, it's really nice to have a little espresso in between. And with the sound system and ambient lighting, you've already got a built-in disco. Given all these possibilities, we're sure to change the way we look at cars.
Mr. Ramírez, IONIQ 6 looks as it was drawn with a single stroke of a pen. Where did Hyundai Design team get its inspiration for this car?
Eduardo Ramírez: When we first started talking about the streamliner form, we were able to draw on clear references from the past for inspiration. There are several examples in automotive history that express this very clearly. The original Saab, for example, which was designed by aeronautical engineers when the aircraft manufacturer decided to build cars in the late 1940s. It is a very free interpretation of the first-ever submarine. You can see the teardrop shape or streamliner form very clearly, and you can imagine how the air glides along almost without resistance.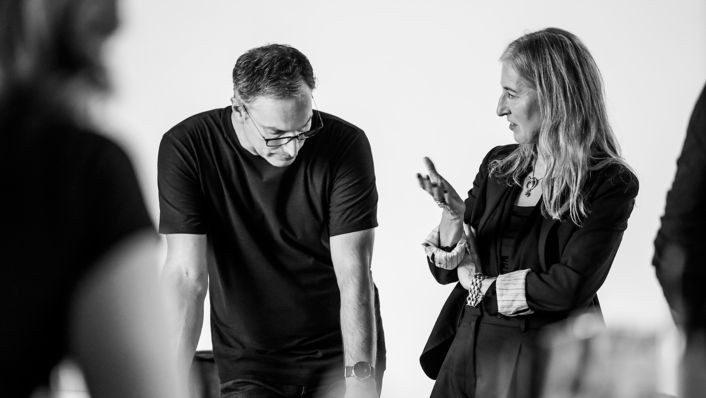 What other features are important to you in car design? What story do they tell?
Eduardo Ramírez: We genuinely want our design to be customer-centric. To design well, we need to understand their desires and ambitions. Only then can we design for them. In a way, we are telling the story of our customers.
And those are different stories? There are quite some different designs in the IONIQ family.
Eduardo Ramírez: The choice of a car is an expression of one's own personality. That's why we treat each car differently, depending on the purpose it's meant to serve. And yes, we are delighted when we see that customers from very different backgrounds have a clear opinion or preference regarding their type of car.
Are there any parallels to photography here?
Esther Haase: I see things similarly: when I take a picture, I have to like it. But a picture is often about someone else's ideas as well. That's why I search for a connection to the people who assign me a task, from which I can draw my own inspiration, in order to create my own artistic vision in the end. You could compare it to an actor who is given a role, but then interprets it in their own way.
Eduardo Ramírez: My work also has an artistic component. Though it is probably a bit more limited in our job, because we have to consider many different aspects and technical specifications. But automotive design also provides the possibility to express oneself. In a way, you give the technology an artistic face. And when the whole team of designers and engineers works in harmony, it becomes more than just a functional product. In some cases, it becomes a work of art. And streamlining offers this very beautiful balance between aesthetics and technology.
Esther Haase: Although I'm certainly freer artistically than you are with car design, I am still dependent on the possibilities that the technology offers, especially when it comes to light. That's one thing. But on the other hand, it's about the vision.
Eduardo Ramírez: Exactly. And intuition.
Esther Haase: And when everything harmonises perfectly, you inspire others. I think it's always about interpretation. That is a kind of freedom in itself.
People are already changing their behaviour – especially with regards to sustainability. What role does sustainability play for you in a car?
Esther Haase: Sustainability is an extremely important topic for me. Recycling in particular is absolutely necessary for us and our planet. When I look at its materials, IONIQ 6 is a really great choice. From this perspective, I also consider the design to be important. When you buy a car, you often choose the one that you like best in terms of design – so it's even better if the design can also make a difference to society.
Eduardo Ramírez: It's also an important aspect for us. We don't want to just tell people: "be sustainable". For us, it's more about giving people the right options. You have to give them the possibility to choose a design product that also serves a responsible purpose. That's why we made sure that the materials we used generated as few carbon dioxide emissions in their production as possible. Wherever we used new materials, we made sure they were made from organic sources like sugar cane. In the end, however, the options are all about colour and texture. It doesn't just have to look good – everything you touch has to feel good as well.
Esther Haase: It's a bit like vegan food. If it doesn't taste good, you don't want to eat it. I mean, it just has to be delicious – for the simple fact that you usually don't choose things only because they're good for you. You have to create desire, and you have to feel that desire too. In general, I think it's important to create things that are desirable, things that people want. And if there's a good cause involved as well, that you've got a really great product.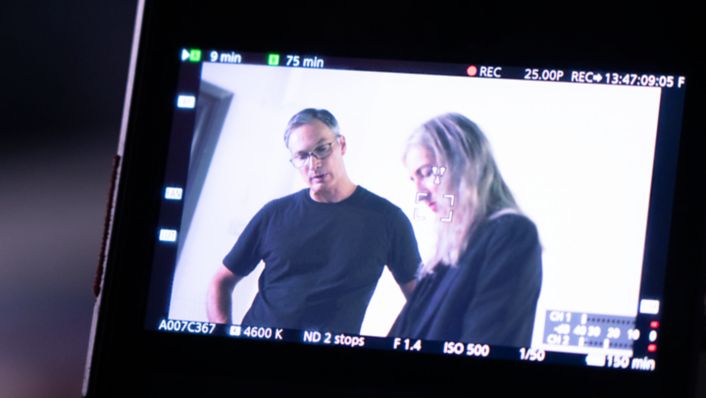 About Esther Haase
Esther Haase was born in Bremen in 1966. Her father was a professor of photography and design, while her mother was a designer and illustrator. After training in classical dance at the State Academy in Cologne, she spent two years working as a professional dancer before studying graphic design with a focus on photography. Since 1993, Esther Haase has worked for international clients and magazines as well as various collections, museums and exhibitions in addition to publishing her own photography books – winning numerous awards in the process.
Disclaimer: CO2 and emissions data
Electricity consumption combined for the Hyundai IONIQ 6 53 kWh with 2WD in kWh/100 km: 13.9; CO2 emissions combined in g/km: 0 (WLTP)
Electricity consumption combined for the Hyundai IONIQ 6 77.4 kWh (18" alloy rims) with 2WD in kWh/100 km: 14.3; CO2 emissions combined in g/km: 0 (WLTP)
Electricity consumption combined for the Hyundai IONIQ 6 77.4 kWh (20" alloy rims) with 2WD in kWh/100 km: 16.0; CO2 emissions combined in g/km: 0 (WLTP)
Electricity consumption combined for the Hyundai IONIQ 6 77.4 kWh (18" alloy rims) with 4WD in kWh/100 km: 15.1; CO2 emissions combined in g/km: 0 (WLTP)
Electricity consumption combined for the Hyundai IONIQ 6 77.4 kWh (20" alloy rims) with 4WD in kWh/100 km: 16.9; CO2 emissions combined in g/km: 0 (WLTP)