Hyundai N's first EV, IONIQ 5 N, elevates driving fun to new heights, adhering to the three pillars of N performance – Corner Rascal, Racetrack Capability and Everyday Sportscar – by leveraging motorsport-bred technologies and years of electrified 'Rolling Lab' development. It heralds a new era of high-performance driving, redefining the thrill of electric driving on road and track (without compromising eco-conscious values).
The journey started with a clear concept and vision. In 2015, N brand established its vision of a sustainable future for the next generation of driving enthusiasts by showing the N 2025 Vision Gran Turismo. N's electrification strategy began with the RM20e prototype and Veloster N ETCR race car. In 2022, N brand introduced the RN22e, a rolling lab designed to communicate a transfer of N's electrification experience to the brand's first production EV, IONIQ 5 N.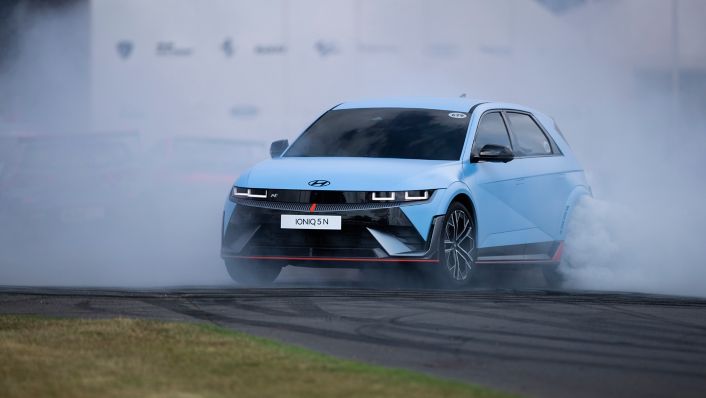 Optimised EV platform: Setting new standards in the world of performance driving
Only Hyundai's Electric-Global Modular Platform (E-GMP) could have enabled the IONIQ 5 N's unprecedented performance. Following the award-winning IONIQ 5 and IONIQ 6, IONIQ 5 N brings E-GMP to the next level, with two electric motors optimised for more power, torque and response, creating the basis for an electrified high-performance car that is truly 'fun to drive'.
IONIQ 5 N's E-GMP is the first to be equipped with Hyundai's fourth generation 84kWh battery, providing stronger power output thanks to a two-stage inverter with increased energy efficiency, spinning the electric motors up to 21,000 RPM and delivering 478 kW / 650 PS with N Grin Boost engaged. E-GMP also gives it a low centre of gravity and even weight distribution to optimise driveability, while extensive reinforcements provide exceptional chassis dynamics.
Corner Rascal: Dual-motor AWD delivers rally-inspired cornering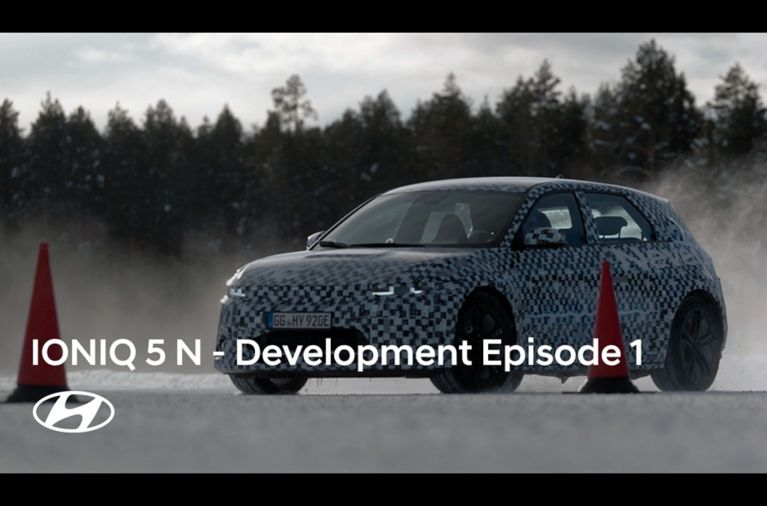 To ensure IONIQ 5 N is a true Corner Rascal, the body and chassis reinforcements enabled by E‑GMP provide a higher torsional rigidity and direct steering feel, enabling rally-inspired, dual-motor AWD (All-Wheel Drive) cornering. The integrated drive axles (IDA) are applied both front and rear and reinforced to endure stronger electric motor torque while reducing unsprung mass together with the 21-inch forged aluminium wheels. Additionally, the vehicle features Rack-Mounted Motor-Driven Power Steering (R-MDPS) specifically tuned for the IONIQ 5 N with a higher steering ratio and enhanced torque feedback. These enhancements result in a more direct steering experience giving the driver immediate feedback.
N Pedal
N Pedal was developed as a solution to address the inherent weight and size of EVs. This intelligent software function, found in IONIQ 5 N, is designed to provide instant turn-in behaviour and enhanced throttle sensitivity for a heightened driving experience. Drawing on similar technology used in i Pedal's regenerative braking system, N Pedal prioritises fast and exhilarating cornering over energy efficiency. By utilising decelerative force, an aggressive weight transfer is created, resulting in sharper corner entry.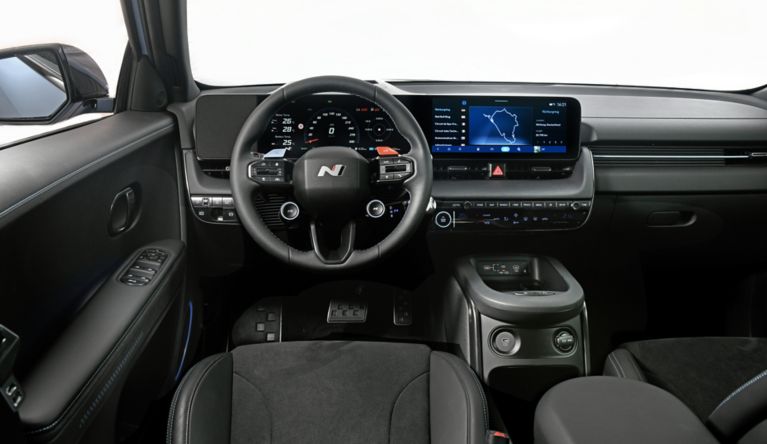 N Drift Optimiser
N Drift Optimiser helps to maintain the drift angle by balancing multiple vehicle controls responding to real-time inputs. The integrated Torque Kick Drift function allows the driver to simulate the clutch kick action of rear-wheel-driven ICE vehicles in a high-performance EV, for driving scenarios that require more immediate drift initiation.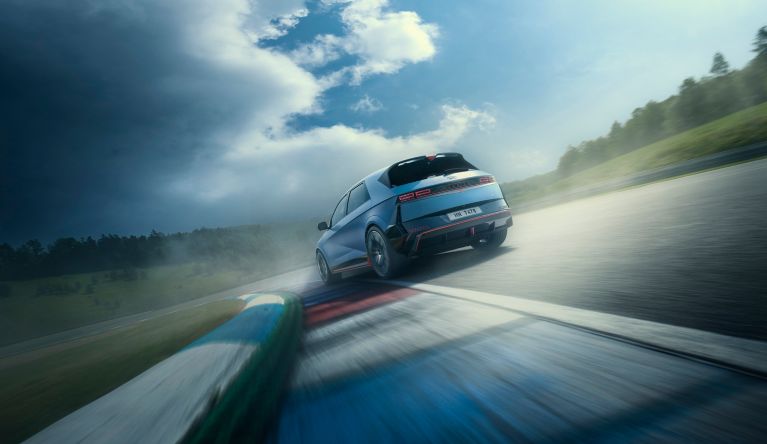 N Torque Distribution
N Torque Distribution provides fully variable front and rear torque distribution that can be adjusted to 11 levels. The e-LSD (electronic limited slip differential) at the rear axle optimizes cornering performance and control. Additional wheel sensors and broader damping capacity with increased damper size widens the performance range of the electronically controlled suspension.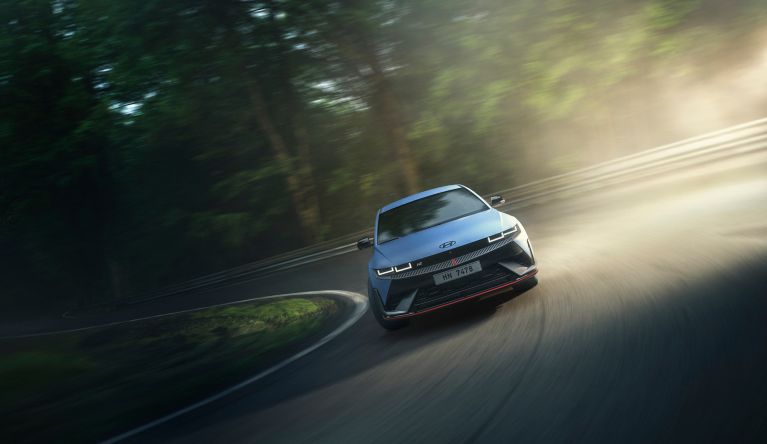 Racetrack Capability: Features dedicated to racetrack driving
Several exclusive high-performance features give IONIQ 5 N its thrilling racetrack performance. N Grin Boost maximises acceleration by a power increment of 10 seconds and N Launch Control provides three different traction levels for the fastest possible start, allowing drivers to launch their vehicle like a professional race car. Track SOC (state-of-charge) automatically calculates battery consumption per lap.
N Battery Preconditioning
N Battery Preconditioning pre-sets the temperature of the battery cells to their most power efficient temperature. The battery preconditioning function is split into two modes to accompany different performance driving scenarios. In 'Drag' mode, the optimum temperature is set for immediate use of maximum power, while in 'Track' mode, the lowest possible battery temperature is optimized for increased number of laps.
N Race
N Race gives drivers more direct control over the car's energy usage, prioritizing 'Sprint' or 'Endurance' driving. 'Sprint' is the default state of IONIQ 5 N prioritizing full power on demand for the driver. 'Endurance' is a setting that maximizes the cars range on the racetrack. N Battery Preconditioning and N Race are a direct result of N brand's motorsport-derived approach. This helps drivers to strategize energy consumption in order to maximize performance or longevity. While this type of setting change would normally require a team of mechanics and equipment, IONIQ 5 N offers it at the convenience of a few button presses.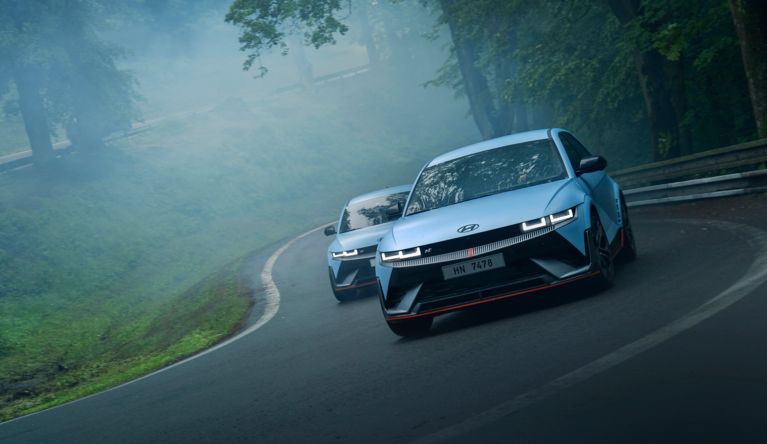 N Brake Regen
For the unrelenting braking demands of the racetrack, Hyundai N engineers designed N Brake Regen, an N-specific region braking system developed specifically for IONIQ 5 N to enhance braking performance. It offers up to a maximum of 0.6 G decelerative force – an industry leading figure – through regenerative braking alone, and remains engaged under ABS activation with a maximum of 0.2 G. N Brake Regen serves as the primary source of braking force, while the mechanical brakes supplement additional braking force when required, ensuring enhanced endurance on the track. Moreover, left foot braking allows the brake and accelerator pedal to work at the same time when driving on the track.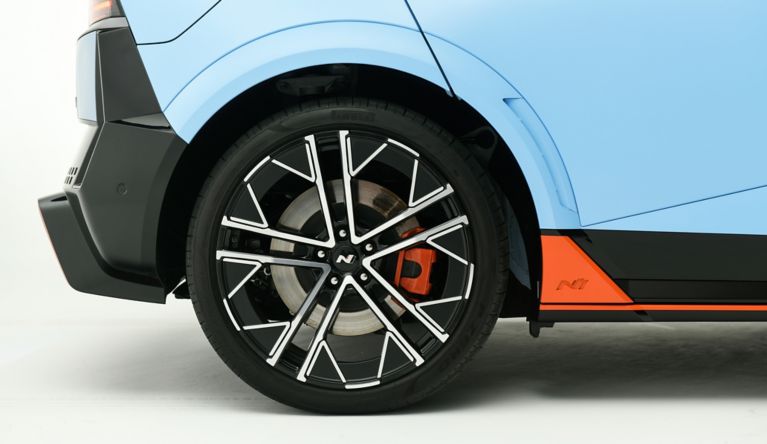 N Infotainment System
N Infotainment System (Hyundai Connected Car Navigation Cockpit (ccNC)) features the combination of a 12.3-inch instrument cluster and a 12.3-inch infotainment display with specific graphics and options for track driving.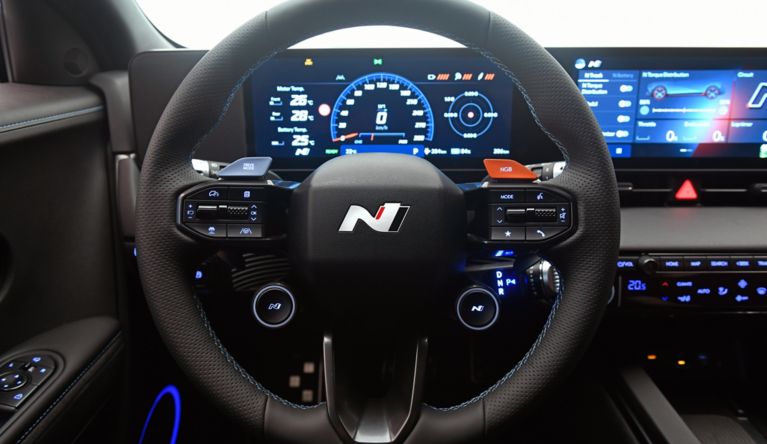 Everyday Sportscar: Unique technology delivers emotional driving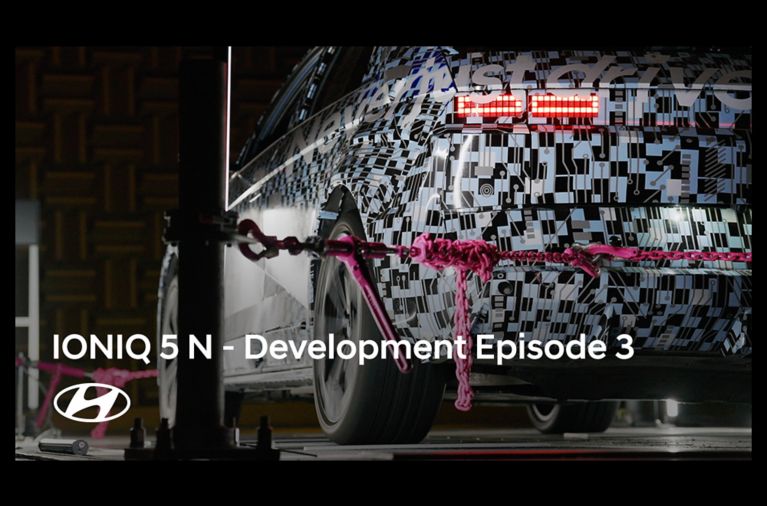 To deliver greater driver feedback and more precise driver control, Hyundai N engineers developed the N e-shift and N Active Sound+ functions. Together, they enhance the fun and emotion of driving with an engaging shift feeling and engine and exhaust sounds of an internal combustion engine (ICE) vehicle.
N e-shift
N e-shift simulates the eight-speed dual-clutch transmission (DCT) of ICE N cars, by controlling motor torque output and simulating the jolt feeling between shifts. As a result, it provides a more precise, interactive driving experience that feels closer to ICEs than previous EVs.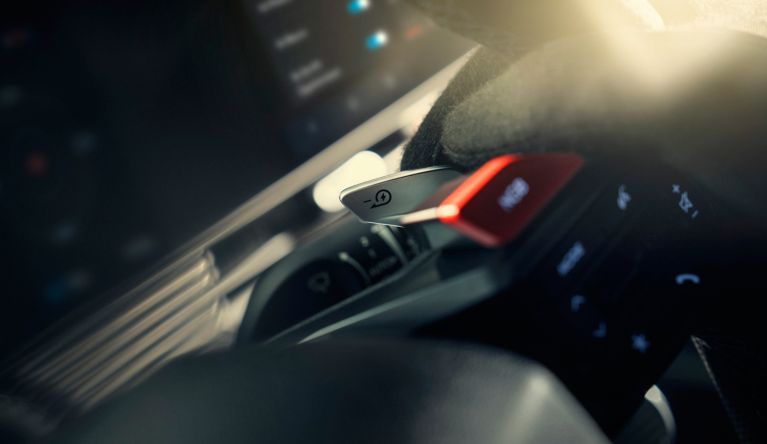 N Active Sound+
N Active Sound+ incorporates a 10-speaker system (eight internal, two external) to create a more engaging and exciting sensory experience. It was designed to provide drivers with an acoustic reference to gauge the power being utilised, just as they would in IONIQ 5 N's ICE predecessors.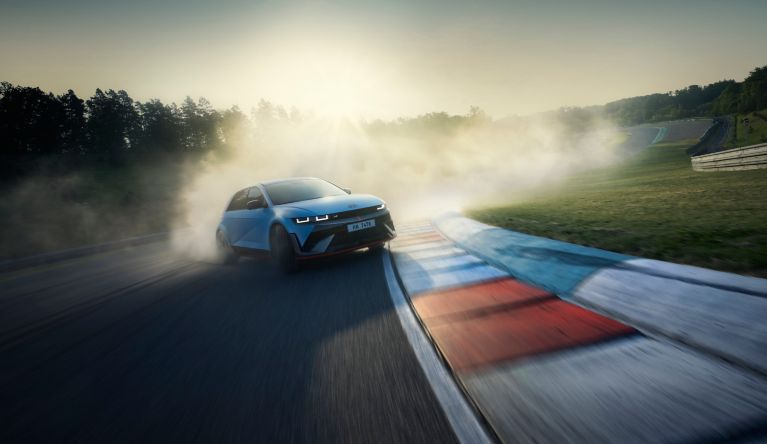 Hyundai N publishes a captivating three chapter video series that unveils the development journey of the IONIQ 5 N and N's three pillars of performance: Corner Rascal (Chapter 1, November 2, 2023, 09.00CET), Racetrack Capability (Chapter 2, November 6, 2023, 09.00CET) and Everyday Sportscar (Chapter 3, November 9, 2023, 09.00CET).
Disclaimer: CO2 and emissions data
The Hyundai IONIQ 5 N is not currently available for sale. Electricity consumption and CO2 values for this model have not yet been determined.