Motor racing has had a big influence on the technology found in everyday cars, with factors like aerodynamic efficiency, handling and engine performance transferring to the vehicles we all drive.
From the slick tarmac of a Formula One circuit to the dirt track of a rally course, car manufacturers invest millions every year to showcase their brand to the world in a competitive arena. Since 2014 Hyundai's proving ground has been the World Rally Championship, with its Hyundai Motorsport team growing more competitive with every passing year.
While the kudos of crossing the finishing line ahead of their competitors is undoubtedly one goal of this investment, the other is to perfect current and future technologies that can be incorporated in cars sold in showrooms around the globe. These aren't just for high-performance vehicles either; as Hyundai's range exemplifies, motor racing has an unprecedented influence on the technology found across the board, from city cars right through to SUVs.

Aerodynamics

In a racing car, air resistance – or drag – is a killer of speed. Although such blisteringly fast propulsion isn't so essential for road-going vehicles, drag is still an enemy, as it reduces all-important fuel efficiency.
Just as racing cars adopted sleek designs to slice through air, the Hyundai IONIQ's exterior shape is inspired by aerodynamic efficiency, harnessing airflow to minimise air resistance and emissions. Its exterior panels are designed to flex to boost aerodynamics further, while its diffuser and rear spoiler generates downforce for more optimised handling at higher speeds and minimises the effect of drag producing a class-leading co-efficient of drag value of just 0.24.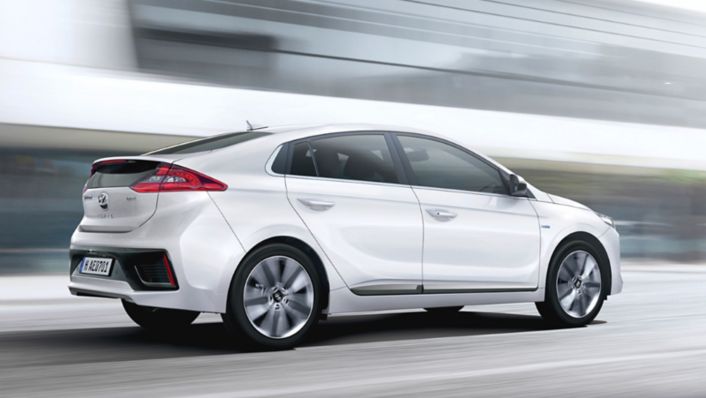 Start/Stop button

One thing you'll never see on the start line of any race is a driver fumbling around in their overalls to find a set of keys to start the car with. The cockpit of any racing car is designed to be as ergonomic as possible, which is why they all feature an Engine Start/Stop button over traditional ignition.
This feature is available across the Hyundai range, from the i10, i20 and New Generation i30, through IONIQ, All-New Kona, Tucson and Santa Fe. Their keyless entry system recognises when the vehicle's Smart Key is in close proximity to it, enabling you to use the Engine Start/Stop button to start the car without having to remove the Smart Key from your pocket.
Steering wheels

The steering wheel in a modern racing car features a multitude of buttons and displays to give the driver maximum control and information. Steering wheel-mounted controls are available across the Hyundai range, providing you with command over various functions, including cruise control, the entertainment system and the trip computer.
In addition to this, two dedicated buttons on the steering wheel of Hyundai's exhilarating new i30 N can be used to select one of its five drive modes (Eco, Normal, Sport, N and N Custom). The different modes change the character of the car, adjusting the high-performance parameters of the engine, the dampers, Electronic Stability Control (ESC), N Corner Carving Differential, sound, steering and Rev matching. Additionally, the driver can use the Rev matching button on the steering wheel to increase the revs on the engine when shifting from a higher to a lower gear.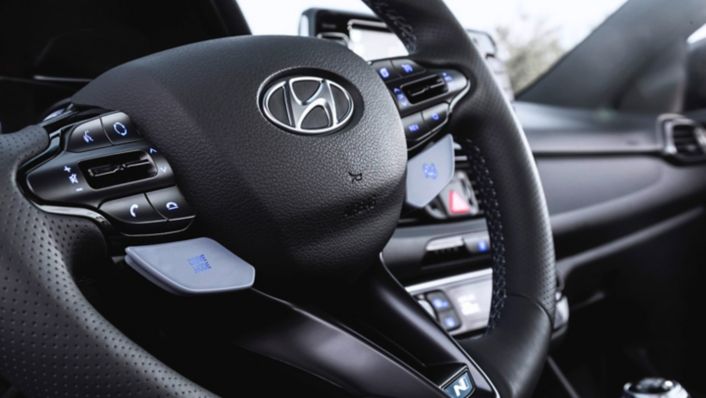 Suspension

The Lotus Formula One car that Ayrton Senna drove in the 1987 championship was the first to use a computer-controlled active suspension system that adjusted to changes in track conditions, enabling it to achieve a greater degree of ride quality and handling. Although the sport has now banned these systems, the technology has migrated to street-legal vehicles.
One of these is Hyundai's i30 N, which features a rigid lowered body that, in combination with the Electronic Controlled Suspension (ECS), reduces roll and enhances cornering speed, enabling the driver to adjust the dampers from comfort-oriented daily commuting to high-performance track-driving.
Transmissions

One of many discoveries made by racing engineers was that when their cars were changing gears, no power was being sent to the wheels. To counteract this effect, they created the dual-clutch transmission, making for super-fast gear shifts and no loss of power. Hyundai Motor introduced its first 7-speed dual-clutch transmission in 2015, providing an improvement in fuel consumption and CO2 emissions of up to 20% compared with a conventional six-gear automatic transmission, while acceleration performance was increased by up to 10%.
Hyundai's All-New Kona is its latest to feature the 7DCT, which consists of two dry clutches and an actuator for each clutch. Engine power is transferred independently to the odd and even gear train so that the driver is always ready to shift to the next gear without any torque interruption. For optimised responsiveness, the electric motor-driven actuator is applied, while external shock absorbers improve the noise, vibration and harshness levels during driving.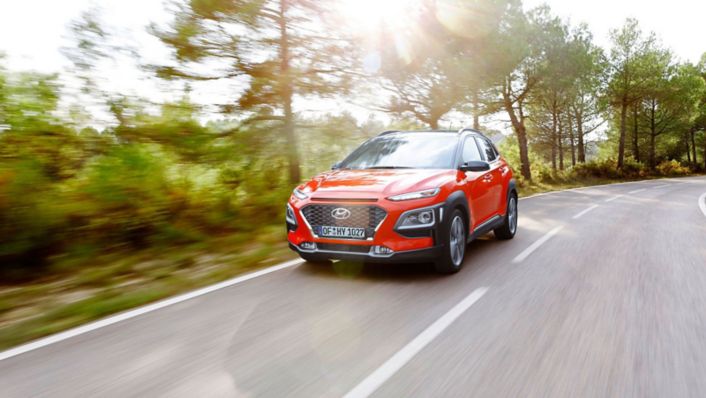 Turbochargers

A turbocharger system improves on a naturally aspirated engine's power output by using a turbine-driven forced induction device to force extra air into the combustion chamber. Racing cars test the limits of what these systems can do, and because they win races, they are a great marketing tool for manufacturers
The i30 N's powerful 2.0-litre turbocharged engine delivers up to 275 PS and 353 Nm torque (378 Nm with Overboost function), offering direct response with a linear power development through the early responding turbo charger and taking you from 0 to 100 in 6.1 seconds. The All-New Kona's turbocharged 1.6 T-GDI engine offers 177 PS (130 kW) and 265 Nm torque propels it from 0 to 100 in under 8 seconds, giving you the power and poise to handle city streets and country roads with ease.