Bidirectional charging is a technology that can power your world. Enabling the flow of energy both into and out of a vehicle, bidirectional charging is an innovation that the whole industry is talking about. Hyundai Motor is one of the technological leaders in this area.
Hyundai brought bidirectional charging to the market through its next-generation battery electric vehicles (BEVs). For the first time in a commercially available electric car, the company pioneered the innovative Vehicle-to-Load (V2L) function – revealed in the 2021 launch of the award-winning IONIQ 5. V2L technology redefined electric mobility lifestyles in more ways than one, allowing customers to freely power or charge any electric device and effectively use the vehicle as a power bank on wheels.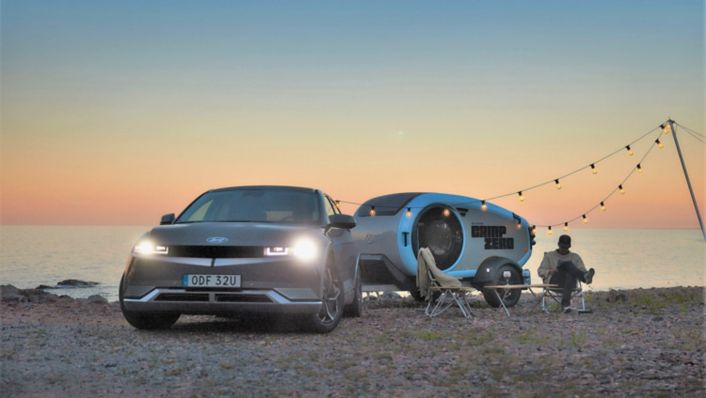 This was made possible by the cutting-edge E-GMP (Electric-Global Modular Platform) and its bidirectional charging capability. Unlike previous BEVs, which were only capable of one-way charging, E-GMP's charging system enabled more flexibility. The platform's newly developed Integrated Charging Control Unit (ICCU) represents an upgrade from existing onboard chargers, which typically only allow electricity to flow in a single direction from an external power source.
Bidirectional charging becomes Hyundai's new EV-lifestyle feature
When it launches in the summer of 2023, the all-new Kona Electric and its EV-derived universal architecture will also include bidirectional charging capability, underscoring the technology as Hyundai's new EV-lifestyle feature. Although not built on E-GMP but similar to IONIQ 5 and IONIQ 6, devices can be plugged into a standard outlet in the car's interior when it is powered on. Outside, devices and home appliances can be plugged in using a V2L adapter to use battery power when the car is parked.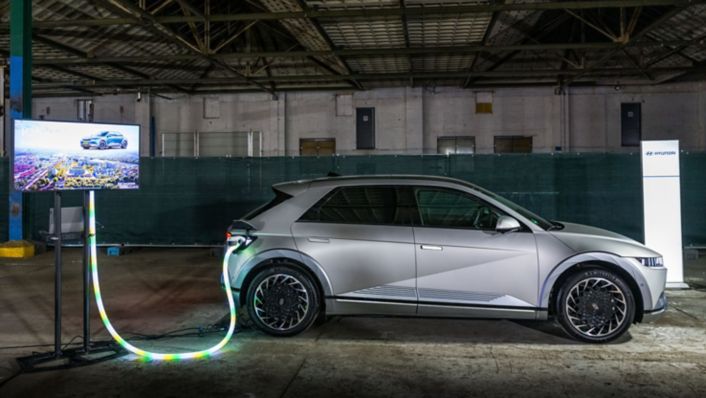 Bidirectional charging in action
With bidirectional charging, you are free to power your world in the way you choose, anywhere you choose. Since 2021, Hyundai has launched a series of projects to demonstrate the technology across Europe. Click on the links below to find out more:
Vehicle-to-Grid – the solution to balancing tomorrow's grid
Over the past two years, Hyundai has also been further developing Vehicle-to-Grid (V2G) technology – another innovation based on bidirectional charging. This technology enables energy that is already stored in the battery packs of BEVs to be provided to an electricity network, also known as the 'grid'.
On top of balancing the grid, the energy stored in BEVs can be supplied back to the grid to assist in managing energy demand during peak times and emergencies. As countries diversify their energy mix to include more renewable energy sources, V2G technology can help manage the impact of climate change.
Hyundai's V2G pilot projects
To demonstrate the potential of V2G technology, in early 2022 Hyundai launched an innovative new mobility pilot project in the Dutch city of Utrecht together with local mobility provider We Drive Solar. To support Utrecht's ambition to become the world's first bidirectional region, Hyundai is deploying a fleet of IONIQ 5 units equipped with V2G technology for a car-sharing scheme serving residents in the city's new Cartesius development district.
In addition to transporting the residents of Cartesius, it is planned that the fleet will support the local grid, charging from charging stations powered by solar energy. During peak times when large amounts of energy are being consumed, the available fleet will also be able to supply this sustainable energy back to the local grid.
Hyundai Motor Group also launched a V2G proof of concept project in Germany, coordinated by CRADLE Berlin, Hyundai Motor Company's corporate venturing and open innovation business. The project tested the ability of the IONIQ 5 to share energy with the grid within a closed home energy system. A fleet of eight IONIQ 5 units was connected to eight homes to balance the energy between them and back to the grid, with a Home Energy Management System (HEMS) developed to forecast when and how much energy the IONIQ 5 units would be able to provide.
V2G for a sustainable future
The more energy generated from renewable energy sources is used, the more V2G technology helps to reduce the impact of climate change. As BEVs with this technology can store energy from alternative power sources, like solar and wind, during peak times and supply it back to the grid when it is needed, V2G technology can be the solution to balancing the demand and provision of energy.
For now, V2G technology is not yet ready for widespread rollout, as the grid itself still faces the challenge of how to best measure and manage the flow of energy. When the ideal solution is found, Hyundai's bidirectional technology is ready to power your world and foster more sustainable lifestyles. Below you can find a video that shows how Vehicle-to-Grid technology works: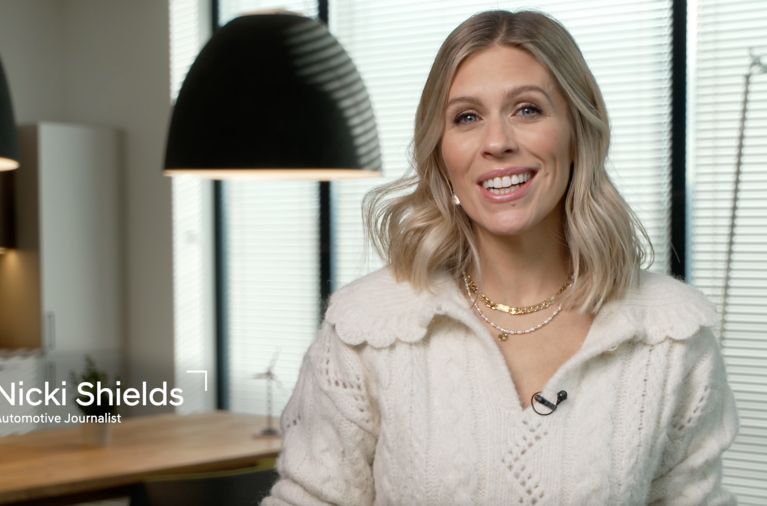 Disclaimer: CO2 and emissions data
Electricity consumption combined for the Hyundai IONIQ 5 58 kWh with 2WD in kWh/100 km: 16.7; CO2 emissions combined in g/km: 0 (WLTP)
Electricity consumption combined for the Hyundai IONIQ 5 58 kWh with 4WD in kWh/100 km: 18.1; CO2 emissions combined in g/km: 0 (WLTP)
Electricity consumption combined for the Hyundai IONIQ 5 72.6 kWh (19" alloy rims) with 2WD in kWh/100 km: 16.8; CO2 emissions combined in g/km: 0 (WLTP)
Electricity consumption combined for the Hyundai IONIQ 5 72.6 kWh (20" alloy rims) with 2WD in kWh/100 km: 17.9; CO2 emissions combined in g/km: 0 (WLTP)
Electricity consumption combined for the Hyundai IONIQ 5 72.6 kWh (19" alloy rims) with 4WD in kWh/100 km: 17.7; CO2 emissions combined in g/km: 0 (WLTP)
Electricity consumption combined for the Hyundai IONIQ 5 72.6 kWh (20" alloy rims) with 4WD in kWh/100 km: 19.0; CO2 emissions combined in g/km: 0 (WLTP)
Electricity consumption combined for the Hyundai IONIQ 6 53 kWh with 2WD in kWh/100 km: 13.9; CO2 emissions combined in g/km: 0 (WLTP)
Electricity consumption combined for the Hyundai IONIQ 6 77.4 kWh (18" alloy rims) with 2WD in kWh/100 km: 14.3; CO2 emissions combined in g/km: 0 (WLTP)
Electricity consumption combined for the Hyundai IONIQ 6 77.4 kWh (20" alloy rims) with 2WD in kWh/100 km: 16.0; CO2 emissions combined in g/km: 0 (WLTP)
Electricity consumption combined for the Hyundai IONIQ 6 77.4 kWh (18" alloy rims) with 4WD in kWh/100 km: 15.1; CO2 emissions combined in g/km: 0 (WLTP)
Electricity consumption combined for the Hyundai IONIQ 6 77.4 kWh (20" alloy rims) with 4WD in kWh/100 km: 16.9; CO2 emissions combined in g/km: 0 (WLTP)