If a friend told you they'd bought a new all-wheel drive vehicle and you're not an uber-petrolhead, you might think you either misheard them or they meant 'four-wheel drive'. So is there a difference?
You may be asking yourself why you would need four powered wheels instead of two? Four-wheel drive, the older of the two, is typically found in vehicles designed specifically for challenging off-road conditions, like SUVs, but it is also found in larger cars like sedans. Despite its name, all four wheels aren't engaged the whole time. On normal road conditions, only the rear wheels propel the vehicle forward, while the front wheels roll freely.

To activate older four-wheel drive systems, drivers had to either pull a manual lever inside the cabin, or get outside and turn a dial to lock the hubs on the front wheels. Fortunately, on more modern vehicles they are controlled by buttons or dials, offering multiple settings that enable the system to work at higher as well as slower speeds.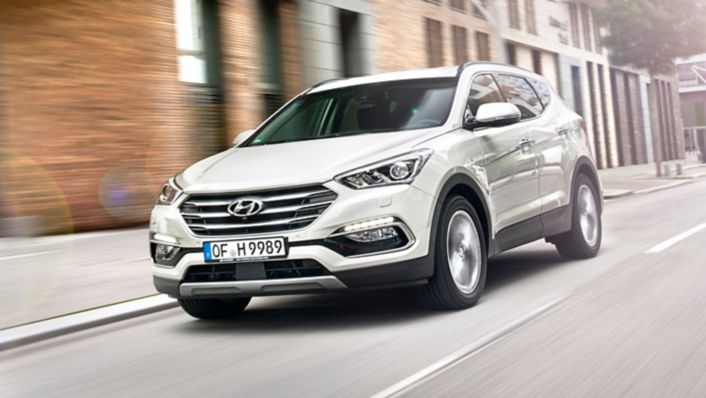 Greater safety and performance

The Hyundai Genesis, a sedan, is one such car that benefits from the greater degree of safety and performance of its all-wheel drive system, without the need for any driver intervention. On top of this, it comes with a host of additional safety features, such as Blind Spot Detection with Rear Cross-traffic Alert and Lane Change Assist.
This radar-based system helps detect when a vehicle is in the driver's blind spot and provides both an audible and a visual alert to help keep you aware as you move down the road. Sensors mounted in the car's rear flanks detect the proximity of any vehicle obscured in the blind spot. Activating a turn signal then triggers a warning light in the door mirror together with an acoustic alert.

When reverse gear is selected, Rear Cross-traffic Alert helps identify and warn the driver of vehicles approaching from the side. Lane Change Assist measures the closing speed of an approaching vehicle in the adjacent lane to determine if changing lanes is safe and if it's not, gives the driver an audible and visual warning.

In "stop and go" traffic, a pre-determined safe distance to the vehicle in front is maintained by the Santa Fe's Advanced Smart Cruise Control with stop/start capability. When this feature is activated and it detects a vehicle in your lane ahead, it automatically slows the Santa Fe down and keeps that constant safe distance from it, and will even come to a full stop when necessary. After coming to a standstill, the engine is automatically restarted when forward movement ahead is detected, without the need for any driver input.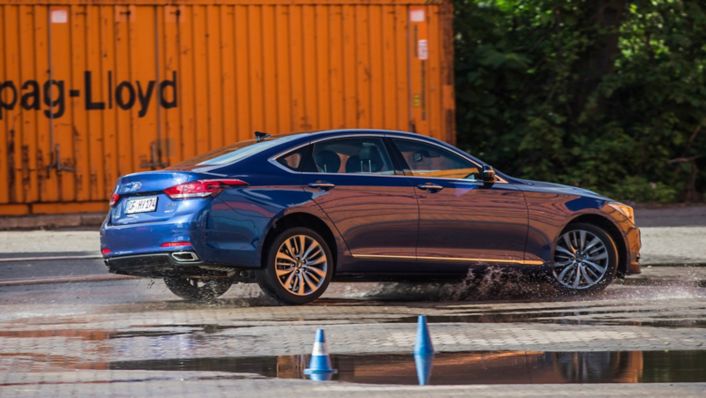 From family cars to SUVs

All-wheel drive, a much newer innovation, is found in everything from family cars SUVs like the Hyundai Santa Fe to performance-oriented sports cars. It provides more safety on any surface, especially in bad weather. In general, it is on all the time, sending the engine's power through the gearbox to a central differential.

The central differential is another box of gears that takes that power and splits it at different levels between the front and rear axles. These distribute power between the rear wheels as well as those at the front, hence the name 'all-wheel drive'.

Most all-wheel drive systems are controlled by the vehicle's computer. Sensors on each wheel monitor traction, wheel speed, and several other types of data hundreds of times a second. An ECU (engine control unit) manages where power is sent and to which individual wheel, depending on which one has the most traction.

On a motorway in normal conditions, for example, the system will send most of the power to the rear wheels in order to achieve maximum fuel efficiency. If grip starts to become an issue on, say, icy or snow-covered roads, the system automatically spreads the power more evenly over all four wheels, instantly boosting traction. When road conditions get really bad, all-wheel drive helps a driver's car's wheels to gain traction on slippery surfaces. Known as torque vectoring, it has enabled huge improvements in handling and all-weather drivability.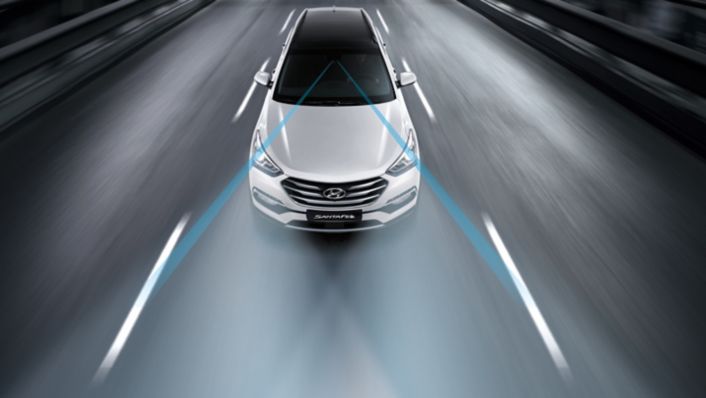 Sensors and cameras combine to alert the driver

The car's Autonomous Emergency Braking system uses both a camera and radar sensors to alert the driver of the possibility of an on-road collision, and apply braking as necessary to avoid or mitigate impact with pedestrians or other vehicles. For example, if a crash is imminent and the driver does not react, the system will deploy Automatic Emergency Braking. It can even apply full brake-force stopping power from 5 to 50 mph. When a pedestrian is detected, full stopping power is automatically applied from 5 to 43 mph.

All Santa Fe models feature front and rear parking sensors, as well as a rear view camera feeding to the touchscreen display. The sensors in the rear bumper give you an audible warning that increases in frequency and tone as you get closer to objects it detects in the area behind your vehicle.

Certain models also offer Smart Park Assist. Ultra-sonic sensors can identify a viable parallel parking space and steer the Santa Fe perfectly into and out of the space. You control the accelerator and brake, the system does the rest.