While many models in Hyundai Motor's SUV family share similar traits – like sporty design and electrified powertrains, each SUV gets its name from an international travel destination. Hyundai SANTA FE is no exception.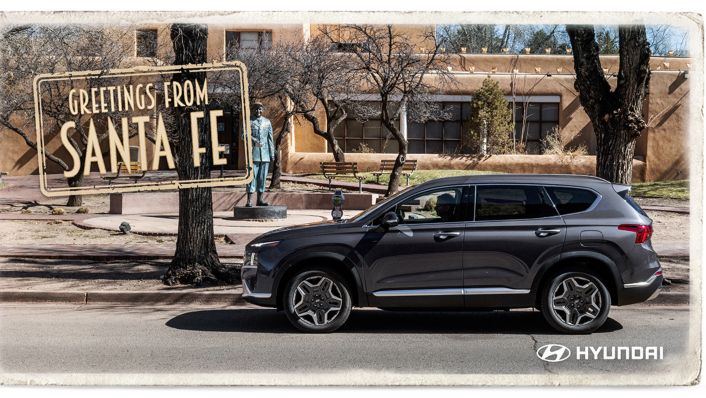 Welcome to the Wild West
The capital of the US state of New Mexico, Santa Fe has a long and storied history. Despite its modest population of around 84,000, the city shines in the region as an artistic and cultural hub. With a multi-generational art community calling it home, Santa Fe hosts one of the world's most prestigious art markets. The city even attracted the likes of internationally renowned artist, Georgia O'Keeffe.
With a distinctive and rich blend of international, Spanish, and Native American influences, the unique depth and diversity of Santa Fe's cultural heritage make it a must-see travel destination. Likewise, its distinctive style and heritage make Hyundai's SUV icon SANTA FE a perfect representation of the city it shares its name with.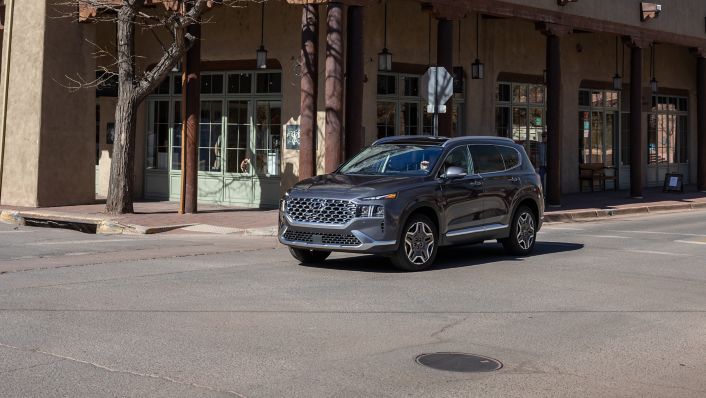 Two histories, one name
Founded in 1610, Santa Fe is one of the United States' oldest cities. The historic city centre, crisscrossed by crooked streets, features numerous adobe-style tourist attractions. One example is the Spanish colonial mission church, San Miguel Chapel. Built in the 17th century, America's oldest church showcases restored paintings and other artwork. Another example is the Palace of Governors, which is the country's oldest continuously occupied public building.
Like this storied city, Hyundai's SUV icon also has a relatively long history. Initially unveiled to the European audience in 2001, SANTA FE is the company's longest-running SUV. Now in its fourth generation, the D-segment SUV has seen improvements and upgrades since its first launch. On top of a range of innovative technology and safety features, the new SANTA FE boasts a bold and distinctive new design and hybrid and plug-in hybrid powertrain options for the first time.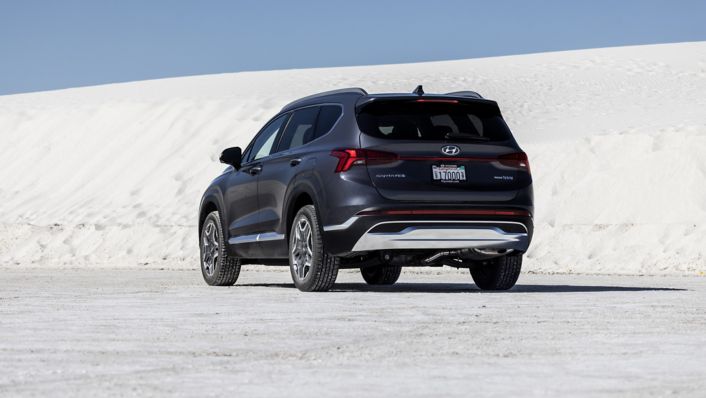 Rugged, yet refined
Similar to SANTA FE's enduring legacy at Hyundai, the city also bears signs of resilience. Nestled in the foothills of the Sangre de Cristo Mountains, Santa Fe is a cultural centre perched at a high altitude just above 2,000 metres. The city's rugged landscape is dotted with low-slung earthen buildings that retain a connection to their roots; the Pueblo Revival style, which draws inspiration from traditional pueblo architecture and Spanish mission architecture, is characterised by its simplicity, durability, and subtle beauty.
Like its namesake, SANTA FE walks this same line. The car's bold yet refined styling, all-wheel drive (AWD) technology, and robust SUV DNA come together to give it its signature rugged sophistication. Maintaining the adventurous outdoor spirit of its predecessors, SANTA FE is right at home in Santa Fe, where being outdoors is a part of everyday life.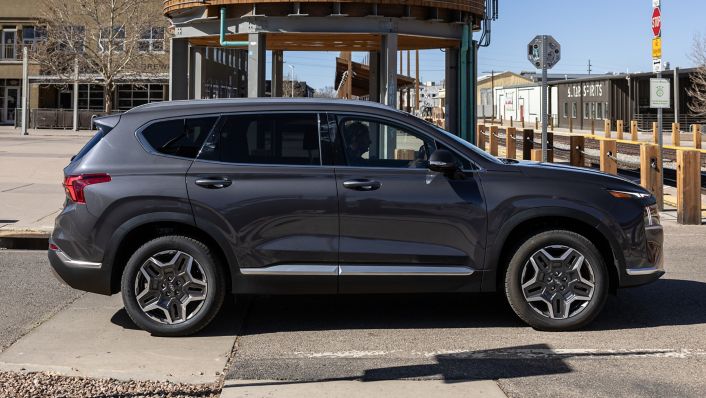 Going offroad
Contrary to many misconceptions, residents and visitors to Santa Fe witness all four seasons. During dry spells, Santa Fe's stormwater canals turn into beautiful pathways – just adding to the countless trails and paths for hikers and mountain bikers. Mountain summits and hiking trails in the summertime become ski resorts and sledging hills come winter. In such a changing climate, in which the landscape transforms as well, it is important to have a car that can tackle every terrain head-on.
SANTA FE's ride and handling features let drivers do exactly that. HTRAC technology – a combination of the words 'Hyundai' and 'traction' – enhances SANTA FE's already advanced AWD system with agile handling and improved torque application depending on wheel grip and the speed of the vehicle.
The centre console of SANTA FE features a Terrain Mode selector to conveniently switch between different drive modes, optimising driving performance and HTRAC settings for a variety of situations. With this feature, drivers can tackle sand, snow, and mud without fear of getting bogged down – perfect for any condition in the southwestern city.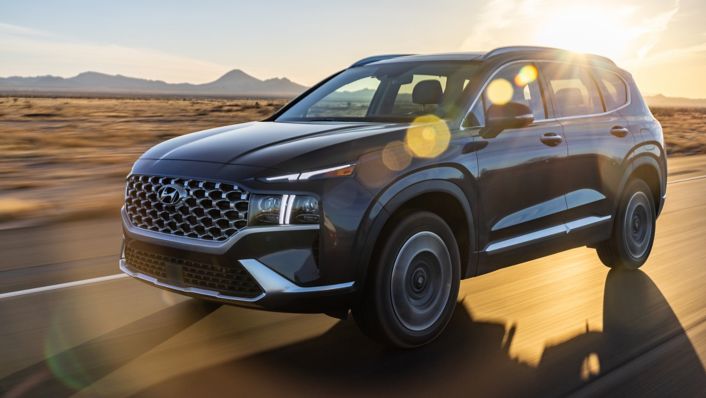 Family fun and family safety
Beyond being an attractive city for those interested in outdoor activities, art, and history, Santa Fe is also a great holiday destination for families. The city has been lauded as a fun, safe, family-friendly city. The Santa Fe Children's Museum, for example, is dedicated to providing a fun and educational experience for children.
Although SUVs by design were intended for outdoor adventures and rough terrain, they also shine as the ideal family car for road trips. The platform update improved boot capacity. With the seats up, the five-seat model offers 634 litres of boot space, an increase of nine litres compared to its predecessor. The seven-seat version saw an improvement of 24 litres, now offering 571 litres of boot space.
With a class-leading safety package and Hyundai Smart Sense active safety and driving assistance technologies, such as Rear Occupant Alert (ROA) and Safe Exit Assist (SEA), drivers can rest assured that the most important cargo – their children – are well protected.
Renowned for its unique style, landscape, and culture, Santa Fe is an iconic holiday destination for adventurous travellers. Whether avid hikers, architecture fans, art lovers, or families on a road trip through the rugged landscape, the capital stands out as a beacon in the American Southwest. With rugged sophistication, bold styling, and a top-notch safety package, Hyundai's SANTA FE proudly and aptly carries the legacy of its namesake.
Disclaimer: CO2 and emissions data
Fuel consumption combined for the Hyundai SANTA FE 1.6 T-GDI Hybrid with 6AT 2WD in l/100 km: 6.9 - 6.4; CO2 emissions combined in g/km: 157 - 146 (WLTP)
Fuel consumption combined for the Hyundai SANTA FE 1.6 T-GDI Hybrid with 6AT 4WD in l/100 km: 7.6 - 6.9; CO2 emissions combined in g/km: 172 - 157 (WLTP)
Fuel consumption combined for the Hyundai SANTA FE 1.6 T-GDI Plug-in Hybrid in l/100 km: 1.6; electricity consumption combined in kWh/100 km: 18.1; CO2 emissions combined in g/km: 37 (WLTP)
Fuel consumption combined for the Hyundai SANTA FE 2.2 CRDi with 8DCT 2WD in l/100 km: 6.3 - 6.1; CO2 emissions combined in g/km: 166 - 161 (WLTP)
Fuel consumption combined for the Hyundai SANTA FE 2.2 CRDi with 8DCT 4WD in l/100 km: 6.8 - 6.6; CO2 emissions combined in g/km: 179 - 172 (WLTP)