The hybrid revolution is set to get even bigger in the next few years. Here's three reasons why that's a good thing for everybody.
Hybrid cars are big news right now, and for good reason. As consumers demand ever more efficiency and automakers push to expand the number of eco-mobility options available, hybrid powertrains provide the perfect solution.
They are becoming an increasingly popular across Europe, and with the EU's mandatory emission level of 95 grams of CO2 per kilometre for every new car bought from 2020 onwards, the hybrid revolution is here to stay. Because hybrid's marriage of regular combustion engine, electric motor and battery pack provides better fuel economy and lower running costs as well as cleaner air, everyone's a winner.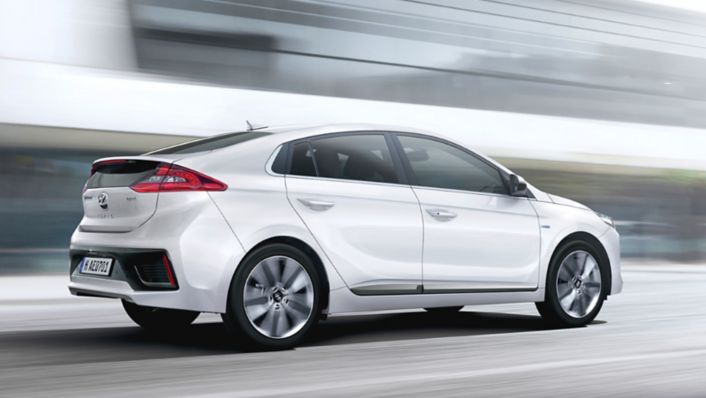 Hybrids are aerodynamic and efficient

Hybrid cars may have a distinct look, but they are designed this way for a reason. To reduce their drag factor to slice through the air as they travel and reduce fuel consumption further, they are considerably more aerodynamic than conventional cars.
The design of Hyundai's IONIQ Hybrid and IONIQ Plug-in Hybrid not only creates an appealing silhouette, but also allows a spacious interior and generous storage space. Most importantly, their sleek aerodynamic shape, closed wheel design, front wheel air curtains, rear spoiler and diffuser, side sill mouldings, floor undercover and front grille active air flap all contribute toward the car's high aerodynamic efficiency, achieving a class-leading drag coefficient of just 0.24 Cd.
The IONIQ Hybrid and IONIQ Plug-in both feature a six-speed dual-clutch transmission (6DCT) that boasts best-in-class transfer efficiency, which can be enhanced further by the driver-selectable ECO mode. In ECO mode, the 6DCT optimises the gear selection for fuel economy, shifting up earlier to higher gears to achieve class-leading fuel economy, and low CO2 emissions of 92-79 g/km* and 26 g/km* respectively.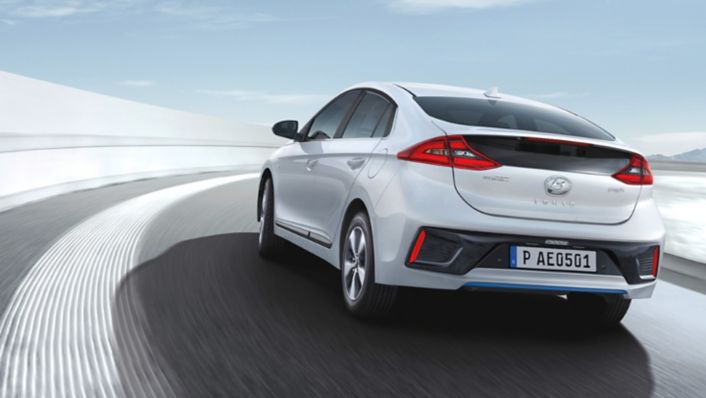 They drive like traditional cars

When the hybrid car first hit the European market in 2001, its new type of powertrain left some unsure if it was as good to drive as the cars they were used to. As hybrid technology has advanced in the years since, its performance and feel on the road has gotten better and better.
The driving performance of the IONIQ Hybrid and Plug-in Hybrid is among the segment's best – it's no surprise that many reviews have mentioned how similar it feels to a conventional car. Ride and handling, as well as noise, vibration and harshness levels, are tuned to contribute toward superior drive quality.
The six-speed dual-clutch transmission provides a sporty feel and direct driver engagement, while offering comfortable and efficient driving in automatic mode. The selectable Sport mode further enhances driving pleasure, sharpening the experience through sportier steering feel, transmission parameters and the adaptive digital instrument cluster.
They are safer than ever

When it comes to safety, there is no difference between conventional and hybrid cars. Indeed, given the future-facing technology they contain, today's hybrids often have more safety features than their traditional counterparts.
The IONIQ Hybrid and Plug-in Hybrid come with a host of Hyundai's SmartSense active safety and driving assistance features, including Blind Spot-Collison Warning, which works directly alongside Lane Change Assist and Rear Cross-Traffic Collision Warning to warn the driver of any surrounding vehicles, passengers or other objects that may lead to a collision if unnoticed while the car is in motion.
When driving over 60km/h, the Lane Departure Warning sounds an alarm before the car moves over white, grey, blue lines as well as Bott's dots on the road, while the Lane Keeping Assist warns the driver acoustically and visually before inducing corrective steering to guide the car back to a safe position. The IONIQ is also fitted with Forward Collision-Avoidance Assist (FCA), an advanced active safety feature that uses front radar and camera to alert drivers to emergency situations, braking autonomously if required.
* Based on combined NEDC Test Cycle.