Pan-European partnership between Hyundai Motor and marine conservation organisation Healthy Seas started in 2021 and broadened its scope in 2022
Activities last year included beach clean-ups, underwater clean-ups, and educational programmes for school children 
Partnership kicked off first clean-up in South Korea with Ghost Diving Korea
Partnership robustly supports circular economy by incorporating collected waste into Hyundai's products, such as ECONYL® floormats in IONIQ 5 and IONIQ 6
Following the announcement of their partnership extension last March, Hyundai Motor and Healthy Seas proceeded to lead a successful year. Before entering an exciting third year of the partnership full of projects and activities, here is a look back on everything the collaboration achieved in 2022.
Last year, the partnership held more than ten activations in Europe and, for the first time, one outside of Europe in South Korea. Since 2021, the partnership has since broadened its scope and included activities that have reached a new level of engagement – not only among schoolchildren but also local communities and company employees.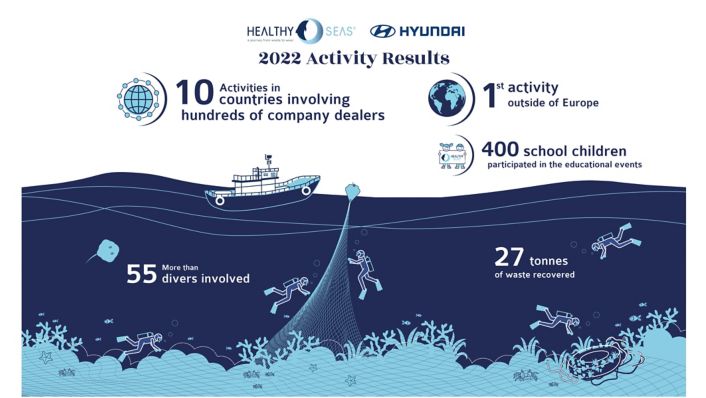 As a leader in sustainable and innovative mobility solutions, Hyundai is strongly committed to its vision of 'Progress for Humanity'. Last year's activities have ranged from waste recovery activities, such as beach and underwater clean-ups to remove abandoned fishing gear, and educational programmes, in which children and local communities could learn more about marine conservation and sustainable lifestyles, to promoting a circular economy.
The abandoned nylon nets retrieved during the clean-up activities with Healthy Seas are regenerated by Healthy Seas' founding partner Aquafil. These nets, together with other nylon waste, are turned into ECONYL® regenerated nylon to manufacture sustainable products.
It is amazing what we have been able to achieve in 2022 through our partnership with Healthy Seas. Having expanded the scope of our cooperation, Hyundai and Healthy Seas have been able to engage even more with coastal communities, schoolchildren, and our employees. We saw great success in the first and second years of our partnership. This year, we hope to continue providing on our 'Progress for Humanity' vision.
Return to Ithaca
After a record-breaking clean-up on the Greek island of Ithaca in 2021, Healthy Seas and Hyundai returned to kick off its 2022 activities and continue what the partnership started two years ago.
The 'Return to Ithaca' project deeply engaged the community of Ithaca, focusing on supporting fishers and educating local children. Roughly 180 children participated in the educational programmes.
After clearing the sea of an abandoned fish farm in 2021, including metal pieces, pipes, and five tonnes of fishing nets, an additional 18.5 tonnes of fishing nets were removed in 2022. This feat would not have been possible without the support of ten organisations and partners, as well as a project team of 45 people, including 15 divers.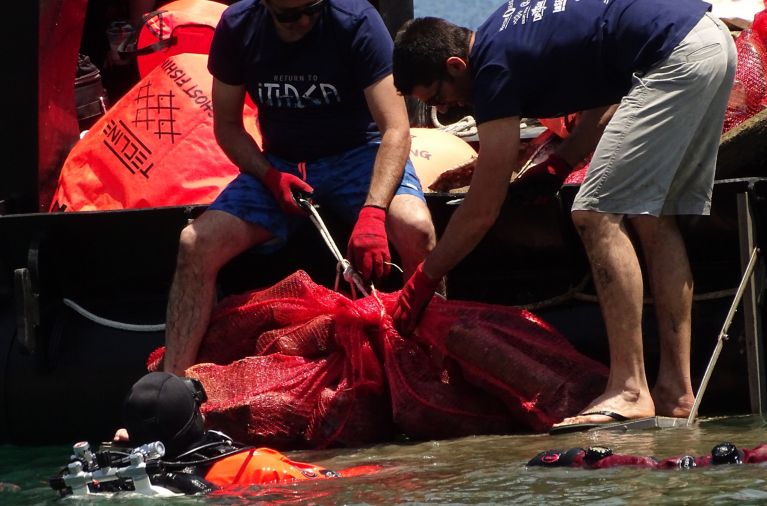 Ocean clean-ups to protect biodiversity
Apart from the kick-off activity on Ithaca, Hyundai has supported Healthy Seas throughout 2022 by organising various diving activities to retrieve abandoned fishing nets and fishing gear from the seas and oceans. In 2022, the partnership led clean-up activities in Greece, Spain, Croatia, and South Korea, the first activity Hyundai and Healthy Seas held together outside of Europe.
Across all clean-up activities, more than 55 volunteer divers helped recover ghost nets and other waste from the water, collecting a total amount of 27 tonnes of waste.
Educating children about sustainability and marine conservation
In addition to the clean-ups, Hyundai and Healthy Seas also organised local educational activities for about 400 schoolchildren in several countries. The purpose of these educational programmes is to teach children the importance of keeping the world's oceans clean. Young generations learn about the negative effects ocean pollution can have on marine and human life in hope of preventing more pollution in the future.
Last year started with a workshop in Tossa de Mar, Spain, in which Healthy Seas' Virtual Reality Experience allowed children to be divers for a day. After that, the partnership organised a creative workshop at Tate Modern in London. Students from a local school had the opportunity to create something beautiful using rubbish in a fun journey from waste to art.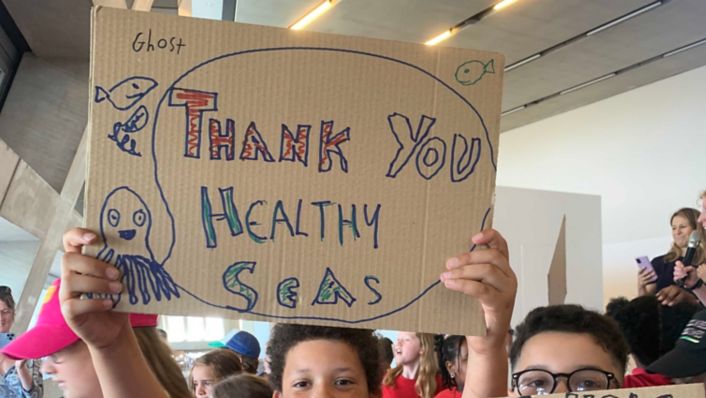 After a summer focused on clean-up activities, the second half of 2022 saw three large-scale programmes in France, Italy, and Germany.
Supporting Hyundai Motor France's commitment to the sport of running, Healthy Seas helped organise a plogging race ahead of the annual Marseille-Cassis Classique Internationale half-marathon. Participants ran along the sea and could stop to pick up waste from the beaches of Marseille. The partnership also visited schools in both cities that give their names to the race. Learning about marine conservation sparked curiosity in the schoolchildren, and the local community showed its appreciation for the activities, with many teachers and parents joining in.
Shortly after the programme in France, Healthy Seas and Hyundai held another large educational day in Milan, with a focus on the circular economy and the benefits of the partnership. More than 70 children participated in the event, in which they could learn about the devastating effects of abandoned fishing gear on marine biodiversity, as well as the results of the partnership's clean-ups. They were also able to see and touch ECONYL® regenerated yarn and learn about the sustainable products made from it, among them, the floormats in IONIQ 5 and IONIQ 6.
Disclaimer: CO2 and emissions data
Electricity consumption combined for the Hyundai IONIQ 5 58 kWh with 2WD in kWh/100 km: 16.7; CO2 emissions combined in g/km: 0 (WLTP)
Electricity consumption combined for the Hyundai IONIQ 5 58 kWh with 4WD in kWh/100 km: 18.1; CO2 emissions combined in g/km: 0 (WLTP)
Electricity consumption combined for the Hyundai IONIQ 5 77.4 kWh (19" alloy rims) with 2WD in kWh/100 km: 17.0; CO2 emissions combined in g/km: 0 (WLTP)
Electricity consumption combined for the Hyundai IONIQ 5 77.4 kWh (20" alloy rims) with 2WD in kWh/100 km: 18.0; CO2 emissions combined in g/km: 0 (WLTP)
Electricity consumption combined for the Hyundai IONIQ 5 77.4 kWh (19" alloy rims) with 4WD in kWh/100 km: 17.9; CO2 emissions combined in g/km: 0 (WLTP)
Electricity consumption combined for the Hyundai IONIQ 5 77.4 kWh (20" alloy rims) with 4WD in kWh/100 km: 19.1; CO2 emissions combined in g/km: 0 (WLTP)
Electricity consumption combined for the Hyundai IONIQ 6 53 kWh with 2WD in kWh/100 km: 13.9; CO2 emissions combined in g/km: 0 (WLTP)
Electricity consumption combined for the Hyundai IONIQ 6 77.4 kWh (18" alloy rims) with 2WD in kWh/100 km: 14.3; CO2 emissions combined in g/km: 0 (WLTP)
Electricity consumption combined for the Hyundai IONIQ 6 77.4 kWh (20" alloy rims) with 2WD in kWh/100 km: 16.0; CO2 emissions combined in g/km: 0 (WLTP)
Electricity consumption combined for the Hyundai IONIQ 6 77.4 kWh (18" alloy rims) with 4WD in kWh/100 km: 15.1; CO2 emissions combined in g/km: 0 (WLTP)
Electricity consumption combined for the Hyundai IONIQ 6 77.4 kWh (20" alloy rims) with 4WD in kWh/100 km: 16.9; CO2 emissions combined in g/km: 0 (WLTP)