Hyundai Motor and Healthy Seas kicked off partnership's first Asian activation in October in Gangwon and Namae in South Korea
As part of a global effort to save marine life, a large group of volunteer divers recovered half a tonne of discarded fishing gear in two clean-up activities
The team will lead clean-ups in Korea to recover abandoned fishing gear year-round
By expanding the CSV partnership outside of Europe and onto the global stage, Hyundai continues to honour its commitment to 'Progress for Humanity'
The partnership between Hyundai and Healthy Seas kicked off its first non-European clean-up activity together in South Korea. From 28 and 29 October and 12 to 14 November, the Ghost Diving Team Korea conducted two clean-up missions in the Gangwon and Namae provinces in northeast South Korea.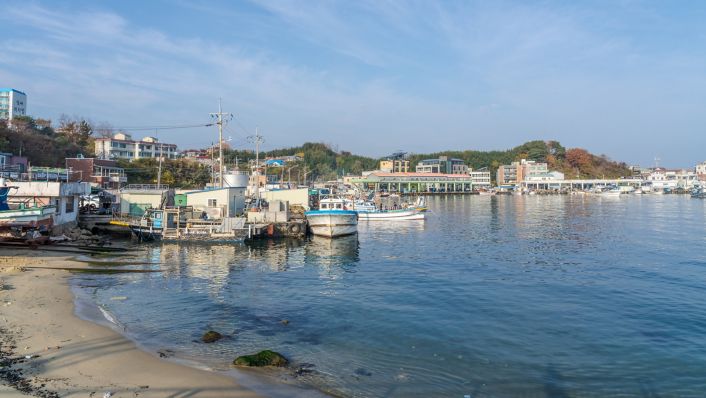 Although the deep seawater is rich in inorganic nutrients that foster the growth and development of marine plants, which house numerous marine organisms, over the past few years, abandoned fishing gear and other rubbish have become an increasing threat to the underwater ecosystems.
During these clean-ups, nine volunteer divers retrieved 425 kilogrammes of ghost nets and lost cages after six dives. In the future, Ghost Diving Korea's many volunteers will organise underwater clean-ups on a regular basis.
Every piece of ghost net removed from the ocean is one less threat to marine life. Millions of animals get caught in these deadly traps, and this, in turn, attracts larger predators that also get entangled, perpetuating a cycle of death. We are very proud to have expanded our cooperation with Hyundai Motor to Korea, where the sea conditions are often as challenging as in the North Sea, where our work began.
This event marked an important milestone in the partnership between Hyundai and Healthy Seas. No longer solely a European programme, this continued growth – just one piece of the company's sustainability approach – underlines Hyundai's commitment to 'Progress for Humanity'.
To guarantee a more sustainable world for generations to come, recycling and marine conservation must become necessities for our society. By extending Hyundai Motor and Healthy Seas' great work to the shores of Hyundai's birthplace, we are not only supporting a community outside of Europe in which we operate, but we are also doing our part to maintain the well-being of humanity.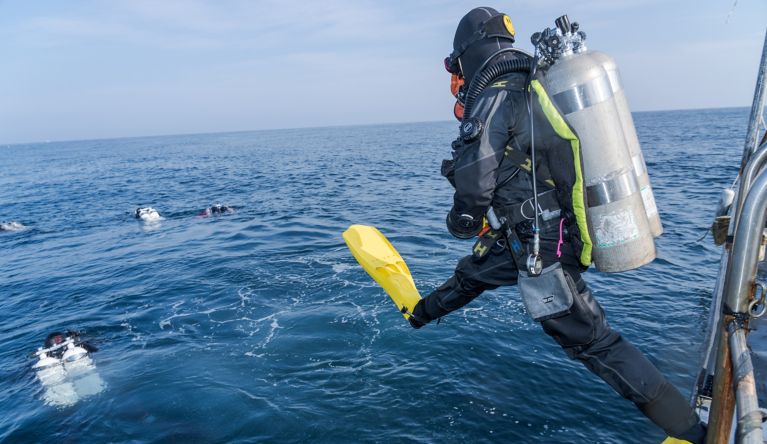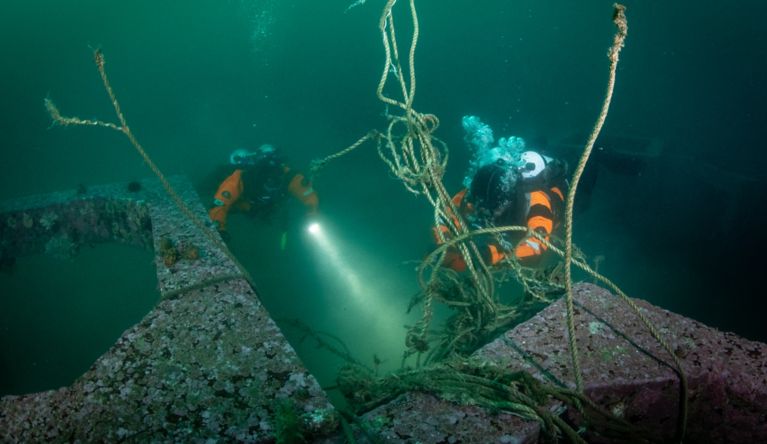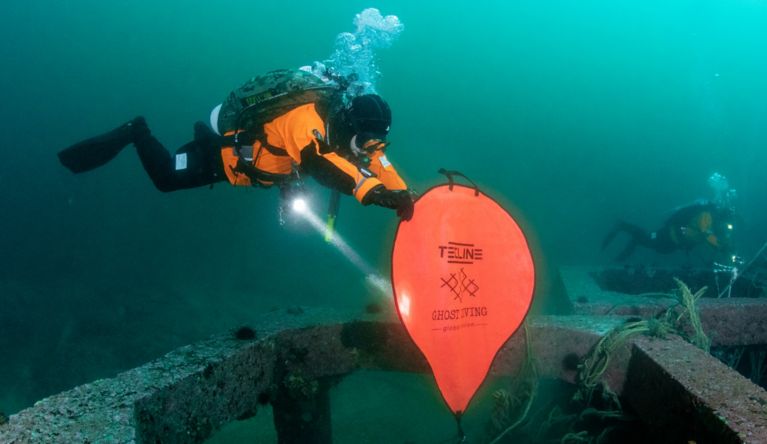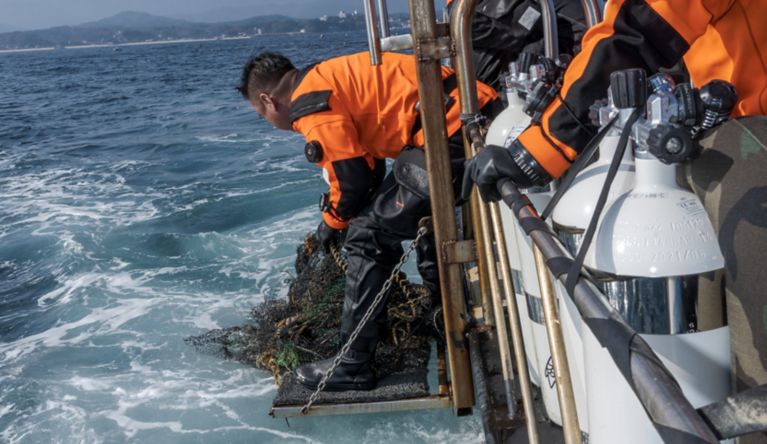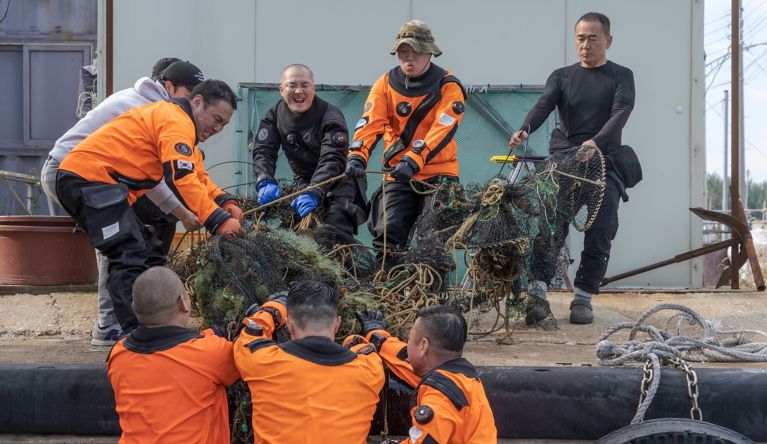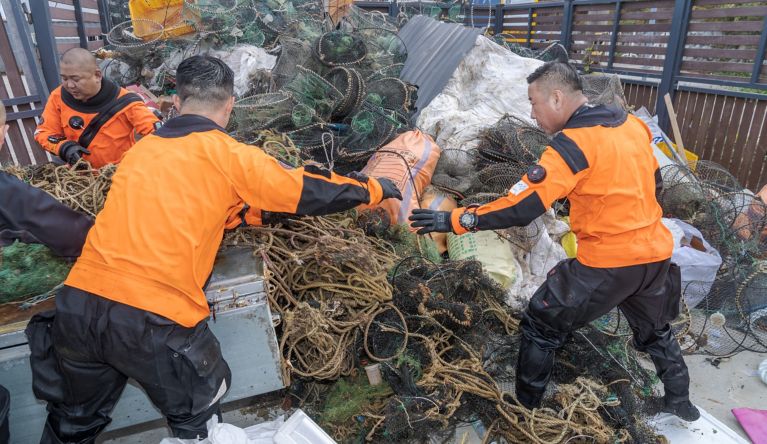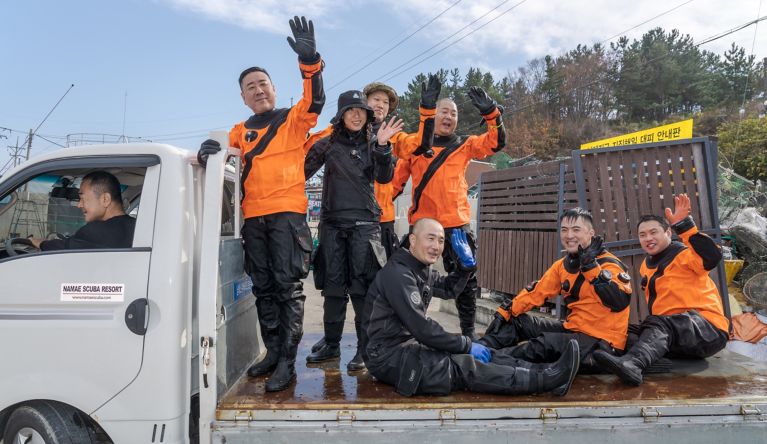 Transforming waste for a cleaner future
Hyundai is not only a sponsor of Healthy Seas' clean-up and educational activities; the company is also active in promoting a more sustainable future, namely by driving a circular economy.
Healthy Seas' founding partner Aquafil regenerates the nylon parts of recovered fishing nets, along with other nylon waste, into ECONYL® yarn. This regeneration nylon yarn is used to create new, sustainable products, such as the ECONYL® floor mats that are optional in IONIQ 5 and come standard in IONIQ 6.
Hyundai Motor Company's Mission for Creating Shared Value (CSV)
In March 2022, Hyundai Motor Group revealed its latest ESG direction – 'The Right Move for the Right Future'. This direction outlines the Group's commitment to forging a sustainable future for the next generation. Because the Group believes that a sustainable future is a basic right for everyone on the planet, Hyundai will continue to ensure this for the environment and all its stakeholders.
Under Hyundai's brand vision of 'Progress for Humanity', Hyundai's mission to Create Shared Value (CSV) includes scaling social impacts and building a sustainable business ecosystem. From this mission, HMC's latest CSV initiative was inspired: 'Hyundai Continue'.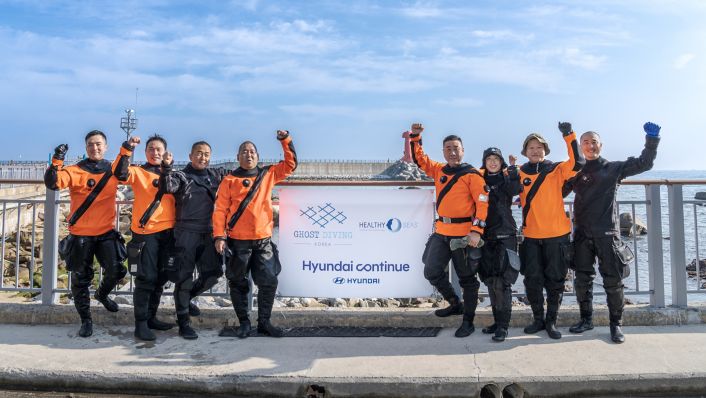 HMC is making transformative efforts for a sustainable future through 'Hyundai Continue'. The initiative consists of three core areas: Continue Earth, Continue Mobility, and Continue Hope.
Continue Earth embodies HMC's desire to continue to take care of the planet, aligning with Hyundai's partnership with Healthy Seas. This includes restoring fragile ecosystems, driving the circular economy, responding to climate change, and conserving biodiversity.
HMC will continue to innovate for new mobility. The technology and advancements coming out of the Continue Mobility pillar will provide solutions for people and sectors with limited mobility or who are living in remote areas. They will also further develop traffic safety technology and other activities aligned with future mobility.
The final core area is Continue Hope. The idea is to create hope for future generations. HMC will act on this by educating future generations, supporting the growth of young people, and developing talent.
Disclaimer: CO2 and emissions data
Electricity consumption combined for the Hyundai IONIQ 5 58 kWh with 2WD in kWh/100 km: 16.7; CO2 emissions combined in g/km: 0 (WLTP)
Electricity consumption combined for the Hyundai IONIQ 5 58 kWh with 4WD in kWh/100 km: 18.1; CO2 emissions combined in g/km: 0 (WLTP)
Electricity consumption combined for the Hyundai IONIQ 5 77.4 kWh (19" alloy rims) with 2WD in kWh/100 km: 17.0; CO2 emissions combined in g/km: 0 (WLTP)
Electricity consumption combined for the Hyundai IONIQ 5 77.4 kWh (20" alloy rims) with 2WD in kWh/100 km: 18.0; CO2 emissions combined in g/km: 0 (WLTP)
Electricity consumption combined for the Hyundai IONIQ 5 77.4 kWh (19" alloy rims) with 4WD in kWh/100 km: 17.9; CO2 emissions combined in g/km: 0 (WLTP)
Electricity consumption combined for the Hyundai IONIQ 5 77.4 kWh (20" alloy rims) with 4WD in kWh/100 km: 19.1; CO2 emissions combined in g/km: 0 (WLTP)
Electricity consumption combined for the Hyundai IONIQ 6 53 kWh with 2WD in kWh/100 km: 13.9; CO2 emissions combined in g/km: 0 (WLTP)
Electricity consumption combined for the Hyundai IONIQ 6 77.4 kWh (18" alloy rims) with 2WD in kWh/100 km: 14.3; CO2 emissions combined in g/km: 0 (WLTP)
Electricity consumption combined for the Hyundai IONIQ 6 77.4 kWh (20" alloy rims) with 2WD in kWh/100 km: 16.0; CO2 emissions combined in g/km: 0 (WLTP)
Electricity consumption combined for the Hyundai IONIQ 6 77.4 kWh (18" alloy rims) with 4WD in kWh/100 km: 15.1; CO2 emissions combined in g/km: 0 (WLTP)
Electricity consumption combined for the Hyundai IONIQ 6 77.4 kWh (20" alloy rims) with 4WD in kWh/100 km: 16.9; CO2 emissions combined in g/km: 0 (WLTP)