The new Hyundai Tucson is showcasing a more dynamic appearance that embodies the company's progressive vision for future mobility. It is set to make its European debut in early 2024, accompanied by the unveiling of its European specifications. As the Tucson embarks on a new chapter in its European journey, it carries with it the promise of continued excellence, innovation, and customer satisfaction.
The interior of the new Tucson prioritizes spaciousness and practicality, achieved through a horizontal design that creates a sense of openness. The seamless integration of advanced technology elements ensures a harmonious blend of functionality and aesthetics.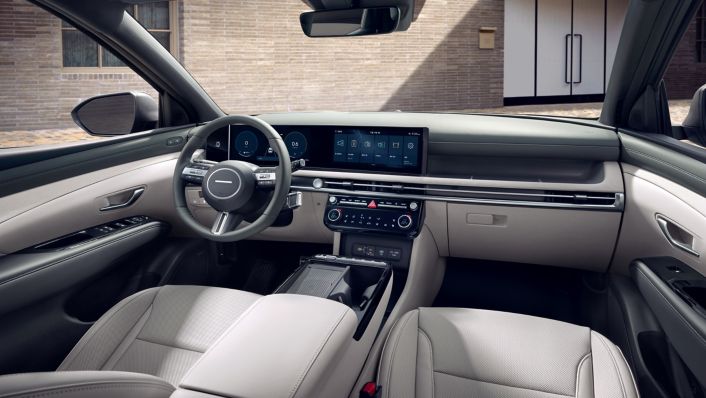 Crafted with European customers in mind
Two decades ago, the model entered an emerging SUV segment and has since evolved into a global bestseller. Its unwavering popularity among European customers is unmistakable. According to global automotive market research company JATO Dynamics, Tucson became the best-selling car in the compact SUV segment in Europe in 2022. With its refined design, advanced technology, and proven track record of success, the new Tucson is also poised to continue its legacy as a global leader in the SUV segment.
Embodying Hyundai's signature design philosophy of Sensuous Sportiness, Tucson stands as a visual masterpiece, boasting SUV charm and a progressive look that aligns perfectly with contemporary tastes. 
Whether a long journey to visit the grandparents or a scenic drive through the countryside – embarking on a family road trip calls for a car that seamlessly integrates into the rhythm of everyday life. In pursuit of automotive excellence, the Hyundai Tucson emerges as a trustworthy companion, purposefully designed and meticulously crafted with the customer at its core. Tucson stands out as a testament to customer-centric ingenuity, addressing needs with precision in design, unparalleled convenience, and commitment to safety.
The new Tucson is the first partial redesign in three years to enhance the product competitiveness of the fourth-generation Tucson, which was launched in September 2020.
The version of the Hyundai Tucson shown in these images will not be offered in Europe.
Disclaimer: CO2 and emissions data
The new Hyundai Tucson is currently not available for sale.