One Two Three Swing! is a large-scale interactive installation by Danish art collective SUPERFLEX, and the first Turbine Hall commission to extend beyond the gallery walls. It features an orange line connecting dozens of swings which weaves through the Hall, extending to outside of the museum. The theme of the show is to encourage collaboration in a time of social apathy, as each swing contains three seats and requires participants to work together.
One Two Three Swing! is the third annual Hyundai Commission to feature in the Tate Modern's Turbine Hall as part of the partnership between Tate and Hyundai Motor. It is the latest in a series of site-specific works fort he gallery created by international artists.
The Hyundai Commission 2017, SUPERFLEX: One Two Three Swing! was recently unveiled at Tate Modern in London, and has received warm reviews from art critics.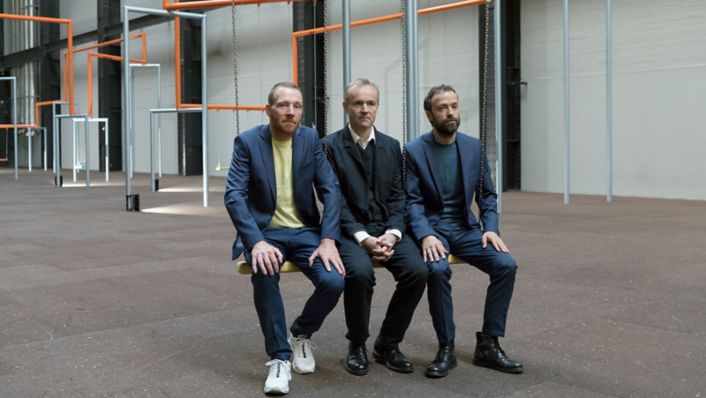 What the critics have said
The 
Times of London
 awarded the Hyundai Commission 2017 a four-star rating, saying it is likely to get people "enthused" about modern art once again. Commenting on the exhibit's message, the review said: "If we all swing together, we could change the way the world spins".
The London Evening Standard described the show as "exhilarating" and also gave One Two Three Swing! four stars. Praising the exhibit's design and its fun factor, the newspaper said "this installation could well be truly magnificent when activated by the energy of the huge Tate Modern crowds".
The 
Financial Times
 praised One Two Three Swing! as a "winner" and "more than just a playground". The reviewer asserts that the exhibit is "a metaphor for the collective endeavour that is essential if we are to build a happier, healthier world."
"More than just entertainment", is how the art website 
Artsy
 describes SUPERFLEX's swinging playground. "SUPERFLEX have pushed the logic to its extreme, blurring the distinction between the museum's indoor and outdoor spaces, and nodding towards the site's history as a generator of energy".
The Hyundai Commission 2017: One Two Three Swing! is in the Turbine Hall at the Tate Modern until 2 April 2018 and admission is free.