Hyundai Motor's brand value reaches $20.4 billion in Interbrand's 'Best Global Brands 2023,' ascending in valuation for 13 consecutive years
This represents the third highest year-over-year valuation increase out of 100 brands
Brand rank rose from 35th to 32nd – the first increase in rank since 2016, underlining Hyundai Motor's leading role in the automotive industry's paradigm shift
Interbrand's positive appraisal is attributed to the brand's activities regarding equality and sustainability as well as agility in responding to changing consumer needs
The company's future-oriented mobility vision, supported by its award-winning EV lineup and hydrogen vision, shows further potential for success
Hyundai Motor Company today announced that its brand value reached $20.4 billion in Interbrand's 'Best Global Brands 2023', ascending in valuation for 13 straight years. This represents the third highest year-over-year valuation increase out of 100 brands. The company's brand rank rose from 35th to 32nd – the first increase in rank since 2016, based in part on Hyundai Motor's accelerated electrification and future mobility vision.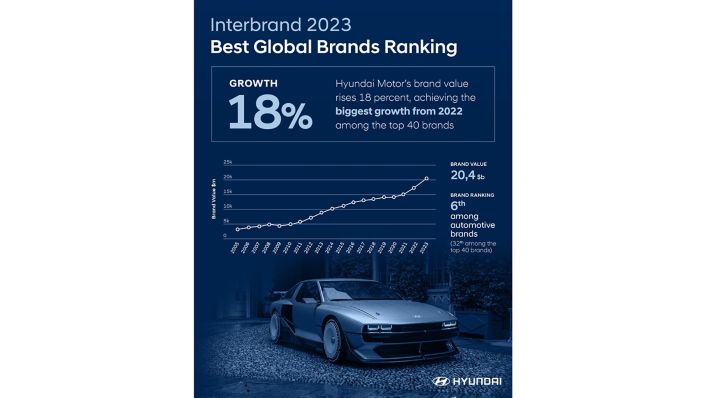 In 2014, Hyundai Motor's brand value reached $10 billion, and for the first six years, its valuation rose $4 billion. However, following Euisun Chung's appointment as Hyundai Motor Group's Executive Chair, its valuation has increased $6 billion in merely three years. Ever since it's entry in Interbrand's 'Best Global Brands' in 2005 with a valuation of $3.5 billion, the numbers have multiplied nearly six times.
Hyundai Motor's accelerated success of late can be attributed, in part, to the leadership of the top management team led by Executive Chair Chung. They have played a pivotal role in guiding the company's strategic direction as a Smart Mobility Solutions Provider in alignment with its vision of 'Progress for Humanity.' The driving force behind this transformation is the company's progressive approach to innovation, technology and product development.
As the automotive industry undergoes a transformation, Hyundai Motor is exploring future mobility solutions to respond to fast-changing consumer needs. We are committed to a better future for all of humanity.
Interbrand attributed its positive assessment of Hyundai Motor to the company's agile response to the electrification transition, its leadership in the future mobility paradigm shift, and its sincere activities around the brand's vision of 'Progress for Humanity.'
Hyundai Motor Company is making big strides in forwarding its vision of 'Progress for Humanity' through the IONIQ brand. Hyundai continues to impress with its authentic communication regarding core human values such as sustainability. We look forward to the company's growth in the evolving automotive industry.
An accelerated electrification strategy and vision of future mobility
Hyundai Motor is navigating the automotive industry's electrification revolution with agility, grounded in its heritage project's commitment to finding its 'future from its origin.' The brand's dedication to innovation is exemplified by its first two retro-futuristic EVs, IONIQ 5 and IONIQ 6 – the back-to-back winners of a trio of World Car Awards in 2022 and 2023.
Hyundai Motor aims to sustain this momentum, meeting market expectations with the launch of a large flagship electric SUV in 2024. The company also is exploring the potential of hydrogen high-performance vehicles through N Vision 74, inheriting the design and spirit of the Pony Coupe.
Since declaring its status as a 'Smart Mobility Solutions Provider' in 2020, Hyundai Motor has pursued various technology innovations through strategic partnerships. The company's commitment to future mobility is exemplified by plans to launch an IONIQ 5 robotaxi service in the U.S.
Furthering its dedication to human-friendly robotic solutions, Hyundai Motor is actively fostering a value chain through collaborations with its Robotics Lab, Boston Dynamics and the latter firm's AI Institute in Cambridge, Massachusetts. The company is also leveraging the capabilities of Hyundai Motor Group affiliates to establish a comprehensive hydrogen value chain.
Hyundai Motor is turning its brand vision into tangible outcomes through initiatives that highlight people-centered sustainability, equality and inclusion that resonate with consumers. Activities like the Healthy Seas campaign, utilizing ocean waste for IONIQ 5 interiors, and participation in FIFA World Cups underscore its commitment to these values. Participation in Hope on Wheels and the UNDP for Tomorrow campaigns, further reinforce the brand's dedication to making a positive impact.
Hyundai Motor's brand strength and sales have significantly increased in North America and Europe. India also witnessed a notable rise in the company's brand value, attributed to its reputation for style and innovation. This growth contributed to its third-place ranking in global sales along with substantial gains in profit and revenue, including a 21.2 percent rise in annual revenue, a 47 percent rise in annual operating profit, and a year-over-year net profit surge of over 40 percent in 2022.