As part of Clean Driving™ Month and to launch its next-generation Hydrogen Fuel Cell Electric Vehicle, NEXO, Hyundai Motor has teamed up with University College London to map a driving route of the most polluted and congested roads in London including areas such as Kings Cross, Westminster, Elephant & Castle and Deptford
The NEXO takes clean driving to a new level as it actually cleans the air around it as it drives. The zero-tailpipe emission car also produces nothing but (heat and) water vapour and has a regenerative braking system which significantly reduces other pollutants such as brake dust.
To bring the NEXO technology to life Hyundai has held a clean air demonstration which shows how the car can filter particulates out of the air 
Clean Driving™ Month is an initiative by Hyundai to get people thinking, talking and driving a little bit cleaner
Hyundai has today revealed London's dirtiest driving route working in partnership with UCL.
Part of Clean Driving™ Month, the route is made up of the most polluted and congested roads in the city, and Hyundai's next generation hydrogen fuel cell electric vehicle, NEXO, will be driving the route to help clean up the air.
UCL reviewed open source data from a King's College London pollution study to look at Nitrogen Dioxide (NO2) levels and Particulate Matter (PM) levels.
Scientists from the UCL team analysed heat maps that showed the mean levels of PM and NO2 levels throughout London. The proposed route incorporates the areas of Central and outer London that have the highest levels of pollutants – which exceed the limits set by the EU.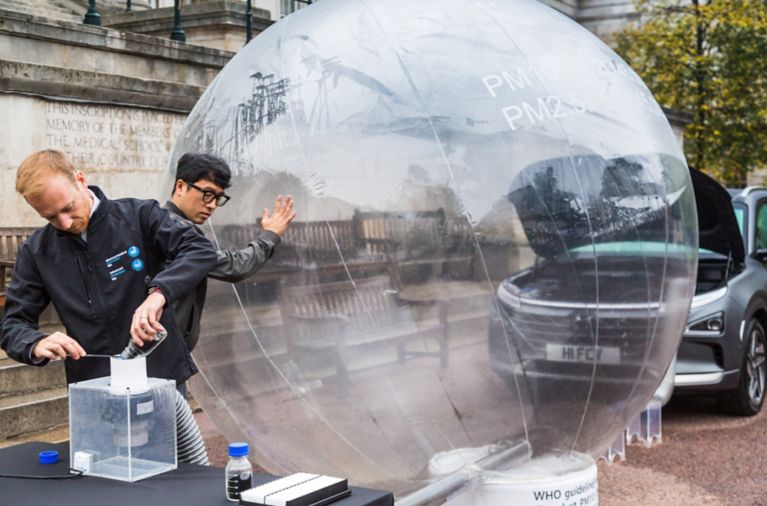 Hydrogen consumption combined for the Hyundai NEXO in kg H2/100 km: 0.95; CO2 emissions combined in g/km: 0 (WLTP)
The NEXO, which is available next year, has an advanced air purification system which filters 99.9% of very fine dust (PM2.5). The vehicle shows the exact amount of air purified on the display panel in the car each time you drive. To help Brits visualise this innovative technology, Hyundai has held a clean air demonstration which brings to life the air purification system.
When the NEXO is driven for just one hour, 26.9 kilograms of air is purified – this is the same amount that 42 adults breathe in an hour. And looking to the future, if 10,000 NEXO's were on the road it would reduce the carbon reduction effect equivalent to planting 60,000 trees. The clean air demonstration which took place at UCL this morning aimed to bring this capability to life, showing how the NEXO'S air filtration system filters the air.
We are all concerned about air quality and what affects it. At Hyundai, we are committed to improving the efficiency and environmental performance of all our vehicles and have been investing billions in bringing a full range of low and zero emission vehicles to the market place. We believe that the availability of alternatives, like the NEXO fuel cell electric vehicle, will bring the UK closer to its zero emissions future. However, the responsibility for this cannot only rest with us, the manufacturer. We need the government to invest equally in incentives and infrastructure that would enable Brits to have better choices when it comes to the car they drive and how it can fit into their lives.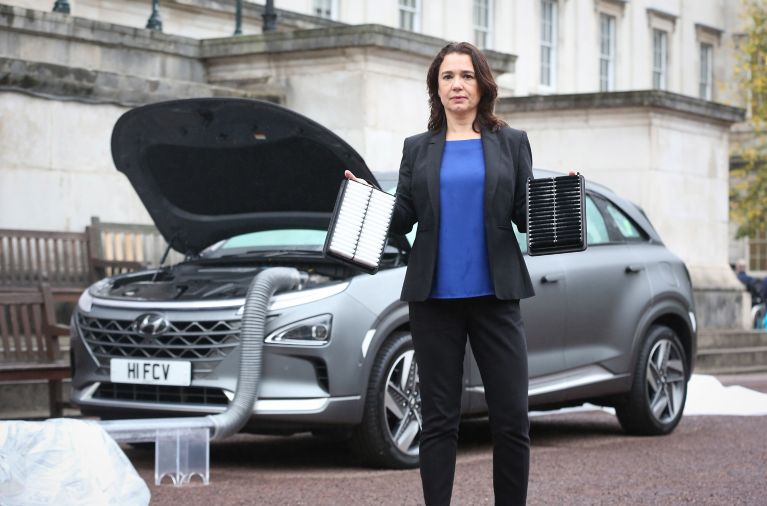 Hydrogen consumption combined for the Hyundai NEXO in kg H2/100 km: 0.95; CO2 emissions combined in g/km: 0 (WLTP)
The recent report from the Intergovernmental Panel on Climate Change (IPCC) indicates that much more needs to be done to mitigate negative climate change. Our research into fuel cell technology has found it to be a promising transport solution to consider as an alternative to fossil fuel dependent cars and battery electric vehicles which have long charging times. Our research stretches from fundamental material science to full automotive fuel cell power systems for automotive applications. going forward, we're building an advanced propulsion facility where we will develop and evaluate hybrid, battery and fuel cell powertrains for automotive applications.
As part of the Clean Driving™ activity, Hyundai is giving Londoners the chance to clean up their streets with 'NEXO Neighbourhoods'. They can register their interest to test drive the brand-new NEXO for themselves – and see how much air they have cleaned – by visiting:
https://blog.hyundai.co.uk/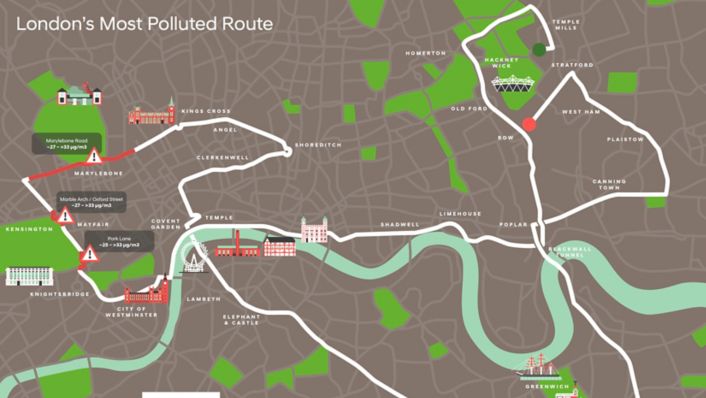 The NEXO is Hyundai's technological flagship, a stylish SUV packed full of the latest innovation in Advanced Drivers Assistance Systems and a driving range of up to 414 miles (WLTP). The hydrogen fuel cell electric vehicle emits nothing but water and can be refuelled in less than 5 minutes – similar to the time it takes to refuel a conventional diesel or petrol car.
As well as being a zero emissions vehicle, NEXO also features an adjustable regenerative braking system that recuperates additional energy when possible and significantly reduces other pollutants like brake dust.
From 2019, the new NEXO will be available to consumers starting from circa £60,000 and via selected lease companies.
For more information visit:
https://www.hyundai.co.uk/new-cars/nexo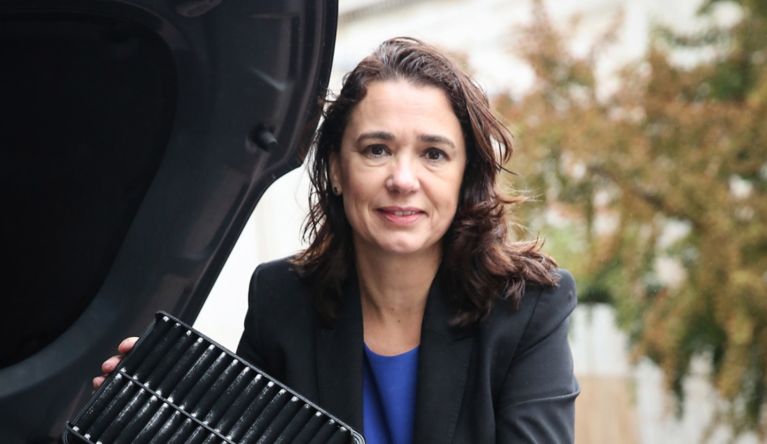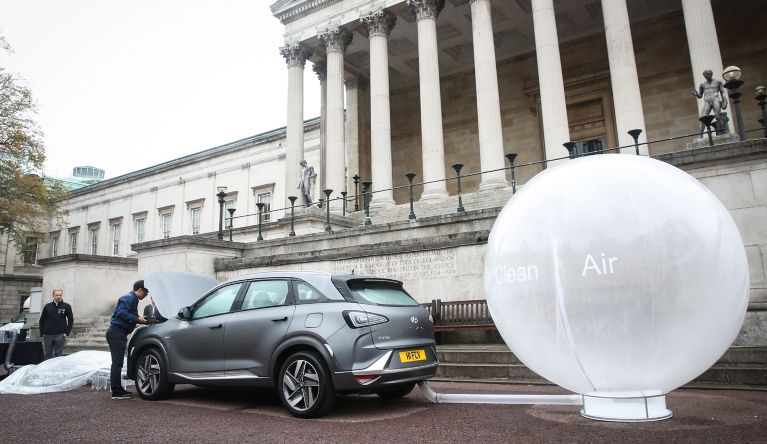 Hydrogen consumption combined for the Hyundai NEXO in kg H2/100 km: 0.95; CO2 emissions combined in g/km: 0 (WLTP)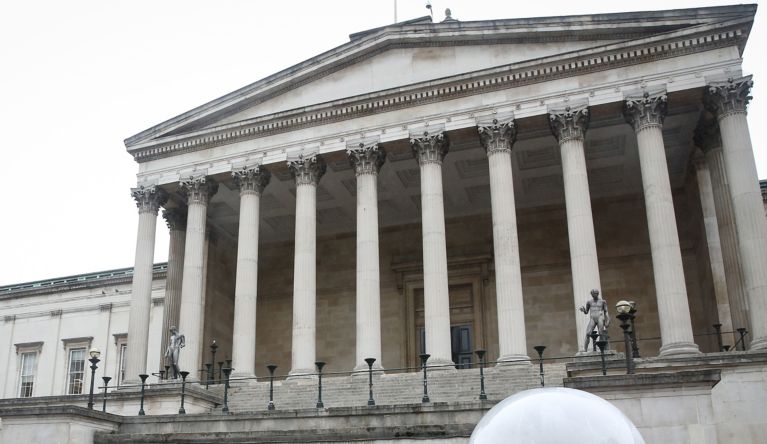 Hydrogen consumption combined for the Hyundai NEXO in kg H2/100 km: 0.95; CO2 emissions combined in g/km: 0 (WLTP)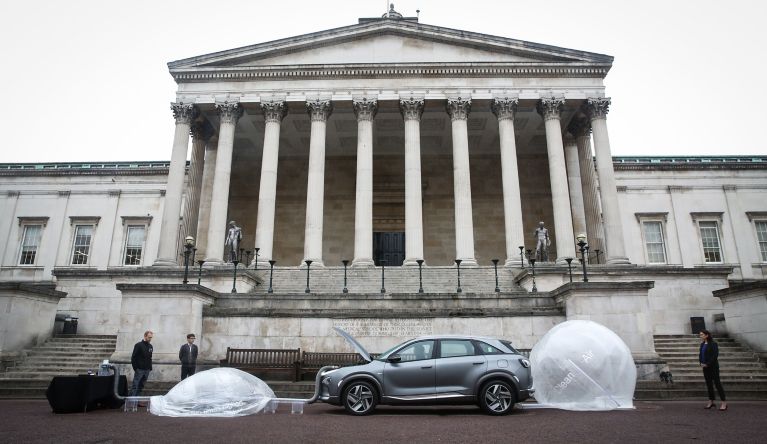 Hydrogen consumption combined for the Hyundai NEXO in kg H2/100 km: 0.95; CO2 emissions combined in g/km: 0 (WLTP)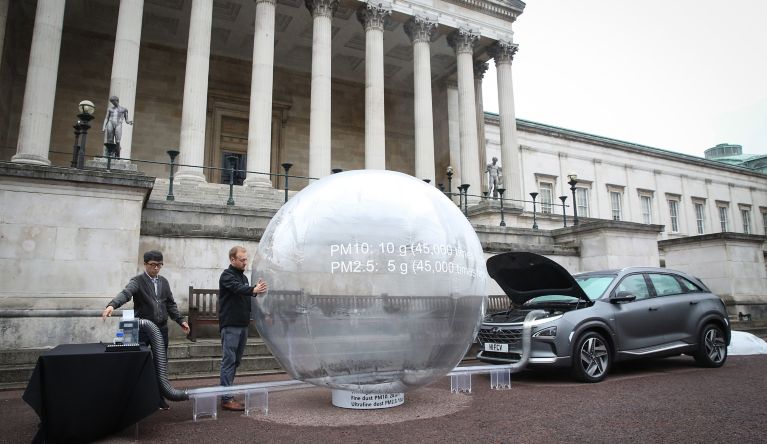 Hydrogen consumption combined for the Hyundai NEXO in kg H2/100 km: 0.95; CO2 emissions combined in g/km: 0 (WLTP)
Hydrogen consumption combined for the Hyundai NEXO in kg H2/100 km: 0.95; CO2 emissions combined in g/km: 0 (WLTP)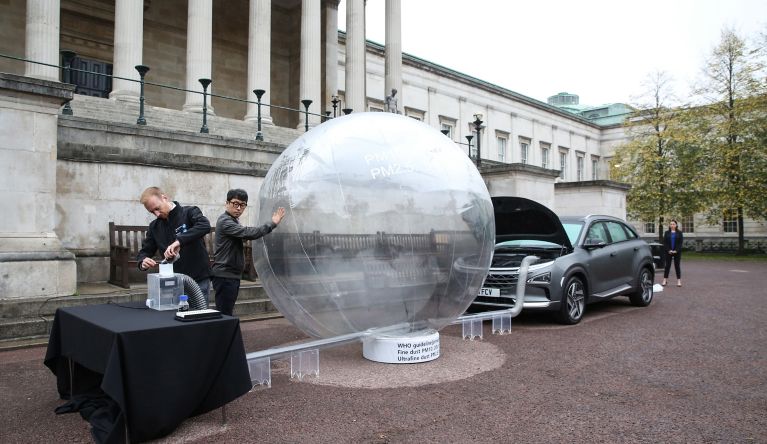 Hydrogen consumption combined for the Hyundai NEXO in kg H2/100 km: 0.95; CO2 emissions combined in g/km: 0 (WLTP)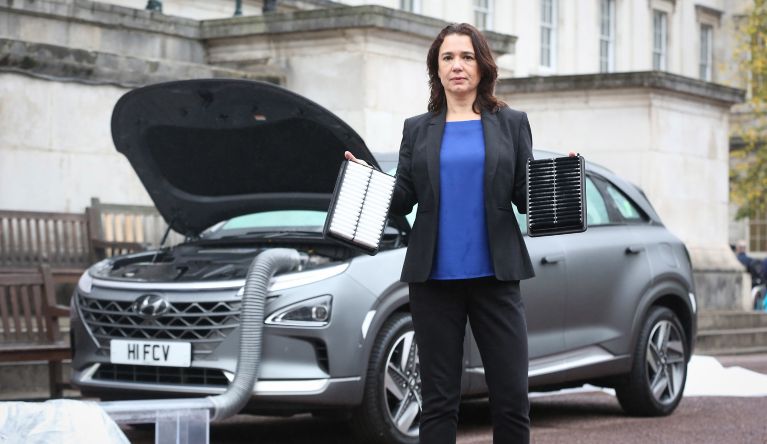 Hydrogen consumption combined for the Hyundai NEXO in kg H2/100 km: 0.95; CO2 emissions combined in g/km: 0 (WLTP)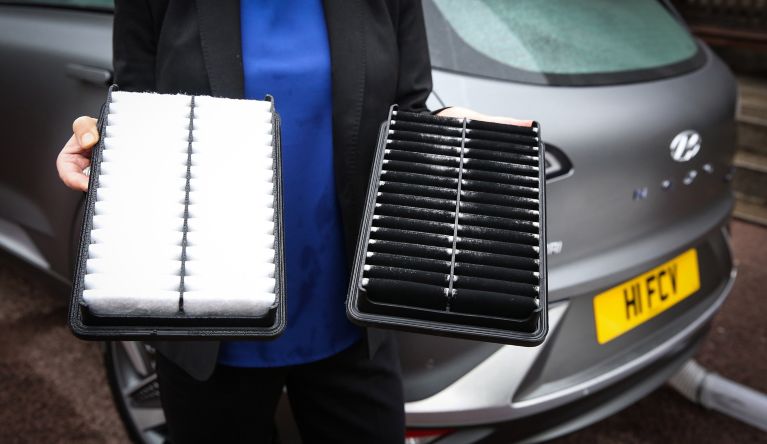 Hydrogen consumption combined for the Hyundai NEXO in kg H2/100 km: 0.95; CO2 emissions combined in g/km: 0 (WLTP)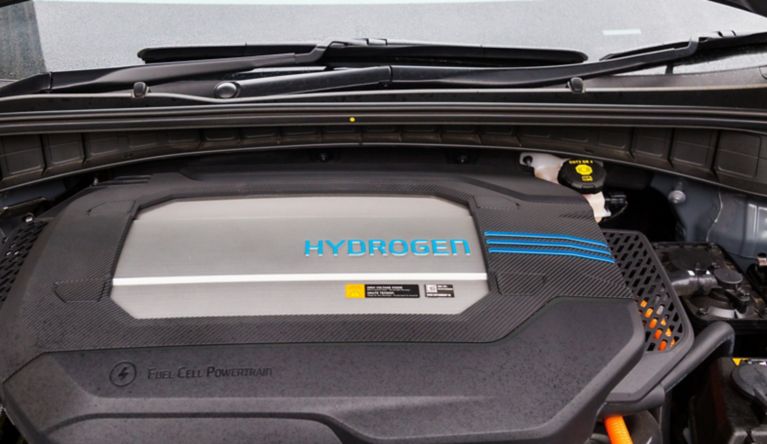 Hydrogen consumption combined for the Hyundai NEXO in kg H2/100 km: 0.95; CO2 emissions combined in g/km: 0 (WLTP)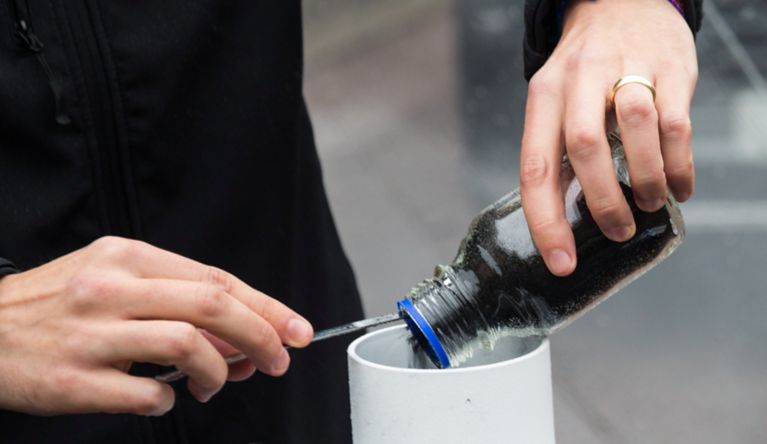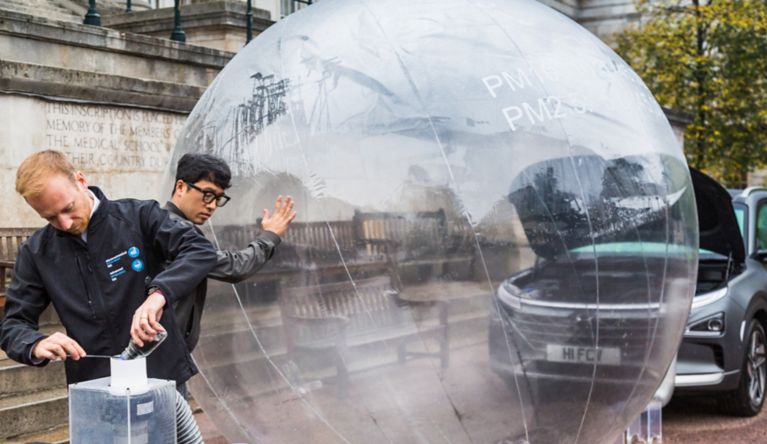 Hydrogen consumption combined for the Hyundai NEXO in kg H2/100 km: 0.95; CO2 emissions combined in g/km: 0 (WLTP)