August 2022 global sales totaled 334,794 units, up 11.6% from a year earlier
Hyundai sold 285,570 units outside of Korea, a 14.7% increase YoY
In the Korean market, the company sold 49,224 units, down 3.5% YoY
Hyundai continues to alleviate the impact of business uncertainties around the world
Hyundai Motor Company today announced its August 2022 global sales of 334,794 units, an 11.6 percent increase year-over-year.
In markets outside of Korea, Hyundai Motor sold a total of 285,570 units, a 14.7 percent increase from a year earlier. Despite global component shortages and ongoing geopolitical issues, the sales in global markets have recovered steadily this month.
Sales in Korea were down by 3.5 percent year-over-year to 49,224 units. However, the company maintained solid sales of SUV models and Genesis luxury brand vehicles, selling 15,164 units and 9,617 units, respectively.
In spite of unfavorable external conditions, including ongoing components shortages and cost fluctuations of raw materials, Hyundai Motor will continue to alleviate business uncertainties by optimizing production and inventory status while diversifying business strategies tailored for each region.
Hyundai Motor expects to recover its sales with a strengthened product lineup, including the recently revealed IONIQ 6 and the new model of Grandeur sedan to be unveiled at the end of this year.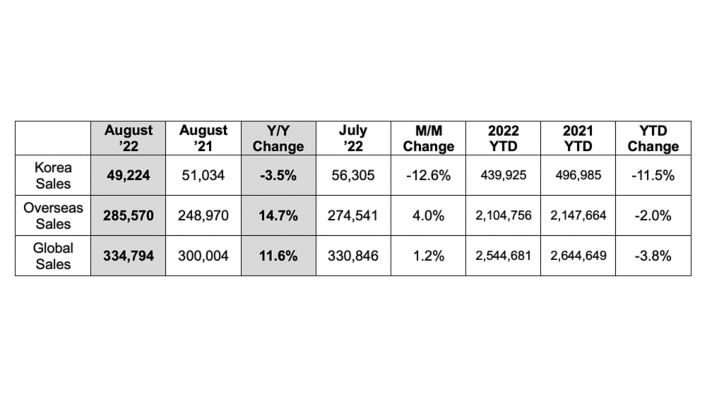 Sales results are based on wholesale.
Monthly sales figures provided in this press release are unaudited and on a preliminary basis.