Q3 revenue increased over 30% Y/y to KRW 37.7 trillion
Q3 operating profit reached KRW 1.55 trillion; net profit KRW 1.41 trillion
Q3 vehicle sales totaled 1,025,008 units, up 14% Y/y due to eased component supply conditions
Operating profit margin stayed at 4.1%, weighed by one-off quality-related warranty provisions
Strong sales from improved mix of Genesis luxury models and SUVs, along with a favorable currency environment, helped maintain its profitability in the period
All-electric model sales in Q3 jumped 27% Y/y to over 52,000 units
Hyundai Motor is striving to maintain profitability with optimized production-sales processes and new models
The company to revise consolidated financial guidance of 2022 

19~20% of consolidated revenue growth and 6.5~7.5% annual consolidated operating profit margin
To readjust its annual sales target to 4.01 million units
Hyundai Motor Company today announced its business results for the third quarter of 2022. The revenue in the July-September period rose more than 30 percent year-over-year to KRW 37.7 trillion. Hyundai sold 1,025,008 units, up 14 percent from a year earlier, as chip supply conditions eased around the globe.
In the third quarter, operating profit and net profit were down 3.4 percent and 5.1 percent year-over-year respectively to KRW 1.55 trillion and 1.41 trillion, as the company reflected one-off quality-related warranty provisions in the quarter. The company posted an operating profit margin of 4.1 percent. The results reflect engine-related provisions to place the utmost priority on protecting customer safety and ensuring vehicle quality.
Excluding the provisions, operating profit exceeded KRW 2.9 trillion, nearly 7.7 percent operating profit margin in the third quarter.
Hyundai's EV model sales surged over 27 percent from a year earlier to around 52,000 units in the third quarter, accounting for 5.1 percent of its total sales volume. The increase mainly stemmed from the strong sales of newly launched IONIQ 6 and GV60 while award-winning IONIQ 5 sales stayed robust too.
Hyundai revised its financial guidance disclosed in January. The company raised projection for its consolidated revenue growth to 19~20 percent from 13~14 percent. Annual consolidated operating profit margin is also expected to grow to 6.5~7.5 percent from 5.5~6.5 percent thanks to a robust sales mix of SUV and Genesis luxury models and a favorable foreign exchange environment. However, the company readjusted its annual global sales estimate to 4.01 million units from 4.32 million units as unstable supply chain conditions around the globe continue to weigh on production.
Hyundai expects record-high results this year despite the provisions and remaining uncertainties, including geopolitical issues and fluctuating interest rates. For the first nine months of 2022, Hyundai's global sales totaled 2,904,049 units, while revenue reached KRW 104.4 trillion. The nine-month operating profit stood at KRW 6.46 trillion and the net profit was KRW 6.27 trillion.
Hyundai to optimize business operations with electrification leadership around the world
While Hyundai Motor expects a gradual recovery from global chip and component shortages in the fourth quarter, the company anticipates external uncertainties to continue, including inflation, supply chain disruption and fluctuation in raw material prices due to geopolitical issues.
In addition, the company expects currency rate volatility as well as increasing marketing costs due to fiercer competition among automakers as a burden for the rest of this year.
In order to cope with the uncertainties, the company will focus on the recovery of sales through an optimized production-sales plan in global operations that will enhance its product mix with SUVs and luxury models to secure robust profitability.
In addition, Hyundai will continue strengthening its global leadership position in electric vehicles with its new IONIQ 6 battery electric vehicle, launched in the third quarter beginning in Korea. Moreover, the all-new Grandeur (badged as Azera in markets outside of Korea), which launched in October, will help spur domestic sales momentum as the seventh-generation flagship sedan is in high demand.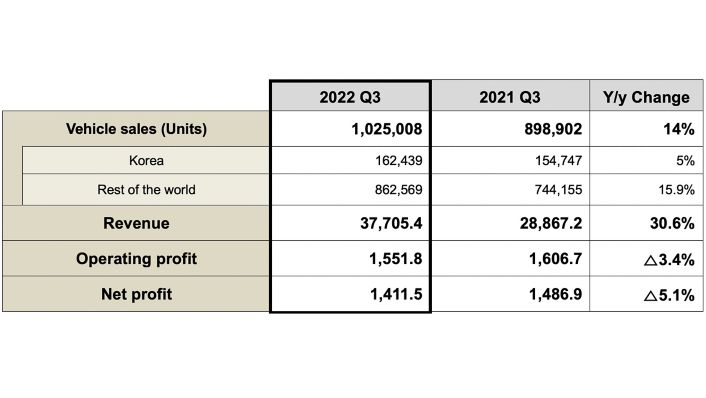 * Sales results are based on wholesale.
* Net Profit includes non-controlling interest
* Under K-IFRS