IONIQ 5's high-tech features make wintertime driving warm, safe, and practical
Features, such as Snow Mode and all-wheel drive, keep passengers safe on the road
IONIQ 5's Smart Living Space inside offers ample space, comfort, and warmth while on the go in the winter
Whether running through crisp, freshly fallen snow in a puffy jacket, sipping a hot beverage in the chilly morning air, or hitting the ski slopes to get back into practice, with winter on its way, there is lots of fun to be had.
However, with this snowy-season fun, cold temperatures and inclement weather are sure to follow. Outfitted with features that maximise comfort, warmth, and safety, the Hyundai IONIQ 5 is the perfect companion for any winter drive. And with an all-electric powertrain programmed to endure the ice and cold, IONIQ 5 offers customers peace of mind in the winter season.
Keeping cosy with IONIQ 5's spacious Smart Living Space
When the weather gets too cold or too wet, IONIQ 5 has the perfect interior to keep passengers warm and comfortable. Built on Hyundai's first BEV-dedicated Electric Global Modular Platform (E‑GMP), IONIQ 5's interior proportions create a roomy and spacious cabin.
With a flat floor and a 3,000-millimetre wheelbase – both enabled by E-GMP, passengers in both the front and the rear can enjoy extra legroom and the spaciousness of a larger vehicle in a CUV body. IONIQ 5's interior was also designed as a Smart Living Space, meaning it maximises comfort and usability. Even drivers can enjoy these features – with fully reclinable electric front seats enhancing relaxation when stationary.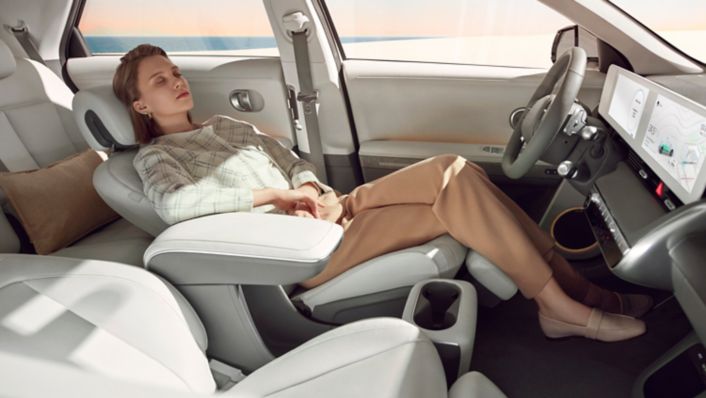 Warm Embrace
Winters can be cold, and it is important that passengers are warm to stay comfortable. In IONIQ 5, that is not an issue. Equipped with high-tech heat pump technology, IONIQ 5 ensures that passengers can be kept warm efficiently and for the entire journey.
On particularly chilly days, drivers can even access the Hyundai BlueLink® app on their smartphones to pre-heat their IONIQ 5 with the touch of a button when it is at a charging station. Combined with heated seating and a heated steering wheel, IONIQ 5 is ideally equipped to keep passengers warm and cosy through the winter.
A Boot with Room for Snow Boots
For those journeys that take passengers out of the warmth of the cabin, IONIQ 5's 527 litres of cargo space – expandable to 1,587 litres of space with the rear seats folded down – means that there is plenty of room for everything, from skis and snowboards to the family's furry friends.
IONIQ 5 offers even more cargo space. Customers can take advantage of the 'frunk' (front trunk) space – 57 litres of extra capacity in the RWD version and 24 litres in the AWD model.
Fast winter charging thanks to battery conditioning
Drivers do not need to worry about long charging times in the winter with IONIQ 5. Equipped with battery conditioning technology, IONIQ 5 automatically begins pre-heating the battery when customers programme a stop at the charging station into the navigation. This can ensure optimal charging conditions, depending on the duration of the heater's operation, so customers can make use of the vehicle's 800V ultra-fast charging technology to get back on the road faster.
Whether tackling a winter road trip, heading up to the ski slopes, or making a daily commute, IONIQ 5 is equipped with features that create a safe, comfortable, practical, and warm experience for passengers and drivers alike.
Disclaimer: CO2 and emissions data
Electricity consumption combined for the Hyundai IONIQ 5 58 kWh with 2WD in kWh/100 km: 16.7; CO2 emissions combined in g/km: 0 (WLTP)
Electricity consumption combined for the Hyundai IONIQ 5 58 kWh with 4WD in kWh/100 km: 18.1; CO2 emissions combined in g/km: 0 (WLTP)
Electricity consumption combined for the Hyundai IONIQ 5 77.4 kWh (19" alloy rims) with 2WD in kWh/100 km: 17.0; CO2 emissions combined in g/km: 0 (WLTP)
Electricity consumption combined for the Hyundai IONIQ 5 77.4 kWh (20" alloy rims) with 2WD in kWh/100 km: 18.0; CO2 emissions combined in g/km: 0 (WLTP)
Electricity consumption combined for the Hyundai IONIQ 5 77.4 kWh (19" alloy rims) with 4WD in kWh/100 km: 17.9; CO2 emissions combined in g/km: 0 (WLTP)
Electricity consumption combined for the Hyundai IONIQ 5 77.4 kWh (20" alloy rims) with 4WD in kWh/100 km: 19.1; CO2 emissions combined in g/km: 0 (WLTP)