In a brand new video created by Hyundai, AS Roma players and the team's coach come together in a production studio entirely 'Powered by IONIQ 5'
Thanks to its innovative Vehicle-to-Load (V2L) function, the fully-electric midsize CUV was able to supply all the energy needed for the set, where José Mourinho took charge of the lights, stereo sound system and all the screens – directly connected to the vehicle.
IONIQ 5 redefines zero-emission mobility and allows users to charge electrical devices thanks its ability to supply up to 3.6 kW of power
Hyundai Motor, the Main Global Partner and Official Car Partner of AS Roma, has made a brand new video together with the team's coach José Mourinho and some of the club's star players. The entire production set was powered by IONIQ 5, a fully-electric midsize CUV capable of charging any electric device thanks to its innovative Vehicle-to-Load (V2L) function.
Boasting over 30 awards and accolades throughout Europe, IONIQ 5 takes the starring role in the video together with AS Roma in an unusual production studio, set up especially for the occasion at the club's the Trigoria Training Centre. The Portuguese coach took charge of proceedings, directing the lights, the stereo sound system and all the screens on the set, which were connected directly to IONIQ 5.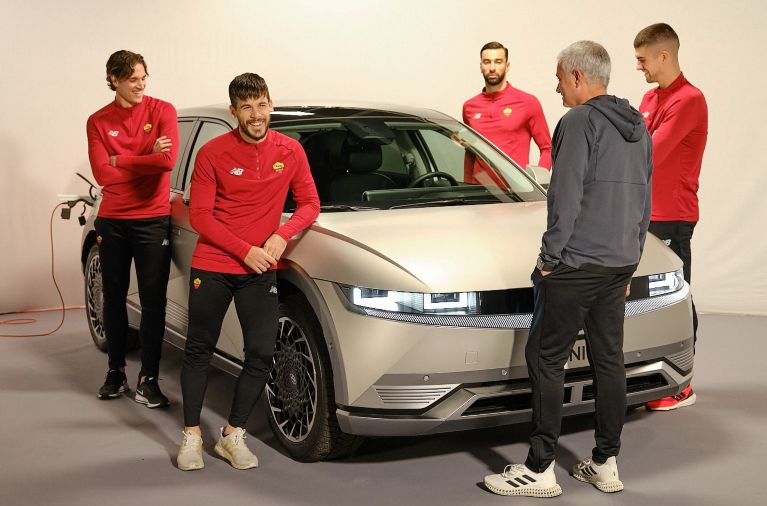 With V2L, IONIQ 5 can charge any device, from bikes and electric scooters to camping equipment and much more, acting as a power bank and providing up to 3.6 kW of power. This same technology was displayed last Christmas, when it was used to light up a special tree powered by IONIQ 5 in order to support a collection of fair trade gifts dedicated to children.
The video, which features IONIQ 5, the AS Roma players and Mourinho, was launched on Hyundai's and AS Roma's social media channels a few days after the Rome derby, and is scheduled to be broadcast on social media and digital channels, with three 15 second clips and one 30 second version.
The initiative is the work of SuperHumans in collaboration with Innocean Worldwide Italy and produced by The Family Film.
Disclaimer: CO2 and emissions data
Electricity consumption combined for the Hyundai IONIQ 5 58 kWh with 2WD in kWh/100 km: 16.7; CO2 emissions combined in g/km: 0 (WLTP)
Electricity consumption combined for the Hyundai IONIQ 5 58 kWh with 4WD in kWh/100 km: 18.1; CO2 emissions combined in g/km: 0 (WLTP)
Electricity consumption combined for the Hyundai IONIQ 5 72.6 kWh (19" alloy rims) with 2WD in kWh/100 km: 16.8; CO2 emissions combined in g/km: 0 (WLTP)
Electricity consumption combined for the Hyundai IONIQ 5 72.6 kWh (20" alloy rims) with 2WD in kWh/100 km: 17.9; CO2 emissions combined in g/km: 0 (WLTP)
Electricity consumption combined for the Hyundai IONIQ 5 72.6 kWh (19" alloy rims) with 4WD in kWh/100 km: 17.7; CO2 emissions combined in g/km: 0 (WLTP)
Electricity consumption combined for the Hyundai IONIQ 5 72.6 kWh (20" alloy rims) with 4WD in kWh/100 km: 19.0; CO2 emissions combined in g/km: 0 (WLTP)