Spanish car tester km77.com challenges IONIQ 5 in demanding moose test
IONIQ 5 triumphs as one of the fastest cars to have undertaken challenging assessment
Higher regenerative braking setting improved IONIQ 5's results in moose test
Hyundai Motor's IONIQ 5 recently passed a moose test, delivering high stability and handling. Vehicles take the moose test, formally known as the evasive manoeuvre test, to demonstrate how well they can evade an obstacle that may suddenly appear on the road.
Spanish car magazine and tester km77.com administered the test with a 2021 model of IONIQ 5 with a 72.6-kWh battery and rear-wheel drive, boasting 218 PS. Additionally, the battery electric vehicle's (BEV) 19-inch wheels were outfitted with Michelin Primacy 4 tyres in size 235/55 R19 105W. Achieving a maximum speed of 80 km/h, IONIQ 5 is among one of the fastest cars to have performed km77.com's test.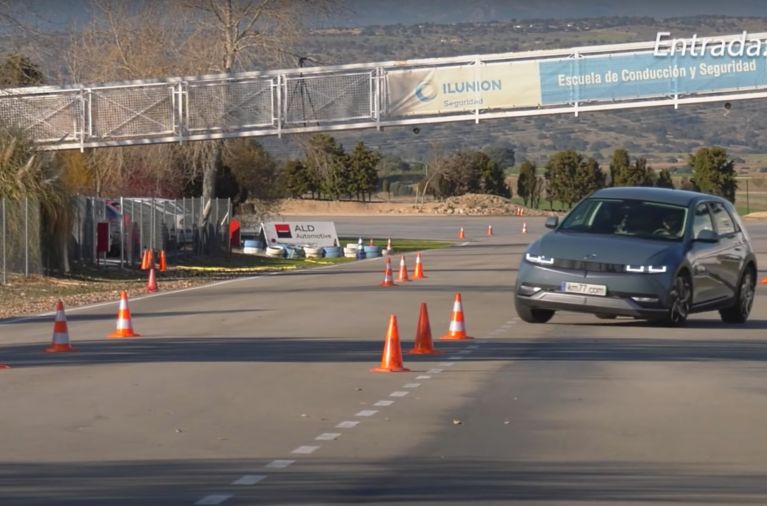 Top performance in moose test
On top of delivering optimised safety and maximised comfort for its passengers, IONIQ 5 was designed for controlled and well-balanced ride and handling. At a maximum initial speed of 80 km/h, IONIQ 5 could complete the moose test, weaving through the pylons faster than several performance cars from other brands that also took the test.
km77.com said that IONIQ 5 "accelerates at a good pace out of standstill. Even with four people and cargo, it moves with more than enough agility in all usual traffic conditions."
According to km77.com, IONIQ 5 is one of the fastest cars to have performed the moose test with only two BEVs having achieved a higher speed. Completing the test at such a high speed proves that IONIQ 5's excellent handling and stability can ensure that its wheels stay firmly on the road.
The test organised by km77.com caught the attention of other European media, which, in turn, also reported on IONIQ 5's performance in the moose test. Electric vehicle news portal InsideEVs said that IONIQ 5 achieved "one of the best results among electric cars tested so far". It continues to praise the BEV by saying its "electric motor works very smoothly and making little noise".
The online Italian car magazine Motorionline also comments on IONIQ 5's performance in km77.com's moose test: "IONIQ 5 achieved its maximum speed after the test driver set the regenerative braking to the third level, out of the four available". It adds that "this mode decelerates similarly to an ICE, making the car easier to control in certain situations".
Improved handling and stability
IONIQ 5's architecture enables it to demonstrate notable ride and handling. Built on Hyundai Motor Group's dedicated BEV platform, Electric Global Modular Platform (E-GMP), IONIQ 5 drivers can expect very high stability and predictive handling on the road.
Last summer, European journalists had the opportunity to test-drive the BEV at the IONIQ 5 Driving Experience in Valencia, Spain. The online German news portal op-online.de reported on the weight, balance, and proportions that E-GMP contributes to IONIQ 5: "The high weight of a good two tonnes, the low centre of gravity, and the long wheelbase make for smooth travelling."
In addition to E-GMP, IONIQ 5 boasts a few other aspects that improve its handling and stability. Typically found in the mid and large-sized vehicle segments, IONIQ 5 is equipped with a five-link rear suspension system. The model also features the world's first mass-produced integrated drive axle. By combining the wheel bearings with the driveshaft, more power is transmitted to the wheels, resulting in less axle weight and more handling stability.
Following the same test-drive event, French car publication Caradisiac lauds IONIQ 5's performance: "But where IONIQ 5 surprises again is that it is fun to drive! The steering is precise and communicative. The brakes – and that's something that never happens on an EV – offer an excellent feeling despite the regeneration. And the balance is perfect."
Hyundai's award-winning all-electric midsize CUV
IONIQ 5 is the first model of Hyundai's new IONIQ line-up brand. Customers can select between two battery pack options, 58 kWh or 72.6 kWh, as well as between all-wheel or rear-wheel drive. According to WLTP, the 72.6-kWh battery version with rear-wheel drive features a maximum driving range of 481 kilometres on a single charge.
IONIQ 5 delivers a powerful performance and ultra-fast charging. Its 800V charging technology allows either battery pack option to be charged from 10 to 80 per cent in just 18 minutes at fast-charging stations. Customers can use its Vehicle to Load (V2L) technology to charge or power any electronic device while driving or parked, such as laptops or e-scooters.
Both customers and the media have responded positively to IONIQ 5. Hyundai received a record 236,000 expressions of interest within 24 hours of its launch in February 2021. Since then, the fully-electric midsize CUV has also received several awards for its sustainability and design.
Disclaimer: CO2 and emissions data
Electricity consumption combined for the Hyundai IONIQ 5 58 kWh with 2WD in kWh/100 km: 16.7; CO2 emissions combined in g/km: 0 (WLTP)
Electricity consumption combined for the Hyundai IONIQ 5 58 kWh with 4WD in kWh/100 km: 18.1; CO2 emissions combined in g/km: 0 (WLTP)
Electricity consumption combined for the Hyundai IONIQ 5 72.6 kWh (19" alloy rims) with 2WD in kWh/100 km: 16.8; CO2 emissions combined in g/km: 0 (WLTP)
Electricity consumption combined for the Hyundai IONIQ 5 72.6 kWh (20" alloy rims) with 2WD in kWh/100 km: 17.9; CO2 emissions combined in g/km: 0 (WLTP)
Electricity consumption combined for the Hyundai IONIQ 5 72.6 kWh (19" alloy rims) with 4WD in kWh/100 km: 17.7; CO2 emissions combined in g/km: 0 (WLTP)
Electricity consumption combined for the Hyundai IONIQ 5 72.6 kWh (20" alloy rims) with 4WD in kWh/100 km: 19.0; CO2 emissions combined in g/km: 0 (WLTP)