Hyundai's Electrified Streamliner praised for design originality, comfortable interior, aerodynamic performance, as well as ride and handling capabilities
IONIQ 6 features a 0.21 drag coefficient all-electric range of 614 kilometres (WLTP-rated)
The Hyundai IONIQ 6 offers a sleek and timeless design while boasting a WLTP-rated all-electric range of 614 kilometres. International media representatives were recently invited to the Korean capital Seoul for a global driving experience, where they had the opportunity to get behind the wheel of the Electrified Streamliner for the first time.
IONIQ 6 is the second model of Hyundai's IONIQ EV-dedicated line-up brand. With a single-curved aerodynamic profile and carefully crafted contours, it offers an ultra-low drag coefficient of 0.21. Built on the company's Electric Global Modular Platform (E-GMP), its interior is spacious while being outfitted with state-of-the-art technology and sustainable materials.
Beyond its eye-catching design and the comfort of its inviting interior, the journalists were particularly impressed with IONIQ 6's outstanding range, aerodynamic performance, and smooth driving capabilities.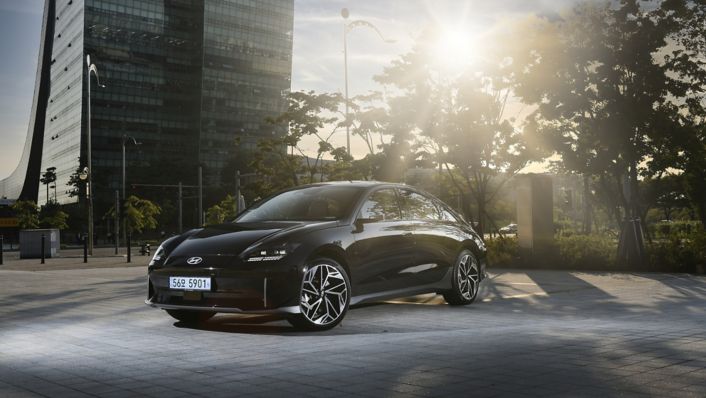 Positive press reactions to IONIQ 6
This is what Europe's automotive, tech, and lifestyle press had to say about IONIQ 6:
Wow, just look at what the Koreans can speed up. […] Visually and technically. While the all-electric IONIQ 5 just outperformed its German competition in a comparative test, Hyundai's next battery electric vehicle, IONIQ 6, will be making its way onto the motorways in spring 2023.
Hyundai's EV onslaught continues with another deeply impressive machine," said the UK's Auto Express, while awarding IONIQ 6 four-and-a-half stars out of five.
With class-leading range, well-judged dynamics and a comprehensive suite of tech, it's a convincing effort, and proof that Hyundai's winning formula hits the mark beyond SUVs.
Italian automotive bible Quattroruote also commented favourably about IONIQ 6's "bright and inviting" interior, marking out the modular touchscreen dashboard for particular praise.
The space is even superabundant, and the dashboard is dominated by the same continuous screen that gathers the instrumentation and central display for infotainment.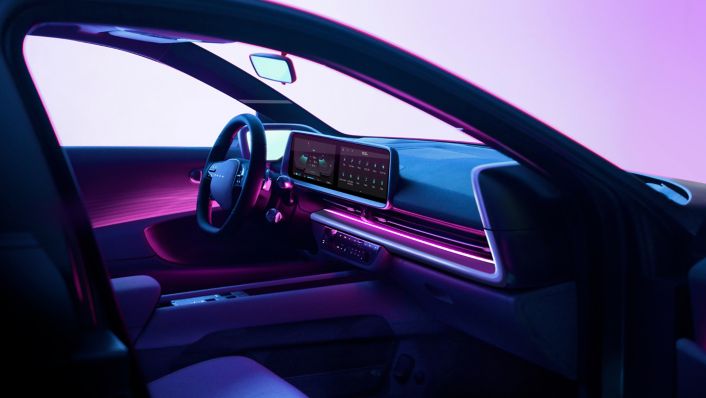 IONIQ 6 offers "pure comfort, pure ride quality" according to Spain's Autopista. Drawing attention to the benefits of the model's E-GMP, which allows for a completely flat floor and optimised legroom for occupants, it said IONIQ 6 offers a "very comfortable driving position, with a feeling of spaciousness thanks to that flat floor and that floating centre console."
Italy's La Stampa draws attention to the benefits of E-GMP. It stated:
The electric architecture gives the vehicle a large and tailor-made space, also thanks to the completely flat floor, which offers a feeling of airiness and breadth.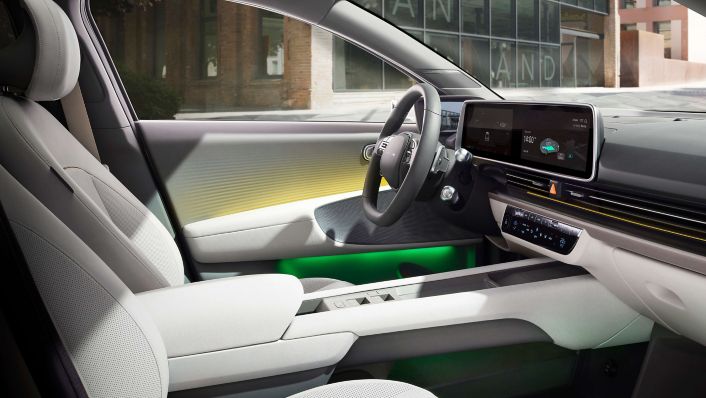 Norwegian tech website Tek.no complimented IONIQ 6 for its ample space for rear occupants.
There is one thing in which there is little doubt that Hyundai wins, and that is the back seat. The legroom in the back seat of the IONIQ 6 is excellent, and that applies even with the front seats adjusted for two relatively tall Norwegians.
An Electrified Streamliner for enhanced aerodynamics
IONIQ 6's aerodynamic design and performance impressed a handful of media outlets. La Stampa summarised Hyundai's Electrified Streamliner as "a triumph of aerodynamics and high-tech".
Lifestyle magazine GQ Germany attributed IONIQ 6's aerodynamic performance to a few of its design elements. "This is mainly due to the vehicle architecture being ten centimetres flatter [than IONIQ 5's], the wind tunnels at the front of the vehicle, the lip that reduces the gap between the front tyre and the body, and the standard rear spoiler."
According to the German-language business newspaper Handelsblatt, IONIQ 6 is a "flat hatchback sedan without corners and edges". Thanks to its sleek exterior design, the model "offers approximately 25 per cent less air resistance than IONIQ 5, […] achieving a range that is roughly 20 per cent longer with the same motor".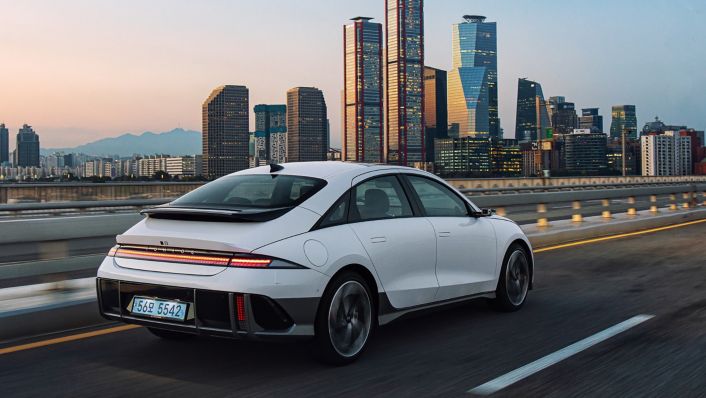 Ideal weight distribution and low centre of gravity guarantee improved handling performance
A number of magazines placed an emphasis on IONIQ 6's ride and handling in their reviews. The UK's Car Magazine noted that the model's steering "has a chunkily precise feel". Turning to how the Electrified Streamliner handles the road, it praised its control and performance: "the primary ride balances a long-legged stride with control, the cabin is nicely refined at speed and while performance doesn't go full ludicrous, it's generous and perfectly eager enough".
Germany's Auto Bild noted how Hyundai's engineers drew on their knowledge of developing EVs to produce a refined driving experience for IONIQ 6. "The system reacts sensitively to the position of the accelerator pedal, and recuperation also works well and can be adjusted in stages… When desired, the IONIQ 6 accelerates vehemently, very emphatically and very quietly."
"Our first taste of the Hyundai IONIQ 6 has left us seriously impressed," said another UK magazine, WhatCar?, observing that it "delivers a comfortable, rewarding drive and offers a really strong mix of performance and range". In a warning to other automakers, the publication regards Hyundai's Electrified Streamliner as a model that will shake up the EV scene. "This is a hugely competitive addition that stirs up a sector perpetually dominated by the same usual suspects."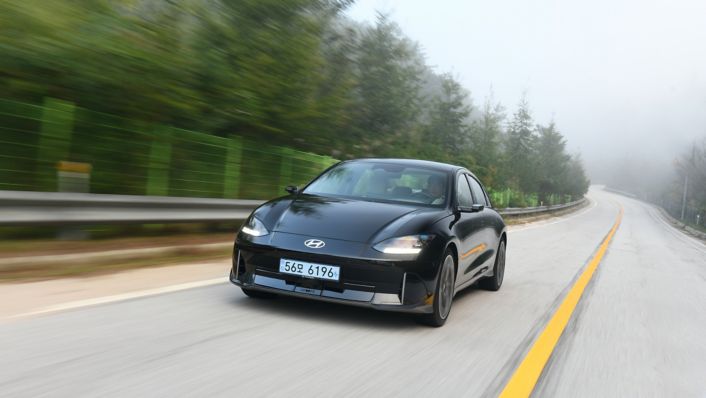 Spanish newspaper Marca also championed IONIQ 6's ride and handling capabilities in its review. "The first thing that strikes you after a while is the absence of noise and vibration, as well as the smooth running. IONIQ 6 is very well insulated and has a nice ride feel. In addition, the suspensions effectively absorb irregularities in the terrain, and all of this conveys a great feeling of comfort, both for those behind the wheel and the rest of the passengers."
Highlighting IONIQ 6's Infotainment OTA (over-the-air) updates, in particular, El Mundo of Spain drew comparisons between the model's state-of-the-art technologies and the cutting-edge features of the latest smartphones. "The advanced connectivity of these latest-generation models is similar to that of smartphones and, as in these, software updates are already done online, without having to go through the dealer or having to use specific tools."
Finally, the UK website DrivingElectric awarded IONIQ 6 with four-and-a-half out of five stars in its review.
[T]he class-leading range, ultra-rapid charging capabilities, elegant styling, and fabulous interior are more than enough to give the [competitors] a run for their money.
Disclaimer: CO2 and emissions data
Electricity consumption combined for the Hyundai IONIQ 6 53 kWh with 2WD in kWh/100 km: 13.9; CO2 emissions combined in g/km: 0 (WLTP)
Electricity consumption combined for the Hyundai IONIQ 6 77.4 kWh (18" alloy rims) with 2WD in kWh/100 km: 14.3; CO2 emissions combined in g/km: 0 (WLTP)
Electricity consumption combined for the Hyundai IONIQ 6 77.4 kWh (20" alloy rims) with 2WD in kWh/100 km: 16.0; CO2 emissions combined in g/km: 0 (WLTP)
Electricity consumption combined for the Hyundai IONIQ 6 77.4 kWh (18" alloy rims) with 4WD in kWh/100 km: 15.1; CO2 emissions combined in g/km: 0 (WLTP)
Electricity consumption combined for the Hyundai IONIQ 6 77.4 kWh (20" alloy rims) with 4WD in kWh/100 km: 16.9; CO2 emissions combined in g/km: 0 (WLTP)