Hyundai named Most Improved Fleet Manufacturer at the Fleet News Awards 2022
KONA Electric also wins Best Zero Emission Car Under £40,000 and TUCSON is Highly Commended in the Mid-size SUV category
New Hyundai Business brand and a range of advanced and desirable PHEV and full EV vehicles led to 104% year-on-year True Fleet growth for Hyundai in 2021
Fleet News is one of the most established business-to-business titles in the UK
Hyundai Motor UK has been named Most Improved Fleet Manufacturer at the Fleet News Awards 2022, as KONA Electric also picked up an award for Best Zero Emission Car Under £40,000.
The Fleet News Awards is an annual celebration of the best in the automotive business-to-business industry, judged by a jury of fleet and automotive experts.
Speaking of Hyundai's 'Most Improved Fleet Manufacturer win, the Fleet News judges said:
Hyundai has taken a holistic approach to fleet relationships with a business brand, new website, new terms, bespoke offerings and network training for an enhanced service, resulting in significant improvements over the past 12 months. In a short period of time, it has gone from being a brand that few considered to being a serious option for fleets and company car drivers. Judges praised its outstanding communications during the lead time challenges and noted the massive advancements in product and battery technology. Very few manufacturers have embraced the innovative evolution of technology as well as Hyundai.
During 2021, Hyundai had the largest year-on-year True Fleet growth of any manufacturer in the UK, with a staggering 104%, as a number of its competitors saw their True Fleet volume shrink. It has an established fleet-friendly range of innovative PHEV and EV vehicles – one of the freshest on sale today – that includes KONA Electric, IONIQ 5, Santa Fe Plug-in Hybrid and TUCSON Plug-in Hybrid. Around 70% of Hyundai Motor UK's current order-bank from corporate customers is pure EV and 81% is for Hybrid, PHEV and full EV.
Alongside its product innovations, Hyundai has also pioneered the launch of a Hyundai Business brand, hosted in an all-new fleet section of the website, including whole life cost calculators, BiK rates and competitor comparison tools, there is a clearly defined journey for company car users and fleet managers. Support for fleet customers is also now stronger than ever, with a virtual account manager team that has doubled and a comprehensive Fleet Aftersales Charter that guarantees affordable costs and quick service.
The KONA Electric has been a part of Hyundai's range since 2018, but recently subject to a thorough mid-life update bringing more style, connectivity and technology. It remains one of the most compelling fleet vehicles on the market. It was named Best Zero Emission Car Under £40,000 by Fleet News experts.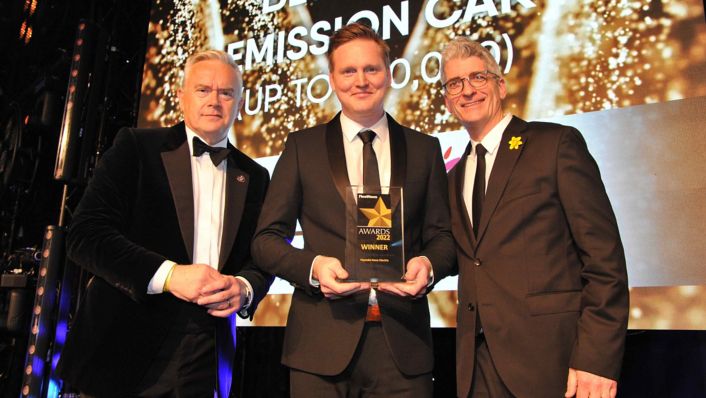 The KONA Electric is a brilliant car that has become a driver's first choice in a competitive sector. The most efficient miles per kilowatt results in impressive real-world range. Roomy, with a huge boot, and a stylish interior, it literally flies off the fleet choice list.
It's just the latest fleet award for Hyundai's range of vehicles, with TUCSON also Highly Commended at the Fleet News Awards in the Mid-Size SUV category. Meanwhile, Hyundai's revolutionary IONIQ 5 has won a host of company car awards, including Carbuyer Best Company Car 2022. Company Car and Van Car of the Year and overall winner in the 2022 Company Car Today CCT 100 Awards.
We have been on a journey over the past few years to evolve our fleet services into a class-leading offering in line with the cutting-edge range of fleet-friendly vehicles we currently have. As a result, we've had major policy wins with a number of multinational corporations and UK institutions, including the supply of 400 KONA Electric models to Police Scotland – our largest electric vehicle order to date. It's a privilege to have the support and confidence not just of these innovative businesses, but also from the experts at publications such as Fleet News, in recognising our position as a major player in the company car world.