The all-new Kona has evolved to embrace an even wider range of diversity for every lifestyle. It retains its character with a robust, dynamic design and larger external dimensions.

The electric variant will offer new technologies and useful structural elements, contributing to a safe, connected, and comfortable drive. Series production began on 11 August 2023 at Hyundai Motor Manufacturing Czech.
The all-new Kona Electric blends larger dimensions, future-ready design, customer-centric convenience, and connectivity for a dynamic driving journey. With distinctive design elements, it adds practicality like expanded storage, active air flaps, and V2L sockets.
With 514km (WLTP) of range, the Kona Electric enables the longest range per charge in the B-SUV segment. The electric vehicle's equipment also includes specific design elements, additional storage space under the front hood, and active air flaps.
The second-generation Kona Electric showcases innovation, adaptability, and 2-Touch user-centric design for an unmatched driving experience. Advanced features like the Digital Key 2 Touch system enhance accessibility, while smart braking recuperation highlights its commitment to efficiency. Vehicle-to-Load technology, or V2L, is new to this generation, enabling a new level of commitment to EV lifestyles.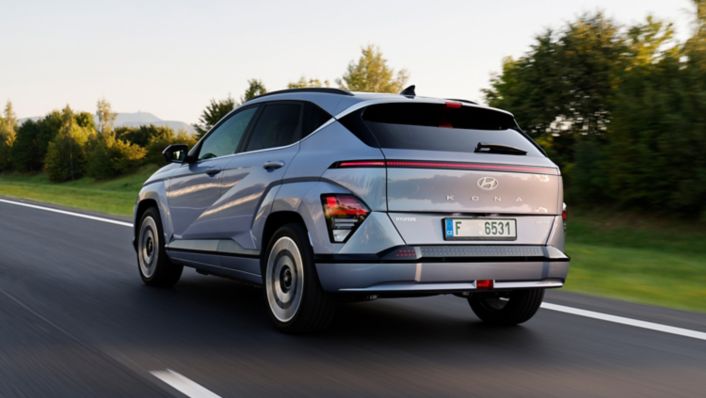 Charging in all conditions
Battery conditioning ensures optimal charging and a long range even in winter. The lid of the charging socket is equipped with a system that prevents it from freezing. The user can thus open the lid even in severe frost at minus 30 degrees Celsius. The lid of the charging socket is also equipped with new lighting for good visibility in the dark.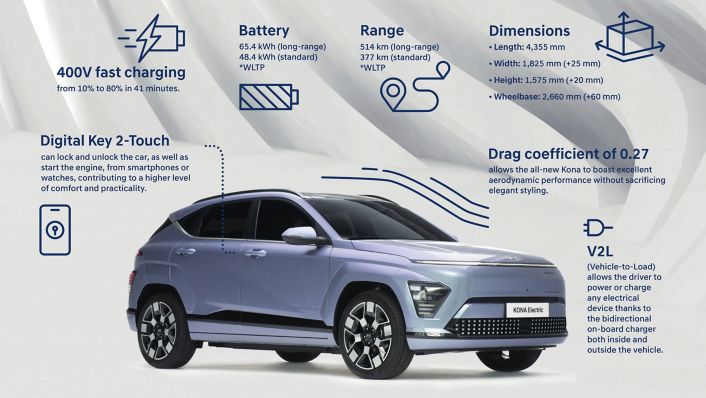 The second-generation Kona Electric redefines size and future readiness, appealing to progressive European customers seeking an adaptable e-SUV that suits their dynamic lifestyles. Designed with innovation in mind, it stays ahead through features like Over-the-Air updates, prioritising consumer convenience with a spacious interior and unmatched comfort.
Bigger and smarter interior space
The all-new Kona impresses with its extensive equipment as well as its ADAS (Advanced Driver Assistance System) and safety functions. These include Highway Driving Assist 2.0 (HDA 2.0), Forward Collision-Avoidance Assist (FCA), Blind View Monitor (BVM), Remote Smart Parking Assistant (RSPA), and Driver Status Monitor (DSM), among others.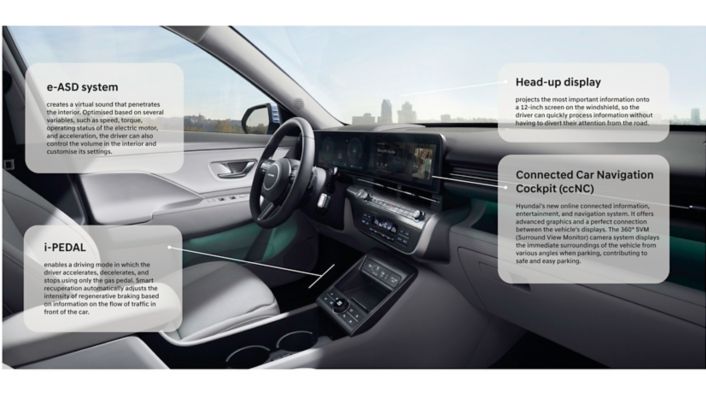 The most significant improvements include a panoramic display area made up of two 12.3-inch displays, a head-up display, and a new online infotainment and navigation system known as Connected Car Navigation Cockpit (ccNC). In particular, the dual 12.3-inch displays create an immersive driving environment.
Disclaimer: CO2 and emissions data
KONA
Fuel consumption combined for the Hyundai KONA 1.0 T-GDI with 6MT 2WD in l/100 km: 6.0 - 5.6; CO2 emissions combined in g/km: 138 - 128 (WLTP)
Fuel consumption combined for the Hyundai KONA 1.0 T-GDI with 7DCT 2WD in l/100 km: 6.4 - 5.8; CO2 emissions combined in g/km: 147 - 132 (WLTP)
Fuel consumption combined for the Hyundai KONA 1.0 T-GDI 48V with 6MT 2WD in l/100 km: 5.9 - 5.4; CO2 emissions combined in g/km: 134 - 123 (WLTP)
Fuel consumption combined for the Hyundai KONA 1.6 T-GDI with 6MT 2WD in l/100 km: 6.7 - 6.2; CO2 emissions combined in g/km: 152 - 141 (WLTP)
Fuel consumption combined for the Hyundai KONA 1.6 T-GDI with 7DCT 2WD in l/100 km: 6.5 - 6.2; CO2 emissions combined in g/km: 148 - 141 (WLTP)
Fuel consumption combined for the Hyundai KONA 1.6 T-GDI with 7DCT 4WD in l/100 km: 7.1 - 6.7; CO2 emissions combined in g/km: 162 - 151 (WLTP)
Fuel consumption combined for the Hyundai KONA Hybrid 1.6 HEV 6DCT 2WD in l/100 km: 4.8 - 4.5; CO2 emissions combined in g/km: 108 - 103 (WLTP)
KONA Electric
Electricity consumption combined for the Hyundai KONA Electric 48.4 kWh in kWh/100 km: 14.6; CO2 emissions combined in g/km: 0 (WLTP)
Electricity consumption combined for the Hyundai KONA Electric 65.4 kWh in kWh/100 km: 14.7 - 16.6; CO2 emissions combined in g/km: 0 (WLTP)